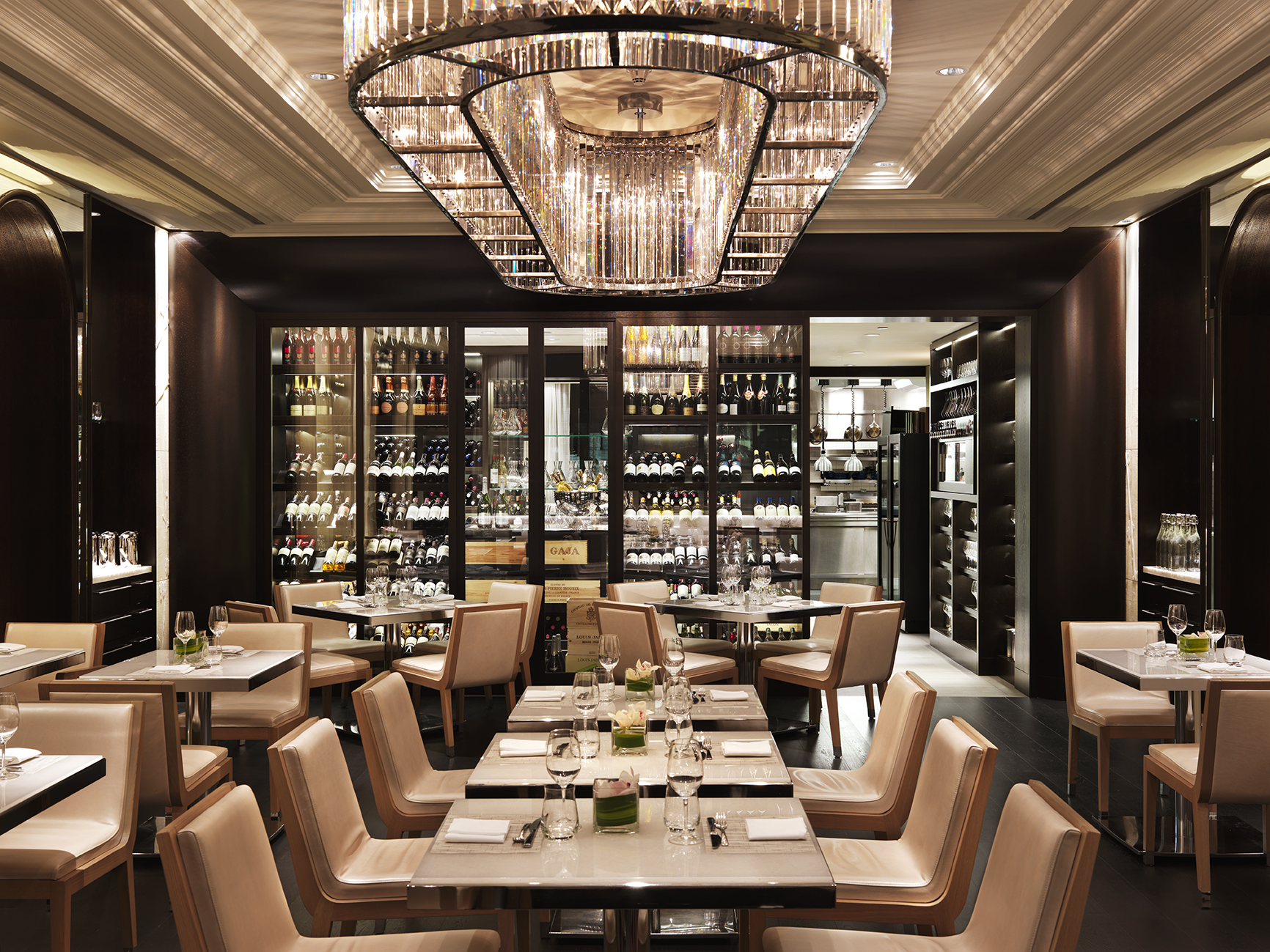 In the culinary world, context is everything. So at New York's James Beard House, America's working monument to gastronomy, you can do as David Hawksworth did one recent evening in late September without raising an eyebrow—in short, serve up an exquisite five-course meal spanning pork, crab, sablefish, duck, beef, and a wildly elaborate dessert, and then stride into the dining room, take the microphone, and assert straight-faced that your culinary philosophy is guided by an unrelenting quest for greater lightness.
"Our restaurant is in Vancouver, where there's a lot of Asian influence in the cooking," Hawksworth explained to the gathered crowd of sated New Yorkers. "With us, that means we stay away from cream and butter. We have a lot of crunchy textures, vinegar, and acidity. We keep it light, because we want you to come to our restaurant once a week, not once a year."
Once a week: that would be worth working for. Hawksworth Restaurant at the Rosewood Hotel Georgia is one of those rare, delightful restaurants that represent the work of top chefs at the peak of their powers.
Its dining rooms, lounge, and bar are elegant and contemporary. The setting, which overlooks the Vancouver Art Gallery—for now anyway, as the gallery is slated for relocation—is lovely. But what really matters is that while so many chefs and restaurateurs have of late indulged in the bad habit of naming restaurants after themselves indiscriminately, Hawksworth did so for all the right traditional reasons; namely, that the culinary approach that he practises there is solely and identifiably his own—and that it is very much worth recognizing for being so.
That Hawksworth culinary style asserts itself first by virtue of its bold sense of colour. Some of the plates hint artfully at the best sort of splatter painting. What looks to have been created in whimsy is of course carefully planned and balanced, from each smear of black, squid ink–tinged aubergine mousse to every dab of pink Espelette-infused crème fraîche or bright-green pea purée.
The aforementioned nod to Asia—whether in flavour, texture, or balance—is always executed with sensible subtlety. And while close inspection reveals an unrelenting parade of cooking techniques of the finest pedigree, they are never deployed for flash and attention but only to achieve the best result.
"The duck was so tender," one Beard attendee said that night in New York, when the after-dinner chit-chat evolved into a Q&A. "I was wondering, did you cook that sous vide?"
Indeed, chef Hawksworth's roast duck breast (served that night with chestnut purée, a silhouette of roasted squash, and spiced duck jus) had been unusually supple. And it was not unreasonable to assume, as so many customers at the restaurant continually do, that the duck was cooked at a very low temperature, vacuum sealed in plastic in a water bath. Except that you could not reconcile that technique with the perfectly crispy skin that was still attached to the fowl, with barely any unrendered fat remaining. The duck had actually been cooked in a pan, mostly skin-side down—on gentle heat, slowly, after two days of drying rest in the fridge and followed by an hour-long rest on a rack before being brought back up to serving temperature.
"The old methods, they still work very well," chef Hawksworth said matter-of-factly. It would have been self-serving to elaborate and add what was hopefully obvious: that the mastery of such old methods requires experience and instinct, a far more elusive skill set than the ability to program an agreed-upon time and temperature into the digital controls of an immersion circulator.
But there were new methods in play in the meal that night, too: for example, in preparing the bacon dashi broth that served as supporting act to his soy-and-ginger-marinated roast sablefish. Anyone familiar with the minimalist but essential Japanese stock would likely imagine that adding an extra flavour to the mix would be as simple as stirring a little bacon into the basic kombu and bonito brew. In reality, though, it takes a lot of it—some cooked, some raw—and its addition renders the stock undesirably cloudy. The only effective way to undo that is through gelatin clarification, a process that first appeared in Germany around 2004 and made its way to North America courtesy of chef Wylie Dufresne at New York's WD-50, who picked it up while visiting the Fat Duck, Heston Blumenthal's restaurant in Bray, Berkshire.
The transatlantic messenger could just as easily have been Hawksworth, who knows Blumenthal from his formative cooking days in the United Kingdom. As young men, both chefs got their serious starts working for the once (if briefly) great British chef Marco Pierre White. And looking back upon that period, while you cannot discount the unimaginably hard work that went into creating Hawksworth the chef as we know him today, you must also acknowledge that he enjoyed some very good luck.
Chef Hawksworth's cooking techniques are of the finest pedigree, never deployed for flash and attention but only to achieve the best result.
Chef Hawksworth got his start in the restaurant trade in his adopted home of Vancouver like so many other teenagers: falling into it unthinkingly in the quest for a summer job and some spending money. His first gig was washing dishes at a fish and chips shop. By the time he finished high school, Hawksworth was already acutely aware that he would never be able to sit still in an office, so he ran with what he knew. This time he sought a proper kitchen job and landed at the Beach House in Stanley Park (now the Fish House in Stanley Park). He followed with a string of the usual Vancouver kitchens, including Umberto's and Le Crocodile. In late 1989, he was toiling at Orca Lodge in Tofino when two seminal cookbooks recently published in the United Kingdom fell into his hands: Raymond Blanc's Recipes from Le Manoir aux Quat'Saisons and Marco Pierre White's White Heat.
"When I looked at what I was doing and opened those two books, it was like they were working on a different planet," Hawksworth recalls of that game-changing moment.
It took just 10 months for him to save enough money to join them there. Where the luck entered the equation was that Hawksworth arrived in London just as White was getting ready to open his second restaurant, the Canteen; in the final desperate throws of staffing his kitchen, White was willing to take a gamble on a young untested commodity from the colonies. Unqualified as he was, Hawksworth had his in. He seized the day and caught up fast. Within the year, he had jumped ship to Blanc's Le Manoir aux Quat'Saisons in Great Milton, Oxfordshire, where he rose to sous-chef and then launched Blanc's brasserie, Le Petit Blanc (which incidentally begat a U.K. chain, now called Brasserie Blanc). He rounded out the exceptional experience with gigs at Michelin-starred institutions like L'Escargot in Soho and Philip Howard's Square in Mayfair before finally returning to Vancouver in 2000 to open Jack Evrensel's Ouest on Granville Street and immediately stake its place on the national culinary map.
West, as Ouest was soon renamed, earned such distinctions as being named Vancouver magazine's Restaurant of the Year in 2003 and then again for three years running from 2005 to 2007. The food possessed an exceptional refinement; its finesse spoke loudly of chef Hawksworth's formative culinary years in the Michelin-starred kitchens now credited with launching a culinary revolution in the U.K., and in particular of Blanc's sense of colour and balance. Chef Hawksworth communicated it all with a strong sense of the local culinary accent. But the result was not as distinctive and expressive as the cooking he now produces at Hawksworth, for the current oeuvre has a more engaging passion and a genuinely unique style. Strangely, it emerged fully formed along with the new restaurant in mid-2011, so maybe the otherwise regrettable three-and-a-half-year hiatus from restaurant cooking that separated his departure from West and the opening of Hawksworth was a benefit.
Now chef Hawksworth is poised to do it all again, with a new project—as yet unnamed—that will be more casual, with a sound West Coast emphasis on fish. So while in New York for the Beard event, during which he cooked with his core kitchen crew (chef de cuisine Kristian Eligh, sous-chef Bryan Satterford, and pastry chef Wayne Kozinko), he spent his free time checking in on restaurants that play some important part in that forthcoming equation, such as Kesté on Bleecker Street for Roberto Caporuscio's blissful pizza. There was also an exploratory (if less revelatory) stop at Mario Batali's fish-dominated Esca on West 43rd. New hot spots like Atera and ABC Kitchen received their dutiful visits, and as a capper for lunch the day after the hugely successful Beard dinner, there was a long multicourse lunch for the team at Per Se in a private room overlooking Columbus Circle.
"There is no place like this, and it's good for the team to know where we stand," chef Hawksworth explained of New York at large and the benefits of exposing his team to a good, expensive slice of it. And aside from the predictably shocking bill at Per Se, it was clear that the results had not displeased him. As he summarized things with typical brevity at the trip's conclusion, "I think we can putt on the same green." Most definitely.