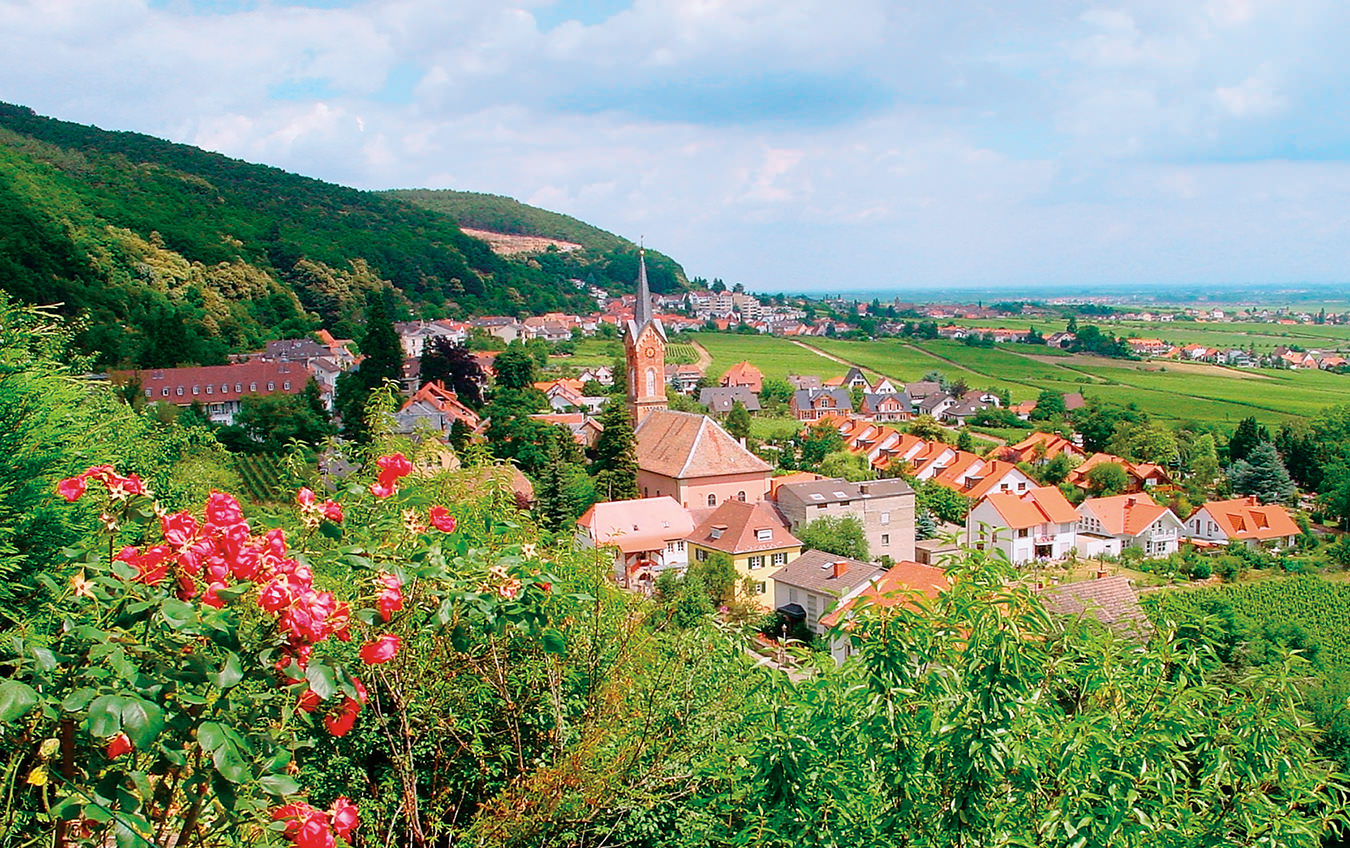 For the longest time, it seemed that Germany was the Henry Ford of the wine world. Ford famously wrote of his Model T, "Any customer can have a car painted any colour that he wants so long as it is black." Likewise, it seemed that we could have any kind of German wine we wanted, as long as it was riesling. That was never true, of course, because Germany has long produced wine from a wide range of grape varieties, but riesling almost monopolized German wine exports, and the country was so closely associated with it that the other varieties scarcely showed up on anyone's radar.
Yet riesling has been a mixed blessing as Germany's flagship wine. Although many wine lovers rallied to its various dry, off-dry, and sweet styles, German riesling—and, more alarmingly, German white wine in general—was, and still is, widely believed to be sweet. The belief is so entrenched that an Ontario winemaker recently decided to sell her dry riesling in a Bordeaux bottle, rather than the tall flute that riesling is traditionally bottled in, for fear that people would think her wine was sweet.
Changes in Germany's wine landscape have started to erode these prejudices. It's not that riesling is in any danger of disappearing; it is still the single most planted grape in Germany and covers a fifth of the land planted in vines. Yet there's been a seismic shift in the importance of other varieties, and what Germans call the "Pinot Trio" (pinot noir, pinot blanc, and pinot grigio) has made significant gains. Of these, the one to watch is pinot noir. Germany is now the third-biggest global producer of pinot noir (after France and the United States), which is the country's most-planted red grape variety and comes in third overall—Müller-Thurgau, a German workhorse white grape variety (think of liebfraumilch), takes second place.
One reason for the changes in Germany's vineyards is a remarkable shift in wine taste among Germans themselves. Unlike massive wine-producing countries like France, Italy, Spain, and Argentina, where wine consumption has declined in the last 50 years, Germans are drinking more and more wine. Added to that is a real shift in wine preferences. In the early 1990s, red wine accounted for only a third of the wine consumed by Germans, but today it represents a little more than half; in the same period, white wine consumption declined by 19 per cent. You can see the same trend in the vineyards: in the early 1990s, 82 per cent of Germany's vineyards were planted with white grape varieties, but today, 20 years later, it's down to 64 per cent.
Germany is now the third-biggest global producer of pinot noir (after France and the United States), which is the country's most-planted red grape variety.
Climate change is having an impact, too. In the Rhine-Hesse wine region, around the city of Mainz, grapes ripen sooner, and harvests often take place two weeks earlier than they did only 25 years ago. Cabernet sauvignon ripens there now (which it never before did), and there are years when the growing season is so warm that some growers have difficulty getting enough acidity in the riesling. The overall result is that varieties like pinot noir are increasing in importance, especially in the Baden wine region, farther south, which has a little less than half of Germany's pinot noir vines, and is the country's most important region for red wine in general and pinot noir in particular. So it's not surprising that German winemakers, especially in Baden, want the world to know about their pinot noir.
The shift to red has also reinforced a move toward drier wines in Germany. Today, 40 per cent of German wine is totally dry, and the percentage is far higher among some producers. Ninety per cent of the wines made by Eric and Erich Manz, eighth-generation owners of Weingut Manz in the Rhine-Hesse wine region, are dry. Manz's top pinot noir, M, is relentlessly dry, almost astringent, but it has a lot of fruit flavour and a juicy texture. In the Palatinate region, at the Messmer winery (where barrels are serenaded with classical, jazz, and pop music while the wine integrates), the pinot noirs are resolutely dry, and possess complexity, balance, and good concentration.
The best pinot noirs from Baden deliver a fine balance of complex, concentrated fruit and bright, fresh acidity. They tend to be low in tannins and thus ready for drinking fairly early, although many have good aging potential. Pinot noir is king at Weingut Bercher-Burkheim, where almost 90 per cent of the vineyard is planted to the three main pinots. One of Bercher-Burkheim's stars is Feuerberg Spätburgunder, which is classified as a Grosses Gewächs, Germany's equivalent of the French grand cru. (Spätburgunder is the German name for pinot noir and means "the late-ripening Burgundy".) Richly elegant, beautifully focused, and defined, Feuerberg is made from grapes growing on 25-year-old vines, and it can easily be cellared 10 years. The vines here grow in loess, which tends to cool more quickly than many other soils and provides colder nighttime conditions that result in higher acidity. For this reason, Weingut Bercher-Burkheim tends to leave a little sugar in the wine to achieve better balance. It works.
One of the best-known Baden producers is Franz Keller Schwarzer Adler. Current owner Fritz Keller owns not only a winery (for which he is building an expansive new facility), but also a wine-importing business (which was started by his grandfather in 1893), restaurants, and small luxury hotels, including the Hotel Schwarzer Adler (Black Eagle) in Vogtsburg-Oberbergen. The hotel restaurant's list of 2,500 wines includes 50 vintages of Burgundy's famed Domaine de la Romanée-Conti. This interest in Burgundy is reflected in Keller's own production from 18 hectares of pinot noir.
German winemakers are using pinot noir (a component in many champagnes) for sparkling wines, too; sometimes alone, sometimes in conjunction with other varieties. At Weingut Eckehart Gröhl, in Rhine-Hesse, Cuvée Pure is made from 100 per cent pinot noir and shows a bronze tint, with bright fruit and acidity. At Weingut Wilhelmshof, where 30 per cent of the vines are pinot noir, Spätburgunder Rosé Brut delivers a lot of fruit flavour, a broad seam of fresh acidity, and fine bubbles. Top of their line is Pinot B Brut, made from equal parts pinot noir and pinot blanc. (The B stands for Burgundy, barriques—the barrels used in Burgundy—and Barbara, the owner's daughter.)
Some of the biggest pinot noir producers are co-operatives, which produce 85 per cent of the wine in Baden. Britzingen co-operative, located in the cooling influence of the Black Forest, brings together almost 200 producers and turns out two million bottles of wine a year. These include 100,000 bottles of sparkling wine, including Crémant Baden, a style bottled under lower pressure than Champagne-method sparkling wine, giving it a softer, creamier texture. Beyond table wine and sparkling, pinot noir is also a component in other styles. Some, including Britzinger co-operative, make rosés with bright fruit and vibrant acidity, while others, such as Weingut Manz, make sweet wines that combine richness with laser-sharp acidity.
German winemakers echo trends taking place in other parts of the world. For a country with a strong environmental movement, Germany has surprisingly few organically farmed vineyards, although most producers embrace sustainable practices. Some wineries follow biodynamic principles, which are even more rigorous than organic practices, and are known for practices that include synchronizing vineyard protocols with the cycles of the moon, and burying cows' horns filled with dung and various herbal preparations in the soil.
One such is Weingut Duijn, where Dutch winemaker Jacob Duijn grows only pinot noir—and labels his wines so, rather than Spätburgunder, because it is better understood in foreign markets. Duijn says he wants to make "sexy wines … I want wines that enable me to talk, be happy, give a lot of feeling, butterflies in my stomach, and not be tired." This means not only following biodynamic practices, but taking immense care in the vineyard. "It takes seven bunches of grapes to compensate for a single bad grape," he claims. His wines tend to be light-medium in weight, with lively textures and solid flavours. Top of the line is SD (Selection Duijn), aged in new oak barriques and showing well-calibrated density and concentration. These are wines that last, and although Duijn's 10-year-old pinot noirs have turned brick-brown and show maturity in the flavours, they're still fresh and well structured.
German winemakers are producing pinot noirs in a distinctive style that's both fruity and racy, a far cry from many New World pinots, and far enough from nearby Burgundy. There's a refreshing absence of claims to make "Burgundian" pinot noir here, and that augurs well for the emergence of a style that's authentic and individual. But although wines like these appeal to the palate, the word Spätburgunder doesn't roll easily off many non-German tongues. Advice to the export and marketing departments of German pinot noir producers: put both names on the label.
Top photo provided by Neustadt an der Weinstrasse tourism.