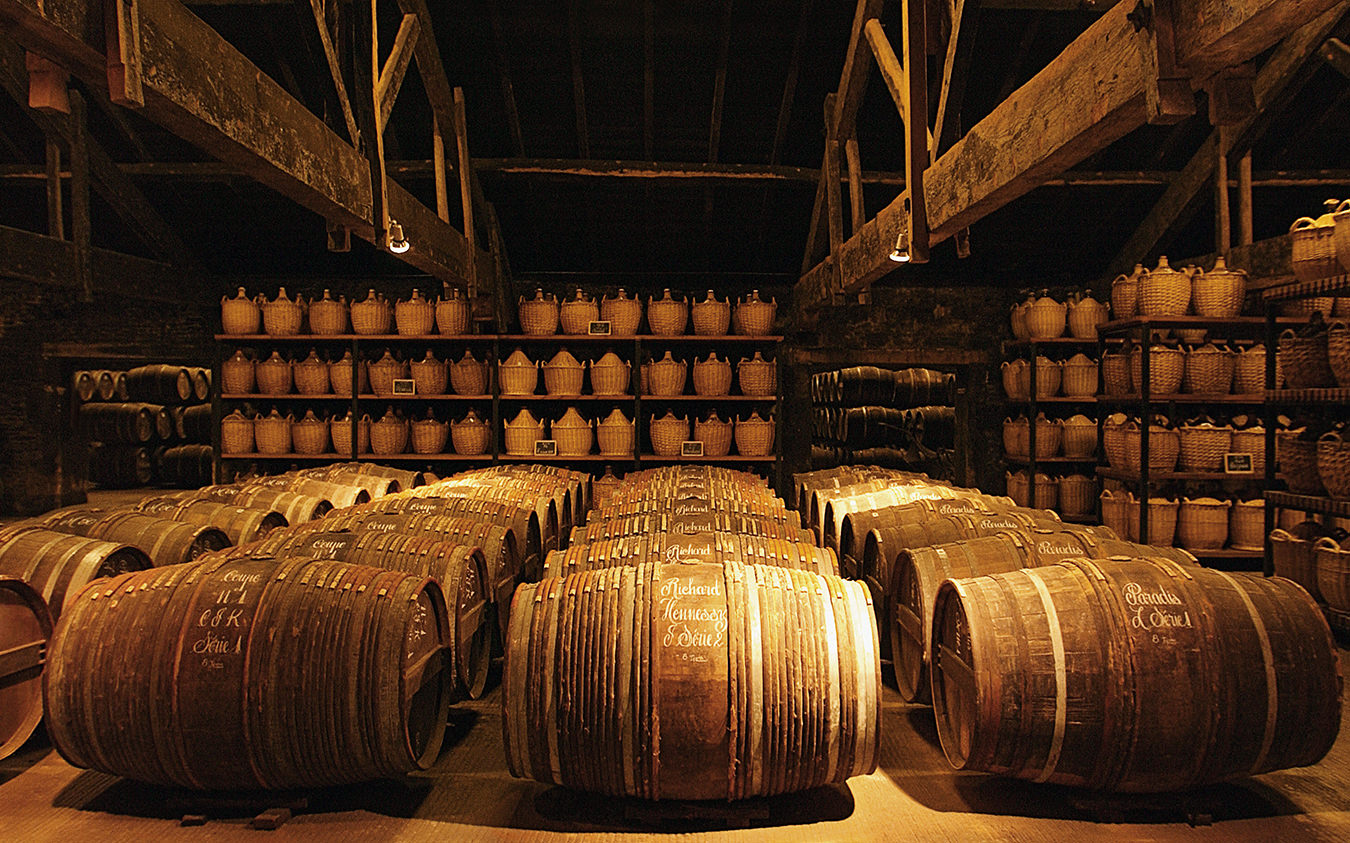 For hundreds of years, cognac was anything but a hip drink. It was always drunk straight, sometimes warmed. It was the digestif of choice for older men, who nursed snifters of the amber liquid and slumbered in massive leather armchairs after a heavy meal. So today, drinking a cognac cocktail in a tall glass with a twist of lemon—and on a sunny terrace, rather than a gloomy, masculine den—seems almost heretical. Yet there is Maurice-Richard Hennessy, eighth-generation family member of Hennessy, the leading cognac producer, sipping a cognac cocktail and pointing out that 70 per cent of cognac is now consumed this way.
La Maison Hennessy has been around long enough to witness many changes in the business and culture of cognac. It was founded in 1765, when Richard Hennessy, an Irish noble who had been serving as an officer in the French army of King Louis XV, quit the military life and started a company that traded distilled spirits. It was a good career move; 25 years later, in the aftermath of the French Revolution, nobility was abolished, but the appeal of cognac easily survived France's tumultuous history.
Cognac was one of the first high-end distilled spirits. The process of distilling, which supposedly originated in Greece and the Middle East, reached Central and Western Europe in the form of distilled spirits in the late Middle Ages. These various distilled spirits were believed to have medical and rejuvenating qualities (they are generically called eaux-de-vie, or "water of life"), but it was not until the 1500s that a commercial distilling industry was finally established. In the next century, the Dutch, who were then Europe's greatest traders and entrepreneurs, started what was to become a massive brandy industry in France's Charente department, which lies within the Poitou-Charentes region, on the Atlantic coast just north of Bordeaux. (The word brandy derives from the Dutch brandwejn, meaning "burnt wine", and reflects the method of brandy production, where wine is heated by a fire to vaporize the alcohol.)
The Charente area had two essential assets for brandy production: expanses of vineyards producing wine suitable for distilling, and massive forests that provided wood for the distillery fires. Within Charente, the district around the small town of Cognac soon won a reputation for producing brandy of superior quality, and when official appellations for wines, spirits, and foods were established in France in the 20th century, Cognac was given its own. Cognac is to brandy what champagne is to sparkling wine.
Cognac was where Richard Hennessy had the good fortune, or the good sense, to set up his business, and over the decades and centuries, his descendants have supplemented and modernized his legacy. Château de Bagnolet, the early 19th-century mansion that is Hennessy's luxurious private guesthouse, is filled with paintings of forebears, including Richard Hennessy himself; Jacques Hennessy, who was born the year the company was formed; and Auguste Richard Hennessy, who not only headed La Maison Hennessy but also served as a senator in the French Third Republic.
Château de Bagnolet's history is itself a story of change. Located a few kilometres from the village of Cognac, its a façade resembles a meeting of neoclassical and southern colonial styles, with a long verandah that looks out on lawns and gardens, which slope down to the Charente River. Built in 1810, the mansion was bought 30 years later by Auguste Hennessy, who later added two wings and a spacious winter garden. During the Second World War, it was requisitioned by the Luftwaffe, and in 1945 was used as a headquarters by the British Royal Air Force for almost 18 months. (That same year, General Charles de Gaulle himself visited the château to sign a treaty alongside General Edgard de Larminat; because of de Gaulle's imposing stature, a bed was built especially for him, and it is still in the master bedroom.) Today, guests of Hennessy stay in the luxurious château and wander the acres of immaculate gardens—and, of course, sip cognac cocktails on the verandah.
Maurice-Richard wears this lineage lightly, and in fact did not always want to enter the family business. Did he feel a special responsibility to represent so many generations of Hennessys? "Oh, God, no! When I was a teenager, I wanted to raise cattle." He first studied as an agronomical engineer but later worked as a cognac marketing intern for his uncle in Paris. After working as a volunteer for an NGO in Africa, he decided that "cognac was more my passion than cows."
Maurice-Richard finds cognac fascinating for its history and because "like a lot of wine, it represents a precise piece of land." The demand for Hennessy cognac "is huge, and growing all the time," he says, "especially among people 30 years and up—in many cases with water, ice, or cranberry juice, which is wonderful." And there have been changes to the time of day when people drink cognac. "More traditionally, it was drunk before bed. Now, the time of day [for drinking cognac] depends on what's happening."
La Maison Hennessy produces several tiers of cognac, based on a system devised in 1865 by an earlier Maurice Hennessy, grandson of Richard, the founder. Inspired by a star engraved on his office window, Maurice created a Three Star Cognac; the star system was later adopted by other cognac producers. This cognac, now known as V.S (Very Special), is a blend of more than 40 eaux-de-vie from different subregions within the Cognac appellation. It's a lighter style of cognac, with modest viscosity and more of a nibble of alcohol than a bite.
V.S represents about half of Hennessy's sales, and it is V.S that you will find in the new Hennessy Remixed cocktail recipes. These pair the cognac with four flavours—apple, berry, ginger, and citrus (the latter of which is an interesting blend of Hennessy, cola, and lime juice)—and aim to amplify the flavours already present in Hennessy V.S. In France, where taste favours a little bitterness, Hennessy cocktails are often made with tonic water and a slice of lemon, whereas in England and Ireland, the preferred Hennessy cocktails are made with ginger ale and lime—a variation on a Horse's Neck, which is either brandy or bourbon, mixed with ginger ale, and garnished with a long spiral of lemon peel draped over the edge of a highball glass.
Hennessy's next tier, V.S.O.P (Very Special Old Pale), is recommended for drinking straight or on the rocks. Made first in 1817, when the future King George IV of England ordered a special cognac from Hennessy, it brings together about 60 components from the four growing areas in Cognac that have the highest reputation. The amber hue is darker than V.S, the flavours are more intense, and the viscosity is a little more marked. But it's light on its feet and serves well as a digestif after lunch.
Hennessy X.O (eXtra Old), the next step up, is generally drunk straight, but Hennessy acknowledges that more and more people are serving it on ice. It is a smooth, powerful blend of more than 100 very old components, it was originally created in 1870 by Maurice Hennessy for his family and friends. Since 1947, it has been bottled in a distinctively pear-shaped decanter engraved with vine leaves and bunches of grapes.
The highest levels of Hennessy cognac, also bottled in pear-shaped decanters, are more recent creations. In 1979, Hennessy's master blender, Maurice Fillioux, used some of the cognacs that had been distilled by his grandfather, an earlier master blender. The result must have impressed the tasting panel, as the cognac was given the name Paradis. Today, Paradis is a blend of eaux-de-vie that range from 25 to 130 years old, all from Cognac's superior growing areas. Paradis is brilliant amber with gold highlights, and it delivers intensity of flavour, but is wrapped in, and softened by, layers of complexity. With lighter viscosity, it's impressively elegant.
Hennessy has a stunning 350,000 barrels in its system at one time—so many that the equivalent of eight million bottles of cognac evaporates each year.
The latest blend, Paradis Impérial, is drawn from selected 19th- and 20th-century eaux-de-vie, and was inspired by an order placed in 1818 by Dowager Empress of Russia Maria Feodorovna, who wanted a fine cognac to give to her son, Czar Alexander I. Released in Europe in 2011, Paradis Impérial is enhanced by a label of 18-karat gold and a crystal cabochon in a shape that echoes Napoleon Bonaparte's bicorne hat. This cognac, with its evocation of two empires, is available in only a few markets.
Even more powerful, and having a real sense of maturity, is Richard Hennessy, a distinctive cognac named for the founder of La Maison Hennessy. Launched in 1996, this blend brings together a selection of more than 100 components, some dating back almost 200 years to the early 19th century. It is recommended that Paradis and Richard Hennessy cognacs be drunk from a crystal tulip-shaped glass or small snifter—and straight.
The current master blender, Yann Fillioux, is the seventh generation of his family to be a master blender at Hennessy, and he has the privilege of drawing on the work of his ancestors as he selects components for the higher tiers of Hennessy cognacs. Hennessy's original chais (cellars), on the bank of the Charente River, date from 1774 and are filled with barrels waiting to be blended. They include barrels holding eaux-de-vie distilled as recently as the 1990s and as far back as the 1800s. Hennessy has a stunning 350,000 barrels in its system at one time—so many that the equivalent of eight million bottles of cognac evaporates each year. Between 15,000 and 20,000 new barrels are added annually, and a cooperage, with eight full-time coopers, maintains and repairs barrels on a regular basis. The Hennessy style calls for barrels that impart medium to strong aromatics to the cognac; other than the contribution of the barrels—tannins and the flavours of the wood and internal charring—nothing can be added to cognac. Unlike generic brandy, which can be coloured with caramel, Hennessy's amber hues derive solely from the barrels and the aging of the wine.
Although La Maison Hennessy is infused with a sense of its own past (and it could hardly be otherwise, with such generational depth in not only the Hennessy founding family but also the Fillioux family of master blenders and Château de Bagnolet), it has not shrunk from innovating, and has readily embraced the use of cognac in its Remixed cocktails. Still, there's full respect for the purity of quality. Whether evoking the Russian and French empires in Paradis Impérial or the founder Richard Hennessy in the cognac that bears his name, history is what inspires its blends.
Top photo by Dominique Ravelo.