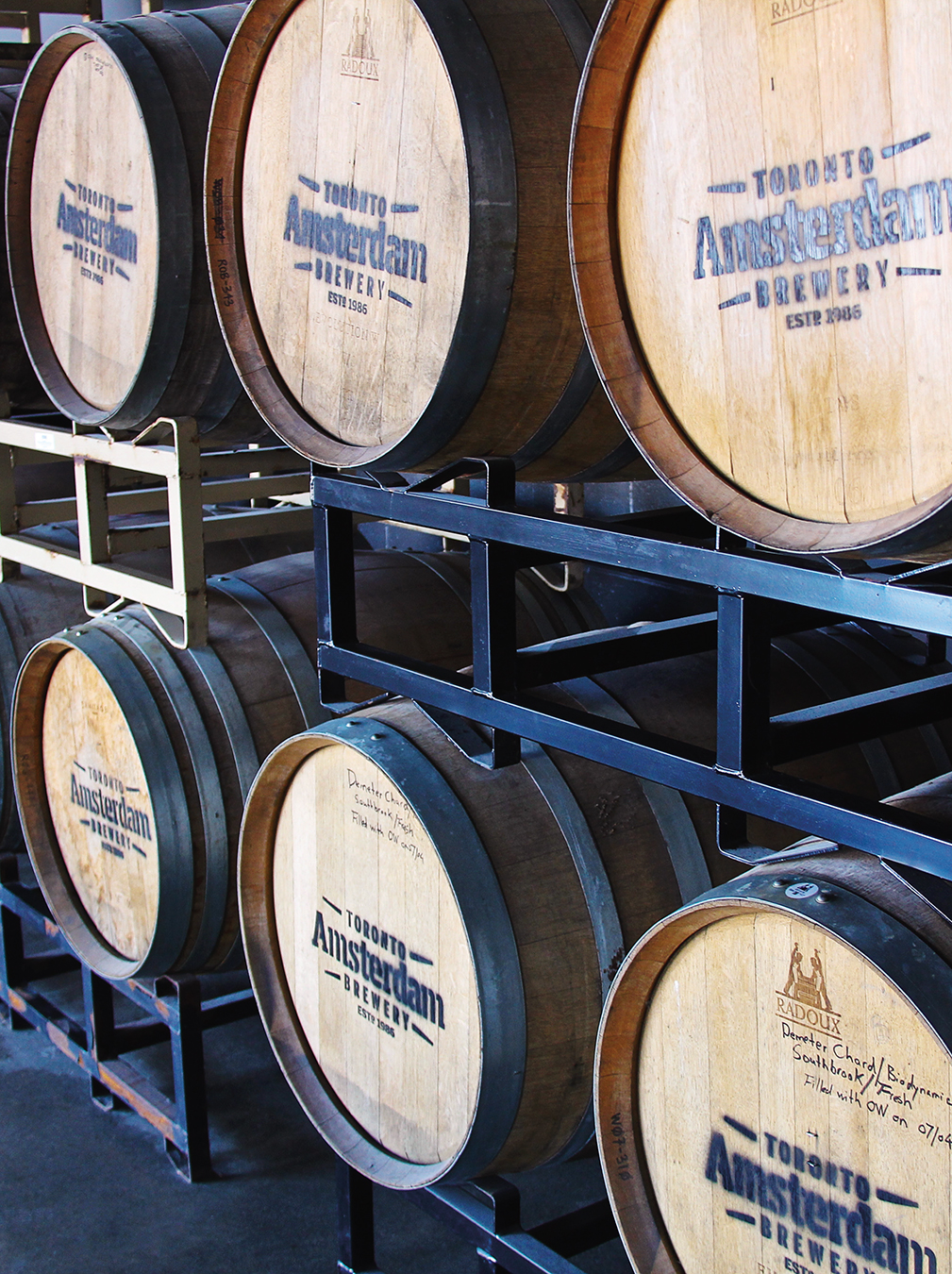 First ubiquitous in brewing, then obsolete, barrels are once again on the leading edge of the craft beer movement.
Until the mid-20th century, all beer was stored and transported in barrels—usually made of oak because of its sturdiness and waterproof quality. Industrialization of the brewing industry changed all that; metal tanks, glass bottles, aluminium cans, and stainless steel kegs became the norm, and wooden barrels all but disappeared. Perhaps the only exception was in Belgium, where a unique brewing tradition involving purposeful cultivation of wild yeasts and bacteria in beer kept barrel aging alive.
Craft brewers throughout North America are now barrel aging some of their beers, and beer drinkers are getting very excited about the results. Like wine, some barrel-aged beers can benefit from further aging in the bottle for a year or more. Brewers have even taken to sealing barrel-aged beers with wax to encourage and support aspiring beer cellarists.
"The world of barrels is vast," says Mirella Amato, a Toronto-based master cicerone (brewing's equivalent to a master sommelier). "It depends on what else has been in the barrel, the length of time the beer is in the barrel, and the temperature. The process adds a complexity to an already complex beer."
There are two main ways to look at how barrels are used in craft brewing: barrel fermentation of Belgian sour styles such as lambics, gueuzes, and Flanders red ales; and barrel aging of potent styles such as imperial stouts and porters, old ales (or barley wines), and strong Belgian ales.
Sour beers spend years slowly fermenting in barrels contaminated with organisms that would ruin traditional beers, so they are challenging for brewers. Barrel aging, depending on various factors, can be much easier and less expensive. It usually involves a bourbon barrel, and there is essentially an endless supply of used ones available to brewers: by definition, every new batch of bourbon must be aged in a brand new, freshly charred white oak barrel.
"All you're trying to do is essentially pull out the flavour of the barrel—the tar and bourbon flavour," explains Jason Meyer, one of two founding brewers at Victoria's Driftwood Brewery, which has been barrel-aging beers for the last three years.
Driftwood's Singularity is a bourbon barrel-aged Russian imperial stout that is released annually in small quantities. Meyer says Driftwood only uses wine barrels in their sour beer program. "I don't want bourbon-y flavours in a sour beer."
Brewers want barrels for sour beers to be contaminated with funky yeast (Brettanomyces) and bacteria, so they reuse them on purpose, often without cleaning them out. Depending on the style, fruit may also be added along the way to encourage refermentation.
"With each subsequent refilling of the barrel, the influence of the organisms residing in the wood increases," Meyer says, "so the second time you get a result in six months that maybe took a year the first time you filled it."
At Toronto's Amsterdam Brewery, head brewer Iain McOustra says 65 of their 82 barrels are wine barrels, mainly from the Niagara area, because of "the opportunity to use those barrels that had great wines in them and to play around with the different characteristics they impart into the beers we've aged in them."
Amsterdam has also collaborated with three other Toronto breweries (Indie Ale House Brewing Co., Great Lakes Brewery, and Sawdust City Brewing Co.) to produce a beer called Niambic, which is based on the Belgian lambic style. Last October, the brewers put fresh wort (beer before it is fermented by yeast) in open fermenters outside in a Niagara vineyard right next to an orchard. The goal was to let wild yeasts and bacteria from the grapevines and fruit trees inoculate the beer, and hopefully give it a unique flavour—the ultimate in local terroir. "We hope to be doing that every year over the next three years to the point where we can blend," McOustra says. With many sour beers, brewers blend different vintages together to create the ideal flavour profile.
Barrel aging is part of Quebec's burgeoning craft beer scene as well. Dieu du Ciel!, which has a brew pub in Montreal and a microbrewery in nearby Saint-Jérôme, releases five barrel-aged beers every year—with plans to release two more this year—and has a sour beer program underway. Probably best known for its Péché Mortel, an imperial stout infused with coffee and aged in bourbon barrels, Dieu du Ciel! also ages some of its beers in pinot noir barrels.
"We always blend our beers because 100 per cent bourbon-aged beer is too powerful," explains head brewer Martin Audet. "When we go with the pinot noir [barrels], it's more subtle."
Breweries all across Canada are adding barrel-aged and barrel-fermented sour beers to their regular lineups. But are they for everyone or just beer geeks?
According to Amato, who offers guided beer tastings via her company, Beerology, "Some of these barrel-aged beers can be a gateway beer, particularly the ones that have relatable flavours. A porter that's been aged in pinot noir barrels might have a tannic quality and slight wine note. And there are people out there who enjoy bourbon or rye, and when they come across those flavours in beer they're hooked because it's another fascinating expression of something they really enjoy."