The A to Z of Sicilian Wine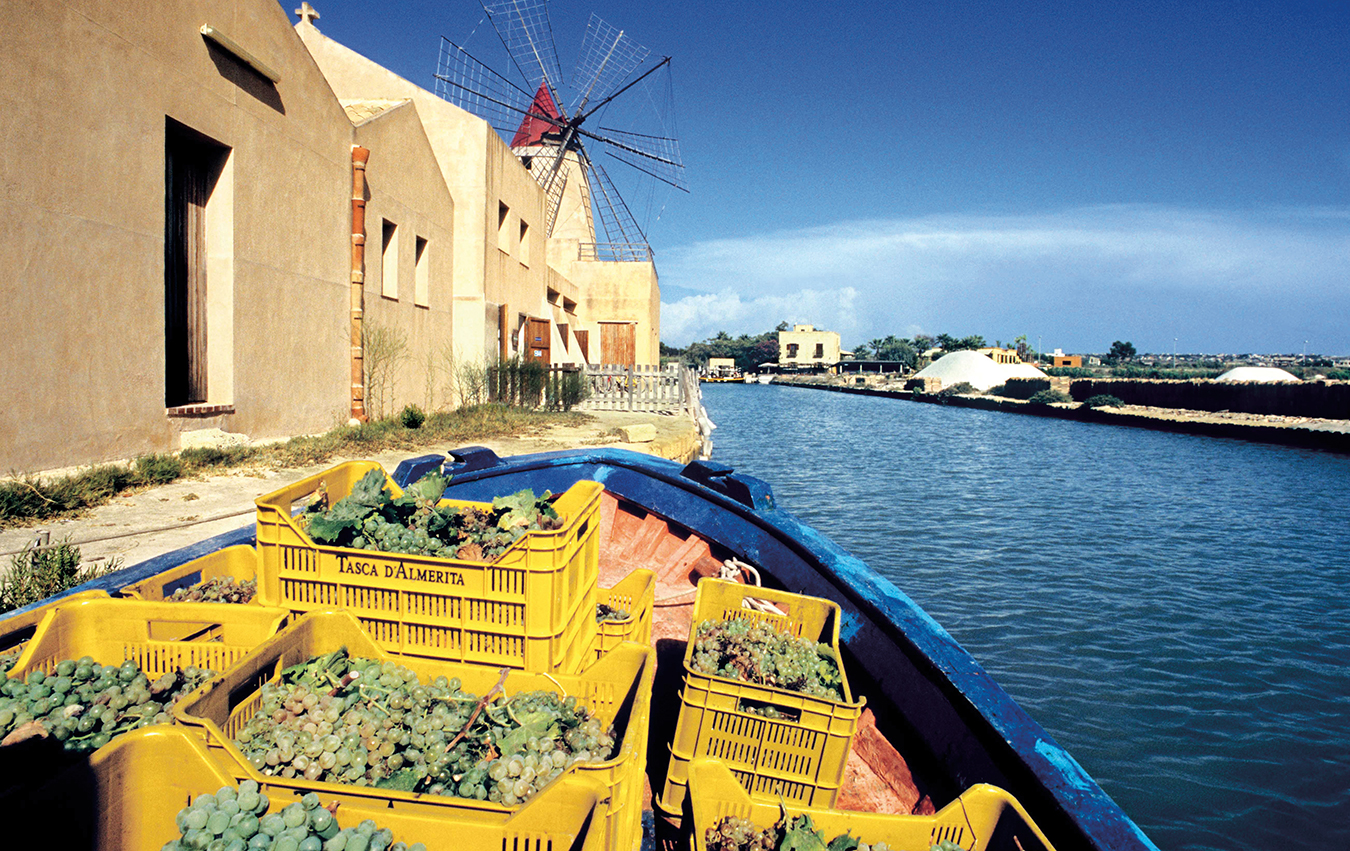 Sicily is one of the few wine regions where you can explore grape varieties from A to Z. You can start with ansonica and end with zibibbo—the local name for muscat of Alexandria—and, along the way, taste indigenous varieties like catarratto and nero d'Avola, and international grapes as different as syrah and sauvignon blanc. Growing this eclectic range seems appropriate for an island whose culture has been subject to waves of external influences: Sicily was colonized by the Greeks and Romans, later invaded by Vandals, Arabs, Normans, and various Italian dynasties. Like its history and culture, Sicily's wines are a mosaic of indigenous and imported varieties and styles.
For many years, Sicily had an ambiguous reputation in the world of wine. It was well known as the home of marsala, a fortified wine that tastes similar to port. Marsala comes in sweet and dry styles, and is gold-amber in colour when it's made from indigenous white grapes, and ruby hued when red varieties are used. Although its sales (like sales of fortified wine in general) are no longer as buoyant as they used to be, marsala has long been valued.
Not so, Sicily's table wines. Until the last 10 or 15 years, the island's wines were lumped in with the wines of southern Italy more generally. Produced in huge volumes to supply the mass market, they were considered as far from the quality achieved in Italy's prestigious northern regions as Sicily is from Piedmont.
But a seismic shift in practices and thinking began in the 1990s, and although Italy's southern wine regions still produce huge volumes of entry-level wine, their quality sector is growing steadily. There is also growing recognition of the potential of indigenous grape varieties, which were long considered terminally inferior to the noble varieties of the north. You can see all these changes taking place in Sicily.
Two long-established producers, both still family-owned, are emblematic of the changes at hand on the island. Tasca d'Almerita traces its history back to 1830—30 years before Italy was unified—when the Tasca brothers bought a farm compound called Regaleali about 100 kilometres south of Palermo. The land that was mainly devoted to grain production was gradually converted to vineyards, and the estate now grows dozens of varieties in more than 400 hectares of vineyards. Farther west, the Rallo family that owns the Donnafugata winery has also been making wine, especially marsala, for a century and a half. But a process of renewal and reinvention began in 1976 when Gabriella Rallo, now the family matriarch, inherited a vineyard in what became the Contessa Entellina DOC (Denominazione di Origine Controllata, or appellation) in western Sicily. She not only began to make changes in the vineyard and the winery, but in 1983, along with her husband, Giacomo, she developed the Donnafugata (which means "woman in flight") brand. It was named for Queen Maria Carolina of Naples, who fled to Sicily to escape Napoleon's troops.
Like its history and culture, Sicily's wines—no longer solely entry-level—are a mosaic of indigenous and imported varieties and styles.
Both Tasca d'Almerita and Donnafugata cultivate indigenous and international grape varieties, but they are especially keen to show how the local grapes perform. Tasca d'Almerita is experimenting with dozens of varieties, and CEO Alberto Tasca d'Almerita, a member of the seventh generation of his family to make wine, smiles as he acknowledges that not all the varietal trials have worked. "We've done some quite stupid experiments, but they've been interesting," he says.
At Donnafugata, Gabriella Rallo says the focus on indigenous varieties was fundamental to her development of the brand. "Improving indigenous varieties was one of my aims, even though many people thought we were quite mad," she says. This attention included drastically reducing yields—from 10 kilograms of grapes per vine in the nero d'Avola vineyards to less than two kilograms. It's not surprising that other growers, seeing the heaps of green—unripe—grapes cut from the vines, thought the strategy was financially suicidal.
But changes like these in the vineyards, accompanied by innovations in the winery, have transformed the status of nero d'Avola (meaning "the black of Avola"), which is named for a town on the southeast coast of Sicily. The grape makes intensely flavoured and dark wines, and until recently it was widely used in red blends to contribute flavour and depth of colour. Although it is produced in big volumes, and many entry-level versions are shipped in bulk from Sicily to be bottled on the mainland, a number of producers are holding the grape to higher standards.
Donnafugata's premium nero d'Avola is Mille e una Notte (Thousand and One Nights), which plays on an Arabian theme. Each vintage is about 90 per cent nero d'Avola, with other varieties in support, and the consistent result is a wine with impressive depth, structure, and power. First made in 1995, this is a wine with good cellaring potential; the 1999 vintage is well integrated, but its fresh flavours and juicy texture are still some time from showing age.
At Tasca d'Almerita, nero d'Avola plays a role in a number of wines, from entry-level up. Lamùri (Love) is made from a selection of grapes grown at higher-than-usual altitudes (450 to 750 metres above sea level), where cooler temperatures shift the balance toward freshness, and Rosso del Conte is 55 per cent nero d'Avola with 45 per cent other varieties. Both these reds deliver intense fruit with distinctively successful fruit-acid balance.
But nero d'Avola isn't the only Sicilian red variety in play. Another is nerello mascalese, which hails from the northeastern end of Sicily and has sangiovese among its relatives. The thinking is that nerello macalese does best in the black soils on the north-facing slopes of Mount Etna, Sicily's iconic volcano, and that is where Tasca d'Almerita grows the grapes for Tascante, made entirely from the variety. Although it's not deeply coloured, it delivers concentrated aromas and flavours, and is framed by firm but manageable tannins in its youth.
But the fact that Sicily's indigenous reds are making a splash on international wine markets is ironic, because two-thirds of Sicily's wine production is white, and Sicilians are overwhelmingly white wine drinkers. Among the indigenous varieties gaining reputations are whites that go well with the seafood that is so important to Sicilian cuisine; they include catarratto, ansonica, grecanico, and grillo. Of these, grillo is perhaps the best known internationally because it makes attractive whites that are full of fresh fruit flavours and clean, bright acidity. Tasca d'Almerita sources some of its grillo from the island of Mozia, the site of an ancient Phoenician settlement, just off the west coast of Sicily.
Although Sicilians sometimes chafe at their relationship with the mainland, Sicily has its own dependent territories. One is Pantelleria, a tiny island of roughly 80 square kilometres lying about 100 kilometres from Sicily and 80 from the east coast of Tunisia. A volcanic island that's arid, windswept, and broken with rocky outcrops and hills, Pantelleria is extreme viticulture. Because the constant wind causes serious soil erosion, the vineyards are built as terraces supported by dry walls made of volcanic rock. There are hundreds of kilometres of these walls on the island, and maintaining them is a continuous task. The vines grow low to the ground, as bush vines, each in its own little hollow in the sand so as to maximize water catchment when it does rain. Some of these gnarled vines were planted more than 100 years ago.
Pantelleria is best known for its sweet wines, passito di Pantelleria and moscato di Pantelleria, both of which are made exclusively from the zibibbo variety and vary only by method of production. To make passito di Pantelleria, the more complex of the two, some of the grapes are picked in mid-August and then dried for 20 to 30 days on wooden grates that are exposed to sun and wind. In September, other grapes are picked and pressed, and while that juice is fermenting, the dried grapes (now a quarter of their original size) are added. Fermentation is long—it usually runs until November—and the result is a rich, sweet, and sometimes viscous dessert wine that exudes pungent and complex flavours. Donnafugata began making passito di Pantelleria in 1989. Its flagship is Ben Ryé, meaning "Son of the Wind" in Arabic, a reference to the climate that has such a profound influence on the vineyards.
Sicily's new wine industry is drawing deeply on its past for grape varieties and images. At the same time, in the best Sicilian tradition, it's staying open to the innovations of modern winemaking. All are reflected in the deepening complexity of Sicily's wines and wine culture.