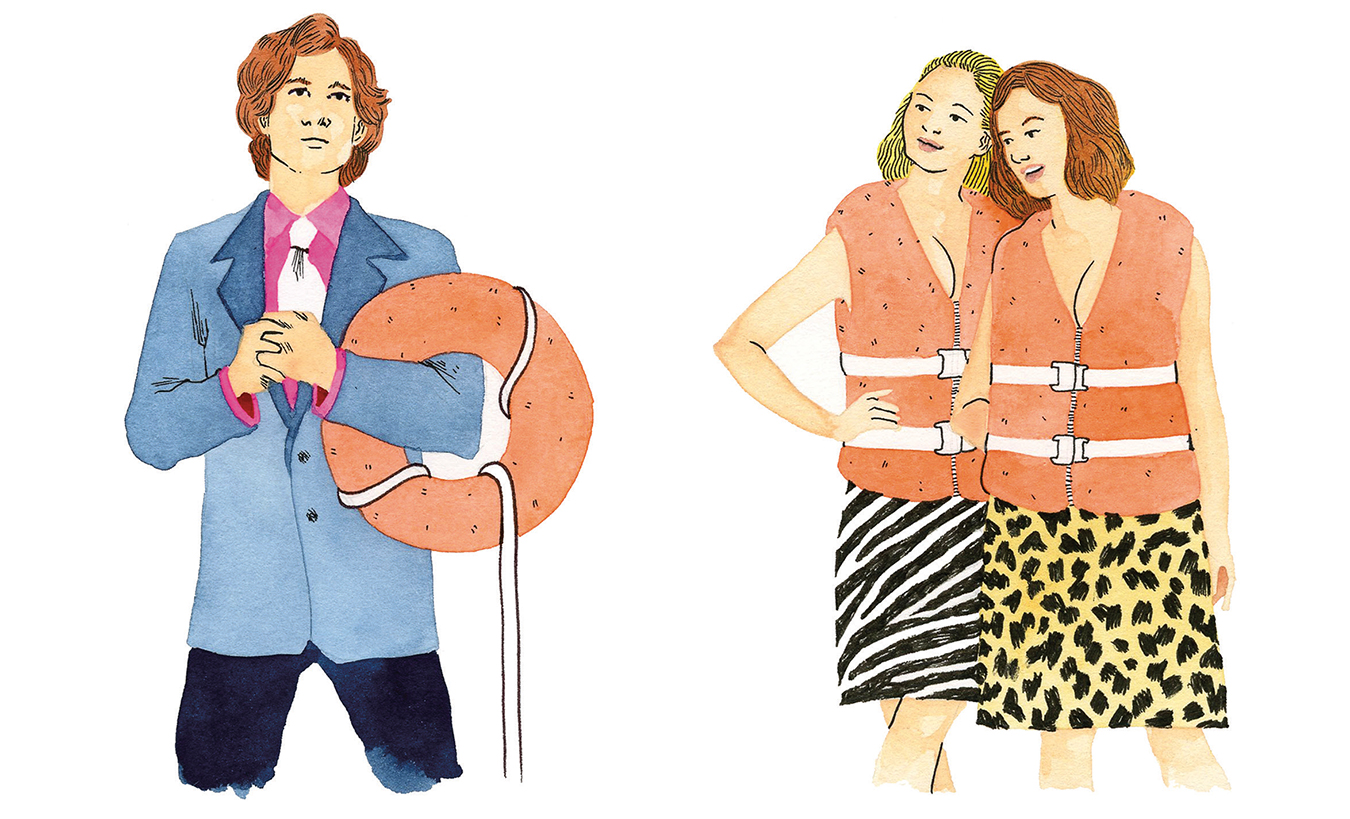 I'm standing on the deck of the River Gambler on a seductive summer evening in Toronto, here to observe what is being billed as the first ever Cougar Cruise—a five-hour tour with the ostensible policy reason of matching up "cougars" (older women) with their "prey" (younger men). The Love Boat, it isn't.
The air is thick with Chanel No. 5 as groups of cougars (and some prey) begin to congregate around Pier 27. Much of the fashion consists of over-the-top cleavage on display. Others are decked out as if on a casting call for Dynasty: The Next Generation. But at least the ladies have made an effort—many of the men are in baggy pants with shirttails out.
The cruise is the brainchild of Canada's self-appointed cougar queen, Valerie Gibson, a veteran sex columnist and author of Cougar: A Guide for Older Women Dating Younger Men. (A typical nugget of advice: "Think short-term, not long-term. Okay, think long-term if the sex is amazing.") What better hunting ground than to have one's prey confined to a boat for just over five hours straight? The adage about shooting fish in a barrel springs to mind.
I'm here because I owe a big favour to my platonic gal pal Cyndi "with-a-Y-where-the-I-should-be-and-an-I-where-the-Y-should-be" (her de rigueur albeit highly annoying salutation whenever she meets new people). While Cyndi is definitely a poster girl for The Cougar, she's a responsible feline in that she plans to "get hammered", and has enlisted me as a designated driver.
At 7 p.m., cougars and prey prepare to board. Gibson takes a look around and says she's elated that the split of men and women at Pier 27 is virtually fifty-fifty. But many of the men are without tickets. They lurk in the parking lot, carefully surveying the female demographic before committing to the $50 fare. As boarding time nears, many of the ticketless men start to wander away. Just then, an über-cougar makes an entrance, her long blonde hair flowing, her lingerie-like ensemble barely containing her ample chest and buttocks. Several men instantly make a beeline for the ticket table.
Half an hour later, it's still light out and nobody is inebriated yet, so predators and prey carefully give each other the once over.
I strike up a conversation with Tony, 40, a handsome and fit Toronto salesman. The boat hasn't even set sail and Tony is already bemoaning being aboard. "Take a look around," he says dismissively. "Let's put it this way: as far as I'm concerned, if you're on one of these cruises and you're over 40, then you have a big L in the middle of your forehead."
Tony tells me that his friend Angelo bought him his ticket. (In fact, almost everyone I meet makes the same claim: "a friend" purchased their ticket.) Angelo, 41, a restaurateur, is far more forgiving than Tony. "I'd say there are a few candidates here," he says. "My goal is to meet a couple of cougars and bring them back to my place for a midnight swim."
John Parsons, 25, readily admits to buying his own ticket, and is one of the few people aboard who freely divulges his surname. Originally from Newfoundland, Parsons now lives in Brampton, where he works as a forklift operator. Clean-cut and fit, he says both he and his equally buff friend Todd, 23, can't be bothered with women under 40.
"I have always had a thing for older women," he says. "They're much less fuss, eh? They know what they want and they get to the point right away. Girls my age, you have to flirt with them for three weeks before you can even get them into the sack."
Asked about the cougars on deck, Parsons is noncommittal. "I've seen a few prospects. But ask me what I think once the beer goggles kick in."
I make my way over to the other side of the ship and meet Deborah, 38, a Susan Lucci look-alike dressed to thrill in a tight black ensemble. The claws are out as she takes stock of rival felines. "There are so many people here that are not dressed appropriately," Deborah says, pointing out the fashion mistakes. "Look at that one—the back of her underwear is showing. And the one in the green top? She shouldn't be wearing a tight top like that—not with the midriff she's got."
Gracious. Was it like this on the S.S. Minnow before its infamous three-hour tour, with Ginger viciously critiquing the fashion sense of Mrs. Howell?
In any event, Deborah says she wants to meet a "younger man who is fit—older men have a tendency not to perform."
Alas, much to the women's chagrin, too many male specimens are clearly past their prime, judging by the hairlines (receding) and tummy lines (sprawling). "A couple of the women I've met have been complaining a bit about the age of the guys," remarks Marty, 72.
More than an hour later, the River Gambler sets off to do endless circles around the Toronto harbour. A giddy Valerie Gibson, clad in a tight-fitting black dress accented with bright red roses, grabs a microphone and begins working the room.
"I'll tell you, you guys better go to the washroom in pairs—there are cougars on the prowl," she says. "Come on, cougars! Get your knickers off and have fun! Let the games begin!"
The first song to blast from the speakers is the Human League's "Don't You Want Me".
Jeannie, 43, a Barbara Eden clone in a tight low-cut white dress, tells me she finds the term cougar "offensive". Why is Jeannie on the Cougar Cruise? "I want to keep my options open," she says. "Because that's what men always do, right?"
By 9:20 p.m., the booze has been flowing and predators and prey alike are getting chummier. Well, some of them. Poor Tony looks downright miserable. He doesn't find any of the cougars appealing, and he can't drink his sorrows away because he's a teetotaller.
The Cougar Cruise is the brainchild of Canada's self-appointed cougar queen, Valerie Gibson, a veteran sex columnist and author.
"How goes the battle, Tony?" I ask. Tony rolls his eyes skyward.
Near the bar, I encounter Lolita, 52. Lolita describes herself as "a strong woman who knows what she wants," but she doesn't believe she quite fits the definition of a cougar. Although she prefers younger men, they can't be too young. "I have a limit," she says. "They cannot be younger than my oldest daughter [33]."
At this point, a thoroughly inebriated man in his 30s staggers over to Lolita and does what appears to be a very lame Austin Powers imitation. "Do I make you horny, baby?" he sputters. "Do I? Do I?"
A pregnant pause follows as the fellow simply stands (barely) in front of us, giggling while wiping his glassy eyes.
"What about this fellow?" I ask. "Any potential here?"
"I don't think so," Lolita says, looking horrified.
At 11:30 p.m., I head below deck and meet up with sisters Shelley and Heather. Both are in their early 50s but look much younger. They work for a large downtown accounting firm, and both are professional impersonators. (Shelley does Marilyn Monroe, while Heather's specialty is Lucille Ball.) Heather and Shelley—who tend to drift in and out of character—are having a blast, although they're trying desperately to shake off Stinky Jimmy, the nickname they have given to a balding, grope-happy forty-something man who reeks of body odour.
To send a not-so-subtle message to Stinky Jimmy, Shelley snuggles closer to me while Heather avoids looking in his direction. We are directly across from the ship's DJ—a dead ringer for Danny Bonaduce.
At this point, the Cougar Cruise becomes downright surreal: Marilyn Monroe is sitting on my lap, Lucille Ball is making bug eyes, Stinky Jimmy is orbiting our table like a pesky mosquito, and Danny Bonaduce is lip-synching Duran Duran's "The Wild Boys". The only thing missing is Rod Serling standing in the corner narrating.
"This is mental—mental!" Shelley says, doing Marilyn. Her point is impossible to argue.
The clock strikes midnight and the River Gambler starts chugging slowly back to shore. There's a palpable sense of urgency now. Preyless cougars and cougarless prey dash about in a last-ditch effort to connect. It feels somewhat like we're on the Titanic—there's a realization that the end is nigh. Indeed, at this point, I politely decline the advance of one cougar who approaches me and says with a purr, "I know you're married, but do you, you know, date?"
I'm astounded by the remark, mainly because I'm not wearing a wedding ring. How did she know? Could it be her hunting instincts are heightened to such a degree that she can actually sniff out the marital status of potential prey? Amazing.
A half-hour later, the Cougar Cruise is over. As people disembark, Gibson hands out goody bags. I join the line and snag one. Inside, I find promotional literature for a local dating service, a discount coupon for a sex shop, a purple condom, and a copy of Gibson's book. (She offers to sign mine. "To David," the inscription reads. "Wonderful prey indeed!")
At 12:50 a.m., the Newfoundlanders, Parsons and Todd, are equal parts drunk and elated. They're also successful, given that they're heading back to a condo belonging to a pair of fifty-something cougars.
Others aren't so lucky. By all indications, Angelo will not be having a midnight pool party after all. Stinky Jimmy, meanwhile, is practically chasing Shelley/Marilyn for one last farewell grope.
Dawn, 44, is also leaving the boat alone—not that she didn't have an opportunity, she's quick to point out.
"I met this fellow my age who looked really familiar—it turns out I bought a sub from him last week at the Mr. Sub in Burlington," she says. "He asked me what I was looking for on the cruise and I said, 'To meet someone to have coffee with and go to movies.' And he said, 'What about sex?' And I said, 'Coffee.' "
Still, hope springs eternal. Before the ship docks, Gibson begins promoting her Cougars in Cuba extravaganza, whereby cougars and prey will be confined to a Varadero resort for an entire week.
And what do you know? Cyndi "with-a-Y-where-the-I-should-be-and-an-I-where-the-Y-should-be" has been successful in her hunt. Sort of. She's holding the hand of that drunken Austin Powers guy, who is giggling and drooling.
A deal's a deal. The three of us head to the parking lot and get into Cyndi's dilapidated Chrysler Cordoba coupe. It's a long drive home as the chauffeur's nostrils fill with the aroma of Molson Canadian, Wild Musk, and Corinthian leather—the unofficial scent of a Cougar Cruise.