The myth, the man, the singular Tojo-san.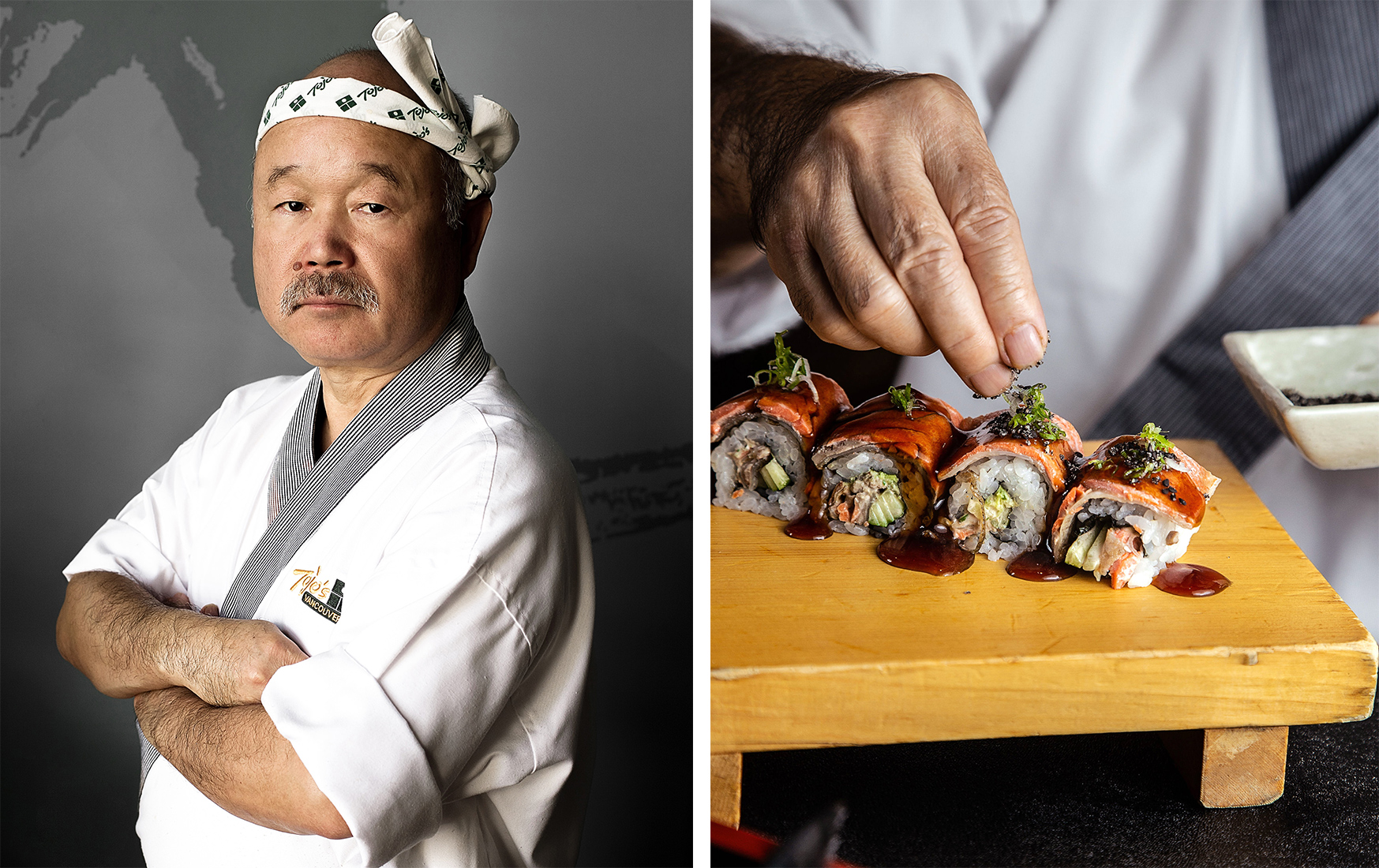 Think back to the first time you tried sushi. If it was in North America, chances are a California roll was among your initial bites of this delicacy—it's the gateway sushi for many. California rolls are "inside out", with an outer layer of rice surrounding nori and a filling of crabmeat, cucumber, and avocado. They're ubiquitous now, but chef/restaurateur Hidekazu Tojo was the first to serve the revolutionary style of roll in his newly adopted home of Vancouver nearly 50 years ago. The much-lauded chef's career is storied, transporting a shy country boy from humble beginnings to the upper echelons of culinary accomplishment.
Unlike his current gastronomic flights of fancy, food was a modest endeavour during Tojo's childhood in postwar Kagoshima, Japan. "Both my parents, especially my mother, didn't eat meat," he explains. "Meals at home were very simple—mostly tofu, rice, soup, and a little bit of fish—and I was so hungry for any chance to experience other kinds of food." He would eagerly anticipate accompanying his father on annual business trips to Osaka, where he had the chance to indulge his adventurous palate. Tojo's first high-end dining experience was a department store food floor, where his eyes widened with delight at the impeccably dressed servers attending to lavish food displays. "I still remember exactly how my first bite of panko-crusted ebi tasted."
Time spent with his older sister also piqued his culinary curiosity. During visits home, she cooked city-style food that he'd never tasted, and he laughs while recounting his first attempt at eating with a fork and knife as a teenager while having dinner with her in Fukuoka. "I was so nervous that I couldn't eat! There were hakujin (Caucasian people) sitting at the next table, and it made me even more self-conscious because I didn't know what I was doing. I was barely able to eat one bite before I took the rest of my meal home in a doggy bag."
Fueled by a desire to buck tradition and mould his own path, Tojo realized that becoming a chef would be his best bet to overcome prohibitive immigration laws and travel internationally. At age 18, he began his culinary apprenticeship in Osaka at the highly renowned Ohnoya ryotei, an exclusive restaurant that to this day represents the pinnacle of luxurious kaiseki dining. Putting in 16-hour workdays over the course of three years, Tojo trained intensively to master the myriad facets of traditional Japanese cuisine, from sushi to tempura, and yakitori to noodles. Serendipity smiled upon him when a co-worker introduced him to the owner of Maneki, who was seeking young Japanese chefs to work at his restaurant in Vancouver. Two years of back-and-forth snail mail negotiations proved successful, and Tojo landed in Vancouver on August 25, 1971.
"If I was to make a car, I'd focus on quality like Porsche and Audi. So I wanted to make food like that, too, instead of something mass produced and ordinary."
Excited to establish himself in a new country, he immersed himself in a three-year stint at Maneki—one of only four Japanese restaurants in the city—before taking the helm of pocket-sized Jinya Restaurant in 1974. At the time, cooked Japanese food comprised the lion's share of the menu. Teriyaki, shabu-shabu, and tempura were all considered exotic, and Tojo realized that he'd need to be strategic to sway Western palates to eating raw fish and seaweed. Enter the Tojo-maki, a.k.a his California Roll.
Tojo's Restaurant alumna Akiyo Lowey readily acknowledges his influence on the proliferation of Japanese food's popularity, explaining, "I think sushi got so popular in Vancouver because of Tojo-san. He created his own style for Canadians. Tojo-san told me when he started his new style of sushi, some Japanese people were offended and said, 'This is not traditional Japanese.' But now his style is widely accepted and even thought of as traditional by many." In 2016, Tojo's contribution to the fabric of Japanese cuisine received special recognition from Japan's government: the Ministry of Agriculture, Forestry and Fisheries appointed him a goodwill ambassador for Japanese cuisine, one of only 13 overseas chefs to receive this distinguished honour.
When Jinya's owner retired and closed the restaurant in 1987, Tojo took the leap and opened his eponymous restaurant a year later at its original location at 777 West Broadway, buoyed by support and encouragement from loyal customers. There were only a handful of upscale restaurants in Vancouver—Il Giardino, Chartwell, and Le Crocodile figuring prominently—and Tojo seized the opportunity to carve himself a new niche. "If I was to make a car, I'd focus on quality like Porsche and Audi," he explains. "So I wanted to make food like that, too, instead of something mass produced and ordinary." He introduced Vancouverites to the elegant and intimate Japanese tradition of omakase; literally translated as "respectfully leaving another to decide what is best," it entrusts a master sushi chef with creating a unique, personalized menu for his guests.
Creativity and innovation are what continue to drive him. He focuses on seasonality, taking pleasure in scouring farmers' markets for the freshest ingredients. He pioneered incorporating locally sourced seafood such as wild salmon, albacore tuna, and geoduck into his menu alongside specialties flown in daily from Japan.
Tojo's impeccably presented food is certainly far from ordinary, and it has attracted a list of noteworthy guests over the years, including Gwen Stefani, Tom Cruise, Justin Timberlake, and Takashi Murakami. He's had the privilege of cooking for royalty and foreign dignitaries, among them the Emperor and Empress of Japan, and William and Kate, the Duke and Duchess of Cambridge. He's also enjoyed time in the spotlight himself, appearing on Andrew Zimmern's Bizarre Foods America, Glutton for Punishment on the Food Network, and Anthony Bourdain's No Reservations.
"Whatever I do, it'll be local. My customers have helped me so much over the years, and I want to find interesting ways to give back to the community."
The much-fêted chef has amassed numerous accolades over the course of his career, yet he counts mentoring his employees among his greatest accomplishments. Having worked front of house at Tojo's for two years, Akiyo Lowey now co-owns Dosanko, a yōshoku (Western-influenced Japanese food) restaurant in Vancouver's Railtown neighbourhood, with her husband, Nathan Lowey. Acknowledging the indelible mark he has left on the restaurant industry, she says, "Tojo-san has been instrumental in the acceptance and popularity of Japanese cuisine, not only in Vancouver, but all of North America." Lowey cites the chef's gift for hospitality as her most valuable takeaway when it comes to running her own restaurant. "Tojo-san has an encyclopedic memory when it comes to regular customers' names and preferences."
Another protégé who has gone on to open his own award-winning Vancouver restaurant is Tojo's former sushi chef Masayoshi Baba. Omakase is the sole focus at 24-seat Masayoshi in the Fraserhood area, and lessons learned over more than 10 years of working with his mentor have proven invaluable in Baba's own business. "Besides the food itself, he taught me the art of omakase, how to behave in front of the customers. For example, when and how to serve each course, the movement, and—most importantly—the rhythm," he explains. "Tojo-san often said that omakase is like a musical piece. From start to finish, we have to think of all the components." The two remain good friends and have lunch together almost every week.
At 69 years old, Tojo is just as passionate about his craft as he was when he began, still working six days a week. Yet having celebrated his restaurant's 30-year anniversary in October 2018, he has established a personal goal for himself. "In 2021, I'll [have been] in Canada for 50 years, so that's my target. I have three years to go, so I'm slowly preparing to step back." Tojo continues to mentor the young chefs at his restaurant, guiding them to perhaps one day assume the kitchen helm in his place, yet he doesn't have any concrete plans for his retirement. Despite already having contributed so much to the culinary landscape, Tojo's vision of his future still encompasses serving others. "Whatever I do, it'll be local. My customers have helped me so much over the years, and I want to find interesting ways to give back to the community."
_________
Never miss a story. Sign up for NUVO's weekly newsletter.