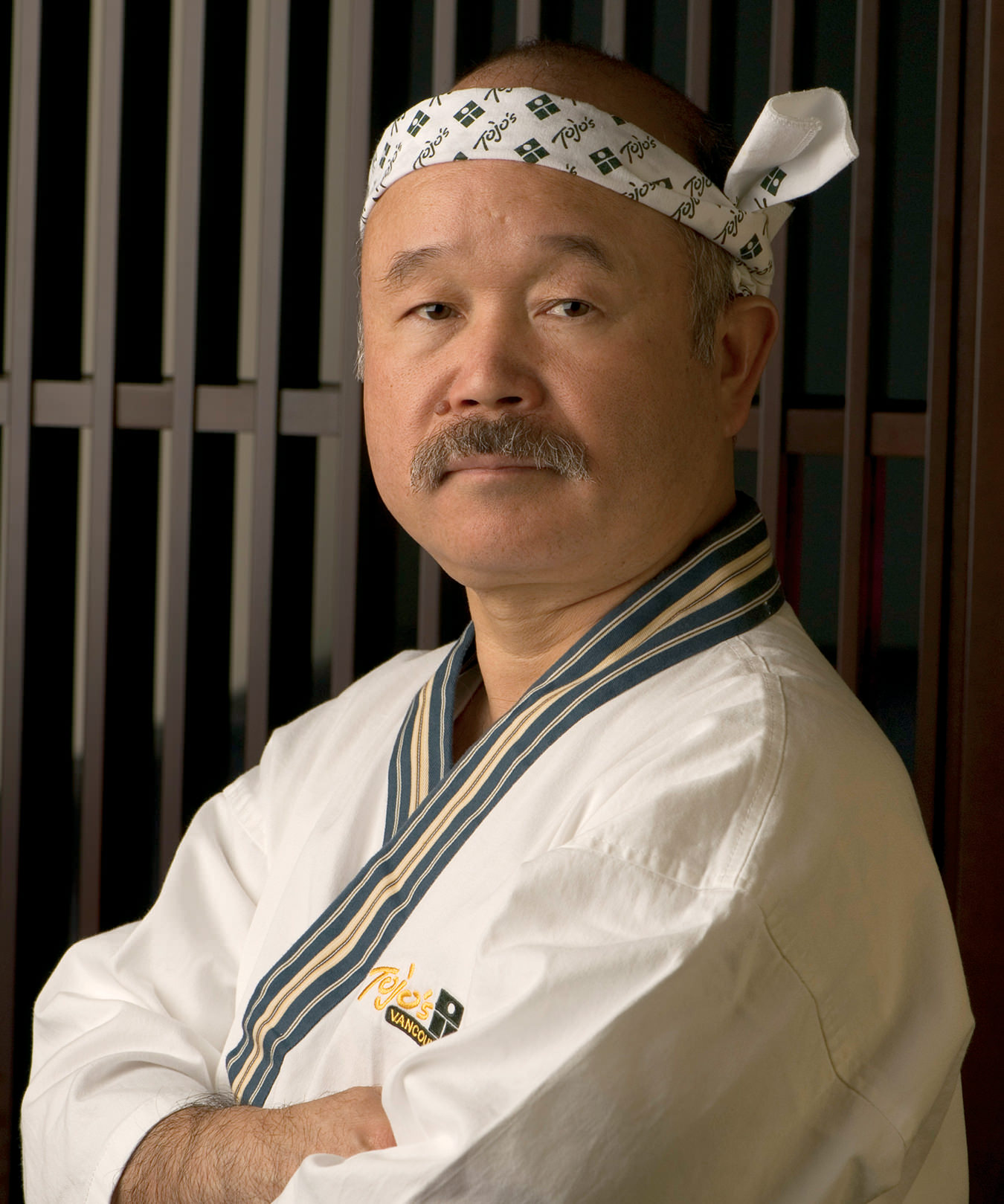 Hidekazu Tojo, one of the most respected chefs and restaurateurs in Vancouver, was born in post-war Japan in Kagoshima, at the southernmost tip of Japan. He was raised, along with 10 siblings, in the countryside. He cultivated a talent for cooking early on, an interest that came from his family. "When I was a child, my parents were vegetarians and only ate seafood, but I liked to eat everything," says Tojo. "My mother cooked her own dishes, but I started to cook my own food as I wanted to try other foods." He also admired his elder sister's culinary skills, and decided to follow suit.
As a young man, Tojo travelled to Osaka—considered the culinary centre of Japan—to apprentice at Ohnoya, a famously traditional ryokan, or Japanese inn. There, over years of working long days, he perfected his skills in traditional Japanese cuisine.
Recognizing his passion for innovation, which was leading him beyond the conventional expectations of mainstream Japanese cuisine, Tojo chose to come to North America, where he felt that a multicultural population without preconceptions would be more receptive to his "modern" ideas.
That was in the early 1970s, and Vancouver was, simply put, a culinary wasteland. "When I arrived, there were only a couple of Chinese restaurants that served basic cuisine such as chop suey and sweet and sour," he remembers. The four Japanese restaurants in the city served the ubiquitous teriyaki beef, tempura and sukiyaki. It was all cooked food; no sushi, sashimi or anything raw.
But Tojo could only cook teriyaki for so long, and he soon began experimenting with local ingredients while working at Jinya restaurant. His first original dishes were aimed at helping locals learn to appreciate the world of Japanese cuisine. With the globalization of the North American palate, the popularity of the grilled yakitori brought an interest in tender, fresh strips of sashimi—raw fish. And although nori (seaweed) was unfamiliar to many, chef Tojo cleverly disguised the ingredient, hiding it in a delicate roll of lightly seasoned rice, avocado and fresh local Dungeness crab. Called the Tojo-maki, it would later find popularity throughout the world known as the California roll.
Fresh local ingredients, including Gindara (broiled black cod, now known as sablefish), baked oysters, albacore tuna, asparagus and, famously, salmon, earned prominence in his recipes. Tojo was, in fact, the first to introduce smoked salmon into Japanese cuisine. His barbecued salmon-skin roll, known as the B.C. roll, was created in 1974, and can be found in virtually every Japanese restaurant on the West Coast. "When I started making original recipes, the Japanese customers thought I was not doing the right thing," says Tojo. "But the local people thought I was being clever."
As the head chef of tiny Jinya, Tojo presided over Japanese food's phenomenal growth in popularity in the 1980s. As more and more diners appeared with expectations of the now-standard sushi repertoire, Tojo began to surprise and delight those less eager to eat raw fish with a wider range of cooked food that even Japanese visitors recognized as rare.
Many notable celebrities, including the Rolling Stones and Harrison Ford, are ardent Tojo fans.
In October 1988, Tojo opened his own restaurant, Tojo's. It is here that he perfected his practice of omakase, in which the chef is entrusted with preparing something unique for the customer. Tojo's version is a subtle interactive dance involving the diner's dietary preferences and budget, the freshest regional ingredients available, and the chef's creativity.
For many traditional Japanese companies, looking after employees is essential, akin to filial responsibility. Also important is the sharing of responsibilities. Tojo makes sure that the members of his kitchen staff take turns on the floor serving the diners, since "They know the dishes and ingredients, and can describe it the best." As a result, a chef may be grilling fresh wild sea eel for a specialty sushi cone one moment, and recommending that you order the smoked sablefish stuffed with autumn matsutake mushrooms and mango the next. "My staff is proud of their restaurant and want to share responsibilities," says Tojo.
Freshness, quality, and the best in Japanese produce are also integral. In fact, they are of such importance that Tojo has contracted two farmers to grow organic produce for the restaurant. Nothing is wasted; the seafood refuse is ground up and used as compost for the farms. The purchase of a farm for the restaurant is in the works for the near future.
Tojo guides his guests as to when it is appropriate to season his sushi with an extra hint of soy sauce, and is often heard exclaiming from behind his bar, "No soy sauce!" to prevent overpowering the balanced flavours of the fresh fish and the perfectly seasoned pad of rice licked with the bite of fresh wasabi. His sushi is adorned only with a simple garnish of the restaurant's house-cured ginger, and not with the usual ball of wasabi.
Tojo is at the restaurant six days a week, except during his annual visit to Japan. "I do like to go back to Japan every year to see what is happening," says Tojo. "There is so much traditional cooking in Japan that trends are not seen that much in restaurants, but the ingredients and cooking techniques are top quality, which is why I love to go back to eat." His busy schedule at the restaurant keeps him in Vancouver, but he has fulfilled invitations to cook with some of the top chefs from around the world, including Jean-Georges Vongerichten, Mark Miller, Michel Nischan and Nobuyuki (Nobu) Matsuhisa.
After 18 years at its unassuming first location, Tojo's recently moved to a stunning new setting. Architect Colin Kwok designed an environment that complements the sushi master. "The design is a blend of Zen spatial dynamics, crisp modern forms and an underlying Japanese sensibility that pervades everything from subtle colours to custom-designed chairs," says Tojo. The new restaurant features an open-kitchen concept set behind the sushi bar to give the dining salon a spacious feel. There are also discreet private tatami rooms and booths, with a private elevator at the back of the restaurant to surreptitiously whisk celebrities away from unwanted paparazzi.
Many notable celebrities, including Robin Williams, the Rolling Stones, Martha Stewart, David Beckham and Harrison Ford, are ardent Tojo fans. His restaurant has, over the years, become a celebrity hot spot—although Tojo is usually too occupied to notice his famous clientele. "Most of the time, I am too busy to see who is in the restaurant, so my servers always let me know," he says. "It is always nice to meet them, but better still, to make sure, whoever they are, that they are enjoying their meal at my restaurant."
If Tojo hadn't followed his sister's path in the kitchen and had missed out on becoming a master sushi chef, what would he be doing right now? "Something artistic—probably an architect," he says. "But it wouldn't be as delicious."
February 1, 2008
Updated: June 18, 2014