The alchemy of argan oil.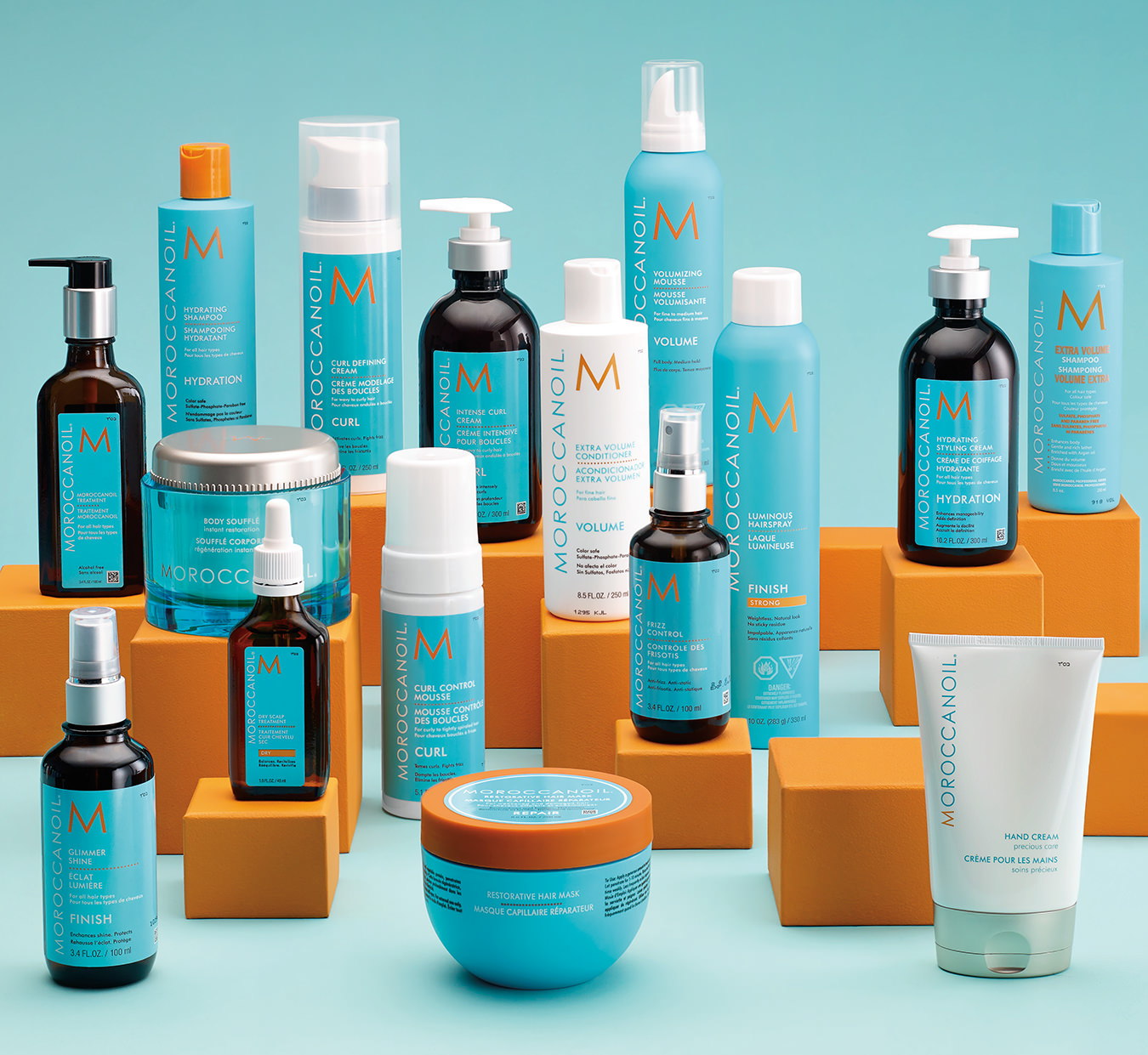 Carmen Tal enters effortlessly through the swinging doors of her midtown New York office at 57th Street and Lexington Avenue—sleek decor in white, sand, and earthy tones—with her shiny, healthy, chestnut-brown hair swinging behind her. One almost expects to see a camera crew appear next, or perhaps you'd think she's on the set of a hair commercial, and in many ways she is.
Tal is the co-founder (along with her ex-husband, Ofer) of the highly successful Moroccanoil, a hair- and body-care line famed for its key ingredient: argan oil. The argan tree is endemic to Morocco's southwest desert region of Argana, and the oil—an ancient, restorative anti-aging ingredient—is extracted from the dried and pressed kernels found within the pits of the tree's fruit. Rich in unsaturated fatty acids, the impressive antioxidant agent is the "liquid gold" that strengthens, soothes, and nourishes its users, from hair to toe.
Just an hour earlier, Tal was across the hall at the Pierre Michel salon where she treats herself twice a week to a blowout. It goes without saying that the salon carries her products. That's not surprising, however; so do many top salons in New York and in 40 countries.
"I love hair. I've never been a beautiful woman, but I always had compliments about my hair," admits the Chilean-born businesswoman. "I never wanted to cut it. It gives me a tremendous pleasure to get it done." She smiles, almost embarrassed, and shrugs. "I'm a hair girl."
Ironically, it was a hair catastrophe that introduced her to argan oil in 2006. After a salon turned her beautiful mane orange—and then, in an attempt to fix it permanently, dyed it black and left it badly damaged—Tal tried argan oil at a salon in Tel Aviv. The repairing effects were instant. So was her fascination. Tal, who was living in Montreal at the time (she moved to Canada from Chile nearly 30 years ago), brought back the argan oil concoction after seeing the continuously impressive results in her hair.
"My ex-husband and I were always very entrepreneurial," she says. Dressed in all black, she sips a coffee that is just as dark, while seated in her cream-coloured Lucite office. "Every time we went to Israel or Chile, we wanted to find [a business venture]. I was looking at wine, at olive oil, and because I was the owner of a salon for two years I knew a lot about the [hair] industry. I knew this was something interesting to look into."
It took about a year, but Tal and Ofer eventually formed Moroccanoil. "I would do the artistic part, marketing, product development, and education, and Ofer did distribution, importing, and all the legalities," she says.
This new venture was also a self-revelation. "I didn't know I had such stamina, that I was capable of doing whatever task you gave me, and that I could attack that task with passion," she admits.
That stamina served her well when, in 2010, Tal picked up and moved her three children to New York to set up shop.
This February marked the seventh anniversary for Moroccanoil. What started as a single product, Moroccanoil Treatment, has turned into a global and comprehensive line of 23 styling, conditioning, and finishing products. The company has grown from two to 250 people, with offices in São Paulo, Tokyo, New York, Tel Aviv, and Montreal.
Last year, Moroccanoil branched out beyond its hair roots and turned its attention to skin by creating a five-product body-care line. It includes a Body Soufflé moisturizer, a Body Buff exfoliator, and an Intense Hydrating Treatment, along with a hand cream and a cleansing bar.
"It takes two years to bring something to the public. Formulations have to be perfect," asserts Tal. "We are known for being a tight, small company, whose products give you effective results. We listen to what people want and what they desire. Today, the consumer is demanding and well educated." The list of famous folk who are fans is long and includes Madonna, Jessica Biel, Jessica Simpson, Iman, Fergie, and Emily Blunt.
Eighty per cent of Moroccanoil is manufactured in a nondescript warehouse about two hours north of Jerusalem, with the balance made in North America and Europe. They are tight-lipped about their recipe—only four people know it: Tal, Ofer, their chemist, and the company's CEO.
To both the hair amateur and the aficionado, Moroccanoil products are essentials. Whether you're using their glimmer shine, hydrating shampoo, luminous hairspray, restorative hair mask, or any of their styling creams, the products dramatically transform locks.
Beneath Tal's calm, reserved, and poised persona is a smart and savvy business woman, ready to take chances. Regarding her decision to sell Moroccanoil products exclusively in salons, Tal says, "You have to decide if you're a professional brand or a retail one. The industry is really the way to go. They're going to promote it to the consumer." And so they have.