Multi-Vintage Wines Are Coming of Age
Meet the intrepid winemakers questioning how we think about vintage.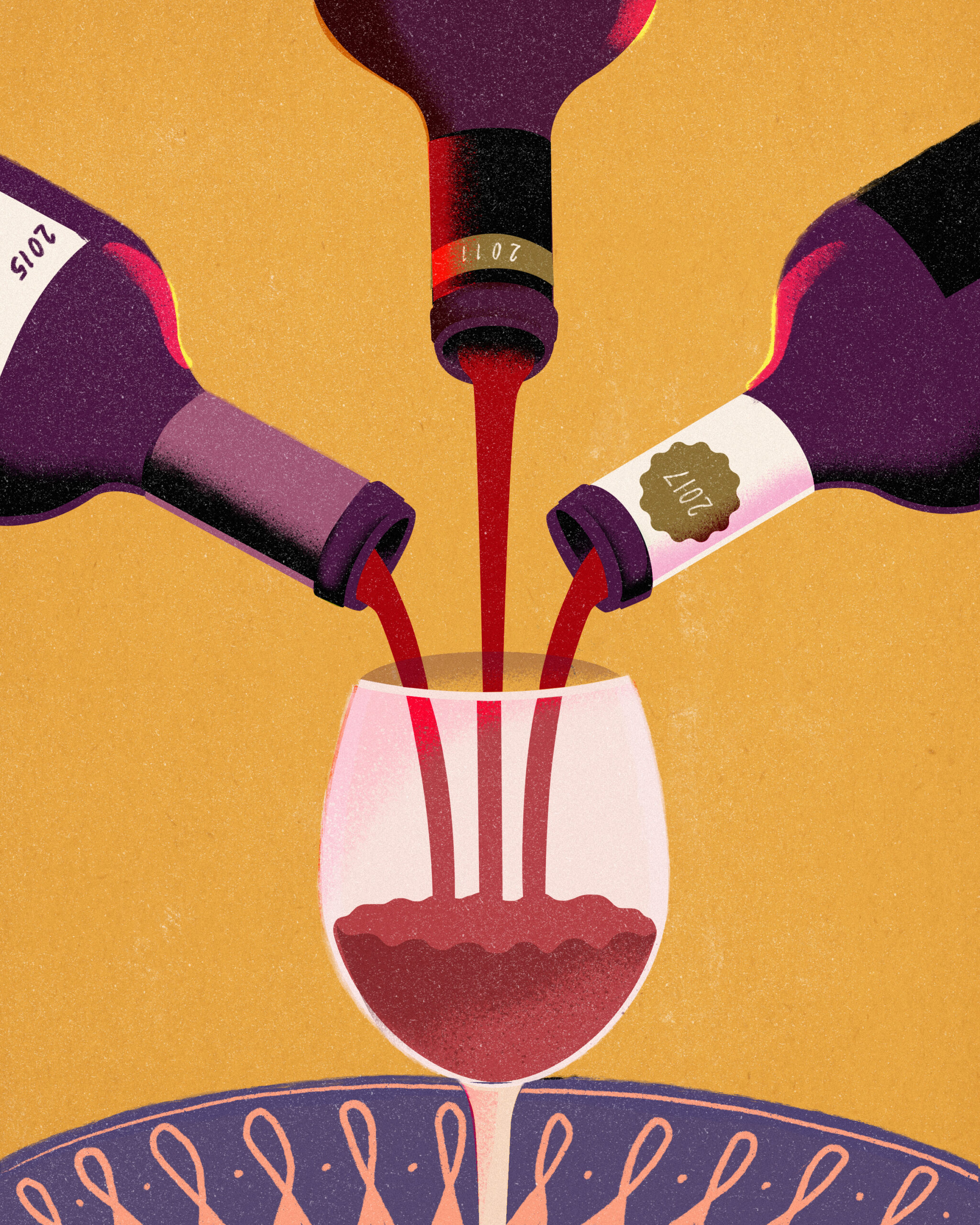 Age may be just a number, but in the world of wine, it means everything. Along with grape variety, region, and producer, one of the most important things to consider when buying and drinking a wine is the year in which the grapes were grown: its vintage. However, nowadays, when the wine world has reached peak experimentation, and orange and pétillant naturel wines regularly appear on wine lists, some intrepid winemakers are beginning to question how we think about vintage.
Apart from some champagnes (as well as fortified wines like sherry and port), what are considered to be the world's finest wines almost invariably come with a year printed on the label. Indeed, even the best of the champagnes and ports are by and large vintage bottlings. However, nonvintage champagne in particular still stands, in general, as one of the world's most covetable, appreciated, and expensive wines. In fact, it is because of how strong champagne's brand image is that nonvintage versions are the standard. In a formerly fringe growing region in the north of France, producers mitigated the costly effects of poor vintages by creating an easily reproducible "house" style blended from wines from various years, keeping demand high. Today, winemakers around the world produce multi-vintage still wines in the same spirit as champagne as well as in the name of experimentation and luxury.
The first ultrapremium multi-vintage still wine to take the world by storm arrived in 2017, when Penfolds announced g3, a blend made of the 2008, 2012, and 2014 vintages of the brand's esteemed, and pricey, Grange. Since then, the venerable Barossa Valley winery has released further "g" series wines—including g5, a blend of Grange wines from the 2010, 2012, 2014, 2016, and 2018 vintages—and V chardonnay, a five-vintage blend of Penfolds's award-winning Yattarna chardonnay wines. The Australian winery has also expanded its multi-vintage wines through collaborations with French producers. The latest led to Dourthe x Penfolds cabernet merlot, a blend of Penfolds's 2021 Coonawarra cabernet sauvignon with the Bordelais Dourthe's 2020 merlot.
Penfolds's chief winemaker and only the fourth "custodian" of the brand's Grange line of wines, Peter Gago, sees multi-vintage winemaking as a challenging but fruitful endeavour. According to him, there is a "very high risk technically, especially with white wines," and faults can include unwanted oxidation (chemical reactions that occur when wine comes in contact with air) and discolouration. But there are also advantages to producing multi-vintage still wine. "The resultant style can be sensitively crafted using the best of the best and accordingly adjusting component percent ages, seeking the optimal impact of structure, texture, and flavour from a myriad of reserves and, oftentimes, current releases," Gago says. "It's not dissimilar to the judicious use of reserve wines in Champagne."
On the other end of the spectrum, making multi-vintage still wine is a pragmatic decision for many wineries. With climate change, Canada's wine industry is positioned to benefit from higher temperatures during the growing season. While some powerhouse regions such as Napa Valley and Sonoma County face near-yearly drought and wildfires, Canada's two main wine regions—Niagara Peninsula and the Okanagan Valley—are seeing longer, warmer, and more fruitful growing sea sons than ever. However, with the Earth's gradually rising temperature, climates have also become more variable. In the Okanagan, a particularly violent cold snap in December 2022 could cut 2023's grape crop by as much as half. In Ontario, on the other hand, a relentlessly rainy autumn in 2021 wreaked havoc on Niagara's vineyards, creating disease pressure and making it extremely difficult to coordinate picking grapes at optimal ripeness.
Some Canadian winemakers have begun producing multi-vintage still wines to mitigate the risks that come with the variability of producing wine in a changing climate. Because of increasing temperatures, wineries in areas such as Ontario are now able to grow the Bordeaux varieties—cabernet sauvignon, merlot, cabernet franc, malbec, and petit verdot—with greater success, appealing to wine drinkers who enjoy the flavour of blends made with some of the world's most planted grapes. However, with the increase in temperature comes an increased chance of extreme weather events that affect the quality or quantity of the harvest, often both. Hence the advantage to blending vintages, and creating consistency for winemakers and consumers alike.
For Jakub Lipinski, proprietor and head of operations at Niagara's Big Head Wines, multi-vintage still wines are a solution to the sticky issues of adverse climate and standardized consumer demands. "Nature will not allow for consistency unless you start manipulating or adjusting," he says. "We can blend across vintages and say 'a little bit of this, a little bit of that,' and that gives us a little bit more flexibility and freedom, so that way, we're not handcuffed. We've built up this large audience, and they're used to it being a certain way, and then one year it changes and we lose a lot of them." Big Red #8, a blend of merlot, cabernet franc, and petit verdot from the 2019 and 2021 vintages, is the winery's current multi-vintage release and the winery's highest-production wine. It shows lively acidity, ample bright red fruit, and pepper, and is totally undiscernibly multi-vintage.
For his part, Gago thinks multi-vintage wines are set to rise in popularity by offering all those things drinkers look for in a good bottle of vintage wine. "If the wine delivers to expectation, quality, and style, then acceptance and growth will inevitably happen. Such styles can still reflect place and time. And most important—they offer choice." It seems multi-vintage wines are coming of age.