Superette Cannabis: A Recreational Store for Design-Minded Torontonians
Supermarket-inspired colours, vintage graphics, and minimalist display fixtures come together to create a more laid-back and friendly atmosphere for cannabis shoppers at Superette, a new recreational marijuana store in Toronto's Summerhill neighbourhood.
The brand was started by Mimi Lam and Drummond Munro, after they met while working together at Tokyo Smoke, another Canadian brand that creates cannabis accessories that cater to a more refined taste than the stoner aesthetic.
According to Superette, "cannabis retail is becoming homogenous. All retail brands look the same, feel the same, treat customers the same, and have the same clinical retail experience."
The brand opened its flagship location at 1073 Yonge in 2018, and now has another location on Wellington in Ottawa. Additionally, two new shops are in the works in Toronto.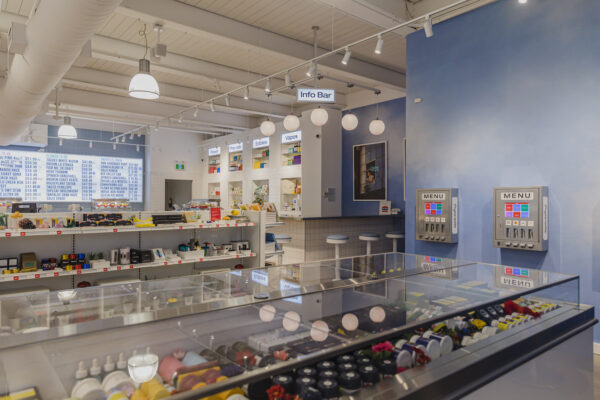 Inside the space, the team chose light colours that lets the merchandise stand out. There is a wall covered in flowers that allows customers to see cannabis buds up close before buying them.
On the opposite side of the store, a diner-inspired counter complete with swivel stools offers a place for customers to sit and chat with a "budtender" to learn more about the range of products offered and their effects.
In a recent press release, the brand stated: "Our Toronto flagship location pulled inspiration from familiar retail environments. We leaned into design elements that you would find at your bodega, grocery store, and diner."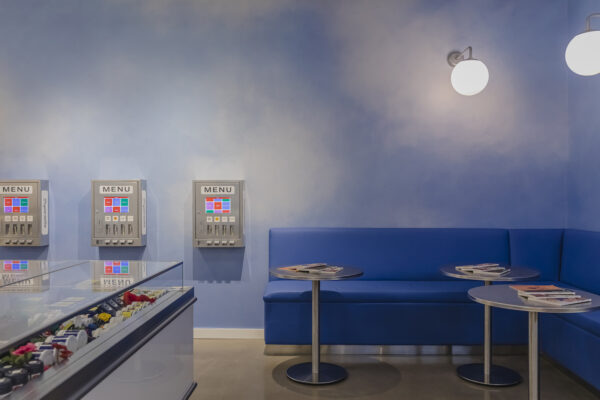 Shoppers can fill up brightly coloured grocery baskets with merchandise and smoking accessories, and sit in the lounge area painted with a backdrop that looks like a cloudy sky while they browse the store's menu.
In addition to selling cannabis flower, the store also stocks pre-rolled joints, edibles, and vapes. It also has accessories for smoking, and a line of branded merch for sale that is stocked in a row of glass-fronted fridges along one side of the space.
Superette's goal is to be more light-hearted about cannabis and to eliminate the stigma around use of the drug, which was legalized throughout Canada in 2018.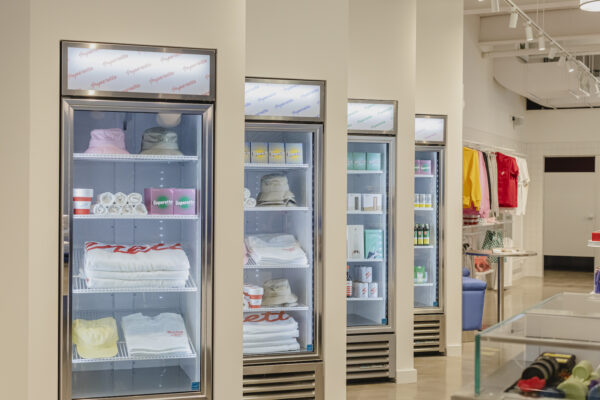 "We believe buying cannabis should make you feel as good as smoking it," the company says.
Legalization is picking up speed throughout the world, and although it is not yet legal at the federal level, several American states have embraced it. Given the circumstances, we are sure to see more and more shops selling this high-demand product.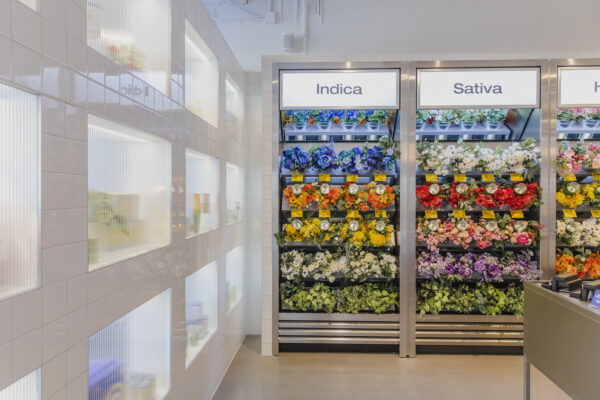 _______
Never miss a story. Sign up for NUVO's weekly newsletter here.