NH Design's Colette van den Thillart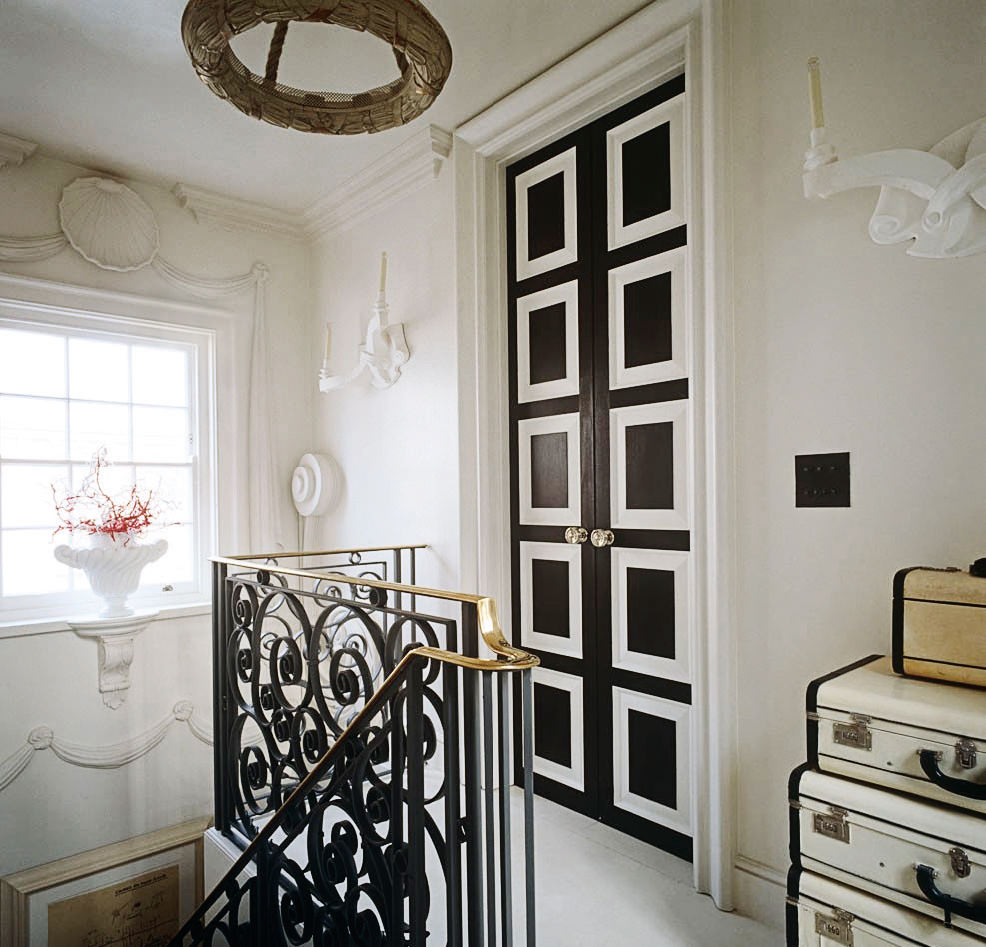 Colette van den Thillart's dining room in the Rosedale neighbourhood of Toronto offers many thrilling moments, with art books commingling with design classics and biographies canoodling with false-front books. She had the fakes fashioned from plaster in the United Kingdom to fit the nooks in the room that weren't deep enough to accommodate books. "I had personal titles engraved on some of them like secret jokes within our family," she discloses.
The room in her 1920s neo-Georgian home is also enveloped in variegated velvet the texture of bee fuzz, laser-printed with a quartz grotto detail—think a close-up of rocks, mostly in blues and purples. The pattern is based on a wall that she did for a client's pool house in the English countryside. "I'm obsessed with 18th-century grottoes, so if I had my druthers I'd be building one in the backyard," Thillart says. She points to a smattering of shells pasted around a doorway. "That's my little way of making my dreams come true."
Thillart, a dead ringer for actor Kate Beckinsale, believes dining rooms are hungry for flamboyancy. "They're not used as much as other spaces, mostly for entertaining, so it's pretty cool to go over the top."
When Thillart is set on something—whether solving a bookish decorating problem or filling a niche in the marketplace—she takes her own advice and makes it happen, often with gusto. Years ago, Thillart, creative director of NH Design, and her U.K.-based business partner, Nicky Haslam (the company's CEO), were talking textiles. They both agreed the marketplace didn't offer quite what they wanted; the colour palettes were bland, the designs uninspired. And so Random Harvest, their collection of nine bespoke fabrics with multiple colourways, was born. (They're offered exclusively through Primavera in Toronto.)
"Our colours are fresher and bolder," says Thillart. "There's been a trend for soupy, muddy colours, almost like there's a little pea green in them, that I don't think are especially flattering to people."
It's a weekday afternoon and Thillart herself is just as fresh and bold in Christian Louboutin wedge boots, Chanel trousers, and a sequined Markus Lupfer sweater. "People adopt that mismatched vibe much easier in fashion than they do in their home," she says. "They are much more timid to take risks, but the approach should be the same." She fits the part of the stylish socialite, a persona magnified when she's hobnobbing, every three weeks or so in the U.K. with Haslam, himself a devotee of derring-do design. In him, Thillart has found an ally to practise unsafe decorating. Take risks. Wantonly use five different patterns in one room.
"I did my master's degree in the U.K. in English and French historic interiors," she says. "While I was doing that I met Nicky, and pretty much as soon as I finished [my degree] in 2003, we started working together. It has really been a relationship of a lifetime."
Thillart also cites decorator Nancy Lancaster as inspiration. "She believed the more pattern you add, the quieter a room becomes. But when you only have a bit of pattern, it's quite jarring and slightly unnerving."
Then there's Haslam. The British bon vivant designer once worked for Diana Vreeland, knocking around pop culture, music, and fashion ideas. Together with Thillart, he's gussied up interiors from New Orleans to Dubai for the likes of the Lloyd Webbers, Mick Jagger, Charles Saatchi, and members of British royalty.
The opulent interiors share a commonality. "We're always looking for unexpected ways to find design solutions," says Thillart. "Our mantra is all about avoiding the cliché. We once covered an entire room—all the walls—in rows and rows of scalloped fringe. That was a triumph."
But those interested in Random Harvest should know that not all of the fabrics are wild. "This one is based on an 18th-century Spode plate that Nicky found in North Carolina, in homage to Dorothy Draper," says Thillart, caressing Greenbrier, a nubby swatch showcasing coiled vines on a cream background. "My old bedroom in London was upholstered in a grey-mauve version." The fabrics can be used on just about anything that needs personality, she says: sofas, chairs, curtains, coverlets, pillows, and, of course, walls.
Equally mellow are Random Harvest's Winter Wheat, Seafern, and Midday Lace. When it came to choosing one of the fabrics for a made-to-measure strapless dress, Thillart, ever the non-conformist, went with Shutter Stripe, a radical grey-on-grey cotton sateen; the finished product resembled a venetian blind. And, of course, she looked fabulous.