Two Easy Plant-Based Thanksgiving Recipes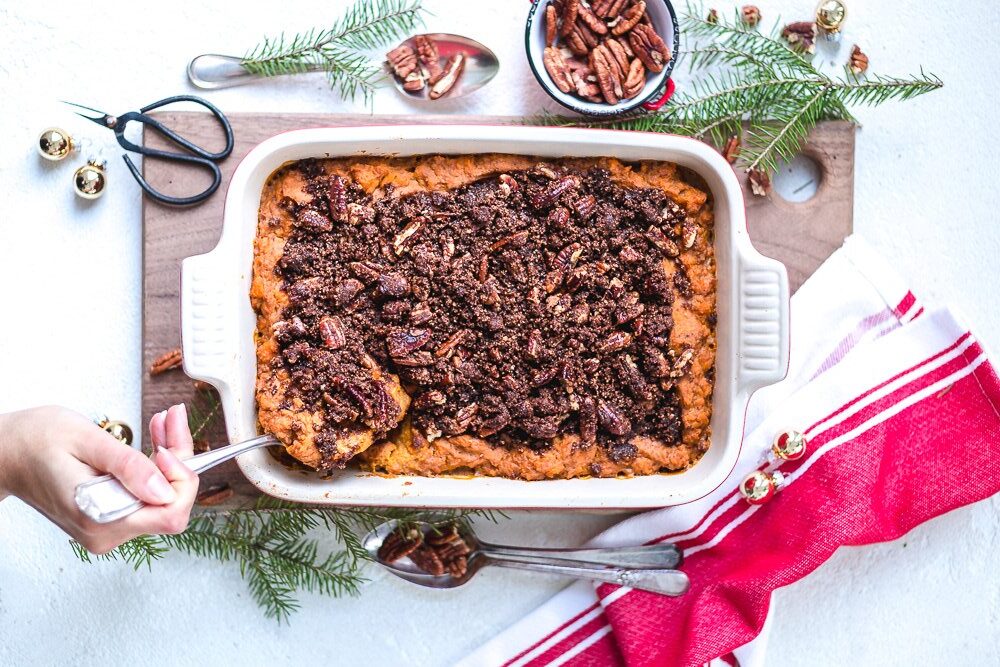 Hannah Sunderani, founder of Two Spoons recipe blog, is on a mission to create plant-based recipes that are worth sharing. This year, she has crafted a handful of delicious Thanksgiving recipes that even the biggest vegan skeptics will enjoy. If you're skipping the turkey this year or want to include more meatless options into your holiday meal, give these autumn-inspired dishes a try.
Ultimate Vegan Sweet Potato Casserole (Gluten-free)
Ingredients
Flax egg
2 tablespoons flaxseed meal
6 tablespoons water
1/2 cup pecans chopped
1/2 cup coconut sugar
1/3 cup almond flour (ground blanched almonds)
1/4 cup vegan butter melted
1/2 teaspoon ground cinnamon
Pinch of sea salt
4 pounds sweet potatoes (about 8 small sweet potatoes), peeled and chopped
1/4 cup vegan butter, melted
1/2 cup canned coconut milk
1/4 cup coconut sugar
1 teaspoon cinnamon
1/2 teaspoon nutmeg
1 teaspoon sea salt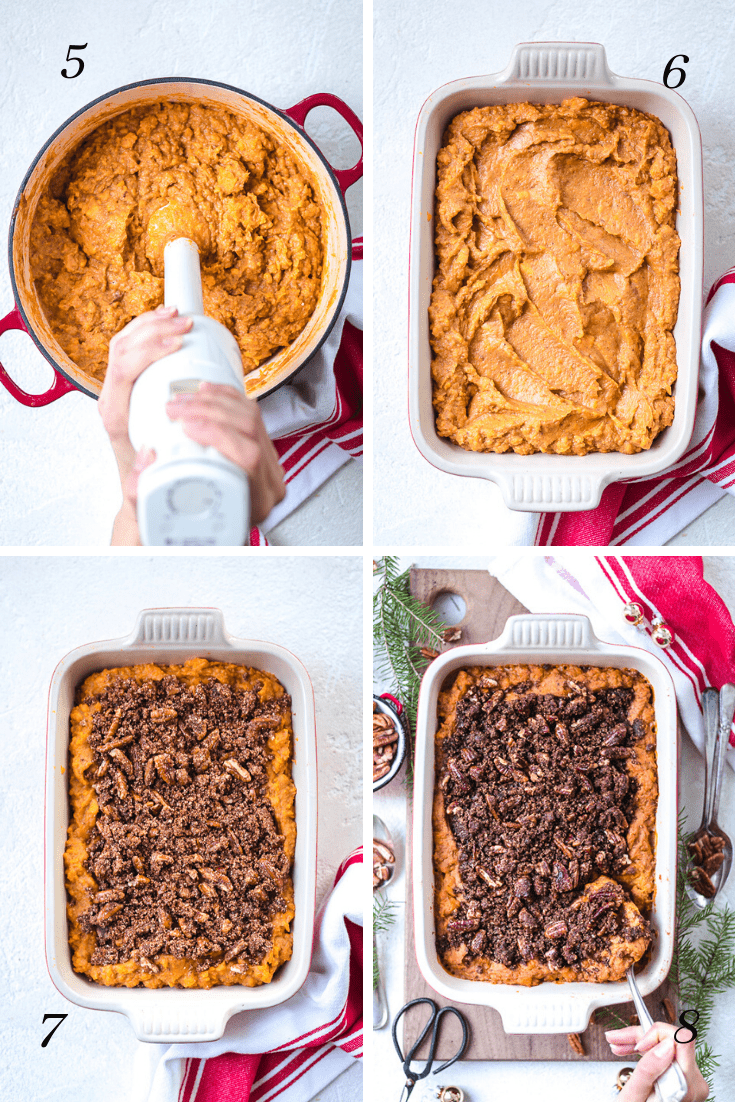 Method
Make the flax egg: In a small bowl, combine the flax meal with water and mix to combine. Let sit at least 10 minutes.
Make the pecan topping: In a small bowl combine the pecans, coconut sugar, almond flour, melted vegan butter, cinnamon, and pinch of sea salt. Set aside.
Preheat oven to 350°F/180°C.
Add the sweet potatoes to a large pot of boiling water and cook until fork tender, about 15 minutes.
Drain and add back to the pot with the flax egg mixture, melted vegan butter, coconut milk, coconut sugar, cinnamon, nutmeg and 1 teaspoon sea salt.
Mash the sweet potatoes mixture with a potato masher and transfer to an 8-by-11-inch casserole dish. Sprinkle evenly with the pecan topping.
Bake the sweet potato casserole for 30 minutes or until the pecan topping is golden brown and the sides are bubbling. Let cool for 10 minutes and serve.
Note:
This sweet potato casserole can be made in advance. Reheat in the oven, covered in foil for 20–30 minutes.
It can also be frozen and thawed. Wrap well and keep in freezer for no longer than a week to ensure freshness.
Roasted Pumpkin Salad
Ingredients
1 small cooking pumpkin (550 grams) or red kuri squash, kabocha squash, or butternut squash
2 tablespoons neutral oil
1 tablespoon pumpkin pie spice (or quatre épices)
1/2 teaspoon cardamom
2 cloves garlic, finely chopped
Pinch sea salt
1/4 cup hazelnuts
5 ounces baby greens (140 grams) i.e., baby spinach, kale, or lamb's lettuce
1/2 cup green beans, chopped
1/4 cup pomegranate seeds
1 avocado, cut into cubes
4 tablespoons good-quality balsamic vinegar
2 tablespoons extra virgin olive oil
1/8 teaspoon sea salt
1/8 teaspoon pepper
Method
Preheat oven to 400°F/200°C. Chop pumpkin into bite-sized pieces. (If using butternut squash, remove skin first.)
In a small bowl, add neutral oil, pumpkin pie spice, cardamom, garlic, and sea salt. Whisk to combine. Drizzle mixture over pumpkin in a large mixing bowl and toss to combine.
Line a baking tray with parchment paper and transfer pumpkin to tray. Spread pumpkin out so it's not crowded (you might need two trays). Bake for 25 minutes, or until golden and cooked through. (Flip pumpkin pieces with spatula halfway through to ensure all sides are evenly roasted.)
While you're waiting for the pumpkin to cook, chop the hazelnuts and place in a skillet, bring to medium-high heat, and toast, stirring often, until browned and aromatic.
In a large mixing bowl, add roasted pumpkin, salad greens, chopped green beans, pomegranate seeds, and avocado. Drizzle with balsamic and olive oil. Season with salt and pepper and toss gently to combine. Sprinkle salad with toasted hazelnuts and serve.
Note:
Dress salad just before serving, unless using a heartier green like kale.
Follow Two Spoons on Instagram for more plant-based content @twospoons.ca. You can also discover Hannah Sunderani's new app that will give you access to over 400 plant-based recipes, plus weekly meal planners, shareable shopping lists, recipe videos, and much more. Available now on the App Store and Google Play.