This Ribeye Aguachile Shows the Versatility of Mexican Cuisine
A recipe from chef Francisco Higareda Urdapilleta to celebrate Cinco de Mayo.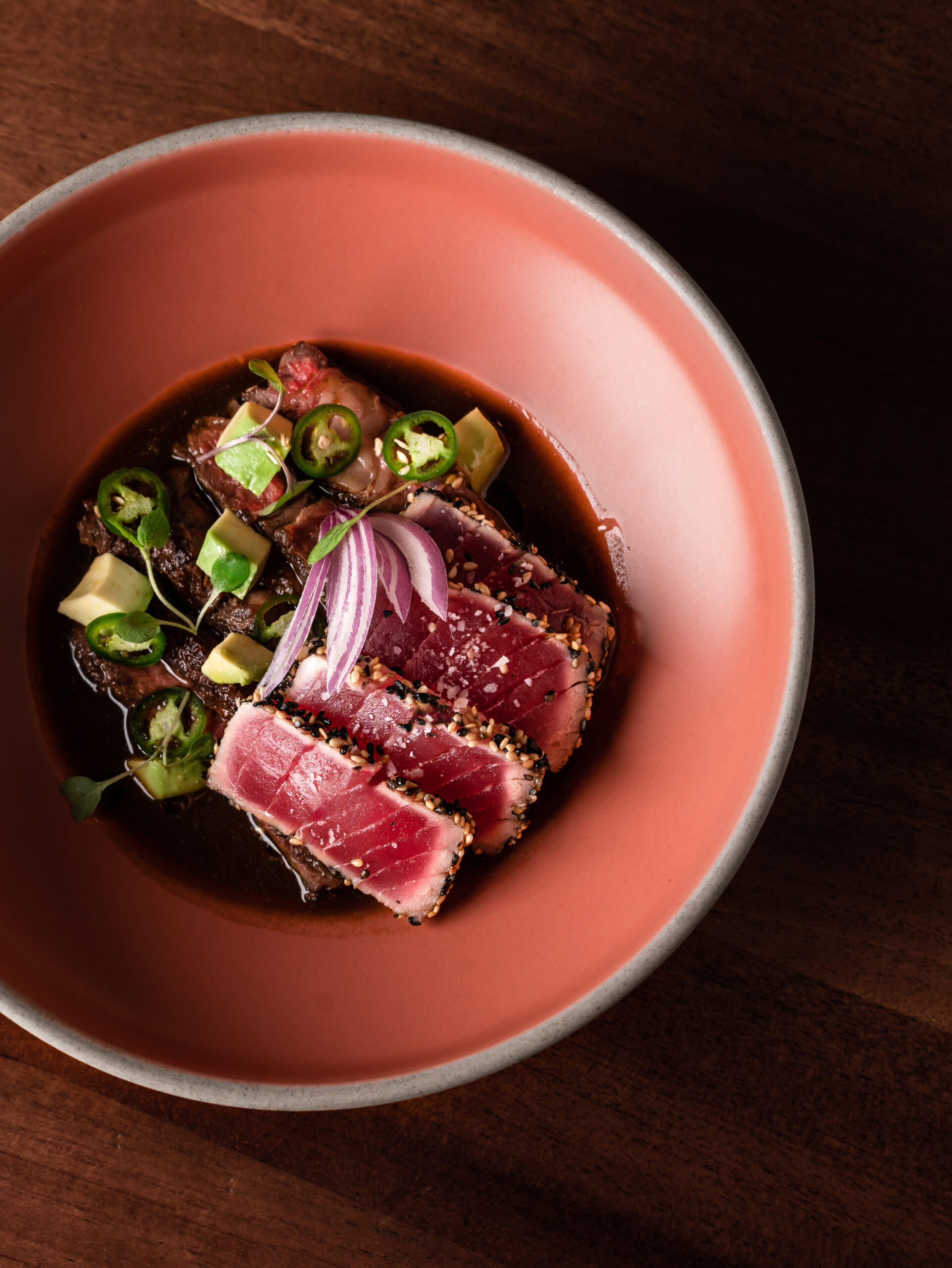 For many, Cinco de Mayo is a day marked by margaritas and tacos. But like the holiday itself, which marks Mexico's victory over France at the 1862 Battle of Puebla, there is more to Mexican cuisine than cool drinks and carnitas. So why not expand your horizons this year with this recipe for ribeye aguachile from Francisco Higareda Urdapilleta, chef/co-owner of the popular Vancouver Mexican restaurants Ophelia and Monarca. Taking traditional aguachile ingredients and using them as a garnish for heaping chunks of steak and ahi tuna, this recipe shows the amazing versatility of traditional Mexican flavours. Make this recipe, and no one will accuse you of serving plain old margaritas again this year.
Makes 3 portions
Ingredients
For the broth:
¼ cup soy sauce
¼ cup lime juice
¼ cup water
1 tablespoon Valentina hot sauce
1 teaspoon Maggi Liquid Seasoning
½ teaspoon sesame oil
½ teaspoon honey
For the steak and tuna:
1 16-ounce ribeye steak
8 ounces ahi tuna
Kosher salt
Pepper
1 tablespoon olive oil
4 tablespoons sesame seeds
For the garnish:
½ avocado cut in small cubes
1 serrano pepper thinly sliced
¼ red onion thinly sliced
6 cilantro leaves
Olive oil
1 pinch kosher salt
Method
For the broth:
Mix all ingredients in a bowl and reserve.
For the steak and tuna:
Heat a cast iron skillet over medium-high.
Season steak all over with salt and pepper.
Add 1 tablespoon of olive oil to skillet and swirl to coat.
Add steak and cook, undisturbed, until a brown crust forms, about 4 minutes per side.
Transfer steak to a cutting board and let rest 4 minutes.
Roll the ahi tuna in the sesame seeds, pressing lightly so the fish is evenly coated with sesame seeds on all sides.
Add the tuna to the skillet and sear the fish for about 20 seconds per side, then set aside on a plate.
Slice steak and tuna. Transfer to a deep plate and pour the broth over steak and tuna until halfway up the steak.
To garnish:
Garnish with cubed avocado, serrano pepper, red onion, and cilantro leaves.
Add an additional drizzle of olive oil and a pinch of salt over the tuna.