The Chic of Chanel at Watches and Wonders
A collection of watches that boldly reimagines the maison's signature models.
The elegance of black and white made for the chicest Chanel salon at Watches and Wonders at Geneva's Palexpo. And contrary to the hostesses in high heels at the salons of the Swiss watch manufacturers, the greeters at the Chanel salon were sharply dressed and sharp-looking messieurs. The Parisian maison unveiled an intriguing collection of watches that boldly reimagines its signature models, from Boy. Friend to J12.
Inspired by the cosmos, science fiction, and time travel, the Interstellar collection is the highlight, with the J12 Cybernetic a particularly eye-catching graphic timepiece. The asymmetrical shape in a pixelated motif on the crown side is finished in either ceramic or diamonds. The J12 Eclipse Box Set is a set of seven watches, each piece unique and the horological equivalent of a solar eclipse. From the first watch, all white ceramic, to the seventh watch, in all black, each timepiece is gradually eclipsed by a black bandeau that grows larger with each successive model. There is only one of this boxed set and it's already been sold.
The humble pincushion was the inspiration for Arnaud Chastaing, director of Chanel's watchmaking, for the Mademoiselle Privé Pique-Aiguilles collection, released during haute couture this past January but on prominent display at Watches and Wonders. "I am fascinated by the design of objects whose architecture is the product of a practical need," he said then. "In terms of style, the pincushion commands authority on the wrist. Its outsize format does not detract from its comfort in any way, and it adapts to all wrists." In her ateliers on rue Cambon, Gabrielle Chanel kept two tools at hand: a pair of scissors suspended from a ribbon which she wore around her neck as a sautoir, and on her wrist, the pincushion.
Five Chanel motifs have been reinterpreted as watches, and each timepiece tells a unique Chanel story. The oversize dial at 55mm flirts with excess, and while some may want to channel Mme Chanel with one of these 18-karat gold timepieces on their wrist, why not consider framing each for your own personal Mademoiselle Privé Pique-Aiguilles pentaptych.
Mademoiselle Privé Pique-Aiguilles Pearls Motif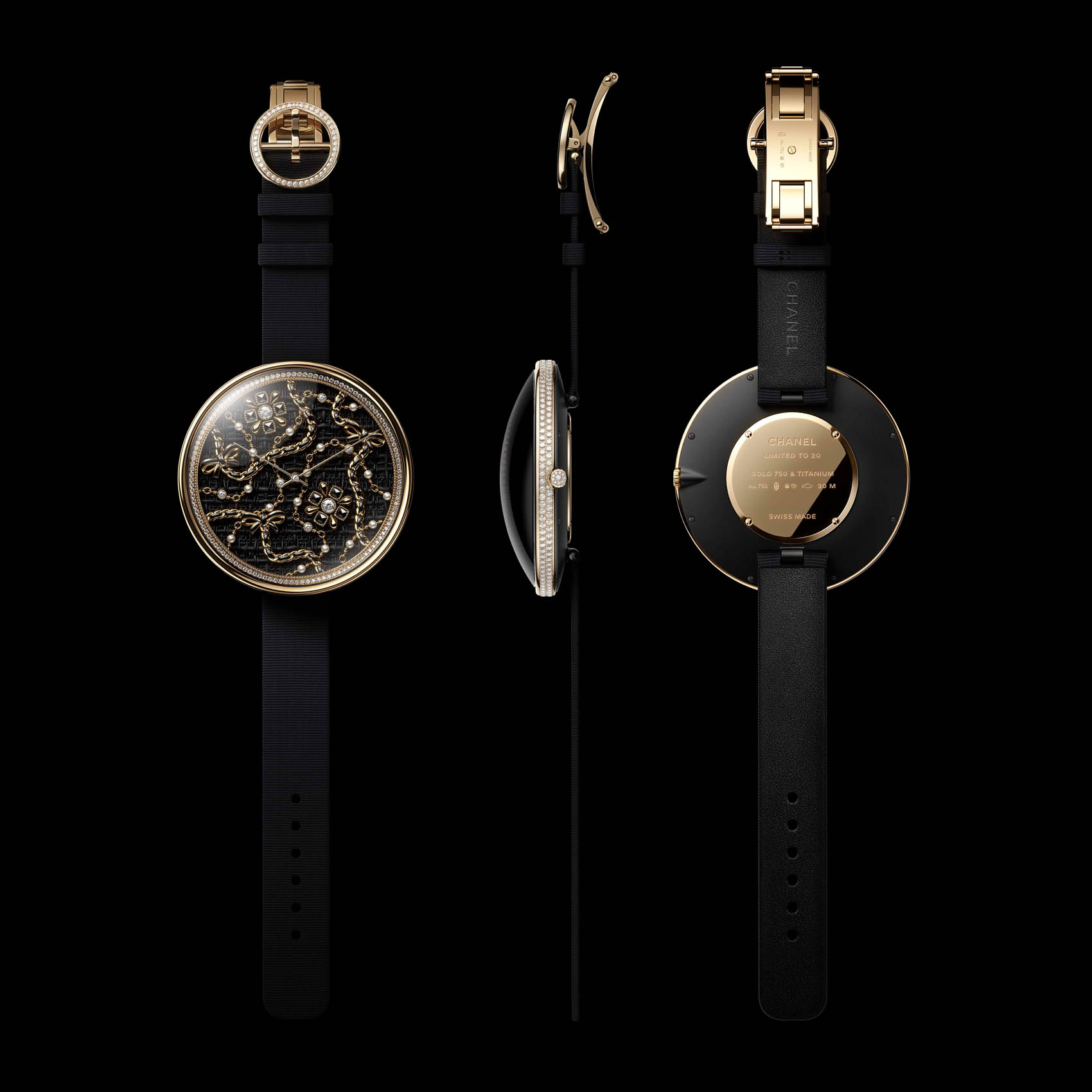 Jewels strewn over a black tweed effect: long necklaces, braided chains, and Byzantine brooches. All sculpted in yellow gold, lacquered, and arranged with a tweed effect in relief, trimmed with a row of diamonds and gold pearls.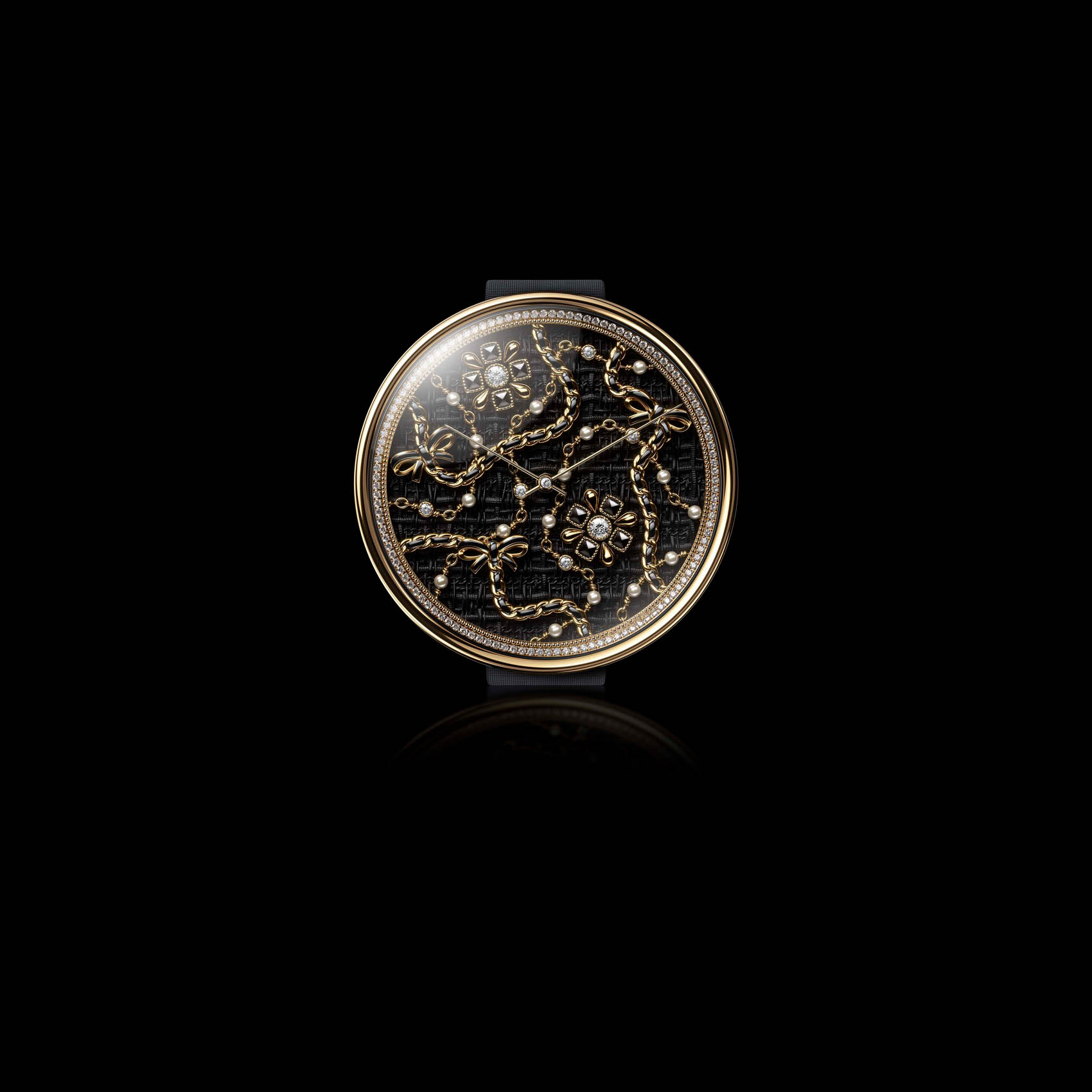 Mademoiselle Privé Pique-Aiguilles Lace Motif
A lace design of camellias, created through a combination of Métiers d'Art techniques: first, hand engraving for the yellow-gold beads and Grand Feu enamel with lace motif in black decal, pearls, and five brilliant-cut diamonds. Another 120 brilliant-cut diamonds encircle the timepiece.
Mademoiselle Privé Pique-Aiguilles Tweed Motif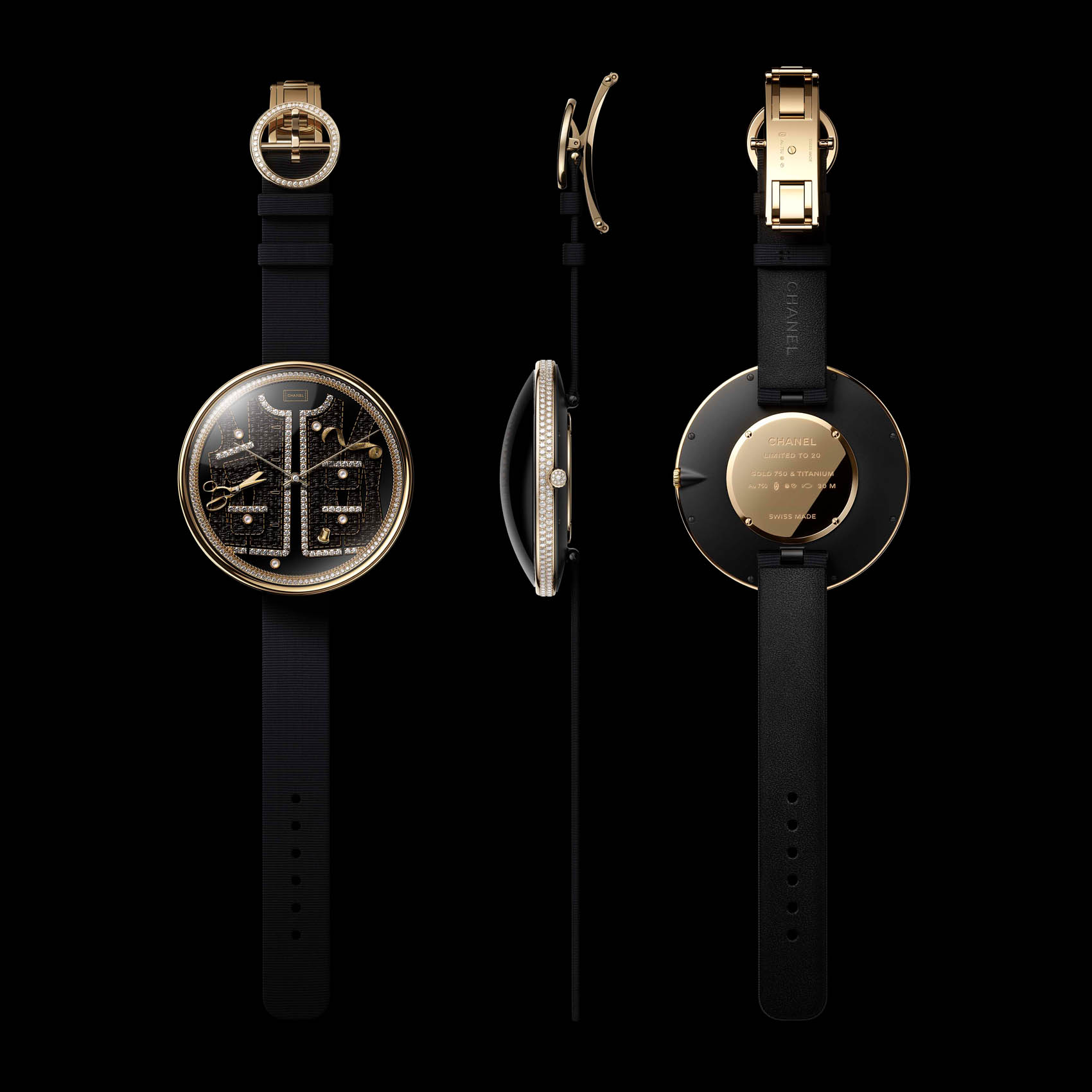 The tools of the seamstress are meticulously created in gold and bring this scene for a couture atelier to life. The iconic Chanel tweed jacket is trimmed with 92 diamonds and a gold chain, just like the one sewn in every Chanel jacket.
Mademoiselle Privé Pique-Aiguilles Quilted Motif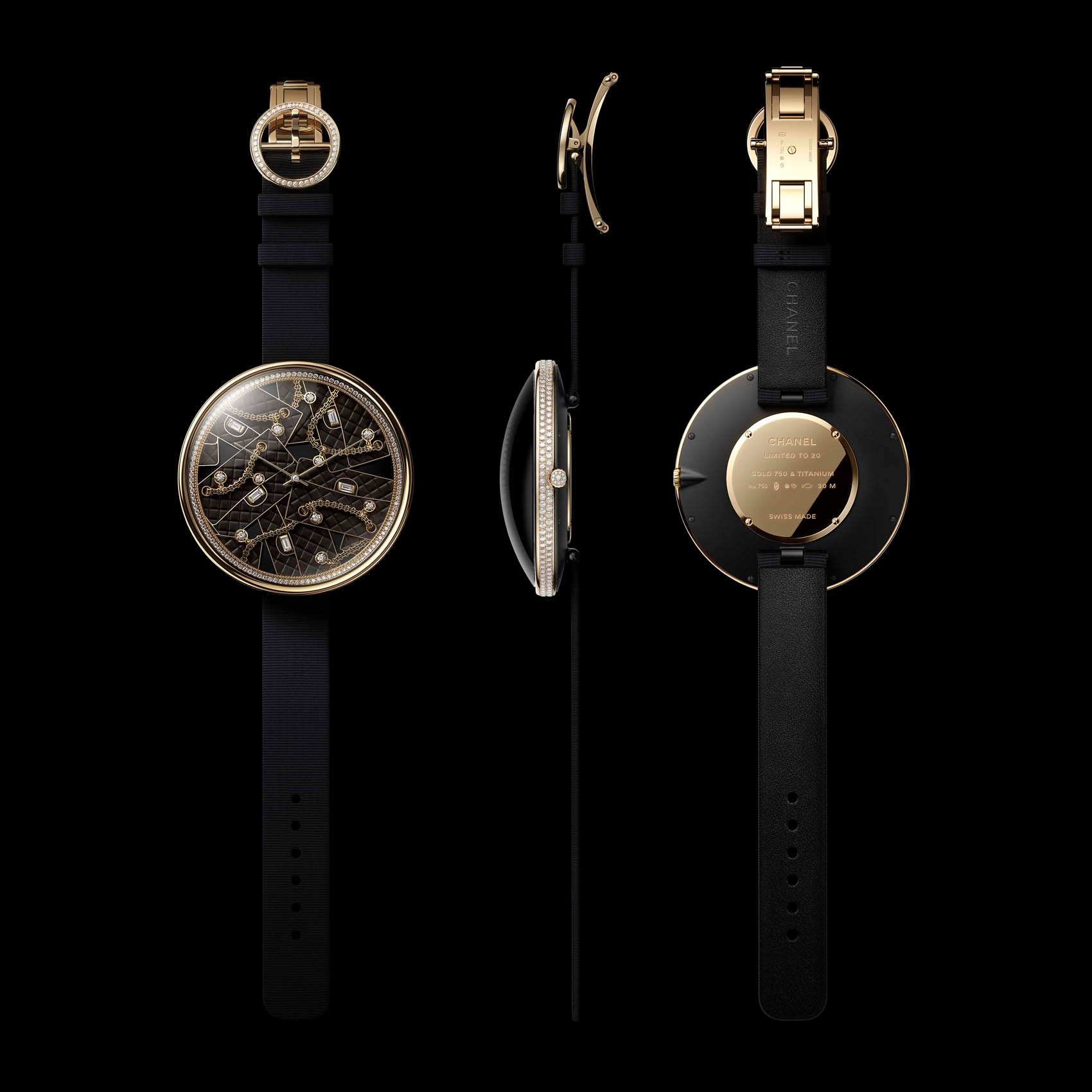 Chanel handbags in the fashion of marquetry of black mother-of-pearl and engraved for a quilted effect. The handbag clasps are baguette-cut diamonds and the handbag chains of 18-karat gold.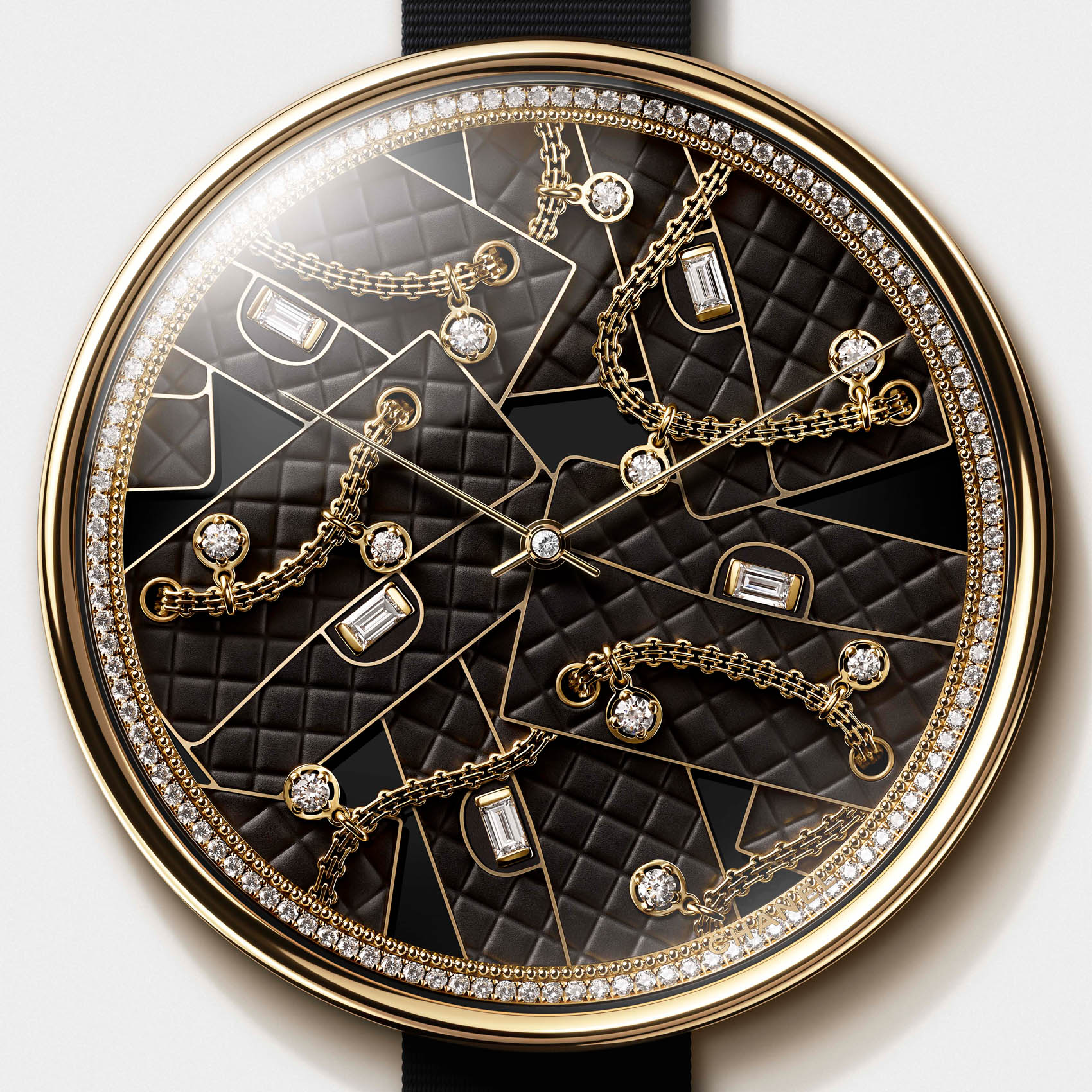 Mademoiselle Privé Pique-Aiguilles Embroidery Motif
A whopping 917 brilliant-cut diamonds make up this timepiece, and the snow setting is reminiscent of sequins.
Each of these five watches comes on a black grosgrain strap and is limited to 20 pieces. The Mademoiselle Privé Pique-Aiguilles collection gives new meaning to the art of time.