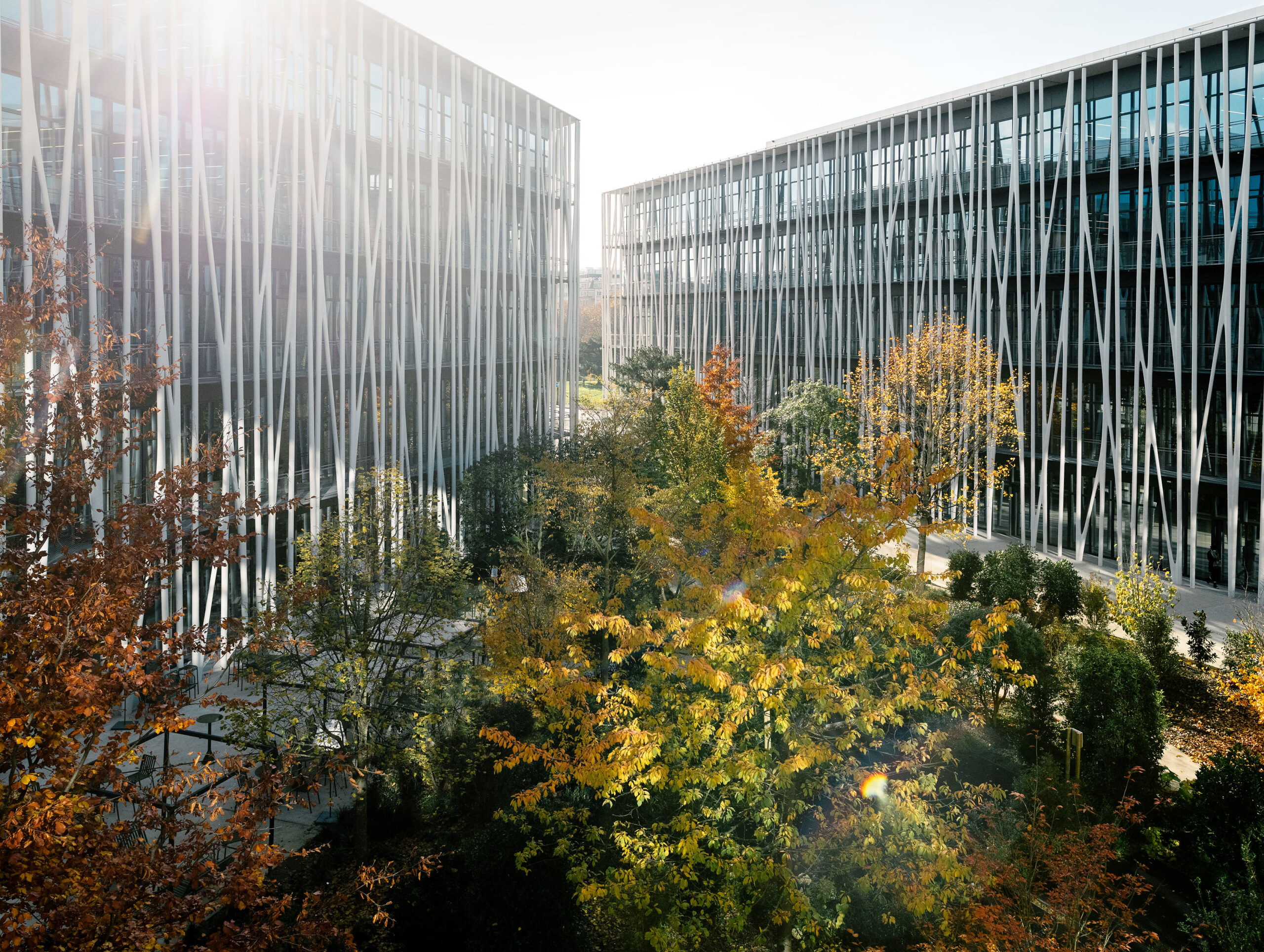 19M Is Chanel's New Jewel of French Creation
In Aubervilliers, a northeastern corner of Paris, is the new complex housing Chanel's Métiers d'Art ateliers.
"What do the neighbours think?" So asks Tyler Brûlé, journalist and all-round tastemaker, of Bruno Pavlovsky, president of Chanel, regarding 19M, the new sprawling complex the French fashion house has built in a northeastern corner of Paris. The seven-level glass, iron, and concrete structure was officially unveiled earlier this year after the presentation of the annual Métiers d'Art collection in December. "You don't just decide to live in a 25,000-square-metre new building without having some changes, but we are here," Pavlovsky answered.
Unique to Chanel, the Métiers d'Art collection is a mix of ready-to-wear and haute couture, but more importantly the show is about casting a spotlight on the master artisans fashion relies on every season. The 2021/22 Métiers d'Art collection was presented at 19M, the new creative hub devoted to protecting the heritage of craftsmanship. Located in the 19th arrondissement of Paris, 19M is home to 600 artisans: embroiderers, feather workers, goldsmiths, shoemakers, milliners, glove makers, embroiderers, tanners, and leatherworkers. While the names of the ateliers may be unfamiliar—Lemarié, Desrues, Goossens, Lesage—their work is instantly recognizable. The feathers and camellia on a Chanel product is the handiwork of Lemarié; every signature button on a Chanel jacket is created by Desrues; Goossens makes Chanel's costume jewellery; and Lesage is responsible for the tweed embroidery. There are others too: shoemaker Massaro, milliner Maison Michel, embroiderer Montex, weaver ACT 3, pleater Lognon, leathersmith Ateliers de Verneuil-en-Halatte, and cashmere specialist Barrie.
For years, "all these people were working at different locations in the centre of Paris," Pavlovsky says. "It was quite charming, but difficult to imagine the development. We wanted to create better working conditions, to come together and transmit their savoir faire." The achievement of 19M is a statement about Chanel's commitment to protect and propel the Métiers d'Art far into the future. The number 19 in its name is a nod to its geographical location in the city, but of greater significance is the August 19, 1883, birthday of Gabrielle "Coco" Chanel. The M stands for mode (fashion), métiers (trade), mains (hands)—all words related to craft. The building, designed by Rudy Ricciotti, is a celebration of those who work within, so the architect wrapped the complex in concrete threads recalling the fabrics at the heart of fashion creation.
"This building is financed by Chanel," Pavlovsky confirms, "but what we are doing here is not only about Chanel." For many years, France was the epicentre of these niche but vital ateliers whose work is the essence of everything from haute couture to street fashion. But globalization and a reliance on machinery (as well as changes in style norms) meant many ateliers have been threatened. In 1997, Chanel established the Paraffection subsidiary (loosely translated "for the love of"), having already begun the acquisition of these ateliers (the most recent being cashmere specialist Barrie in 2012). Madame Chanel herself had close ties to these artisans. In the 1950s, she consulted the goldsmith Goossens to develop the costume jewellery for her namesake label; a few years later, footwear manufacturer Massaro produced the iconic two-tone shoe. "Chanel continues to be what it is as a result of the artisans," Pavlovsky says. While these ateliers are now under the roof of the house Chanel built, they operate independently, working for a range of brands. As a result, Chanel has ensured their future along with its own. Pavlovsky stresses, "when we talk about Métiers d'Art, everyone thinks about yesterday. Here [at 19M] we see today and tomorrow."
Le 19M is devoted to protecting the heritage of craftsmanship.
While the ateliers maintain physical distance within 19M, the artisans cross-pollinate, engaging and sharing ideas. The older generation transmits their savoir faire to the younger generation, many of whom are under the age of 30 and as comfortable embroidering on antique machines as manipulating a 3D printer. "We are continually thinking of innovative processes which support to further the creative process, but technology will never replace la main. There are many tools to use that will improve what we are doing, but les mains, we need that," Pavlovsky notes. In France, artisans are affectionately called les petites mains, a signifier of the expert skill required and artistic manual dexterity.
Le 19M is the start of a creative cluster, a story to create a larger creative community and boost the Metiers d'Art label. It was Karl Lagerfeld who decided in 2002 to present the first Métiers d'Art show to perpetuate and honour the expertise of these artisans. Creative director Virginie Viard continues the tradition. For the 20th Metiers d'Art collection, appropriately held at 19M, the skilled handiwork of the artisans led Viard's designs. "Metropolitan yet sophisticated" was how Viard described the mix: tweed jackets with sweatshirt sleeves, graffiti-style embroidery, Bermuda-shorts ensembles.
Le 19M is much more than a collection of ateliers—"a nerve centre," as Pavlovsky puts it, a multidisciplinary cultural venue for all to visit—built today, treasured tomorrow.