Athena Papadopoulos Welcomes Her First Institutional Solo Exhibition at MOCA Toronto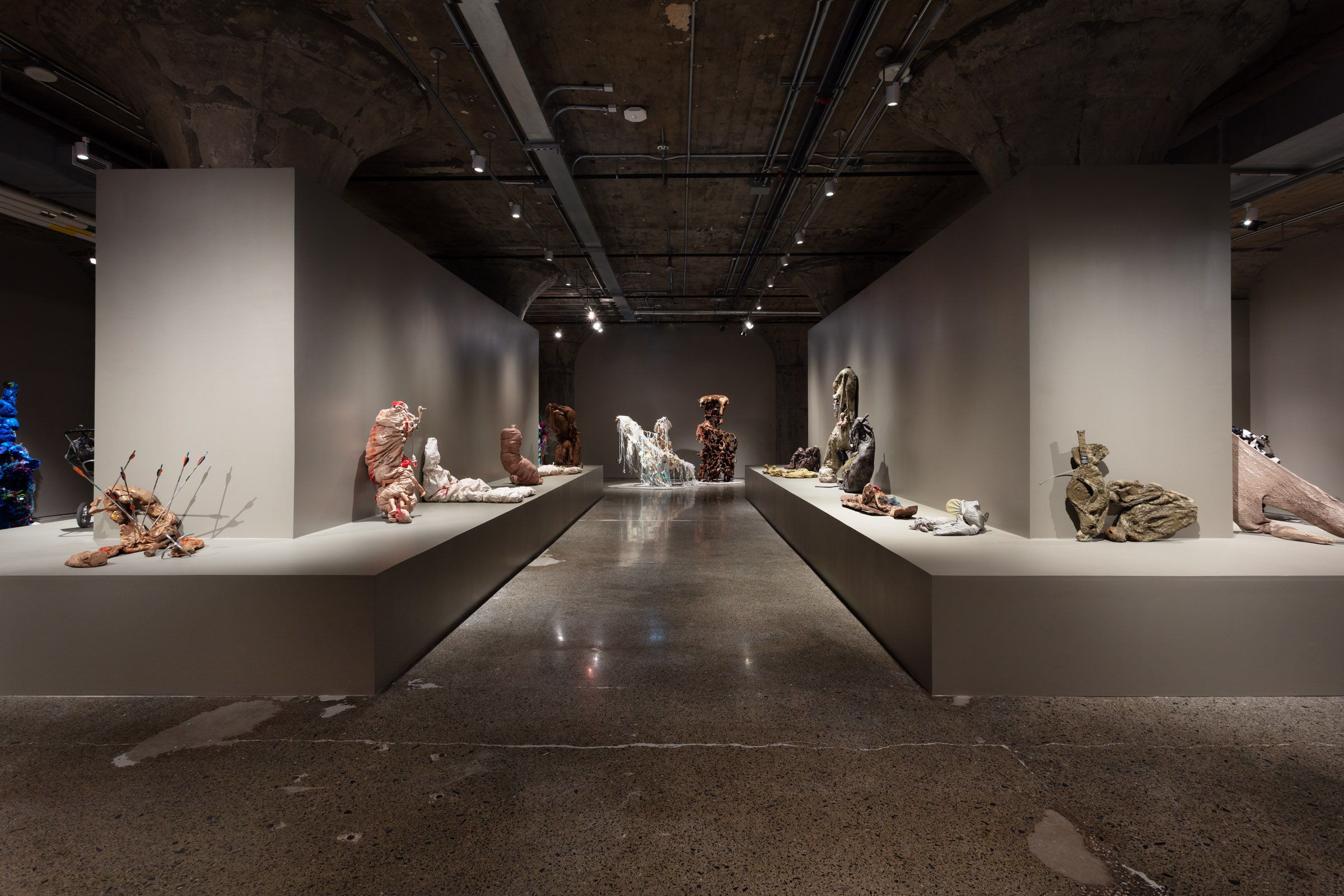 Athena Papadopoulos's show at MOCA Toronto, her first institutional solo exhibition in Canada, comprises two bodies of work. In the first, Bones for Time, the Greek Canadian artist traced her own body in the shape of letters on hospital blankets, like a crime scene outline, then created ossified sculptures stuffed with objects whose names start with each corresponding letter: A, for example, is filled with antlers. Papadopoulos chose the most violent verbs from Richard Serra's Verblist—ways to treat or transform material—to make her sculptures. "So, attack with arrows, attack with axes, put an anchor in it," she says of the A work. "All kinds of aggressive or violent actions. Then it comes out looking like a cartoon crime scene."
The work is also informed by Papadopoulos's extensive knowledge of film history. The D work is titled Dead Ringers after Cronenberg's twisted-twin thriller. "The D had one where it asked me to dismember and decapitate, so obviously I had to cut it apart," she says. "And then they became weird twins, you know?" Plus, the film debuted in 1988, the year Papadopoulos was born.
The results are at once gorgeous and grotesque, resembling a display at a natural history museum for bones of extinct species discovered in a horrifying parallel universe. The gallery's low, dramatic lighting also lends the work a cinematic quality, like a del Toro monster frozen in real life. The subtext, however, is sobering. "I was thinking, a lot of [Serra's verbs] are really violent," Papadopoulos says. "This is what certain people do to women's bodies in order to transform them or how artists use the woman's body as a model."
Papadopoulos is a keen observer and interpreter of women's bodies and socialized behaviours. She's explored contemporary femininity in her previous work, primarily through sculptures composed of materials and products women use in their beauty rituals, subverting feminine archetypes and prodding at sticky notions of class and gender. In her second collection of sculptures, Trees With No Sound, each work is assembled from her own discarded clothing, furniture, and other personal objects to create warped trees that reference everything from art history and literature to the Bible and religion.
In addition to pillows, toys, and textiles, Papadopoulos also incorporates cosmetic materials such as self-tanner, lipstick, and hair colouring to dye and pigment her work. She also references lost or missing women throughout history. "What if these people are never found, you know? It's a bit like the tree concept of, like, this person who got lost, but you kind of never find them. Did anyone hear it?"
Athena Papadopoulos's The New Alphabet is at MOCA until April 30.