Numarine's 37-Metre Luxury Yacht Makes Exploring the Globe Smooth Sailing
Turkish shipyard Numarine has been attracting a lot of interest in yachting circles recently on the strength of several exciting new launches, including its brilliant 37XP series designed by Can Yalman. The second vessel in this new line, the just-launched, 37XP Chapter 3, proved one of the highlights of the recent Cannes Yachting Festival, offering an opportunity for a close-up look at Numarine's take on global cruising.
Numarine offers a range of explorer yachts from 19 to 45 metres in length, all balancing luxury and capability. Buyers of these vessels are more interested in activity than lying in the sun, and that preference is reflected in Chapter 3's beach club arrangement: a comfortable L-shaped lounge partially inside the boat faces out to an extended sun deck that lowers from the stern and has a removable boarding ladder. But clearly, the emphasis is on the interior accommodation in a yacht designed to travel far and wide exploring the most remote corners of the Earth's oceans.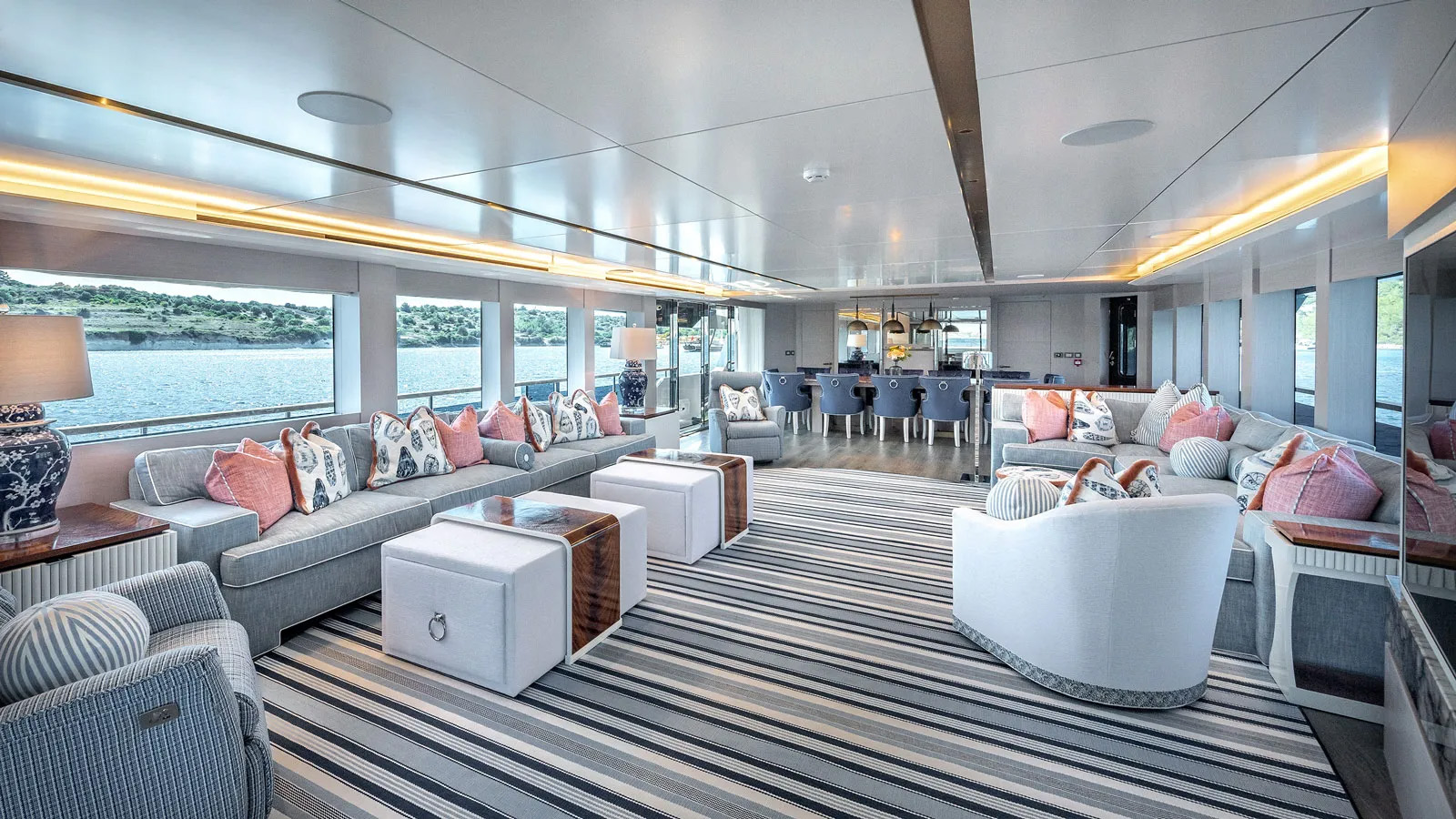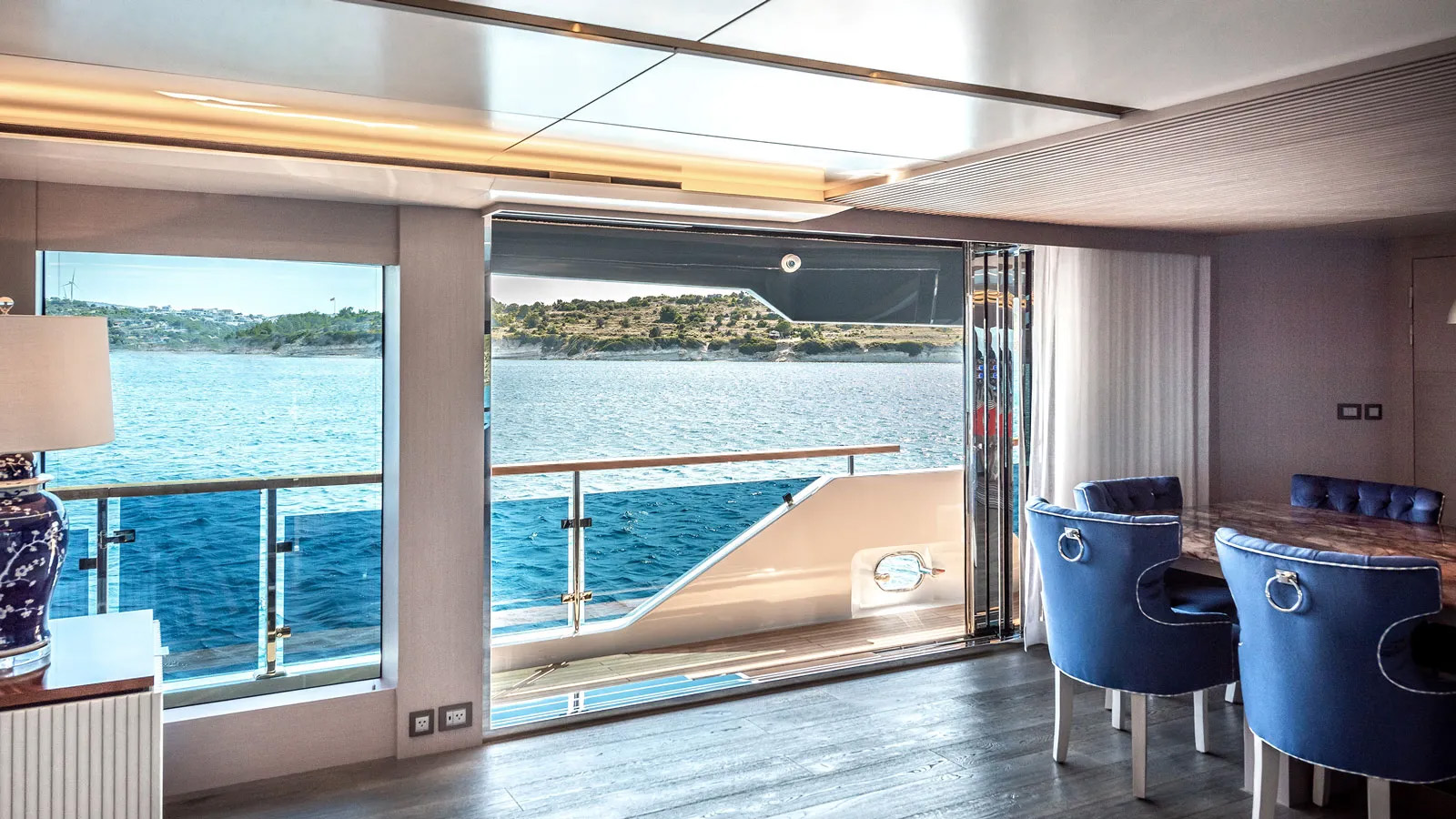 Up the stairs at each side of the platform, the cockpit enjoys the overhead protection of an extended hardtop. An inviting, forward-facing settee topped with a spacious sun pad provides opulent relaxation for a small group, along with plenty of space to set a freestanding table for dining al fresco. Carefully executed overhead lighting keeps the space bright and inviting without getting in the eyes or diminishing the views of distant shorelines.
Continuing forward takes guests into the main deck salon, where facing sofas and free-standing chairs create a warm living space surrounded by large windows that yield 360-degree views. The tasteful decor feels familiar but captivating, without a hint of the pretention occasionally witnessed in such modern designs. Rather, it feels like an intimate space for kicking back with family on a Sunday morning.
Built for an American client, Chapter 3 has a North American flavour with its bold yet tasteful interior decor. Strong lines, primary colours, and a range of textures—including wood accents and glossy marble—give Chapter 3 a distinctly coastal feel. Innovative lighting encircling the ceiling warms interiors with flattering indirect illumination, while large windows flood interior spaces with natural light and fresh air, creating an inviting and calming environment at sea.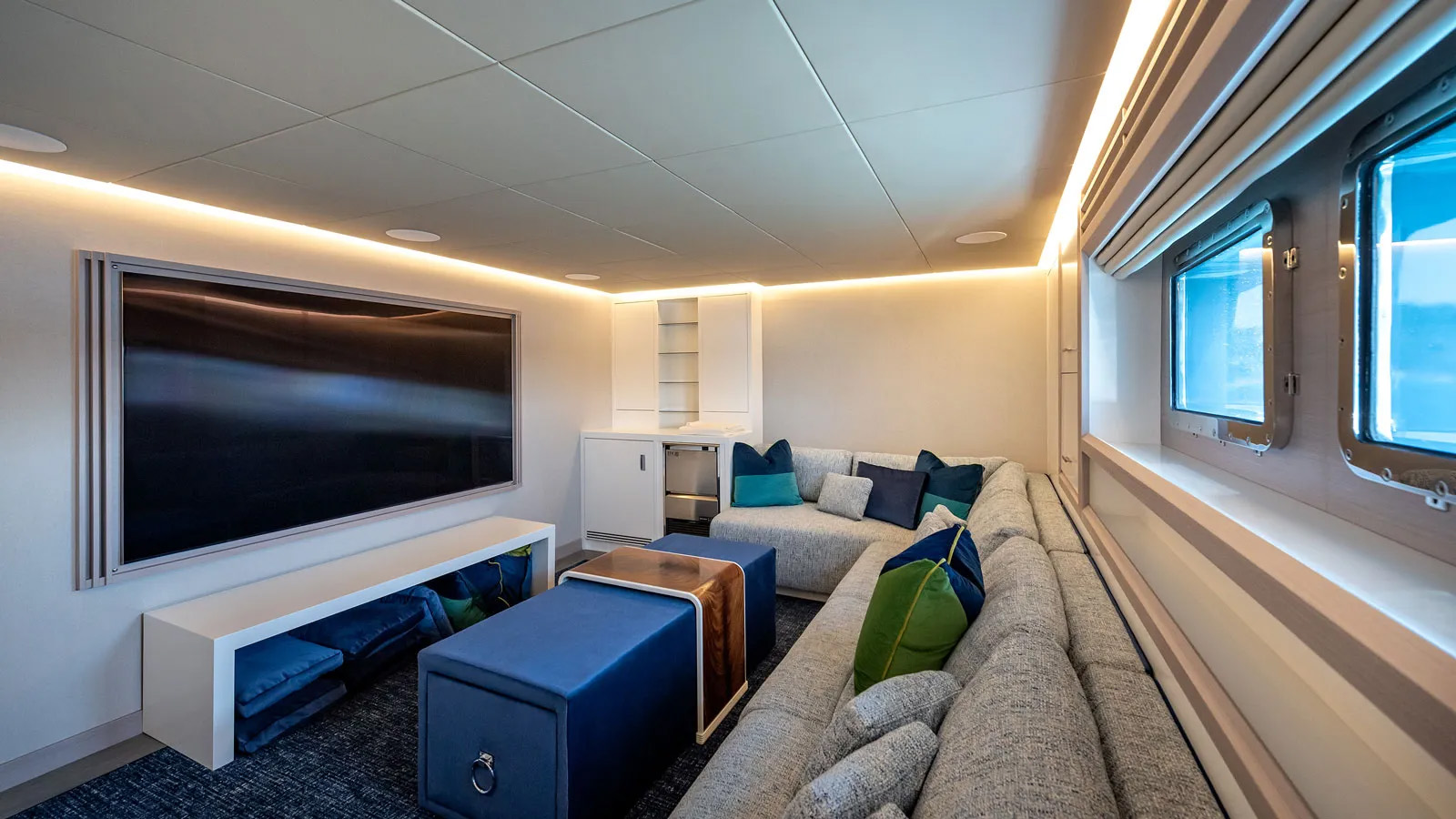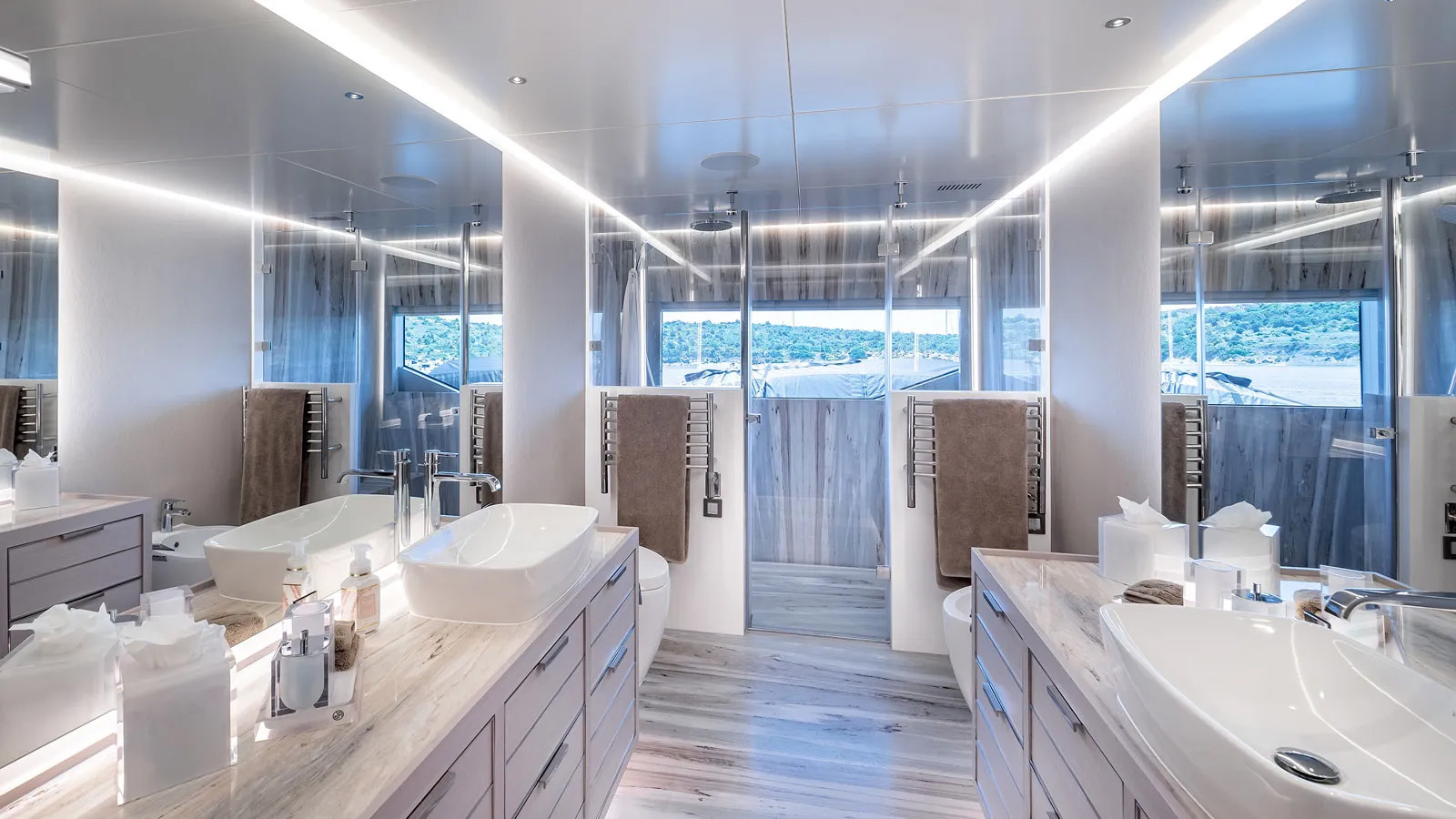 Ahead of the salon, the primary dining space is neatly set apart from the main living area with a waist-high divider at the forward end of the starboard-side L-shaped settee, the ship's distinctive overhead lighting, and a jaw-dropping dining table. Floor-to-ceiling windows can be opened to provide pass-through ventilation, and their adjacency to the promenade encourages an after-dinner stroll.
Guest accommodations are one deck below, where a mix of VIP and twin cabins provide a range of sleeping options, each served by a spacious and well-appointed ensuite. A total of 12 guests can be accommodated in six suites, each furnished with the latest audiovisual gear for late-night entertainment.
On the yacht's upper deck, the full-beam owner's suite stands apart with its island queen bed complete with integrated side tables and reading lamps. Inviting chaise longues either side are ideal spots to awaken slowly with morning coffee while admiring the views outside the suite's enormous privacy glass windows. A spacious ensuite with his-and-hers sinks, a huge shower, and a bathtub complete the space.
Aft of the owner's suite, a very large open deck can be used for sunning or, more typically, as a space to stow expedition gear, including the tender. With Chapter 3's full walk-around promenade, the owner's suite enjoys access to its own private sunning space forward, with multiple lounging options.
According to Numarine, Chapter 3 can reach a top speed in the range of 14 knots and, befitting a true explorer yacht, enjoys a range of 6,000 nautical miles, about 11,000 kilometres, when travelling at a more leisurely eight knots. That's legs enough to travel nonstop from Vancouver to Fiji or from Montreal to Rhodes without once having to pull over and find a gas station.
If you missed Chapter 3 in Cannes, the vessel is scheduled to make an appearance at the Fort Lauderdale International Boat Show in late October as part of Numarine's collaboration with Denison Yachts. Denison, of course, will be more than happy to take your order for your own 37-metre explorer yacht, and after a walk-through of this delightful vessel, no doubt one or two people will be inspired to do just that.