Nuez Acres: The Beauty Brand Harnessing the Power of Pecan Oil
For the duo behind wellness company Nuez Acres, pecans are more than a snack. The Mexican and Canadian Indigenous-owned wellness brand in Langley, B.C., brings layers of history and tradition to its pecan oil formulas. "My father harvests pecans in Mexico, and the price received for his crops was usually below market as he and other farmers are at the mercy of out of country buyers," co-founder Nancy Wingham says. Nuez Acres was born from the desire to help those farmers get a fair price for their crops. "After doing deeper research into the nutrients pecans contained, the idea quickly evolved into offering 100 per cent natural products for skin, hair, and body," says Nancy's husband and co-founder, Anthony Wingham, who is Métis.
Nuez Acres harnesses the power of pecan oil, which Nancy calls "the new liquid gold for the natural skin-care industry." Rich in antioxidants and vitamin A and E, the oil locks in moisture and prevents signs of aging. They started with four products: a repair serum, a skin serum, a hair serum, and pure pecan oil. While the skin repair serum continues to be Nuez Acres' best seller, its conditioning lash and brow serum has been a big hit since its launch earlier this year, and the mascara and beard oil were recognized at July's CertClean beauty awards. "Having clean products allows daily use without irritation, which is important for consistency." All the nuts are hand-picked in Nancy's father's orchard in Mexico and shipped to British Columbia to be pressed.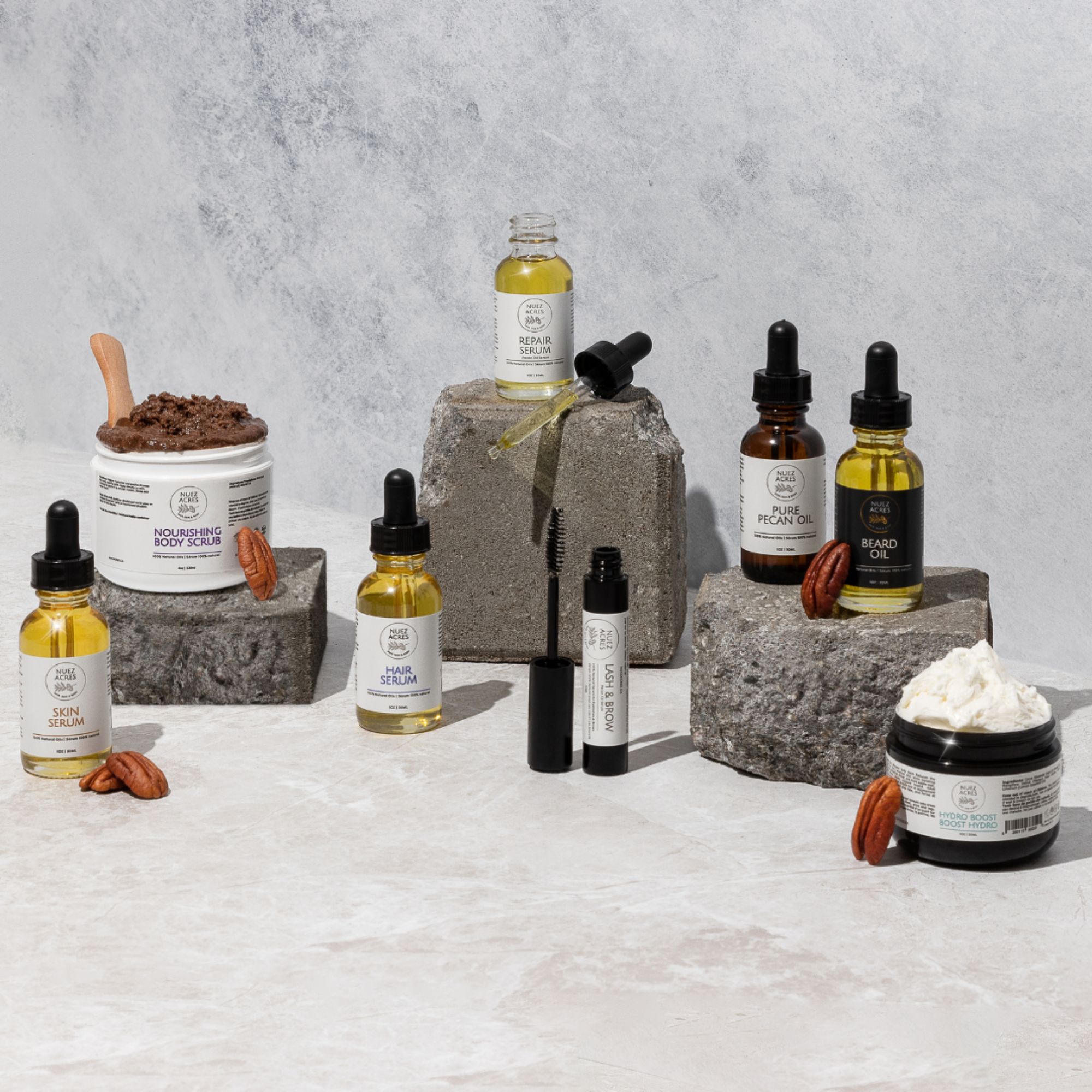 By limiting the chemicals used in its processes, Nuez Acres aims to not only reduce irritants to their consumers but to also limit the amount of toxins that end up in the garbage and in the water. The formulas are also rich and concentrated, an added benefit of the company's environmentally savvy choice to make waterless products. "The beauty industry is one of the largest water users, and with the current climate emergency, we need to do better and make better choices that will ensure the conservation of water in our planet," Nancy says. "Waterless products use less energy and resources to produce, which in turn helps reduce our carbon footprint."
Brands across the globe are getting behind waterless beauty and wellness products, and with good reason. Reducing the amount of water used as filler not only means less is wasted but also less packaging and a lower energy expenditure for shipping.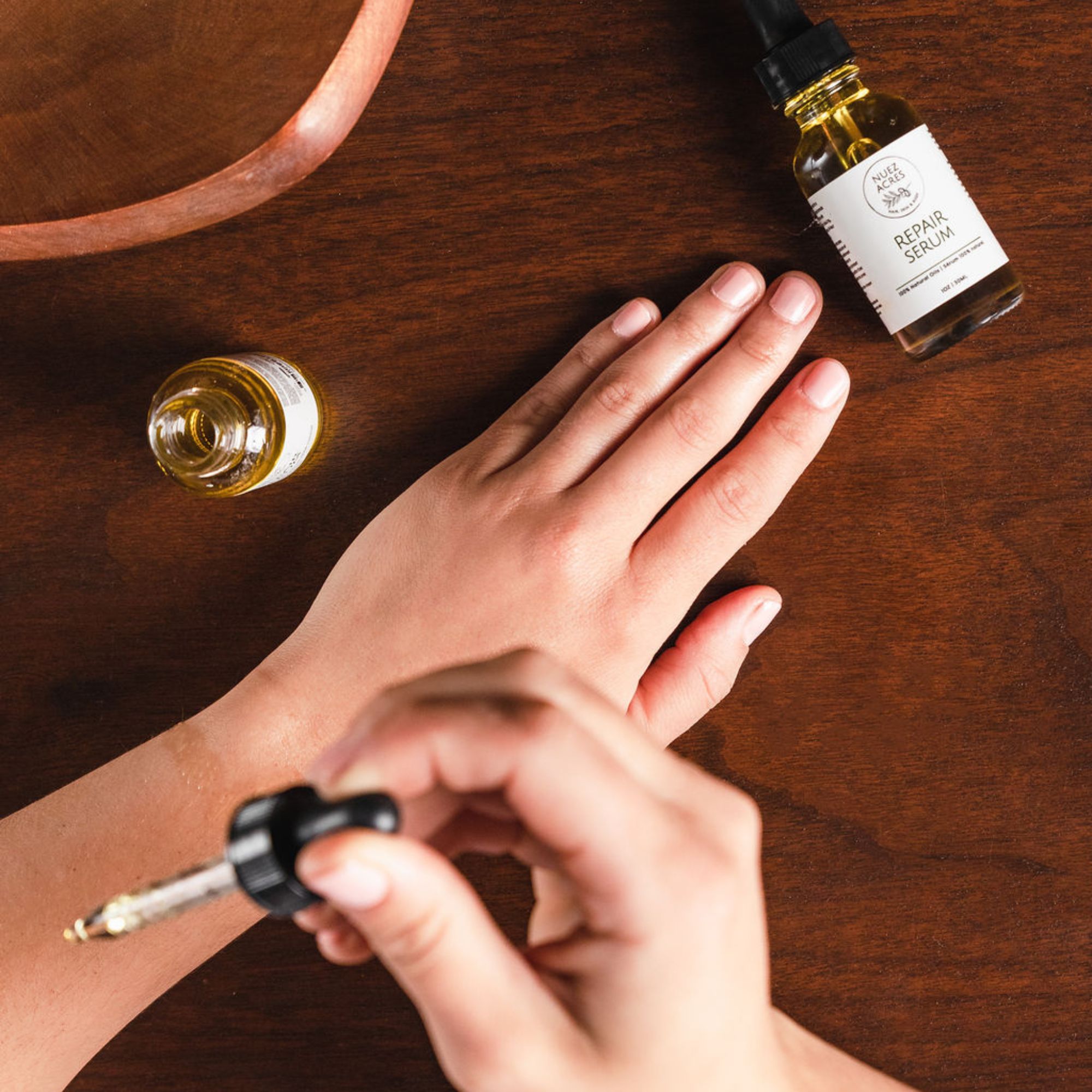 Nuez Acres strives to honour the Indigenous tradition surrounding the nut. "The pecan was an important part of many Indigenous communities throughout Turtle Island before the arrival of colonizers," Anthony says, explaining that the word "pecan" is derived from an Algonquin word that means "a nut requiring a stone to crack."
"Pecans were a rich resource and trading currency for these communities. However, after the arrival of colonizers, the pecan industry was taken over and industrialized," he says. "This process led to the displacement of many Indigenous people from their homes. By reclaiming the pecan as its Indigenous origin, we are working to decolonize the industry and restore this lost staple of the Indigenous diet." He adds that Nuez Acres is also working to reestablish the original pronunciation: "pigan."
Nuez Acres products are available for order on their website, at farmers markets in the Lower Mainland, and online at the Bay.
Photography by Rajvir Chana.