New Chabanel: Montreal Makers Head North
In Montreal's Garment District, creators are finding more than affordable studios—they're building community.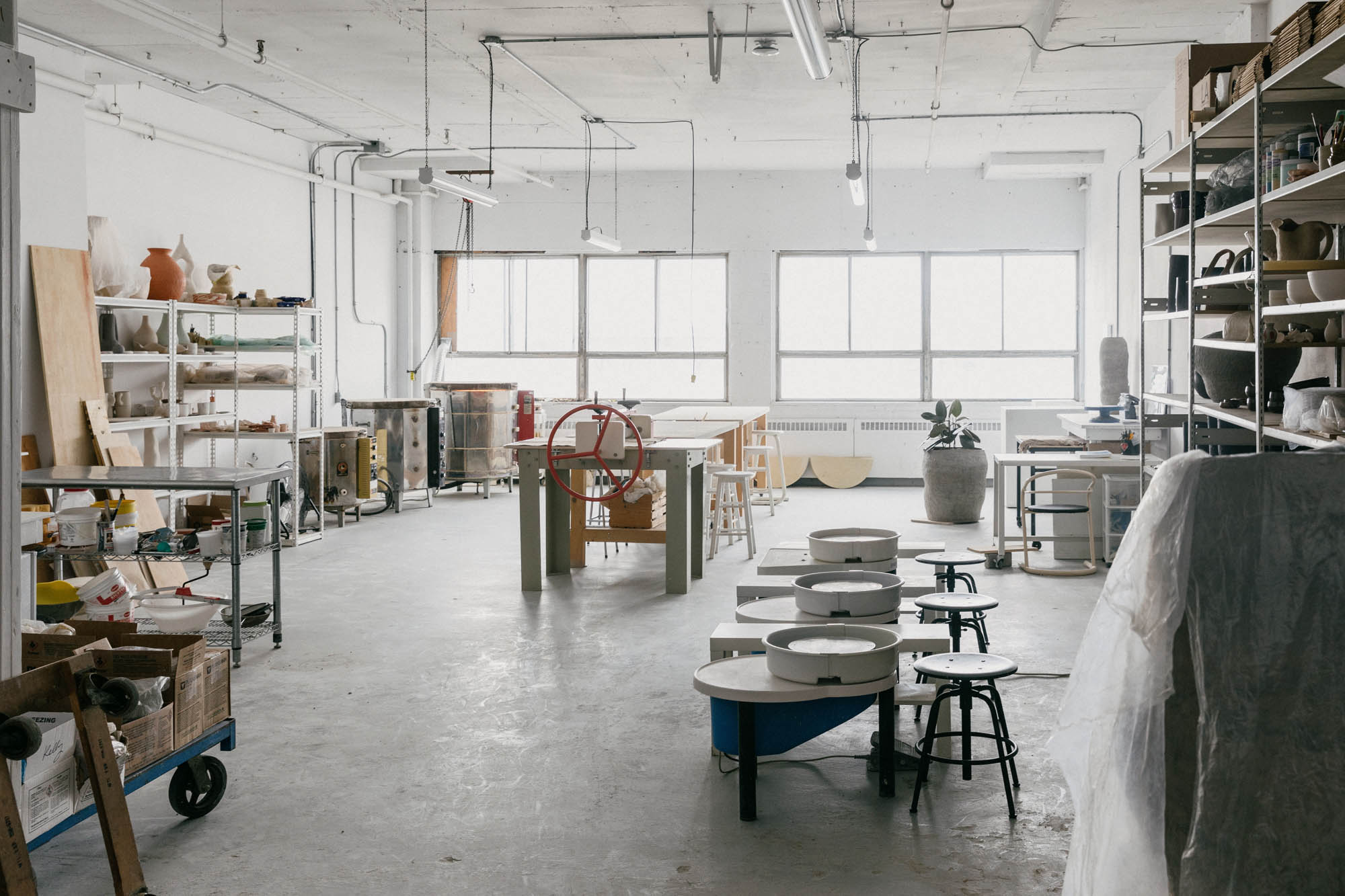 Mitz Takahashi used to walk five minutes to his workshop in Montreal's Mile End, where he's lived for 14 years. But as the area became increasingly trendy, local artists and designers paid the price, with rents going up as global tech and gaming companies moved in.
So last year, when friend and fashion designer Eliza Faulkner suggested he look for space farther north, the Osaka-born furniture maker ventured beyond Autoroute 40, finally settling into a former hosiery factory in the city's historic Garment District, also known as Chabanel, the street at the heart of the local fashion industry.
In the age of fast fashion, the area is no longer the buzzing textile hub it once was, though some manufacturers remain. Instead, Chabanel is slowly reinventing itself, welcoming a new wave of makers and artists into oversized studios without the outsized rents.
"I pay about the same as I did in Mile End, but for double the space," Takahashi says of the airy, orderly studio he shares with six other woodworkers, including commercial space designer Daniel Finkelstein and mirror maker Devon Munro. Takahashi, whose minimalist furniture has been featured in Dwell and Dezeen, is now a short hop from both big box hardware stores and the small upholstery studio he uses for his custom chairs and benches.
"On the bus here, you see young, hip fashion kids, older office workers, and industrial people," says Takahashi, whose new commute takes about 30 minutes by bus or 15 by bicycle (a four-season activity for many Montrealers). "Younger people don't have a mental block going past the highway. They know the area from working at the Ssense offices up the street, or they've been to warehouse raves here," he says, with a laugh.
A few blocks away, Edith Sevigny-Martel crafts her signature oversized, organic clay vessels in a second-floor studio she shares with seven other ceramicists. She started her practice across town in Saint-Henri, where she still lives, then relocated her studio to Chabanel almost five years ago.
"It was pretty desolate when I moved in—there were only two places to eat," she recalls, her own studio still lacking walls when she first arrived. Her space remains a work-in-progress, with a stretch of shelves between a dedicated photo-shoot space and a makeshift lounge. Between commissions and art fairs, she's been too busy to focus on interior design, with her recent work including a lighting collection with Luminaire Authentik and vessels for an adaptogenic café.
While Sevigny-Martel has spent the last year travelling as far as Japan and Oaxaca for ceramic inspiration, it was working in a Brooklyn pottery studio for three months that made her really value what she has in Montreal—not just the price ("I'd pay at least double for this place in New York and maybe quadruple for my apartment") but the community she has built over the past five years.
"We leave our doors open, check on each other. Watch the sunset on the rooftop terrace. I put in clay orders with a studio upstairs," she says, sort of the ceramicist equivalent of borrowing a cup of sugar. Her neighbours include a growing number of metal workers, antique furniture dealers, painters, photographers, plus the Yves Laroche gallery, whose eponymous co-owner is one of the Ahuntsic-Cartierville borough's biggest proponents, likening the area to a pre-1990s Chelsea, New York ("Everyone said it was too far," he told Le Devoir.)
When asked to reflect on what's changed since she moved in, Sevigny-Martel says that she can take spin classes in the neighbourhood now. There are a few more places to eat (and, as Takahashi notes, a sandwich here still only costs $8). While she does sometimes long for somewhere to go for cinq à sept, maybe a natural wine bar, she's still pretty content without one. "I like not having any distractions. Just get here, have lunch, work some more, and head home."
More distractions will surely come, but they'll take time. For all the city's hype and growth, burgeoning boroughs still tend to develop slowly in Montreal. But for those who make the leap, Chabanel looks a lot like the future.