La Vie en Rose in Louisville, Kentucky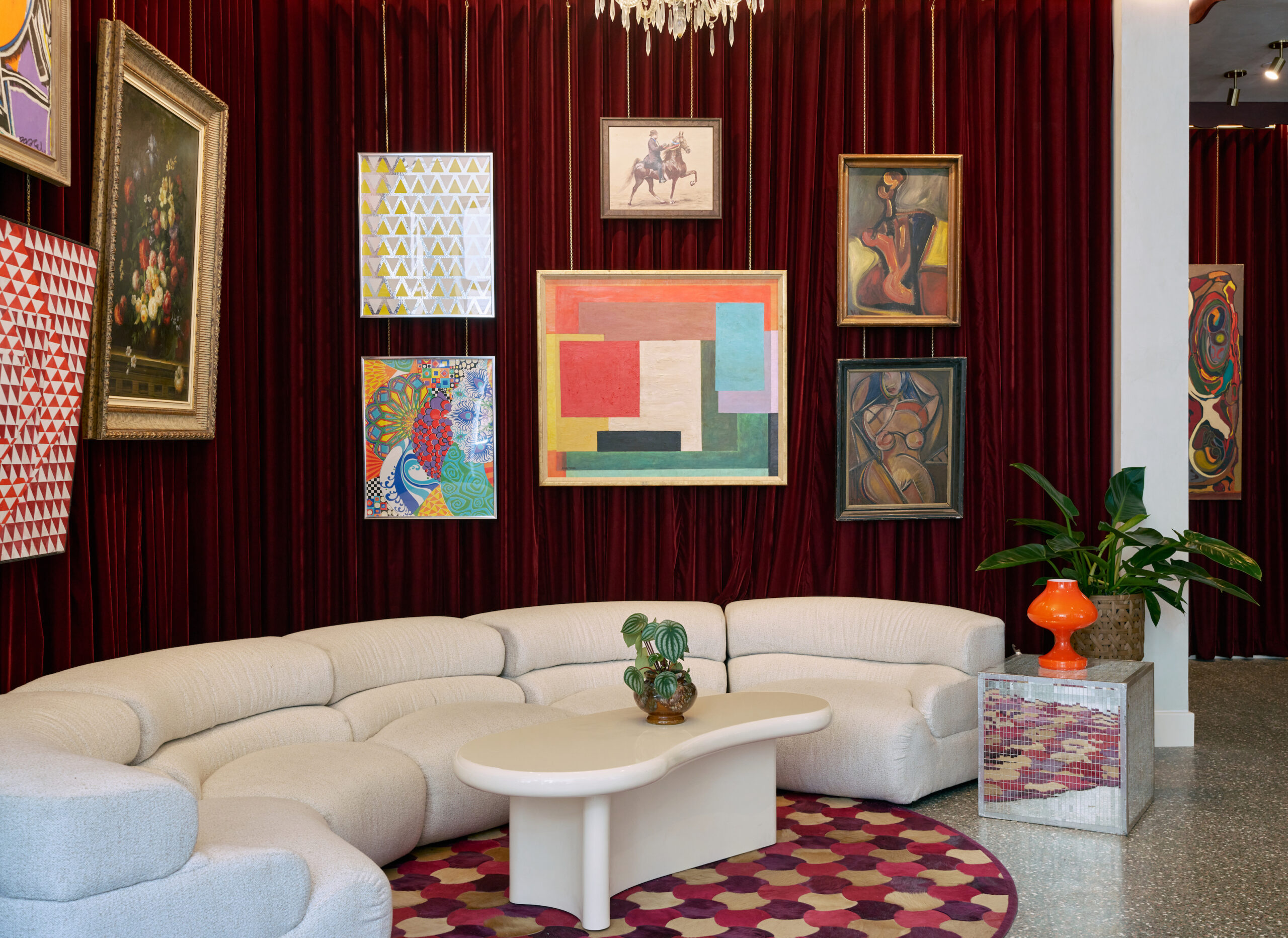 Louisville, Kentucky, may be known for bourbon, baseball, and horses, but its latest hotel opening reveals a more nuanced identity. In May, Hotel Genevieve debuted in the city's hip East Market District under the acclaimed Austin-based hospitality group Bunkhouse, along with real estate development firm Mountain Shore Properties and Rohe Creative.
"When we first visited [Louisville], so many places felt masculine and heavy," says Tenaya Hills, Bunkhouse's senior vice-president of design and development. "We decided, why not make this a feminine, rich space?"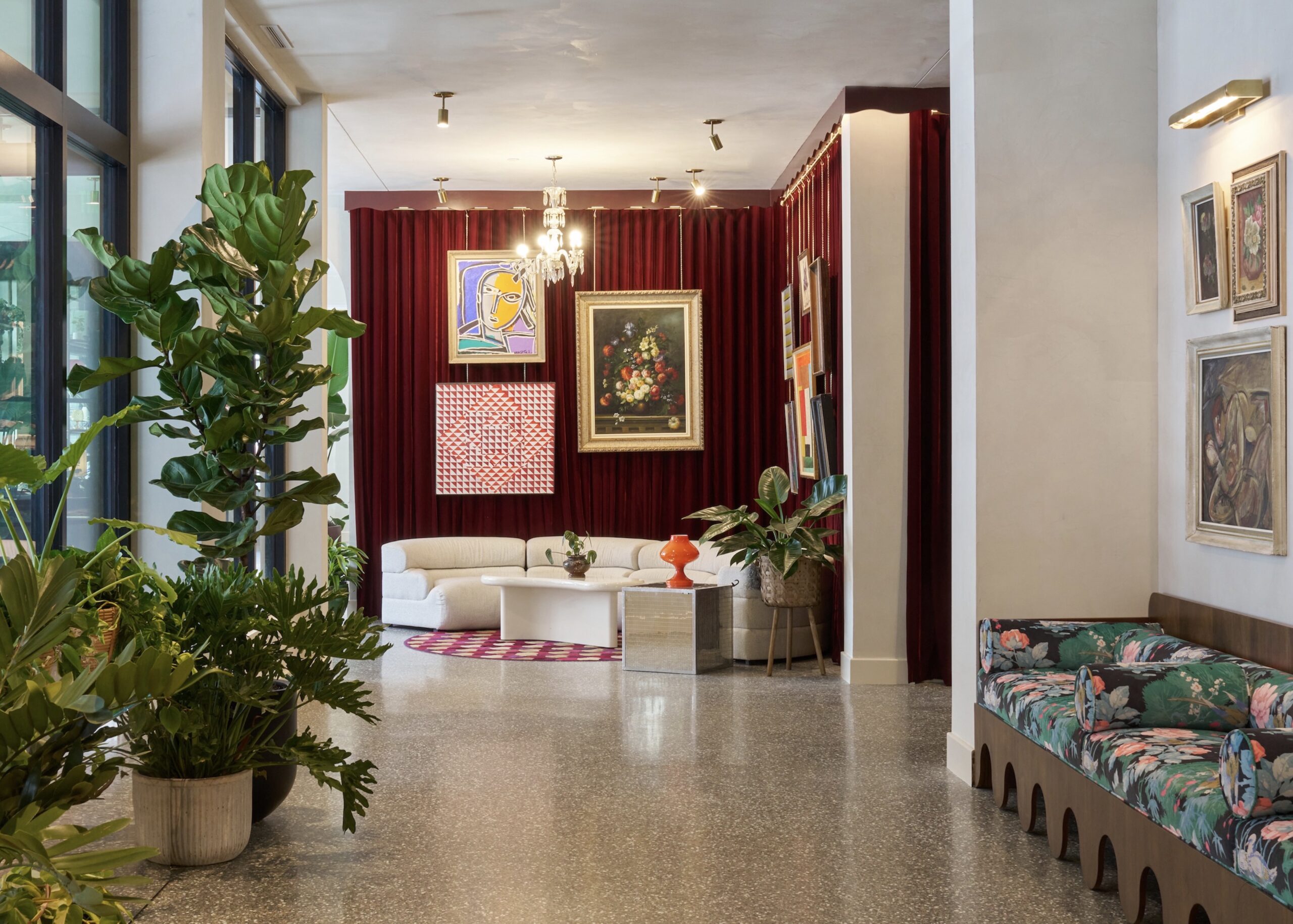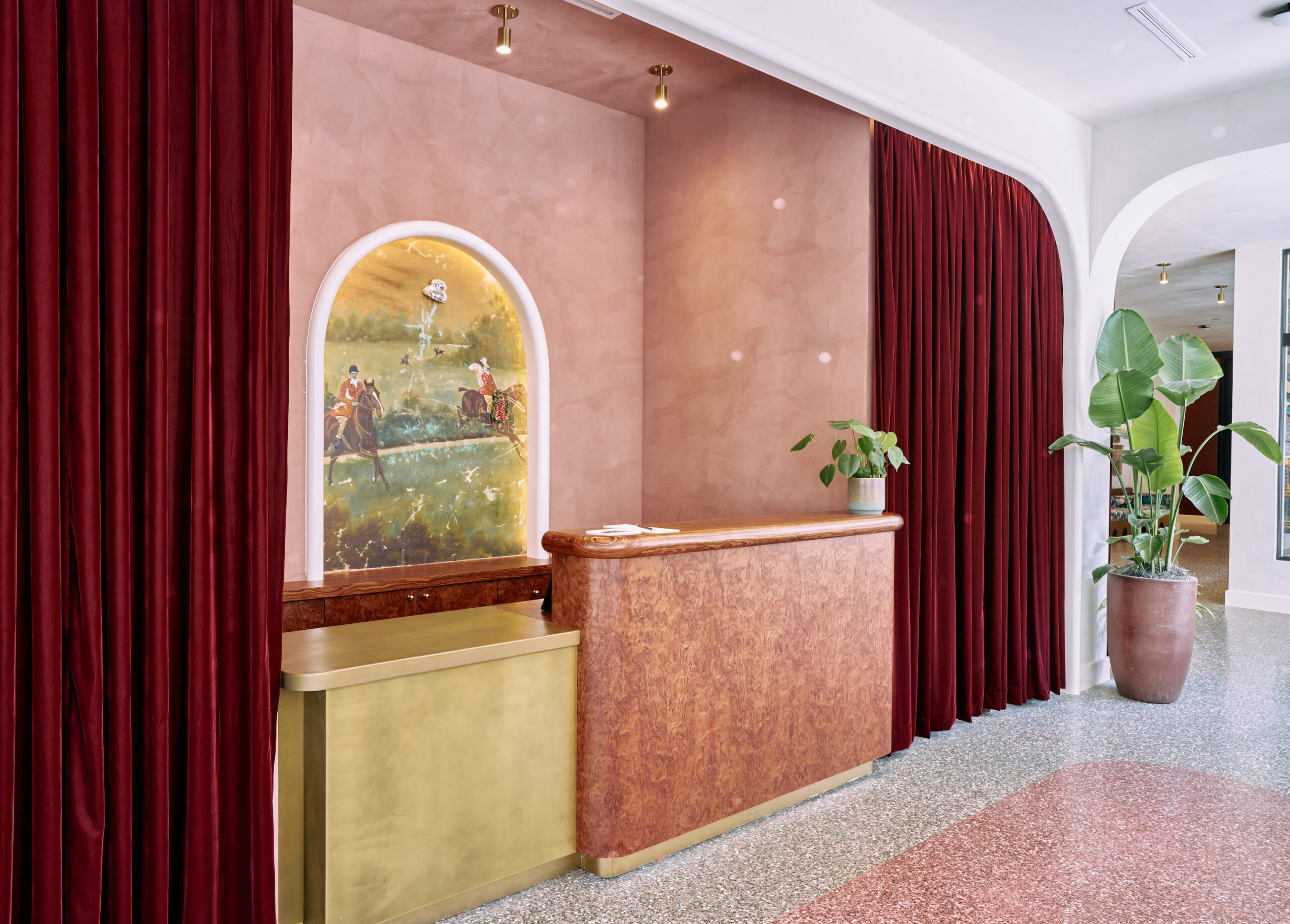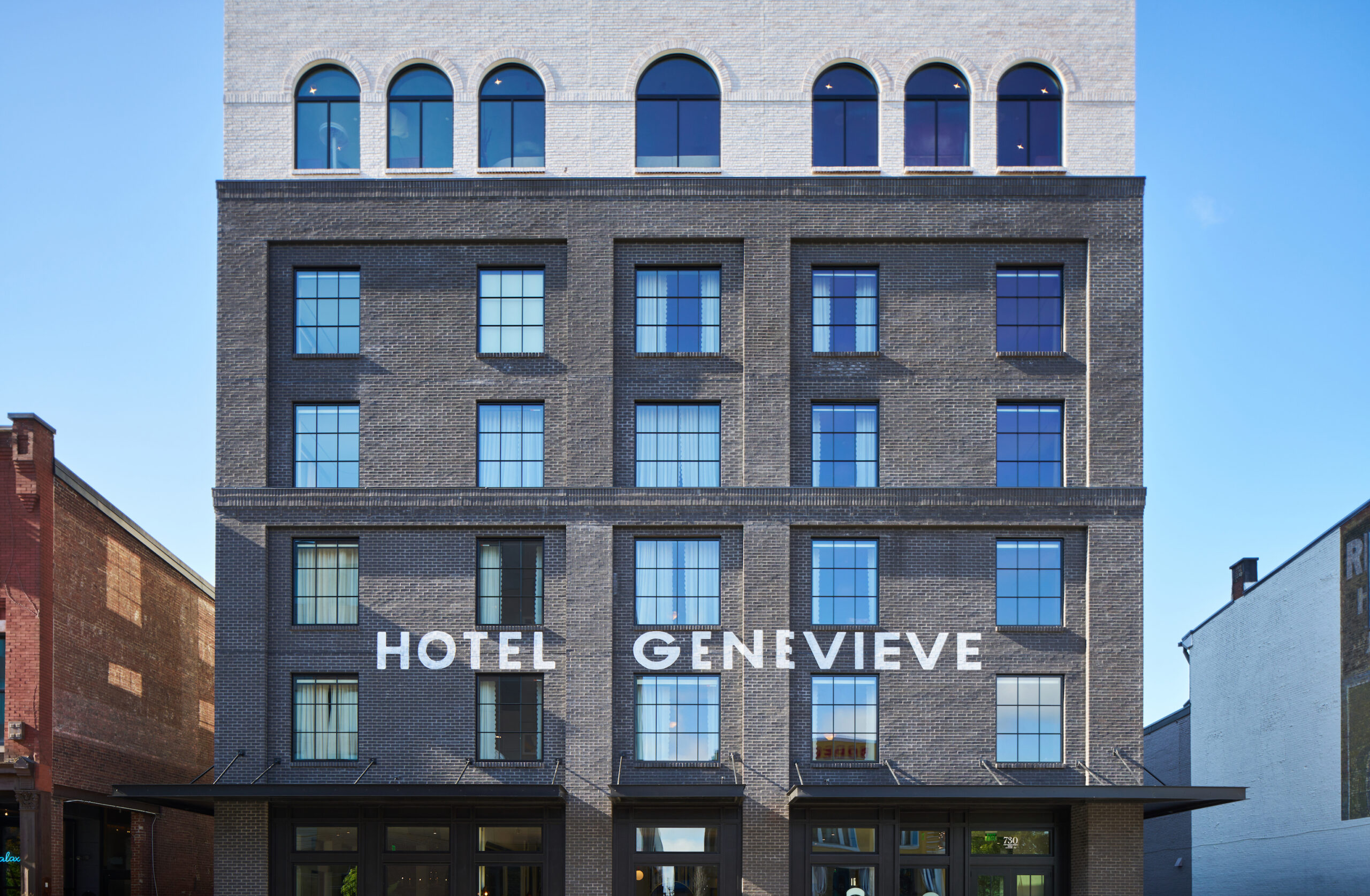 In the lobby, colourful paintings hang in front of scarlet drapes, evoking an elegant French salon. The city has a special connection to France, thanks to its namesake, King Louis XVI, and French influences are evident throughout the property, from the design and decor to the hotel's moniker. St. Genevieve is the patron saint of Paris and happens to also be the name of one of the regional limestones that filter the water used in Kentucky's prolific bourbon production. (Coincidentally, the same stone is prevalent in Texas too, providing a symbolic connection between Bunkhouse's origins and its first hotel in the Bluegrass State.)
While honouring these French roots was integral to the hotel design, so too was celebrating the setting's distinct American heritage. "As we researched Kentucky, we became enamoured with the history of quilting throughout Appalachia," Hills says. "It speaks to that push and pull that we love about Louisville—quilts are both craft and art, utilitarian and unique, so we're thrilled to highlight modern interpretations and makers in the space." From custom carpets to bespoke artwork, guests will find assorted quilted tributes patchworked throughout the venue.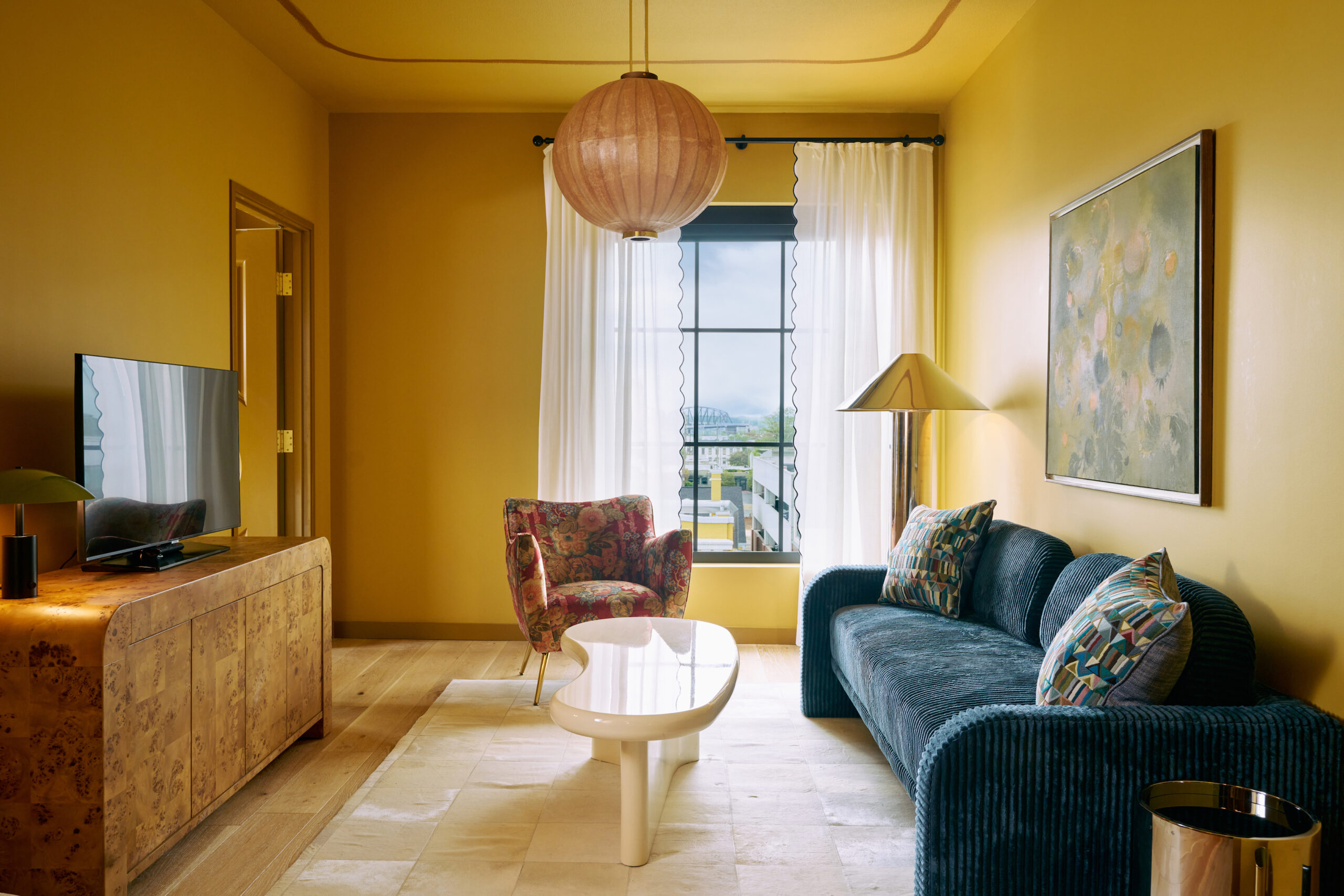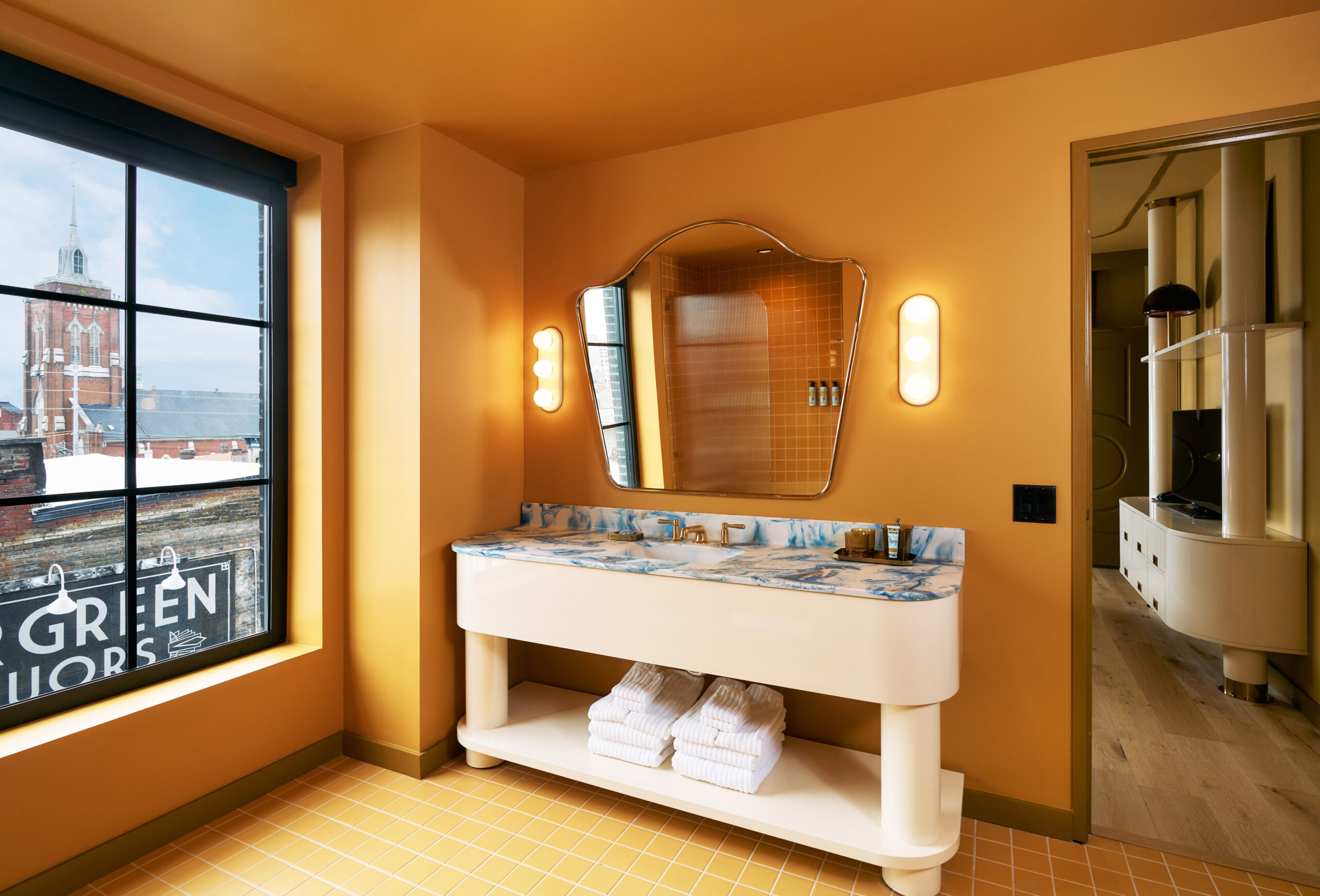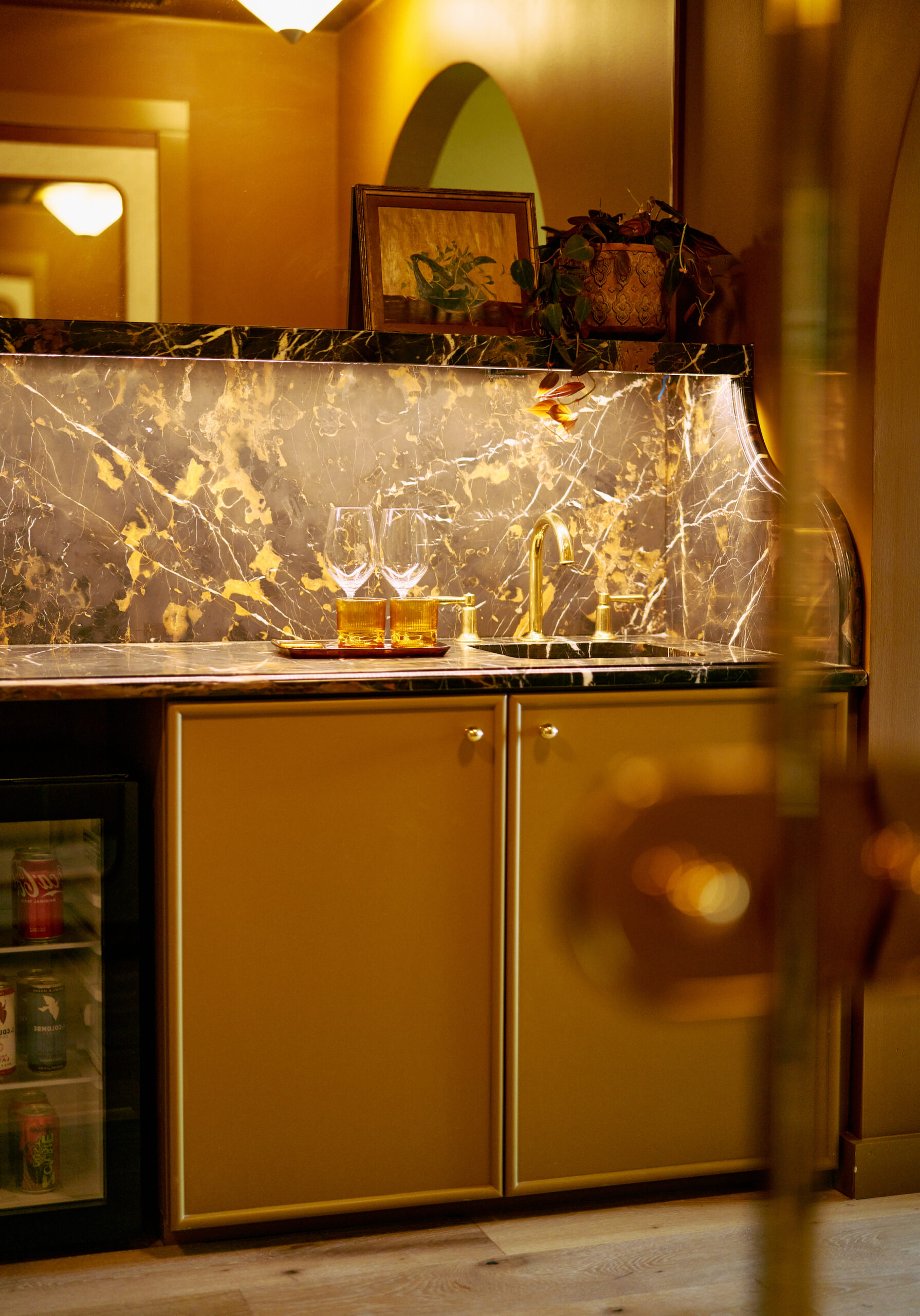 Subtle details also reference the city's equestrian traditions. Rosettes, the full-service restaurant on the ground floor, was dubbed for the horse-racing ribbons of the same name, while in the lobby, an antique mural sourced from Texas's renowned Round Top Antiques Fair alludes to another of Louisville's legacies. The artwork is bedazzled with a tiny, mirrored globe as a nod to the city's reputation as the disco ball capital of America. During the 1970s disco era, Louisville produced 90 per cent of the balls made in the U.S.
To offset the hotel's metropolitan location, lush plants and local flora like goldenrod were incorporated into the public and private spaces. "We wanted to lean into greenery and plants in this project as an homage to the beautiful gardens seen throughout Louisville," Hills explains.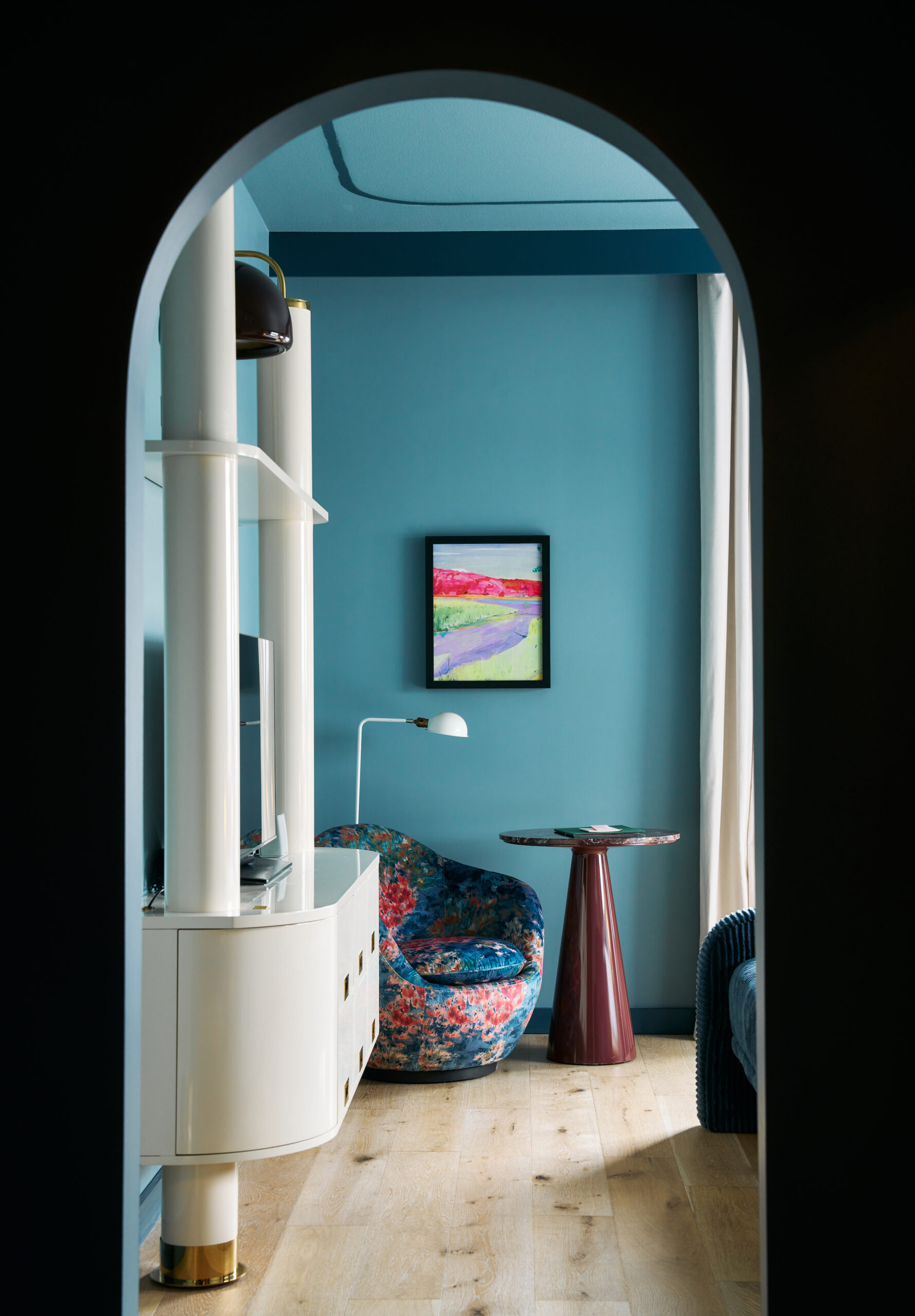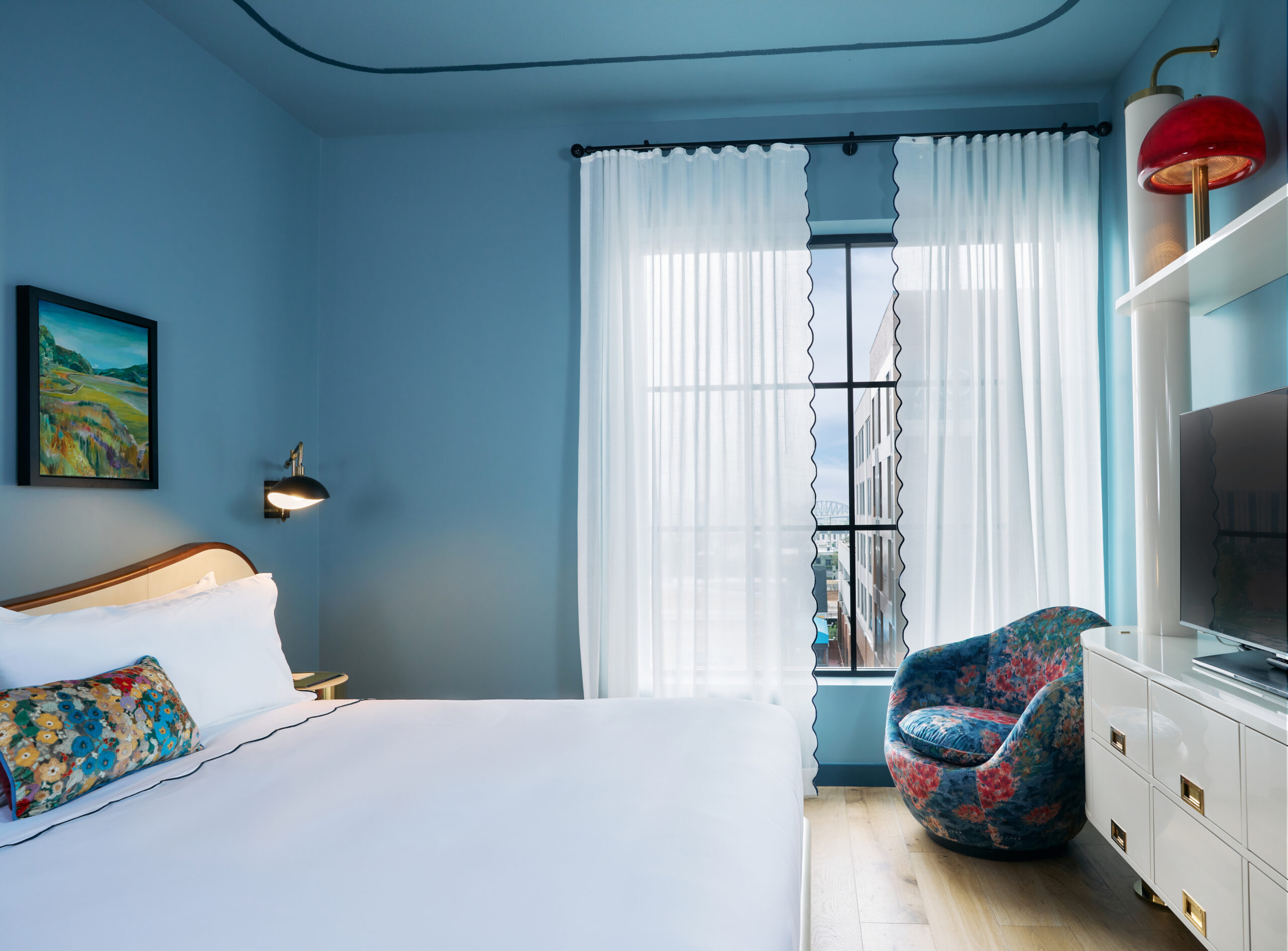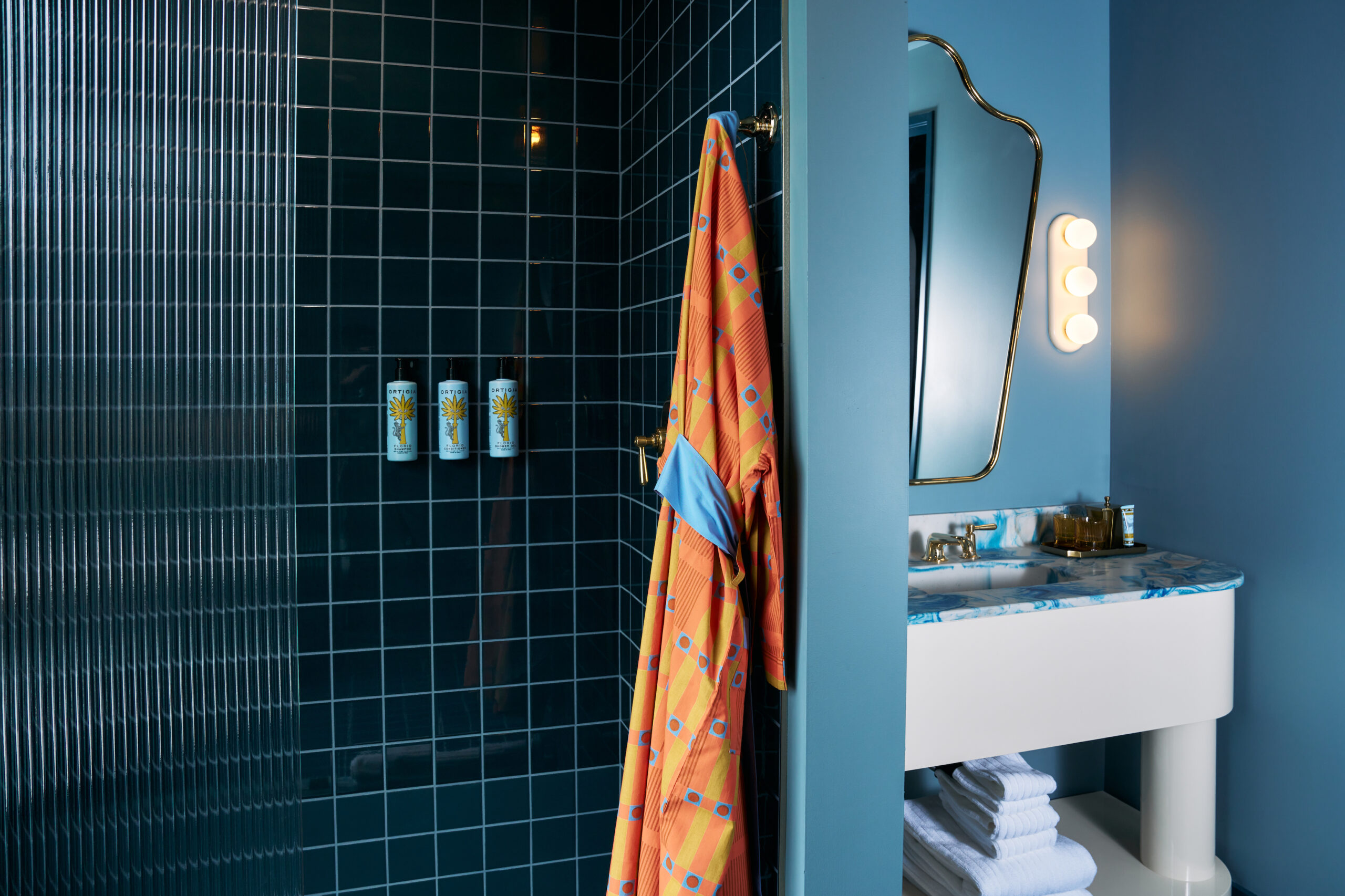 Meanwhile, in each of the 122 guest rooms, floor-to-ceiling paint schemes add playful punches of colour, from dusty blues and salmon to canary and terra cotta. Coupled with the curvaceous lines of undulating furniture, Bunkhouse's signature kimonos, and the ultrasoft Sferra bed linens, Hotel Genevieve is the epitome of sultry, southern comfort.
Though most of the property is vibrant and cheery, the secret speakeasy, the Lucky Penny, is dimly lit and moody. This intimate pocket bar is one of four culinary venues in the hotel, all overseen by Top Chef alum and James Beard–nominated chef Ashleigh Shanti. At Rosettes, saddle up with a sweet potato vichyssoise and tater tot poutine, or head to the Mini Marché, a pop art–inspired neighbourhood market selling local Kentucky provisions and gifts.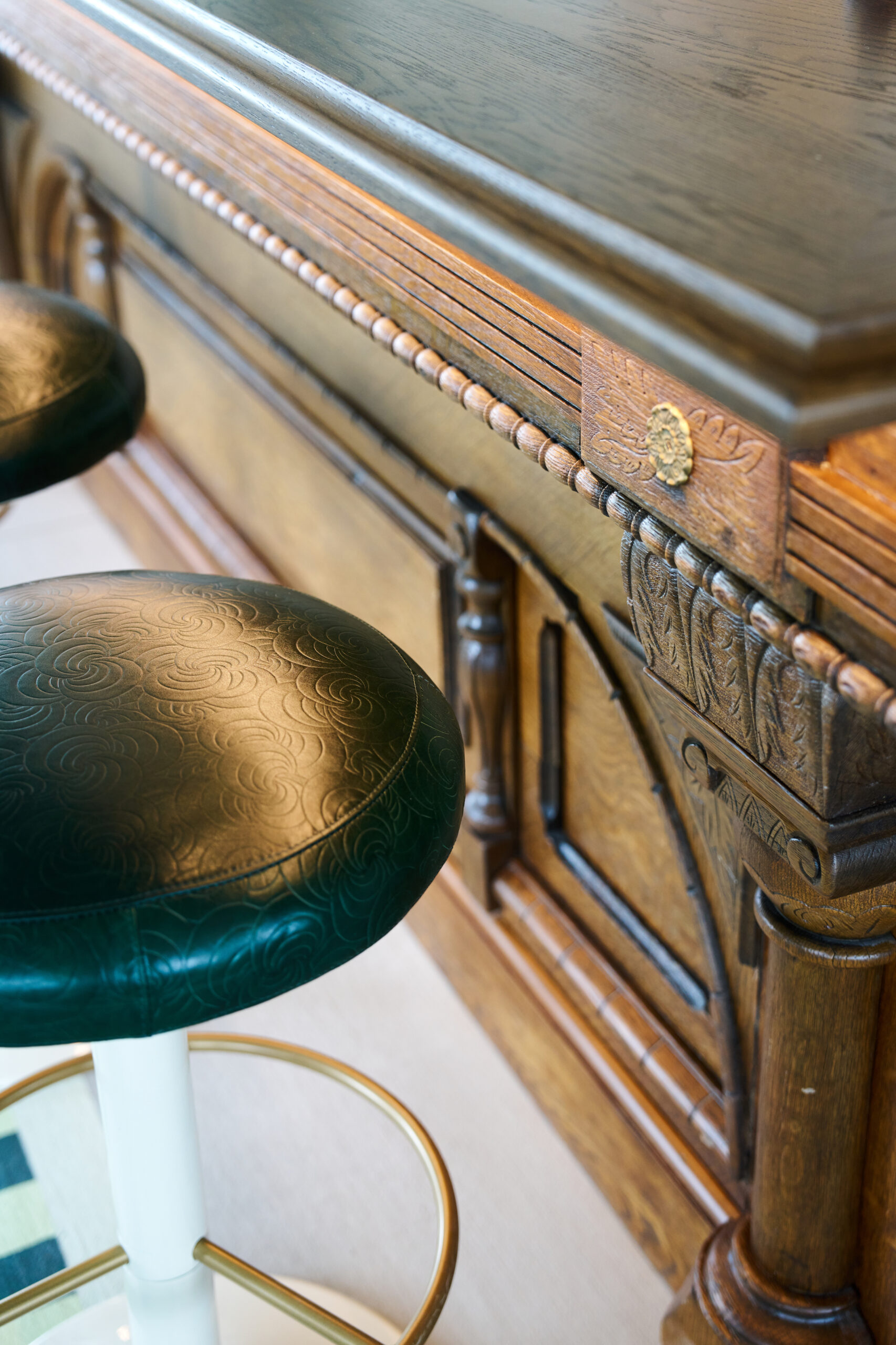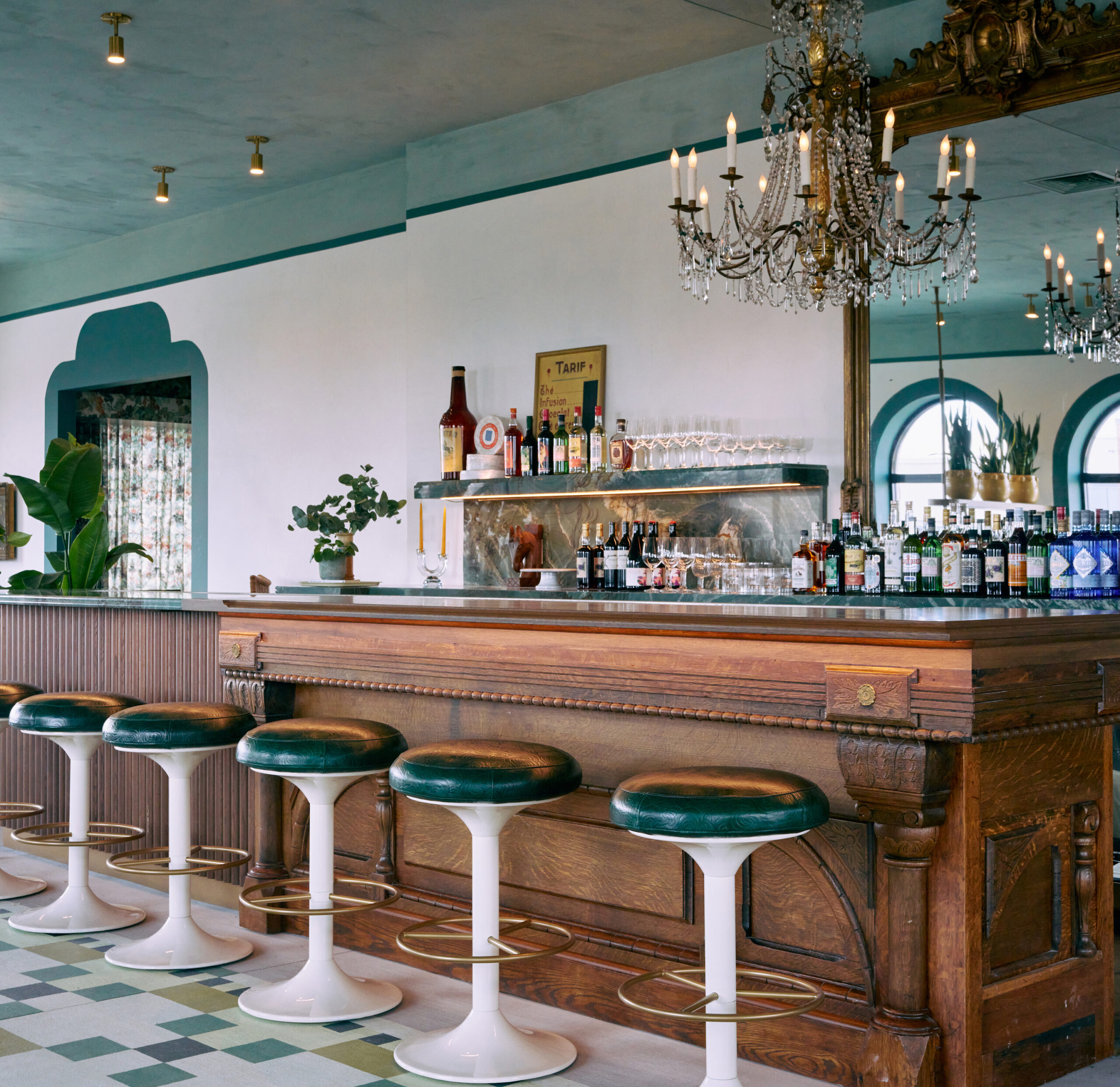 Like other Bunkhouse properties, including Austin's Hotel Saint Cecilia and Hotel San Cristobal in Baja, Hotel Genevieve's ethos is locally rooted and community driven. The property is collaborating with partners like Black Soil KY, the Louisville Orchestra, and the Olmsted Parks Conservancy, while an art walk featuring rotating installations will be ongoing with the neighbouring Rabbit Hole Distillery.
As the sun sets over Kentucky's largest city, there is no better place to unwind than at Bar Genevieve. The indoor-outdoor rooftop lounge offers exquisite craft cocktails and French-inspired street food along with sweeping views of the surrounding setting. Much like the mirrored disco balls made famous here in decades past, Hotel Genevieve shines today as a luminous, layered, and multifaceted reflection of the city it calls home.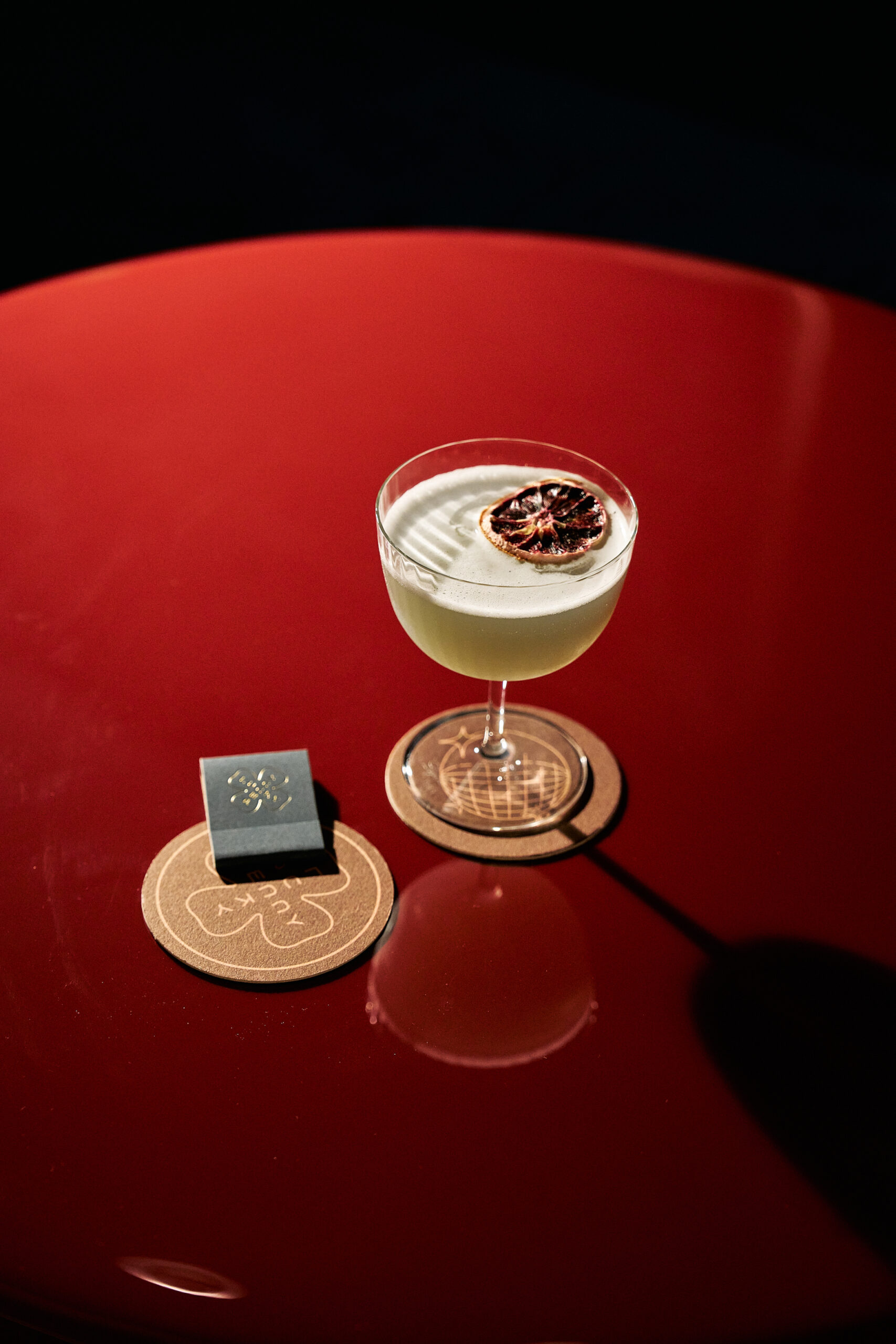 Photography by Nick Simonite.