Zoey Gong's TCM Herbal Mushroom Stew with Black Sesame Buns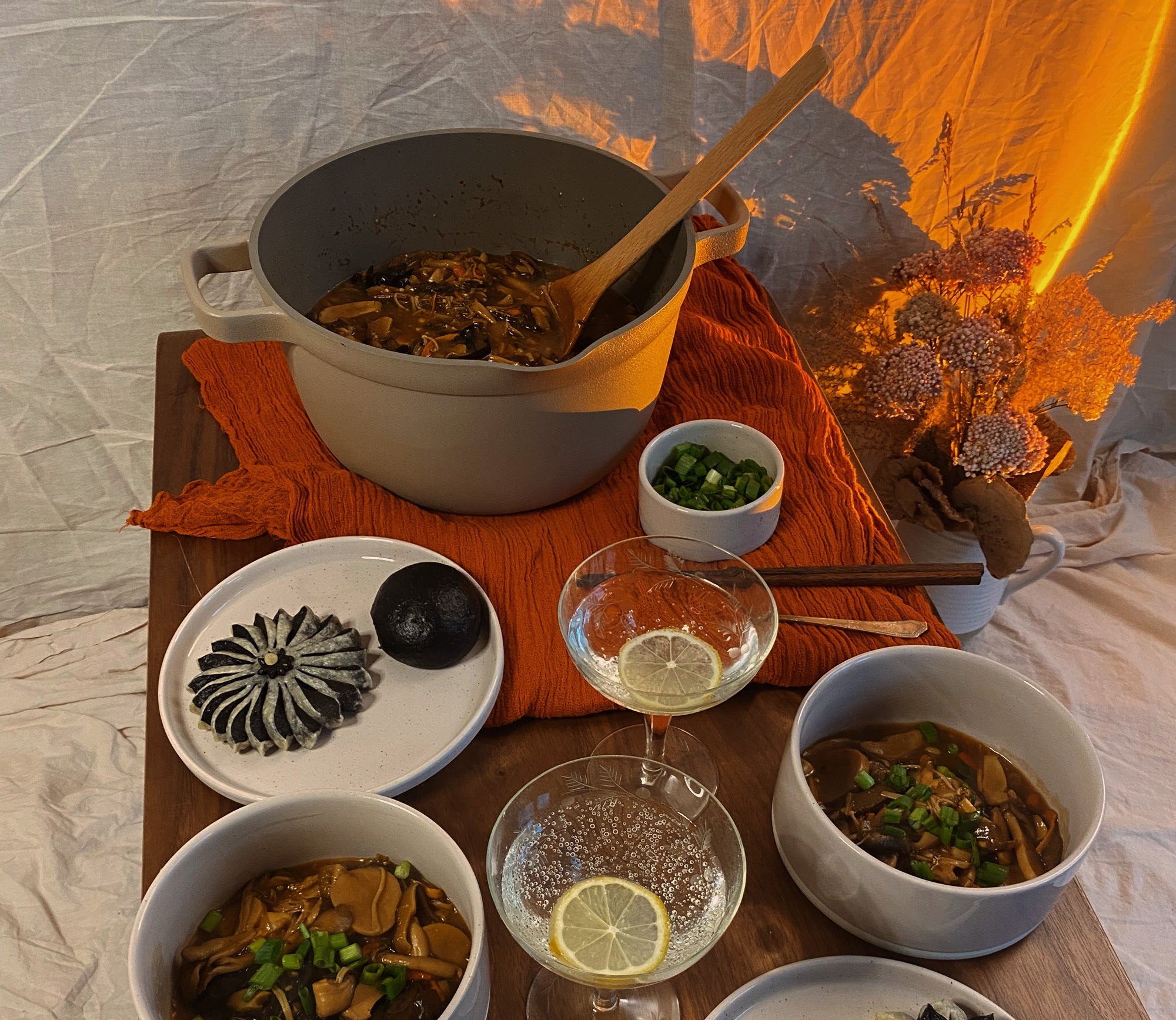 Last month Our Place launched a series, The Ways We Heal, in collaboration with chefs and nutritionists to promote wellness from within. The series was focused around the importance of nourishing foods and creating recipes that cultivate healing and better health. Traditional Chinese Medicine chef and nutritionist Zoey Gong shared her perspectives on healing, which is heavily rooted in both food and rituals. "I appreciate all foods, spices, and herbs. I think the variety of them that we consume is the key for wellness. Most of us tend to eat a quite limited diet with only a few kinds of whole plants and consume supplements to compensate. To me, having a wide range of seasonal whole foods: from grains to vegetables to fruits to wild protein to medicinal herbs or functional ingredients, is very important. Eating like how our Mother Nature would want us to eat is the most healing," she says. For the series, Gong shared a TCM Herbal Mushroom Stew with Black Sesame Buns recipe—a dish that is meant to be grounding, healing, and full of nutritional benefits. When making this dish, think of it as a meditative practice—a flow of cooking, good for the soul.
We recommend trying the Perfect Pot from Our Place for easy and aesthetically pleasing preparation.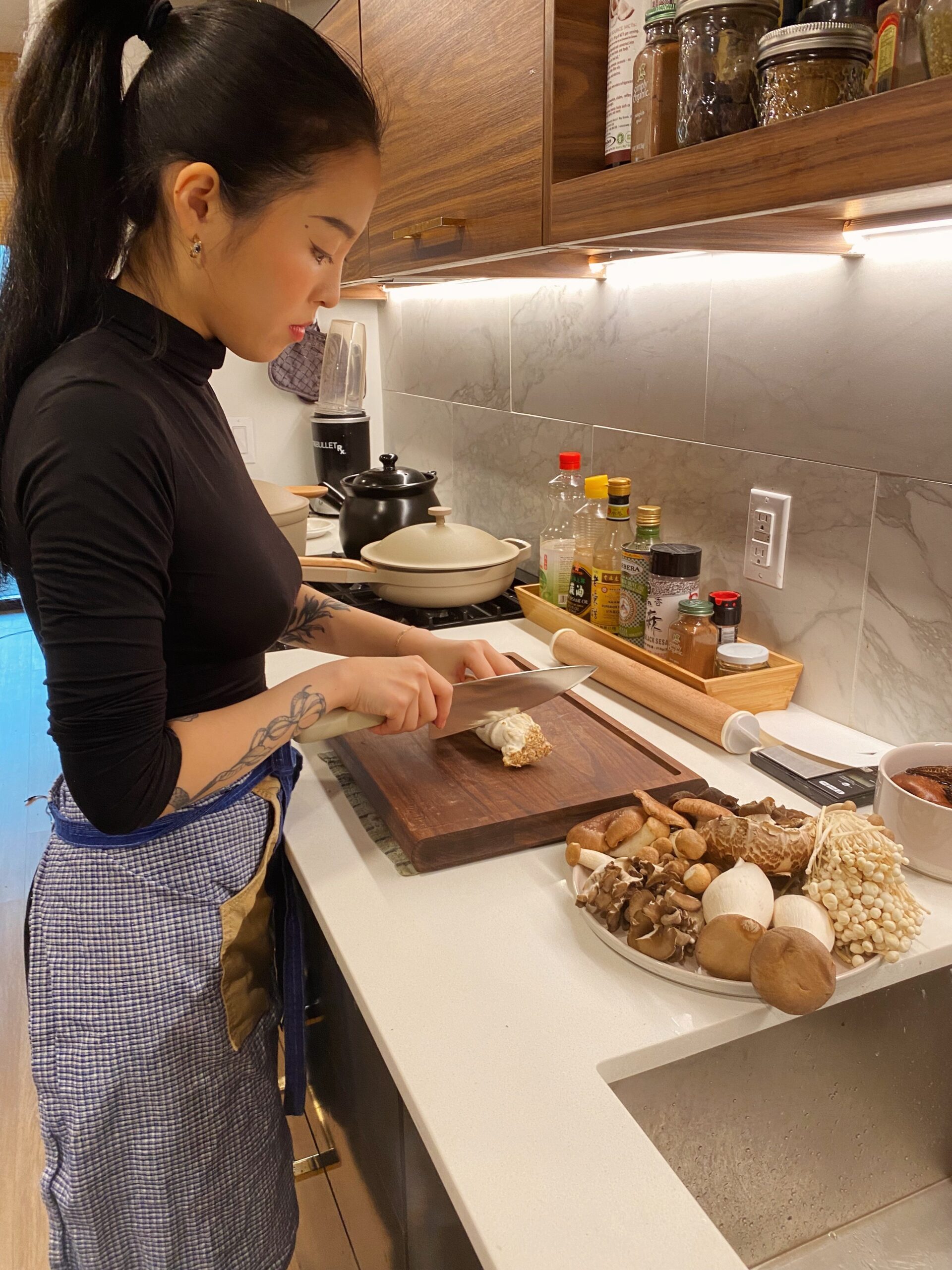 Ingredients for Black Sesame Buns
2 teaspoons granulated sugar
1 cup warm water, prepare extra to add if the dough is too dry
3 grams dried active yeast
1 ⅓ cup (160 grams) all-purpose flour
⅓ cup (40 grams) whole wheat flour
⅓ cup (40 grams) black sesame powder
1 tablespoon edible charcoal powder (optional)
Ingredients for Herbal Mushroom Stew
1 cup (loosely packed) dried cordyceps militaris
2 pieces dried morel mushroom
3 pieces dried shiitake mushroom
2 tablespoons dried black wood ear mushroom
4 tablespoons olive oil
2 medium-sized white onions
3 tablespoons ginger, minced
1 bunch fresh thyme
2 tablespoons tomato paste
2-3 pounds fresh mixed mushrooms
2 tablespoons soy sauce
2 tablespoons sesame oil
2 teaspoons five spice powder
1-2 quarts mushroom stock or other stock
1 pinch saffron
8 pieces jujube dates
3 tablespoons goji
3 pieces dang gui (angelica root)
4 pieces huang qi (astragalus root)
Salt and pepper, to taste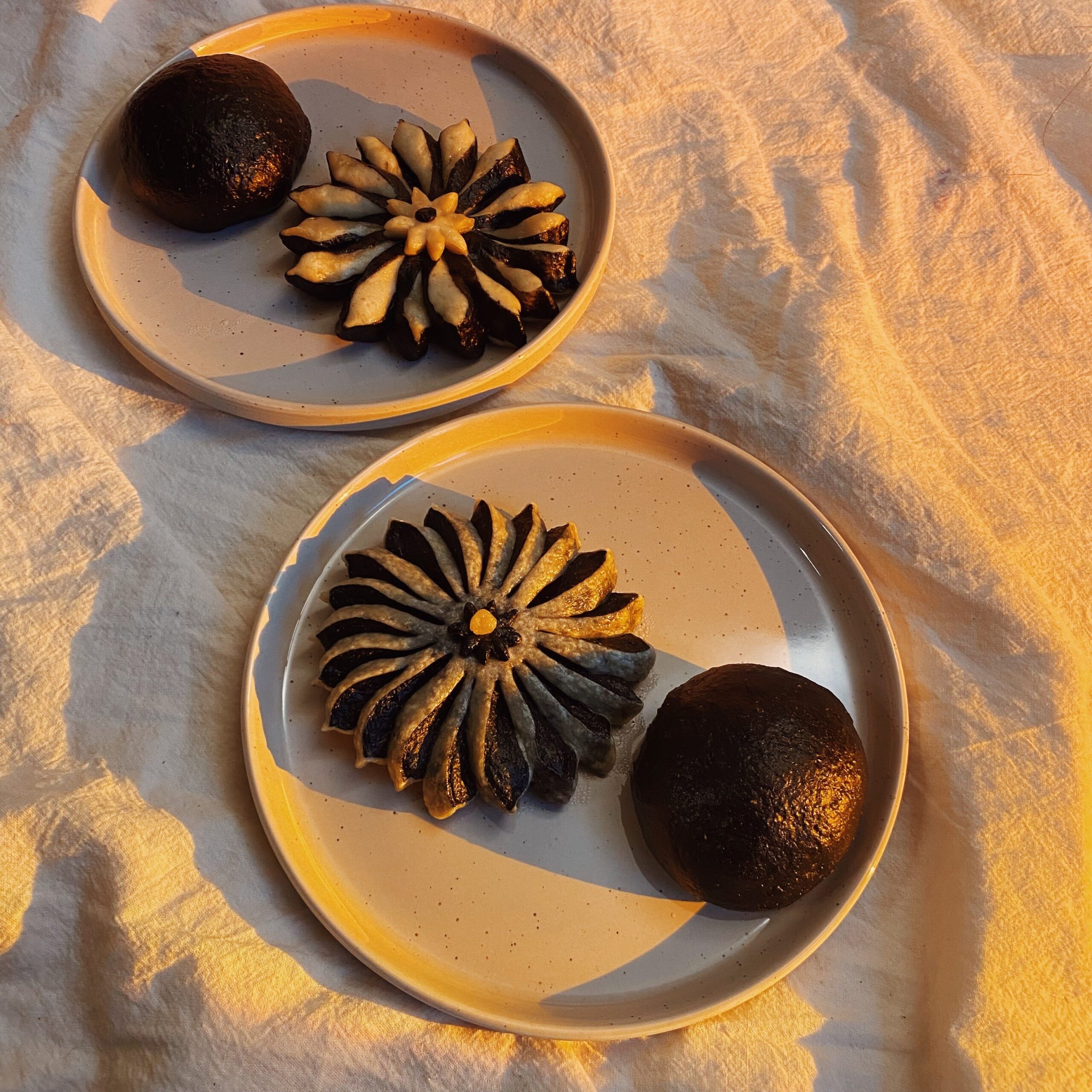 Method for Black Sesame Buns
In a bowl, let the sugar dissolve in the water and pour yeast in. Do not stir and set aside.
In a big bowl, mix the all-purpose flour, whole wheat flour and black sesame powder together. You can add charcoal powder for a more intense black color, but it is completely optional and my grandma never added it.
Pour the yeast liquid into the flour mixture. Roughly mix with a fork until there is no loose flour.
On a clean countertop, knead the dough for 15-20 minutes until it is smooth and soft without cracks. Add more water if needed. You can also use a mixer but hands always do a better job, as my grandma would say.
Cover the dough with a wet cloth and leave in a warm place to let it rise until it has doubled in size. In winter, it may take up to 1.5 hours.
Once the dough is risen, knead the dough to get the air out for about 5 minutes. Shape the dough however you like and leave it in the steamer with the cover for 30 minutes to let it rise again before steaming. One medium-sized bun is around 2 ounces.
Now you can work on your mushroom stew.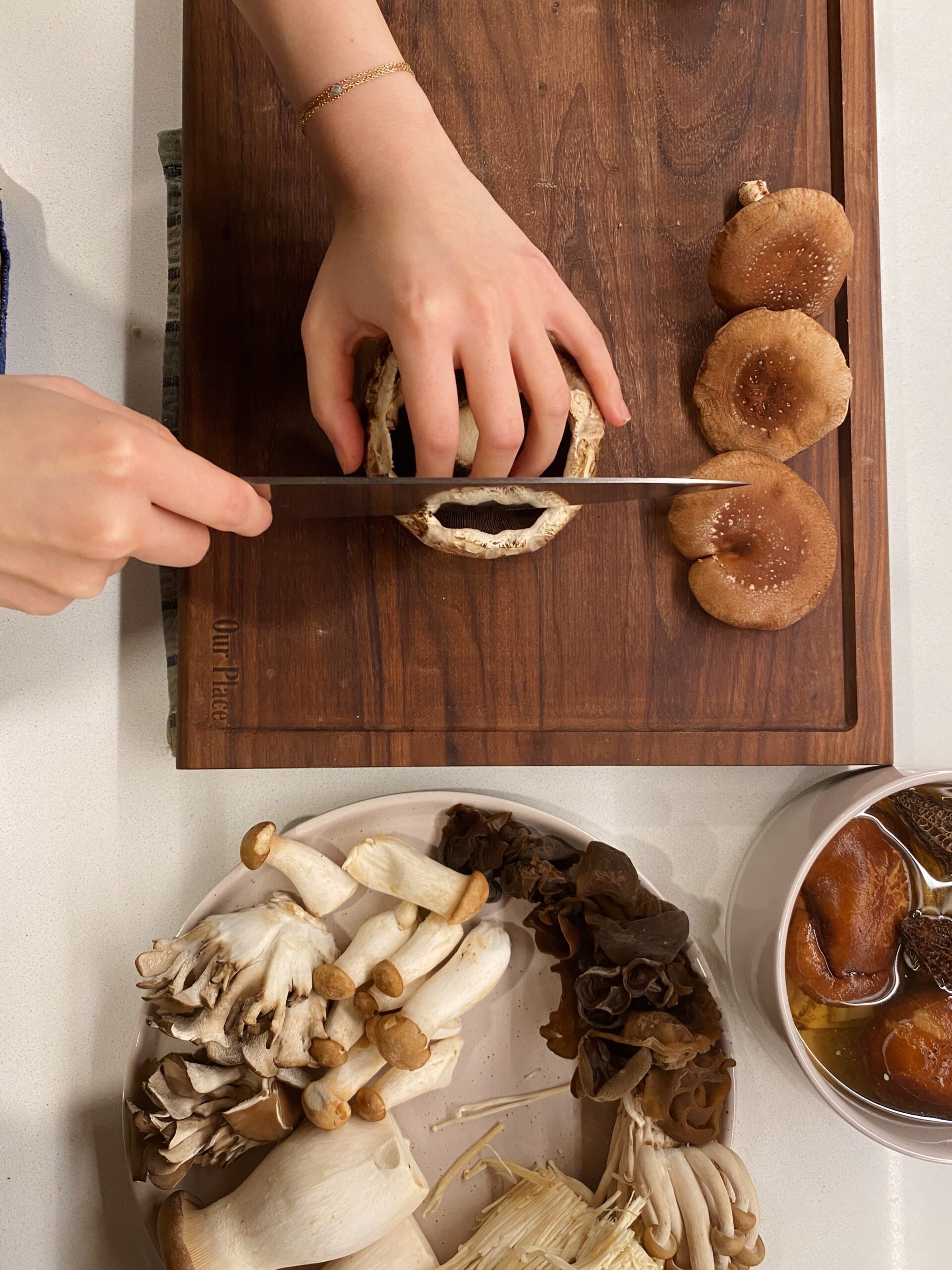 Method for Herbal Mushroom Stew
Rinse and soak all dried mushrooms in warm water for 10 minutes.
In the Perfect Pot, heat olive oil with minced ginger, white onions, thyme, and tomato paste until fragrant, about 5 minutes.
Roughly chop and slice fresh mushrooms and add to the Perfect Pot. Sauté and season with soy sauce, sesame oil, and five spice, until the mushrooms soften and appear cooked.
Pour stock into the Perfect Pot until it just covers all the mushrooms in the pot.
Add in soaked mushrooms and herbs. My grandma always put dang gui and huang qi in a tea bag, so that they can be discarded easily before serving. For other herbs, you can add directly to the pot.
Bring the stew to a boil and add the steamer with the buns on top. The steaming and stewing are happening at the same time.
After 10 minutes, check the bun and make sure it is soft and fluffy. Remove the steamer, turn down the heat to low and cook the stew with lid off until the liquid has reduced. Season with salt and pepper to taste before serving.