Experience Supernatural Luxury Aboard VisionF's 80 BLCK Catamaran
The VisionF 80 Firstline BLCK catamaran shows that black cats are indeed a breed apart.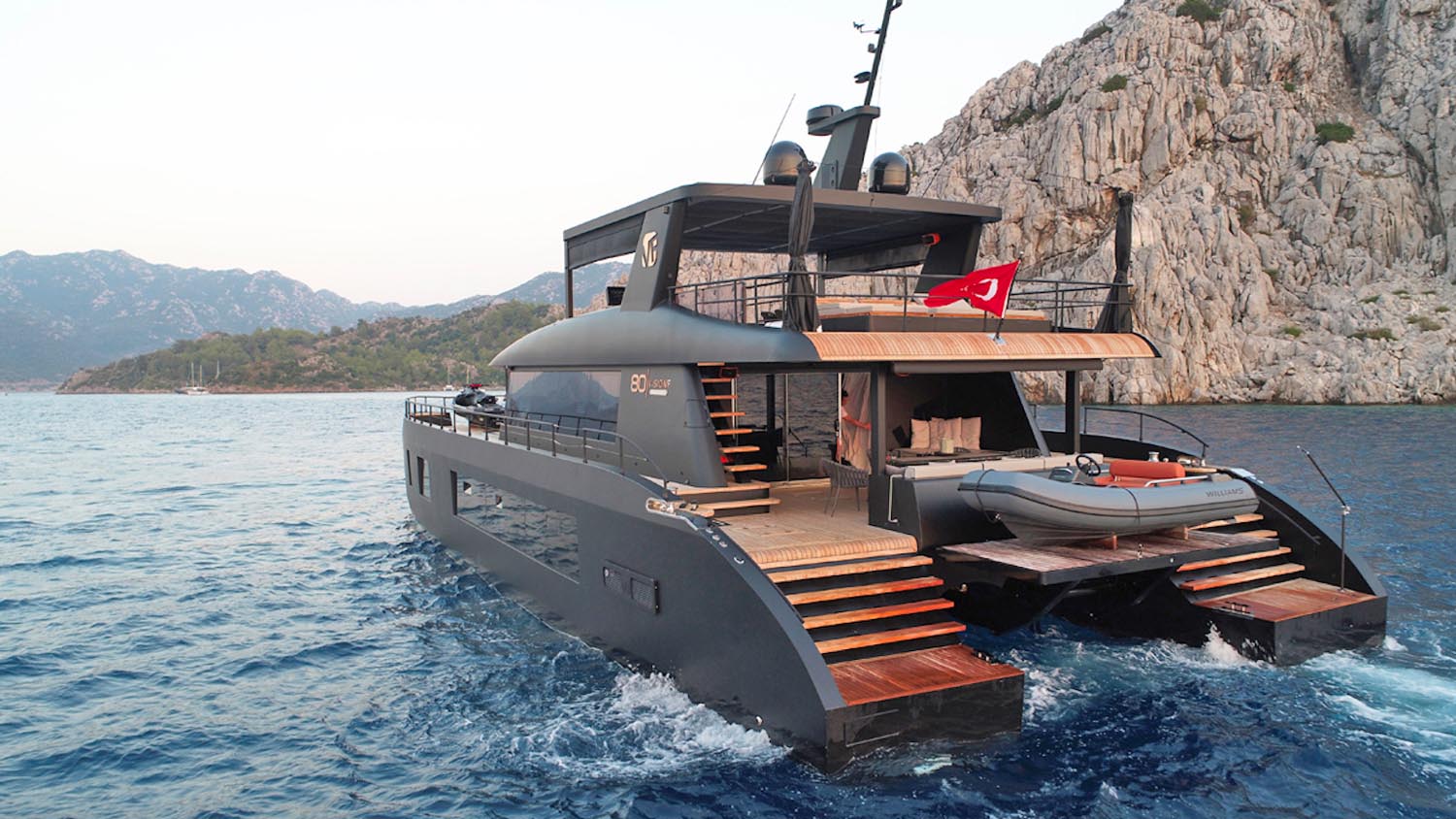 Superstitions around black cats have been with us for centuries. Seen as supernatural, black cats were believed to bring good luck to those they belong to but ill fortune to anyone who crossed them. This fascination with black cats persists in a much different form if you're a boater. Today's object of obsession is an 80-foot black aluminum cat known as the 80 Firstline BLCK from VisionF Yachts.
Founded in Turkey by Coşkun Bayraktar only four years ago, VisionF Yachts has already earned a glowing reputation for creating stunning and luxurious power catamarans. That includes its magnificent 80 Firstline BLCK, which made its world debut at the 2022 Cannes Yachting Festival.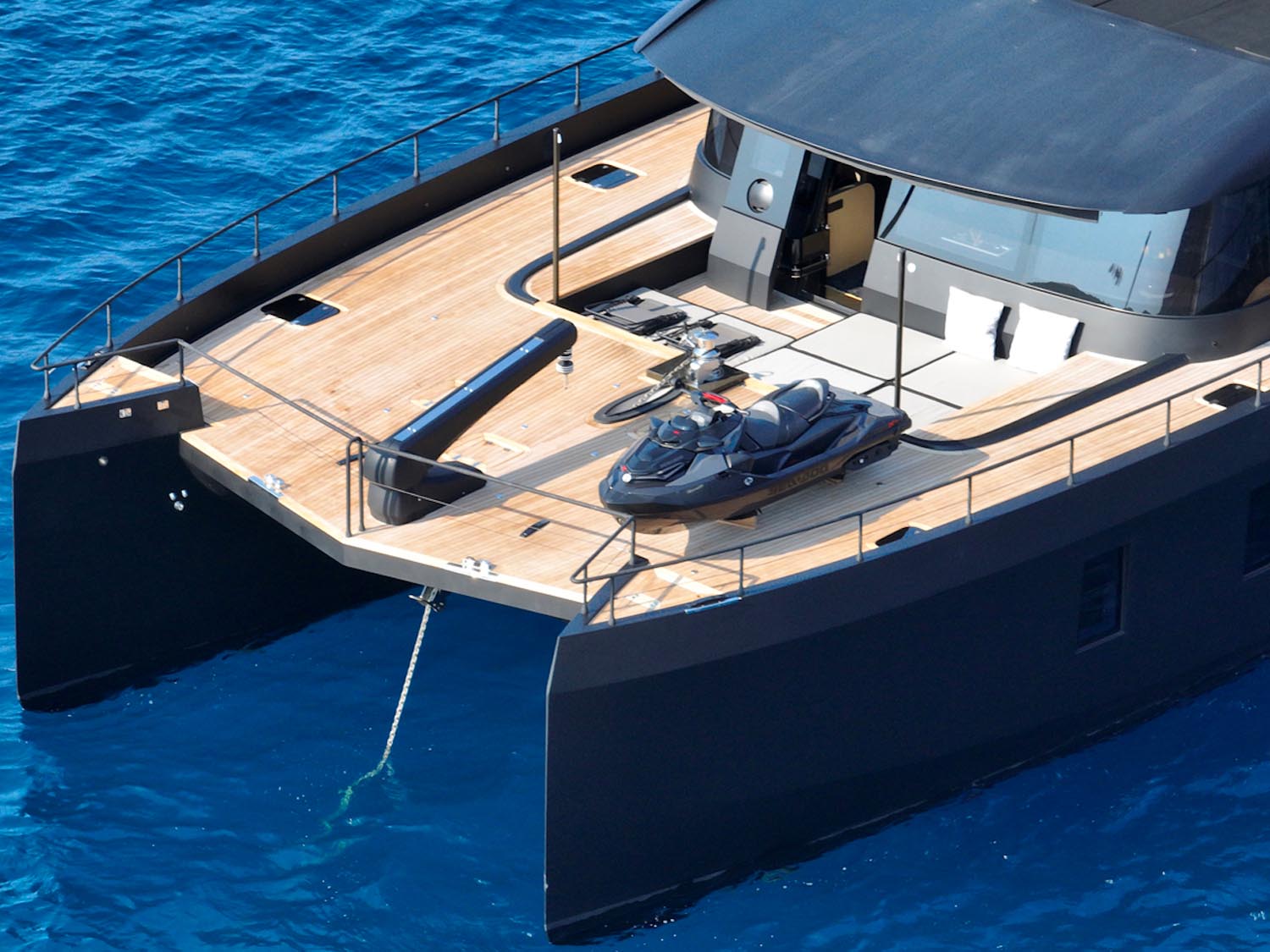 Measuring 24.6 metres in overall length and riding on a generous 9.9-metre beam, the three-deck, all-aluminum 80 Firstline BLCK stands out with its matte black paintwork that contrasts with its broad teak decks.
In most cases, one will board from the dock at the stern, where wide teak steps lead from the swim platform (which can be hydraulically lowered for easy access to the water or raised for storing the tender) up into the cockpit. One of the great things about catamarans as family cruisers is their generous deck space, which is obvious as you step aboard the 80 Firstline BLCK. Deck layouts are left to the individual owner, but there's more than enough space in the cockpit to accommodate an al fresco dining space for up to eight people with space to spare.Behind it, VisionF has allowed for a screen between the two support pillars aft, which provides extra privacy when moored Mediterranean-style in the marina.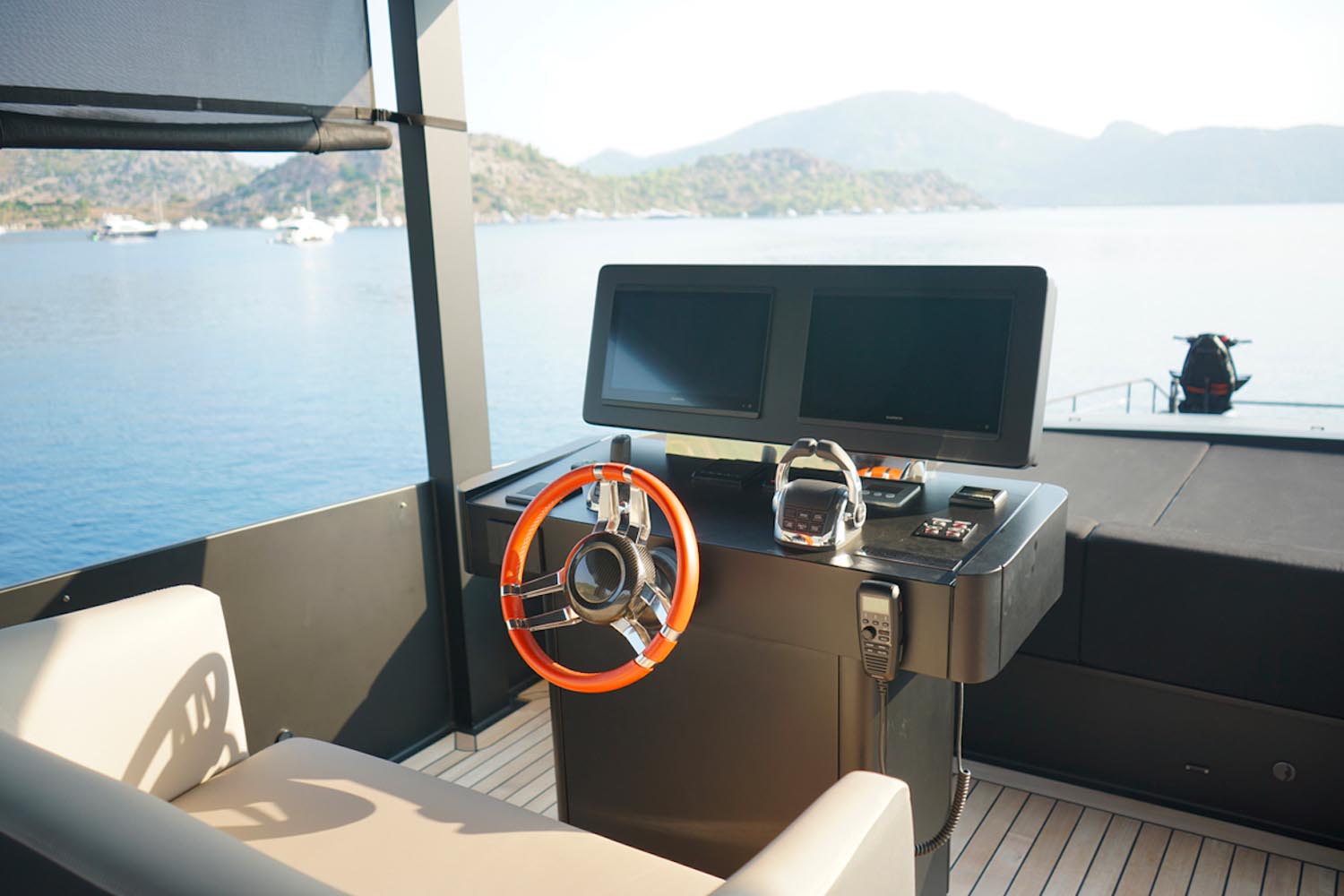 Proceeding into the saloon, the largeness of the interior is impossible to ignore, as your eyes scan almost 600 square feet of lounge space accented with chic, contemporary furnishings and light wood veneers. Dove grey Alcantara panelling with saucy orange accents add a touch of playful elegance. Huge windows offer panoramic views, whether guests are relaxing or enjoying the bright interior dining space.
The bright and spacious galley sits below-deck aft in the portside hull, with its scratch-proof countertops, refrigerator, freezer, oven, microwave, dishwasher, and washing machine. VisionF thoughtfully provides an alternative layout that positions the galley on the main deck, an option that may be prefered by couples. But for those with larger families or who plan to frequently host guests, preserving the main deck space for lounging and entertaining makes the most of this yacht's generous nearly 10-metre beam.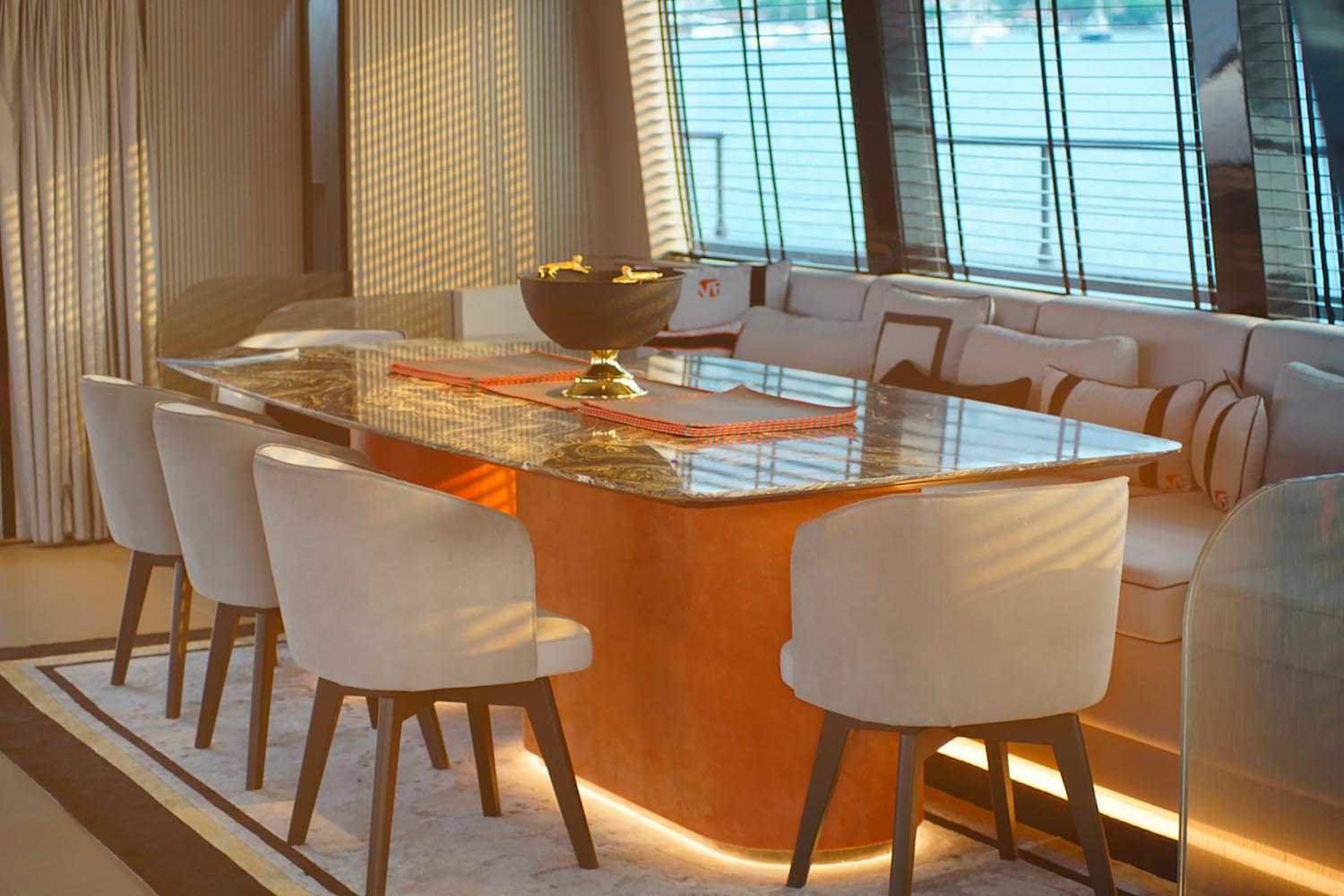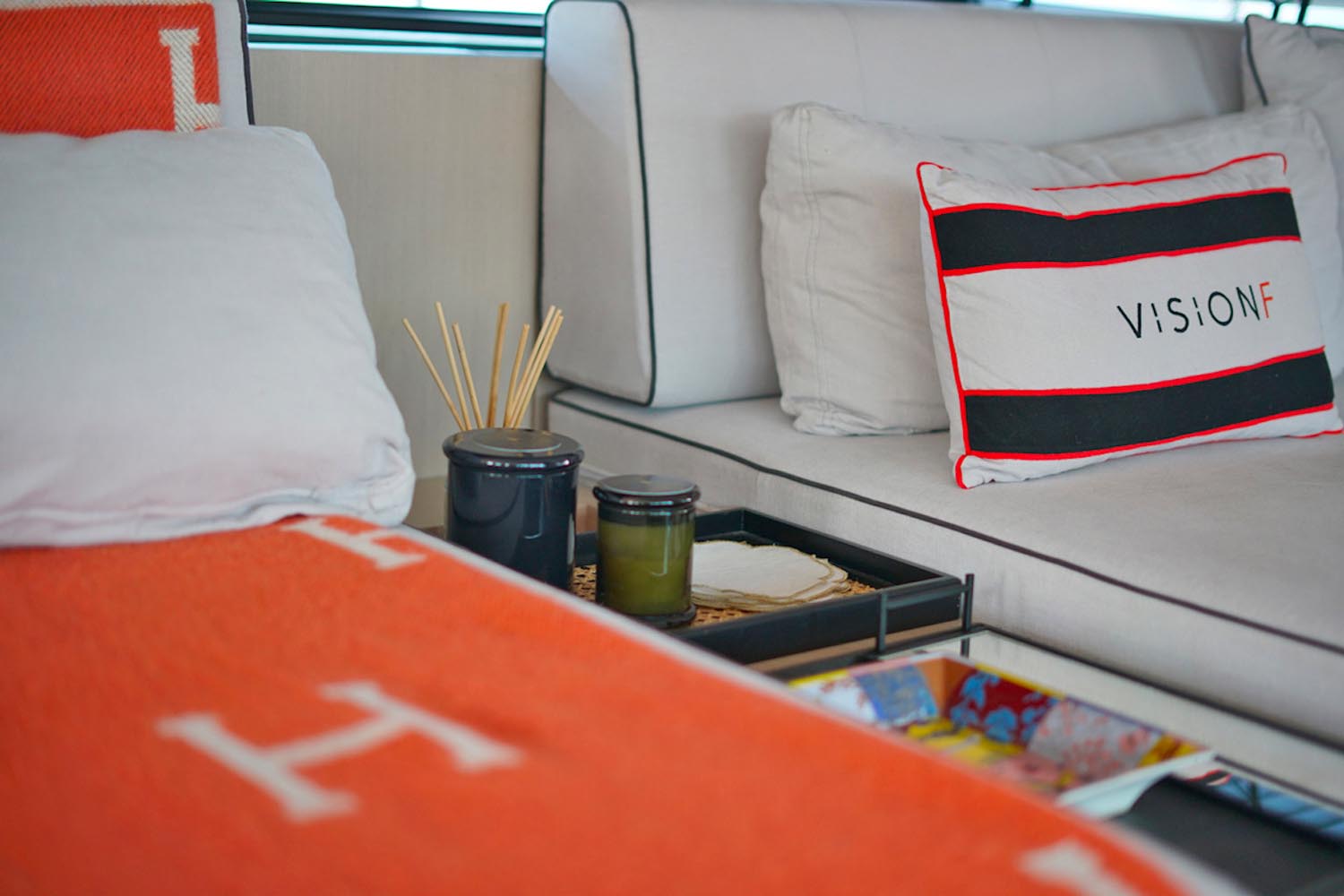 Farther forward in the port-side hull are two luxuriously appointed guest cabins and a crew cabin. The owner's suite occupies the starboard-side hull, along with a twin-single guest cabin and another crew suite. All the cabins benefit from large windows, as well as skylights in the side decks above, ensuring the spaces below are flooded with fresh air and sunlight.
But the whole point of having a powerful catamaran and its vast deck space is to enjoy the great outdoors, and that's where the VisionF 80 Firstline BLCK excels. Those wide side decks lead to the open foredeck, with its cozy sunken lounge. The huge, level deck space provides plenty of room for storing a jet tender and a personal watercraft, which can be launched and retrieved using a dedicated crane.
The flybridge is more than just a driver's seat with a view. Accessed from the aft deck, it's also an inviting lounging spot by day and a terrific party space after dark, particularly with the bespoke Void sound system.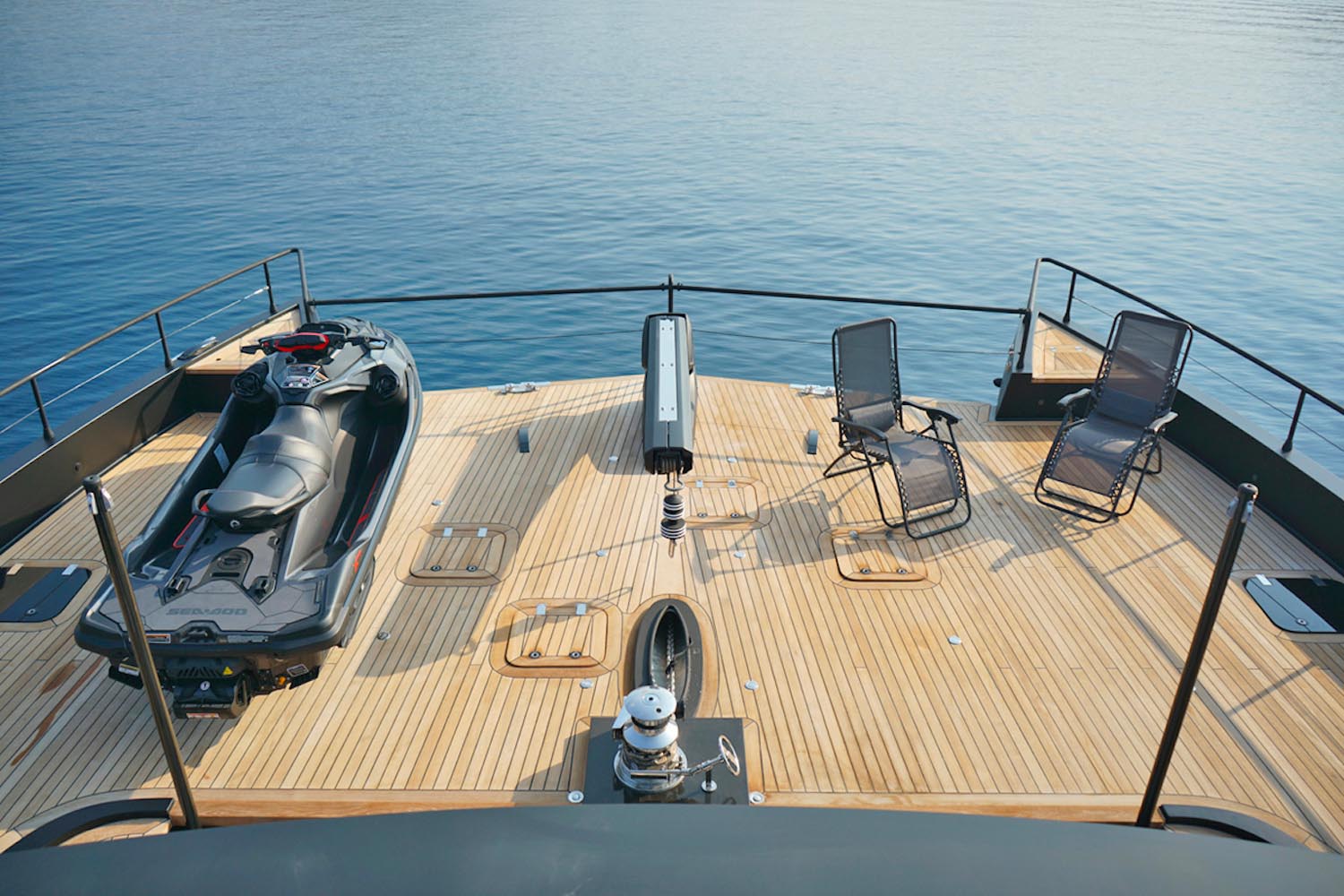 Powered by twin Volvo Penta IPS 1050 engines, the VisionF 80 Firstline BLCK can achieve top speeds in the range of 18 knots. But more often, the yacht will cruise along at a more leisurely 12 knots, consuming just 30 litres of fuel per hour. That would be pleasing performance for a 50-foot power cat, but it's an almost unheard of figure for an 80 and indicates the tremendous efficiency of this yacht's break-through hull design.
Powerful. Quick. Sleek. Elegant. VisionF's 80 BLCK can't help but evoke admiration in true black cat style. The person this cat belongs to is lucky indeed.