Decadent Raspberry-Chocolate Pavlova Recipe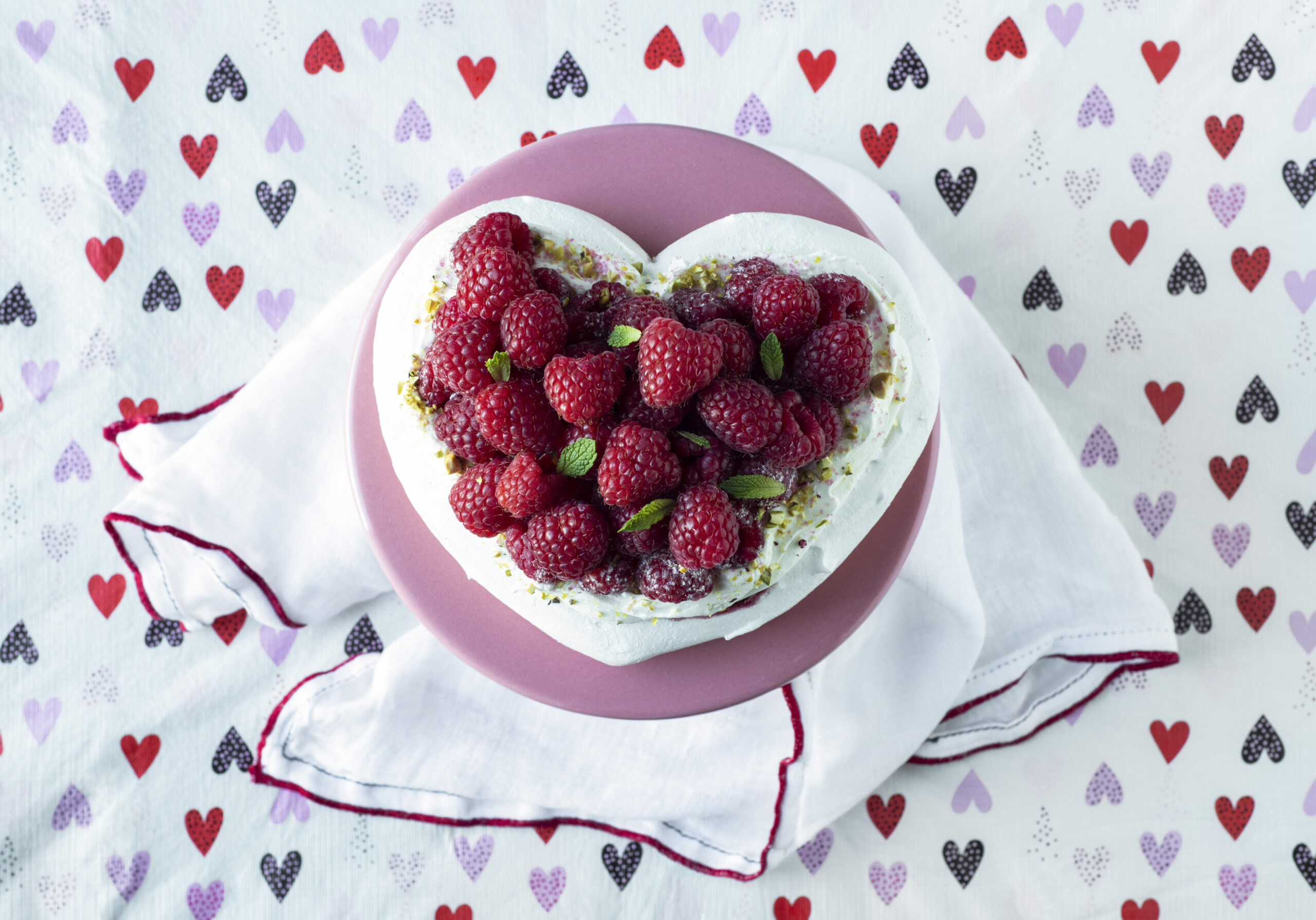 Easter Sunday is upon us, and so too is the promise of summer's bounty. While it may be a bit early for raspberries in NUVO's part of the world, there is plenty to be had from warmer climates, the perfect accompaniment for this Russian-inspired, Australian-perfected dessert. This Raspberry-Chocolate Pavlova from the Pacific Institute of Culinary Arts' chef instructor Camila Takahashi is the perfect way to celebrate Easter without the hunt.
Makes 2 servings.
Rasperberry Meringue
Ingredients
Raspberry sauce:
½ cup frozen or fresh raspberries
½ tablespoon sugar
Meringue
90 grams egg whites (about 3 egg whites), at room temperature
1 pinch of salt
1/8 teaspoon cream of tartar (optional but will make the meringue stronger, especially if eggs are older)
2 tablespoon cold water
1 cup sugar
1 tablespoon cornstarch
1 teaspoon vanilla extract
¾ teaspoon vinegar (white, wine, cider or distilled)
Method
Raspberry Sauce
Place frozen or fresh raspberries and sugar into a small saucepan and cook over medium-high, stirring often, until raspberries are broken down and syrupy (crush with a wooden spoon as you stir). Strain out seeds and cool completely.
Meringue
Preheat oven to 275°F.
Measure and cut out two 7-inch squares of parchment paper. Fold along the diagonal and draw half a heart shape. Cut and open out hearts.
Whip the egg whites, salt, and cream of tartar, if using, together until medium-stiff peaks form.
Add the water slowly while whipping the whites on low speed. Drizzle in the sugar and then turn up the speed and whip until stiff peaks form.
Fold in the cornstarch, vanilla, and vinegar.
Mound the meringue onto the heart-shaped parchment paper. Use a spatula to create the design in the meringue.
Drizzle the raspberry sauce over meringues and swirl with a toothpick.
Bake for 60 minutes or until the meringue starts to turn a very pale tan color.
Reduce the heat to 250°F and continue to bake for 45 minutes. Turn off the oven but do not open the oven door. If possible, leave oven light on, and let the meringue sit in the cooling oven for at least an hour. It can be stored like this overnight. The center of the pavlova will collapse where the filling will be placed. The outer edge may crack a little bit. The inside of the meringue should be soft, but not wet.
Dark Chocolate Ganache
Ingredients
½ cup dark chocolate chips
½ cup whipping cream
Method
Place chocolate chips in a bowl.
Bring whipping cream just barely to a simmer. Do not let cream become too hot or boil. You should just start to see bubbles or ripples around the edges of the pot. This process is called scalding.
Pour your hot cream directly and evenly over your chopped chocolate.
Let sit for 2 minutes.
Using a spatula, begin to stir the ganache from the centre, slowly working your way outwards. Do not stir too quickly or vigorously.
Take your time stirring until everything is combined and completely smooth.
Place plastic wrap directly on the surface to prevent a skin from forming and let sit until it has cooled, thickened, and set.
Mascarpone Whipped Cream
Ingredients
½ cup whipping cream, cold
4 ounces mascarpone, slightly softened
¼ cup powdered sugar, sifted
½ teaspoon vanilla paste or extract
Method
Place mixer bowl and whisk into the fridge or freezer to chill.
Pour cold cream into the bowl and whip on high until stiff peaks form. Set aside.
In a separate bowl, beat mascarpone until smooth. Add sugar and beat until combined.
Combine whipped cream and mascarpone mixture until smooth and stiff. Be careful not to overbeat mixture as the mascarpone can curdle.
Assembly
Once the meringue is cool and you are ready to serve, top the meringue with dark chocolate ganache leaving some space at the edges.
Add on top the vanilla mascarpone whipped cream and smooth it out with a spatula or a spoon.
Garnish with fresh raspberries and sprinkle icing sugar on top.