Celebrate Spot Prawn Season's Sweet Return With This Aguachile
Chef Alan Older's recipe makes the best of British Columbia's spring bounty.
May is spot prawn season on the West Coast. The little shrimp relatives renowned for their subtle sweet and buttery taste are a sure sign of warmer weather, which means it's time to celebrate. There's no better way to do so than with this recipe from chef Alan Older of Smitty's Oyster House Main Street in Vancouver that honours the season by using whole prawns. No one loves prawns as much as chef Older, so he opts to keep things simple, topping the dish with simple carrot-habanero paste and avocado mousse to let the coastal bounty shine.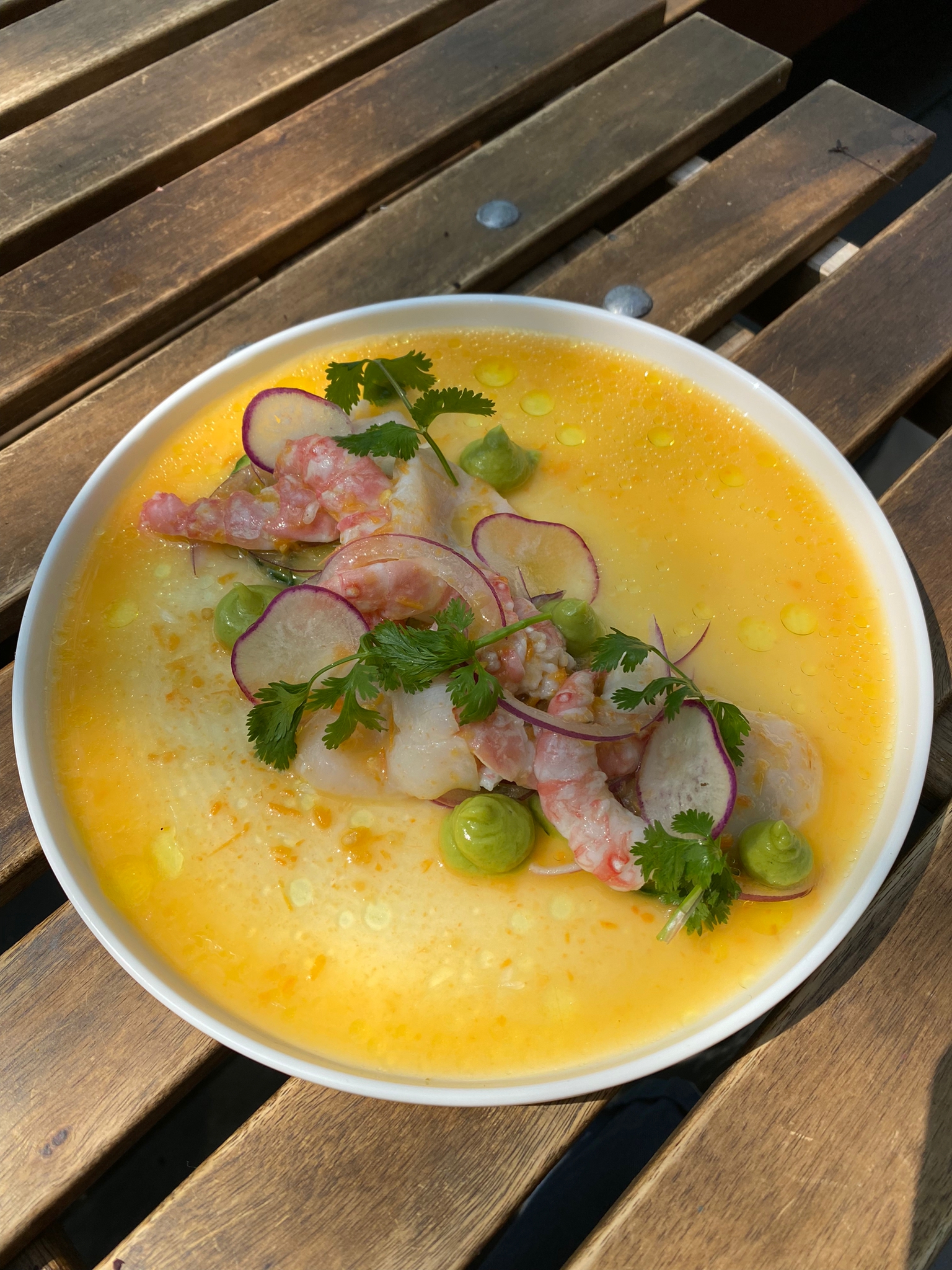 Ingredients
For the spot prawns:
3 spot prawns
1 Hokkaido scallop
4 teaspoons  fresh lime juice
Salt to taste
For the carrot-habanero paste:
2 carrots
1 small white onion
2 garlic cloves
10 habanero peppers
For the avocado mousse:
2 avocados
1 tablespoon lime juice
Salt and pepper to taste.
For spot prawn heads:
Spot prawn heads (from prawns, above)
Cornstarch
Salt and pepper to taste
For plating:
1 cucumber, thinly sliced
1 red onion, thinly sliced
A few radishes, thinly sliced
Cilantro
Olive oil
Salt and pepper to taste
Method
For the spot prawns:
Twist off the prawn heads and set them aside for garnish.
Bring salted water to boil and lightly poach the prawns (30 seconds).
Remove from boiling water and submerge in an ice bath to stop them from cooking.
With a sharp knife, slice the scallop as thin as you can, sashimi style.
In a bowl, combine the lime juice and a good pinch of salt. Add the prawns and scallops. Leave for 6-8 minutes.
For the carrot-habanero paste:
Sauté the carrots, garlic, and onion. Remove from heat and add the habaneros.
Blend until smooth.
For the avocado mousse:
Combine all ingredients in blender and blend until smooth.
Put in a piping bag or squeeze bottle.
For the spot prawn heads:
Toss the heads in a bit of cornstarch, add salt and pepper, and deep fry them until golden in a saucepan filled with neutral cooking oil.
To plate:
Arrange the thinly sliced cucumber on a medium-sized plate. Add the sliced red onions. Carefully place the prawns and scallops on top. Add a tablespoon of the remaining juice and a splash of olive oil, and mix to incorporate.
Pour the carrot-habanero paste over the prawns and scallops. Garnish with fresh radishes and cilantro, and top with avocado mousse and spot prawn heads.