Calgary Fashion Brands Collaborate With Artist to Honour Women in Public Health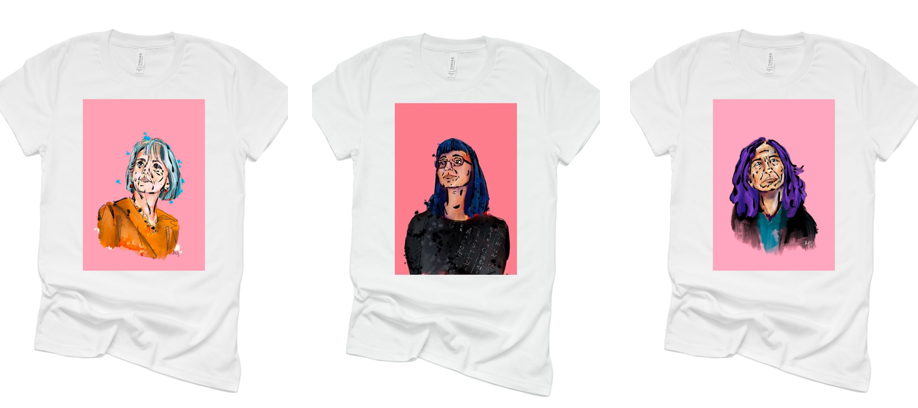 In a time of crisis, as we have seen, humanity has an infinite capacity for creativity and compassion. It is often in trying times that people turn to artists for comfort and understanding. Across Canada, commerce is being redirected from individualism and profit toward charity, and socially conscious brands are rising to the occasion when given the opportunity to help others. Calgary fashion houses Madame Premier and SophieGrace are two such companies.
Madam Premier was founded in 2019 as a feminist brand dedicated to creating graphic, satirical, and typographical t-shirts and tote bags with empowering messages. The brand was designed to be an apparel amplifier for gender equality issues, specifically the lack of female representation in politics. A portion of proceeds has always been given to charities dedicated to gender equality issues.
Sophie Grace is a boardroom appropriate capsule wardrobe brand. The styles and colours are consistent and the fabrics are practical and durable (wrinkle free and machine washable cashmere blends) to create a uniform of sorts for women in business, like men's suits.
In light of recent events, the two brands have teamed up and recruited artist Mandy Stobo to create a series of limited edition T-shirts in honour of three women in public health and politics combating the COVID-19 pandemic: Dr. Bonnie Henry, Chief Medical Officer of British Columbia, Dr. Deena Hinshaw, Chief Medical Officer of Alberta, and Dr. Theresa Tam, Chief Public Health Officer of Canada.
The colourful portraits of the three women on simple white cotton T's benefit charities in Vancouver, Calgary, and Toronto that are working to feed the most vulnerable members of our population during this time. 100% of proceeds will be donated to Greater Vancouver Food Bank, Fresh Routes, and Second Harvest.
Stobo has also made the portrait files available to anyone who wants it, just send her a message on Instagram.
The project is a synergistic interaction between fashion, charity, and politics that sums up the capability of Canadians to look out for each other in times of crisis and honour those who are working hardest to ensure our safety.
________
Never miss a story. Sign up for NUVO's weekly newsletter here.