Hot Cross Buns Recipe: How to Make the Easter Treat
One a penny, two a penny.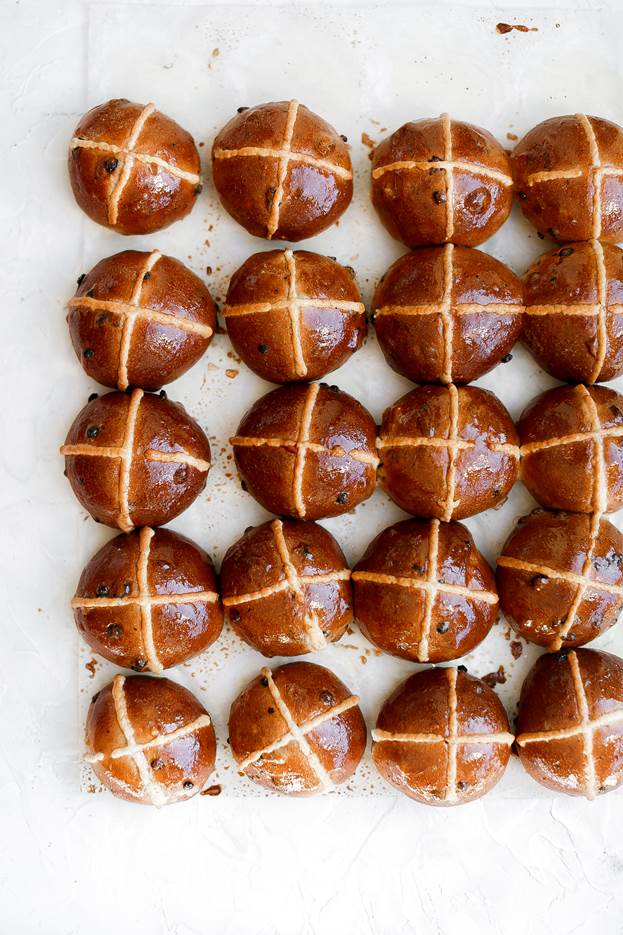 When the hot cross buns appear in the grocery store and at your favourite bakery, that's how you know that spring has truly arrived. Traditionally the treat is associated with Easter, after an Anglican monk marked a bun with a cross to celebrate Good Friday. As they gained popularity, they became a symbol for the whole season in the lead up to Easter weekend.
Whether you observe Easter or not, hot cross buns, like chocolate, are a delicious sign of the season that may be missed this year. However, what they don't tell you, is that making them at home is so much better than buying them anyway (and not as difficult as you would imagine).
This hot cross buns recipe by chef Steven Hodge, owner of Temper Chocolate and Pastry and one of the three judges on the Food Network's Great Chocolate Showdown, is the perfect antidote to the Easter-is-cancelled blues.
Ingredients
Starter
1.5  cups Bread flour
2 tbsp  Instant dry yeast
2 cups Milk
Dough
2 1/3 cup bread flour
2 eggs
1 tbsp lemon zest
1/2 butter
2.5 tbsp honey
1 tsp molasses
3/4 cup sugar
1/4 tsp ground cinnamon
1/4 tsp ground nutmeg
1 tsp salt
1 cup currants
3.5 tbsp candied lemon peel
3.5 tbsp candied orange peel
Egg wash
The cross
1 cup melted butter
1 cup sugar
1/4 cup eggs
2/3 cup milk
1 teaspoon vanilla extract
1.5 teaspoon pureed lemon zest
2 cups cake flour
Make the cross topping the day of baking the buns.
In a mixer, mix the butter, sugar, eggs, milk, vanilla and lemon zest.
Add the flour and mix thoroughly, scraping down the bowl and pipe on immediately (just before baking).
Method
To prepare the starter, combine the flour yeast and milk. Mix on low speed with a dough hook attachment for 2 mins and on medium speed for 1 min and ferment for 30 minutes.
To prepare the dough for hot cross buns, combine the flour, eggs, lemon zest, butter, honey molasses, sugar, cinnamon, nutmeg, salt, and the starter; and mix for 4 minutes on low speed with the dough hook and then 4 minutes on high speed. Mix in currents and candied peel for 1 minute on low speed until smooth.
Ferment the dough until almost double in size, about 45 minutes.
Divide the dough into balls and place on a sheet tray lined with parchment leaving about 8cms between each bun. Lightly brush the dough with egg wash.
Ferment the dough for another 45 minutes.
Brush the dough with egg wash again and them dry for 5 minutes.
Bake at 325 F for about 18 minutes, until golden brown.
________
Never miss a story. Sign up for NUVO's weekly newsletter here.