A Delightful Tuna Season-Celebrating Recipe
Chef Darrel Ahenakew's grilled yellowfin tuna with watercress sauce and roesti.
August is generally considered peak tuna season along North America's Eastern Seaboard. Across the continent in Vancouver, the Cascade Room's chef Darrel Ahenakew is celebrating this year's bounty with this recipe for a delicious grilled yellowfin tuna topped with creamy watercress sauce and served with a simple potato roesti, that's perfect for home chefs from coast-to-coast. After trying this tuna treat, you'll wish August would come more than once a year.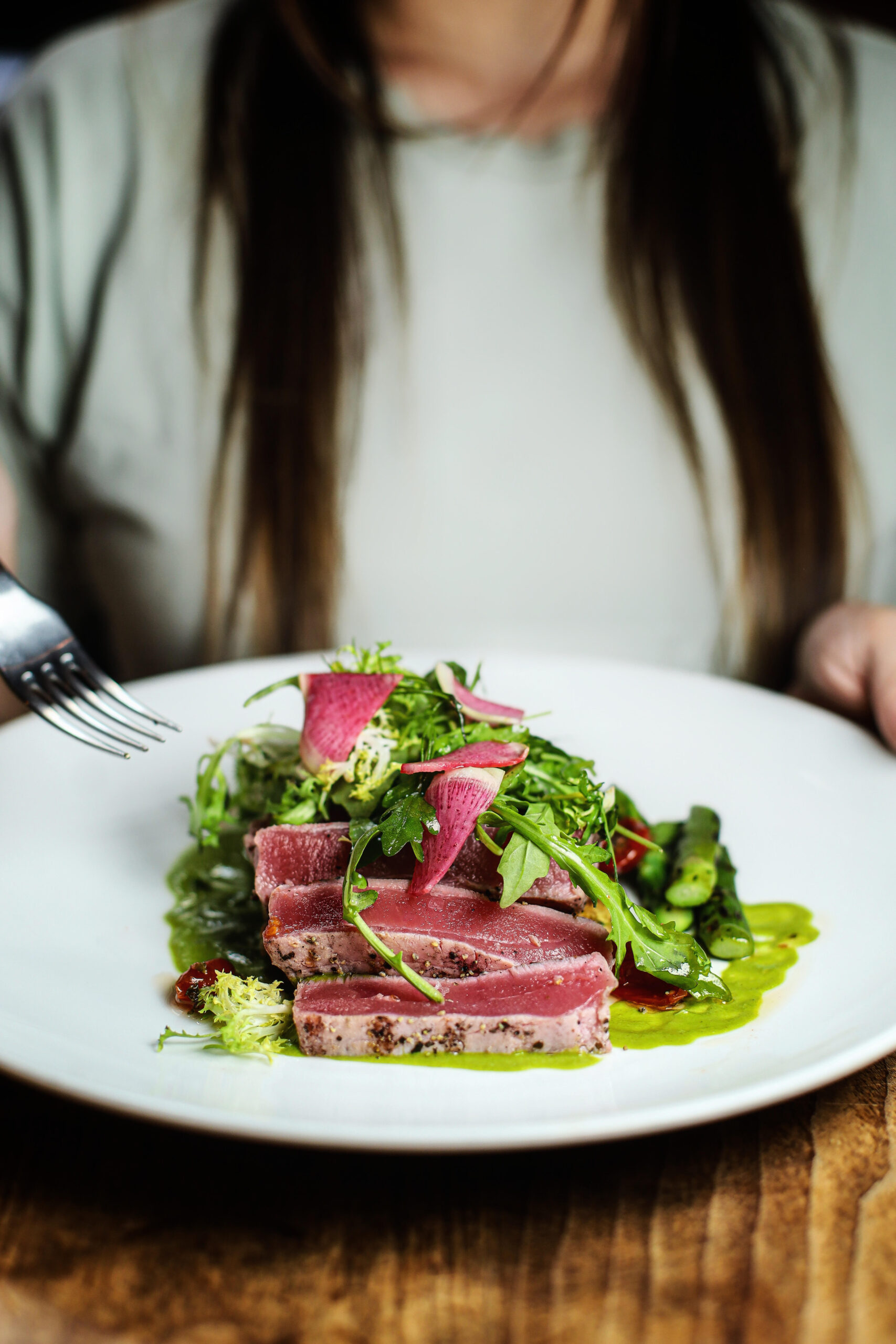 Ingredients
1 yellowfin tuna steak
3 or 4 asparagus spears
For the watercress sauce:
1 bunch watercress
2 shallots, thinly sliced
Canola oil
4 tablespoons white wine
2 cups whipping cream
1 bunch Italian parsley, leaves and stems separated
Salt and pepper
For the roesti potatoes:
2 medium Yukon Gold potatoes
1 small zucchini
1 egg
To garnish:
Mixed greens
Radish, sliced
Cherry tomato, sliced
Olive oil for dressing
Lemon juice for dressing
Salt and pepper
Method
For the watercress sauce:
Blanch watercress in salted boiling water for 30 seconds. Remove from boiling water, plunge in ice water, squeeze dry, and put aside.
Sweat shallots in canola oil until translucent.
Deglaze with white wine and reduce by 1/2. Add cream and parsley stems and reduce by 1/3.
Cool slightly, then place in a blender with parsley leaves and blanched watercress. Blend until smooth.
Season with salt and pepper to taste.
For the roesti potato:
Boil whole peeled potatoes until barely cooked, about 25 minutes. Cool completely.
Shred potato and zucchini using a food processor or box grater.
Mix egg into potato-zucchini mixture. Form into patties and pan sear in canola oil until golden brown and crisp.
To assemble:
Place potato on a warm plate.
Grill tuna about 1 minute per side, until rare.
Grill asparagus at the same time and place on plate with potato patty.
Slice tuna and place on top of potato patty.
Drizzle warm sauce around the plate.
Garnish with greens and radish dressed simply with olive oil and lemon juice.
Season with salt and pepper to taste.