The Sky-High Restaurant, Bar, and Terrasse Trifecta atop Montreal's Place Ville Marie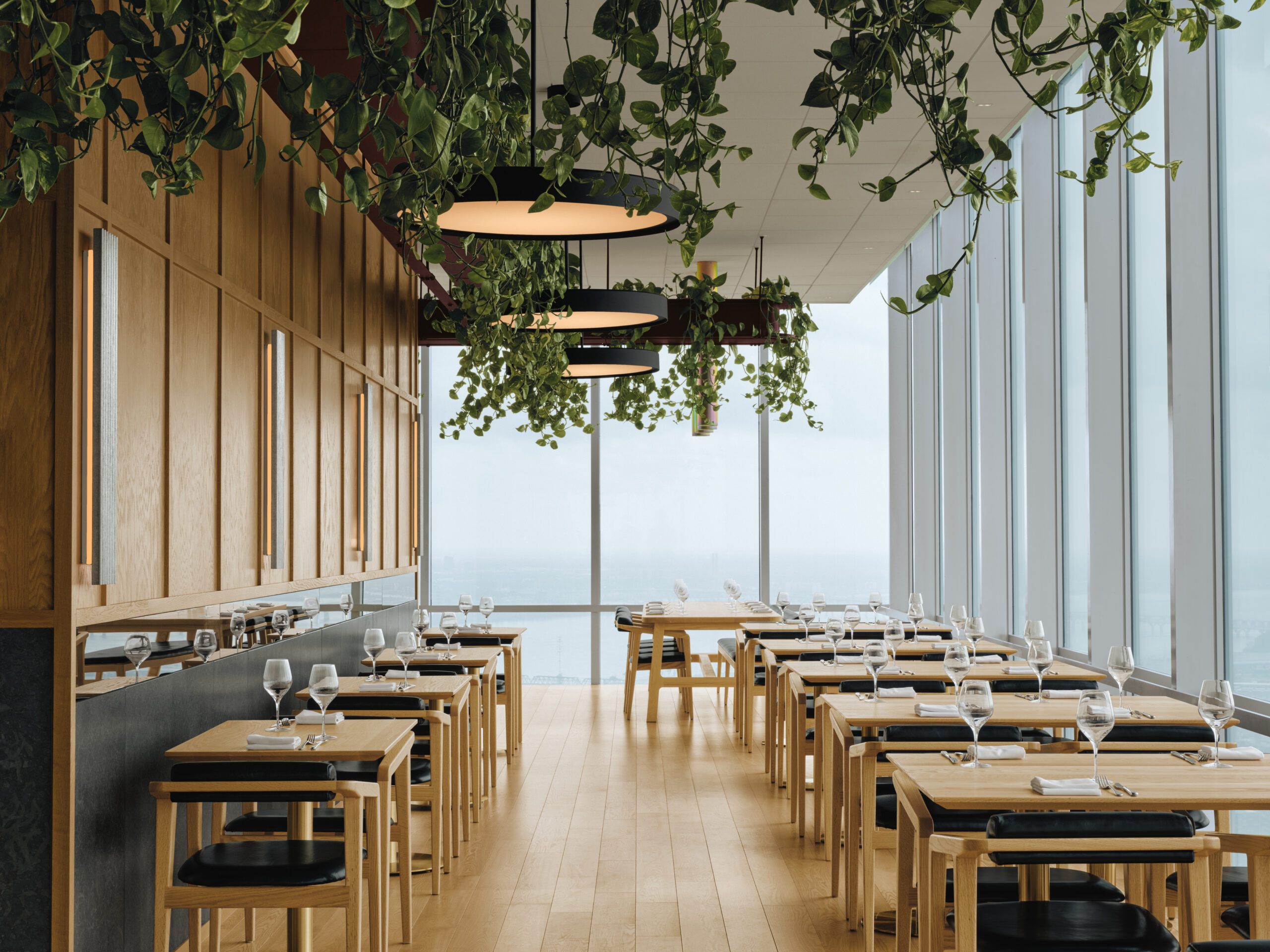 In the space once occupied by Place Ville Marie's observatory, a new two-storey restaurant—Hiatus—sits almost as high as the peak of Montreal's forested centrepiece, Mount Royal.

One floor below are the outdoor rooftop café and bar terrasse of Rose Orange, an in-the-know place for a cocktail by night on top of the world. Hiatus's 45th floor above has a no-reservation, speakeasy-style atmosphere for intimate imbibing and eating. With its low ceilings and horizontal windows, the floor framed by small banquettes and shaped by sinuous lines mimics the viewing deck of a 1950s ocean liner.

It's up on the 46th floor, however, where Hiatus opens up. Floor-to-ceiling windows frame the grandest views in a setting reminiscent of executive lounges and boardrooms of the 1960s, albeit democratized for wining and dining and infused with profuse greenery.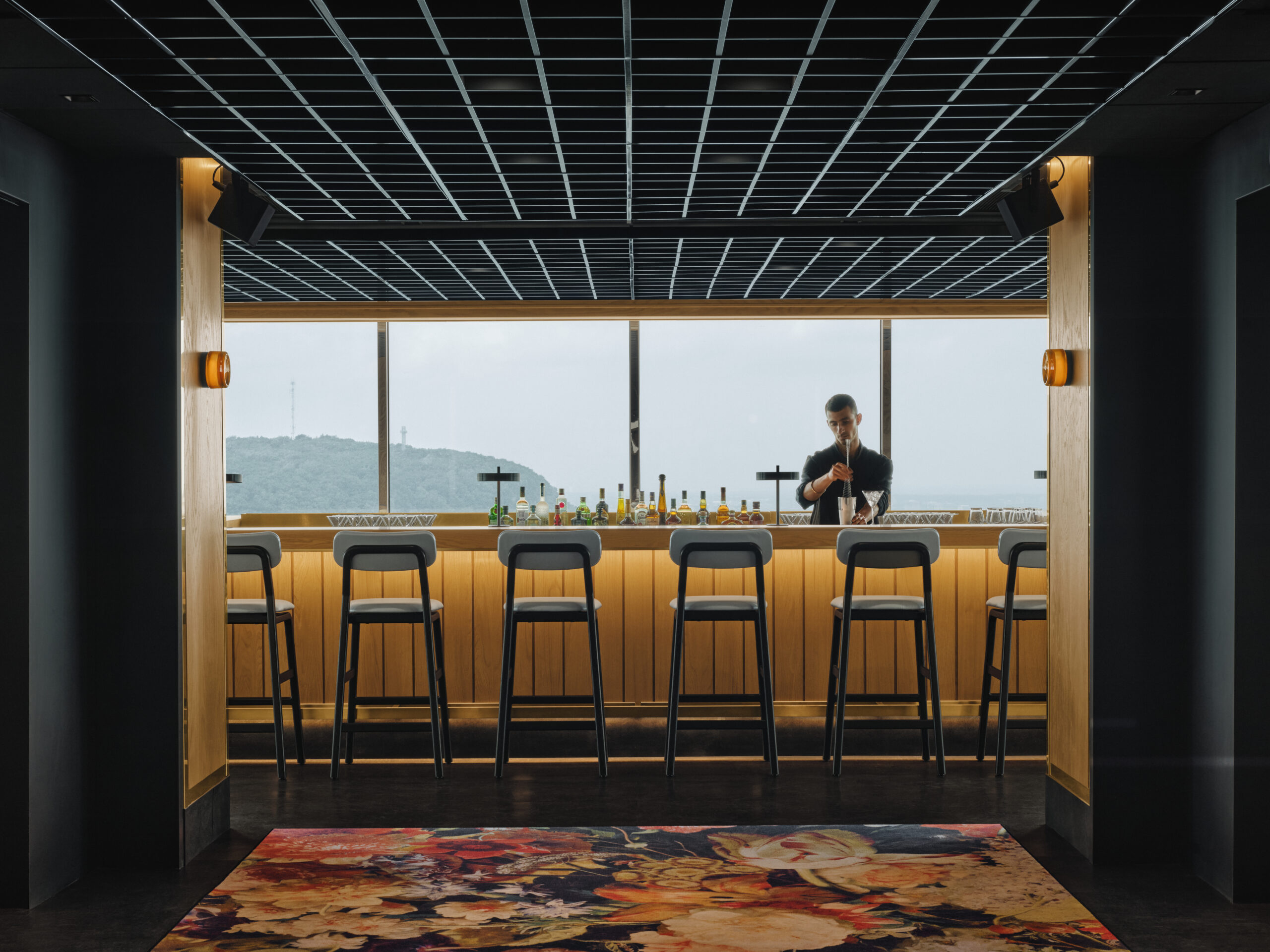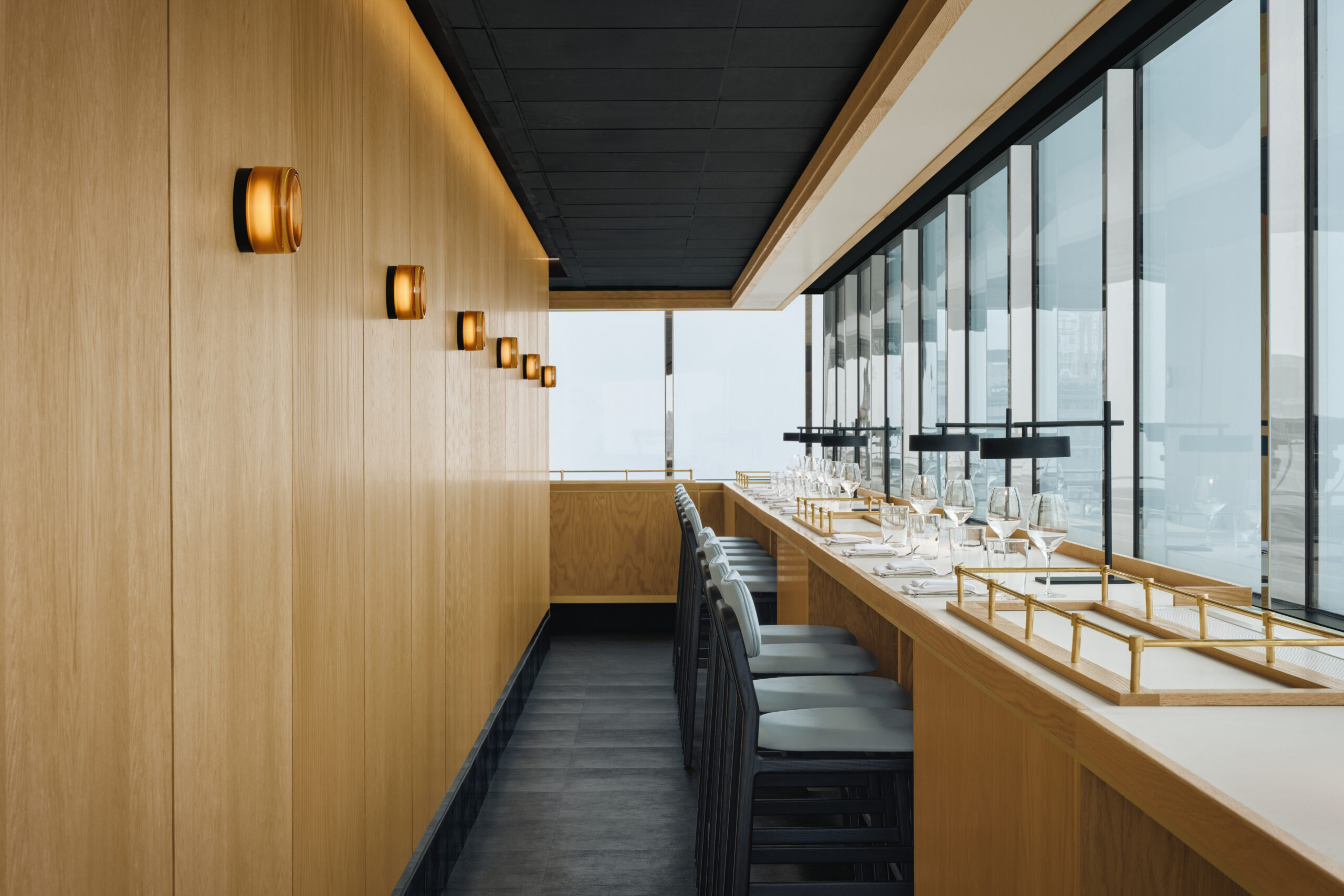 All told, it's a varied collection, but from any seat, the design respects the towering work of the original international-style architects: I.M. Pei, Ray Affleck, and Henry Cobb.

"The whole place is a discovery of Montreal. When you arrive, you see the mountain. When you dine, you see the west. When you drink, you see the river. That 360-degree vision is what makes this unique," explains Martin Leblanc, architect and principal partner at Sid Lee Architecture, the firm that led the project's interior design. "We wanted to stay within the modernist era and heritage of the PVM, with the idea of the grid, the rigor, and rhythm, and expressions of raw materiality of glass and aluminum, but with a bit more warmth through applications of wood."

A lofty location, of course, requires a high-end offering. Spearheaded by the A5 Hospitality Group, Rose Orange and Hiatus are led by executive chef Yoann Therer, Iari Prassi, previously at several Michelin-starred European restaurants and Île Flottante, and Olivier Vigneault of Jatoba.

"Montreal doesn't have a lot of rooftop restaurants like they do in New York, for example," says A5 associate Stéphane Pilon. "We wanted to give it the full energy of being on top of a building. It does fine dining, but it's not white glove fine dining. It's an experience. The two factors of success here will be the view of the city and what you have on your plate."

Having cooked in the Pacific Northwest at Whistler's Araxi and Vancouver's L'Abattoir before returning to Montreal to join the kitchen at Le Mousso, Therer is fashioning Rose Orange's menu after Mediterranean raw bars, while Hiatus focuses on Japanese cuisine and French techniques.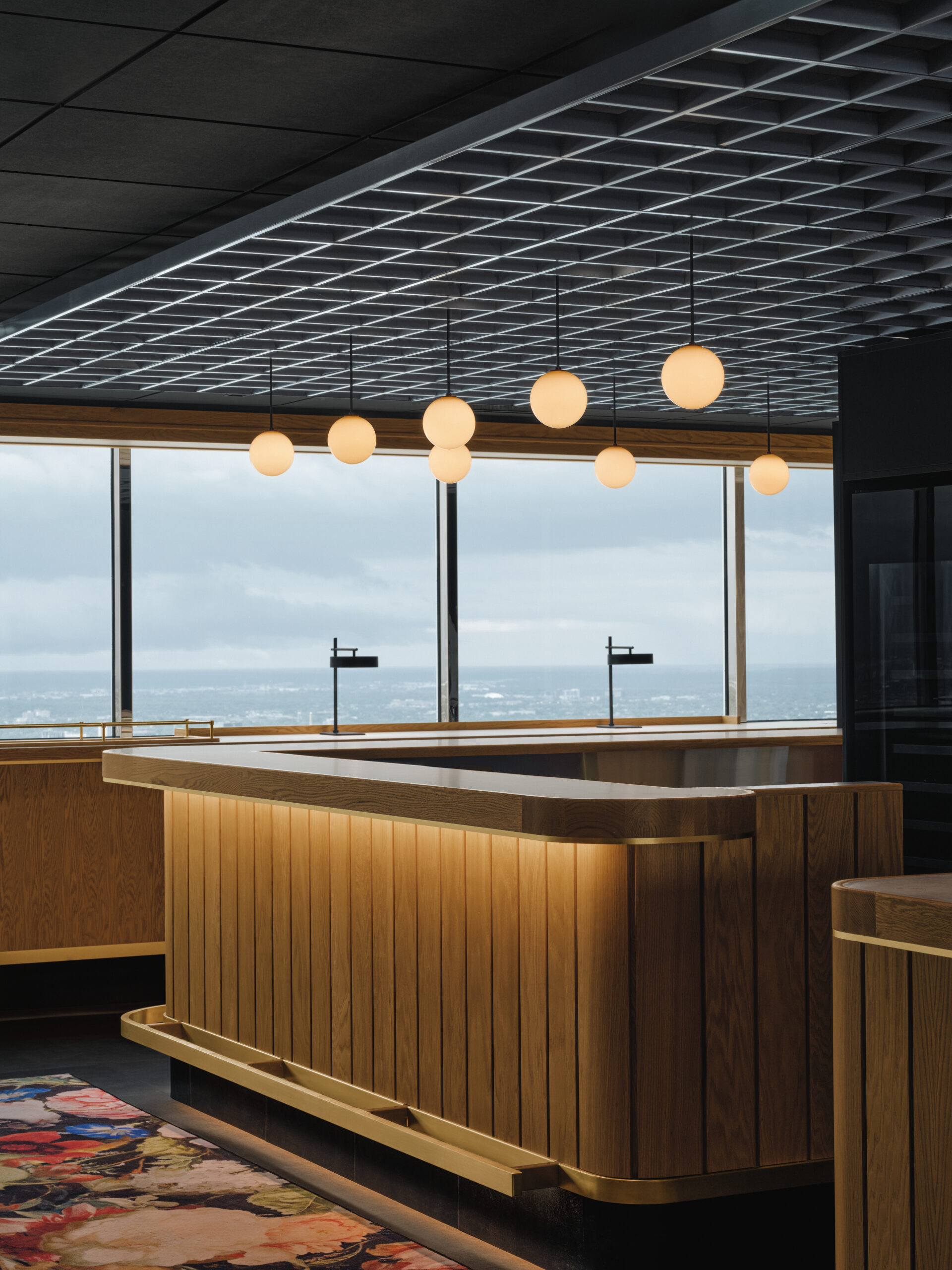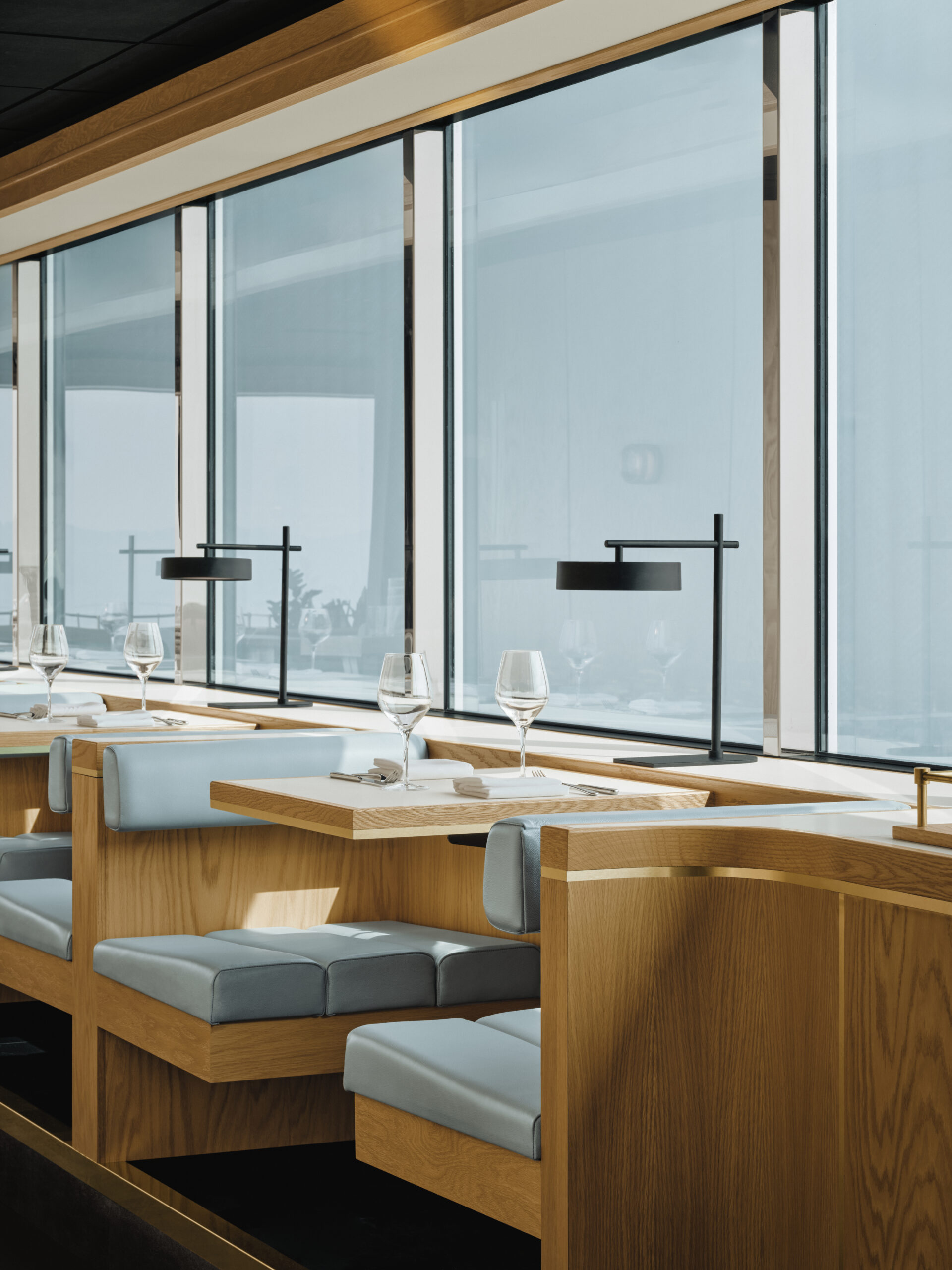 That latter approach means dishes like base chawanmushi made with cream and milk for its custard; omakase-style plates with nigiri, combining imported Japanese seafood and local seasonal products; baked oysters served with shiitake marmalade, black sunchoke purée, and caramelized miso sabayon; or wagyu from La Ferme Fraga with braised wagyu oxtail dressed with light chicken jus split with barbecue green onion oil.
Meanwhile, wines and sake are curated by Alexandre Plourde and Mia Abarbanel of Old Montreal's now-closed Pastel, while mixologist Tim Robertson from the nearby Japanese buvette Nomi handles cocktails.
In the time leading up to its soft opening on August 1, Hiatus and Rose Orange have been billed as a way to breathe new life into Montreal's business district by the Canadian real estate company Ivanhoé Cambridge, but when one considers the heights it's reaching literally and figuratively?
It's set to be so much more than a way to bring people back to the office.
Rose Orange and Hiatus are on the 44th, 45th, and 46th floors of Place Ville Marie.
Photography by Alex Lesage.