Shangri-La's Villingili Resort & Spa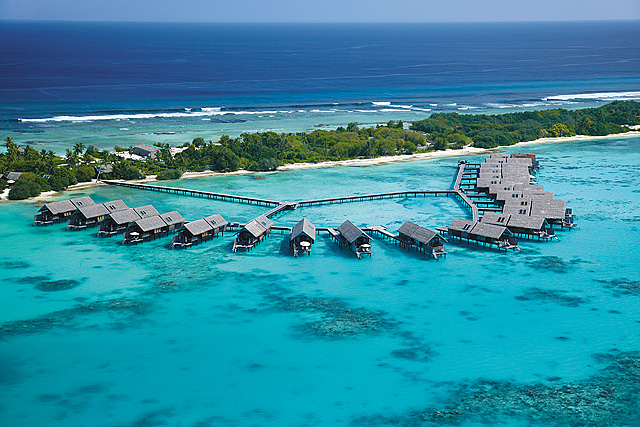 Eating mostly what grows locally can be challenging when home is a tiny atoll, ocean surrounds you, and the nearest southern landfall is Antarctica. All challenges faced, and met, by Brian Porteus, executive chef at Shangri-La's Villingili Resort & Spa in the Maldives.
Just call it paradise. Luxe villas hide in thickets of banyan trees and vines. Others stand—literally—in turquoise waters. The sand really is as white and fine as baby powder. This is not the Maldives' largest five-star resort in guest numbers, but it is in terms of land, which means space for a golf course, nature trails, and a chef's garden, in place since the resort opened in 2009. The garden's flourishing beds and borders are completely organic, their crops nourished by composted coconut husks.
Here grow eggplants, chilis of varying strengths, and basil, cilantro, and other herbs, all with the über intensity found in the tropics. Green bean and passionfruit vines twine around archways. Lettuces grow hydroponically.
Over 20 years of cooking internationally, most notably at Le Manoir aux Quat'Saisons in the United Kingdom, and most recently in Barbados, have given Irish-born Porteus a global perspective. "The Maldives is truly a remarkable natural environment," he says. The islands were positioned on early trading routes and made a handy stopover for a patchwork of peoples and cultures. Factor abundant seafood and distinctive local flavours into the mix and you have a unique cuisine.
Arriving at the tiny Gan International Airport, today's travellers are whisked across the waters by speedboat, travel fatigue rapidly fading as they chill out with fresh coconut juice, a drink that's their first of many Maldivian tastes. Bearing in mind how far guests fly to reach the atoll, Porteus emphasizes he's building memories as much as plates, and that means local foods. He likes to tap the knowledge of his Maldivian chefs to recreate forgotten recipes, "and introduce menus that pay tribute to the food culture." Kandukukulhu (meaning sea-chicken) wraps fresh tuna in a local leaf to "disguise" it as chicken. Porteus's signature dessert, young Maldivian coconut sponge with fresh local mango and papaya, is unique to the resort.
"We have a strong link with the local food culture," he adds. A 15-minute boat ride away is the island of Meedhoo. "We work closely with our neighbours, and have formed a co-op of over 50 locals to produce 35 varieties of local fresh fruits and vegetables. Rock melons, spinach, pumpkin, snake gourds, okra, bananas, and papaya, to name just a few." The introduction of greenhouses and polytunnels has led to greater yield, a win-win situation for all. "We have also introduced new veggies," says Porteus, citing the asparagus new to Meedhoo farmers, now a cash crop for them.
"Tourism is recent, so we're very protective of the local culture," says Porteus. Fish is line-caught, including the tuna that Maldivians consume in great quantities, often as mashuni, an addictive mix of yellowfin, coconut, curry leaves, and chilis. Most guests taste it for the first time at the breakfast buffet, and most are instantly hooked.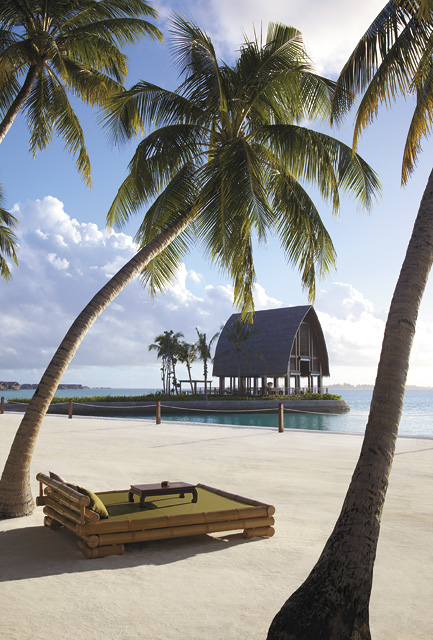 February 11, 2014
Updated: February 20, 2014