Loews Coronado Bay Resort
There is an old boating adage, courtesy of Benjamin Franklin, that suggests visitors shouldn't overstay their welcome—this does not apply at Loews Coronado Bay Resort. The hotel compound on San Diego Bay is flush with amenities, beckoning travellers to come, sail, stay awhile.
The drive to the private peninsula is a short 20 minute commute from San Diego International Airport through Little Italy, over the bridge and through Coronado, and down Silver Strand Boulevard. The property is dotted with palm trees and subtle flowers, strategically planted on patches of greenery surrounding the cream stucco buildings with rust-red tile roofing. The feeling here is polished-beachy, and it works, since it is clear one element here reigns supreme—water.
Loews' 80-slip marina lines the harbour, decked with sailboats, power boats, kayaks, paddleboards, jet skis, and even electric-powered chaise loungers. The marina can accommodate watercrafts up to 43 metres in length and has 24-hour security, although guests with sailing and boating experience are welcome to charter a vessel (the largest owned by the resort is a Catalina 27). "From the resort to the bridge is a great jet ski area," says Borja De Lis, a former racer from Majorca, Spain who now daylights as one of Loews' commanders.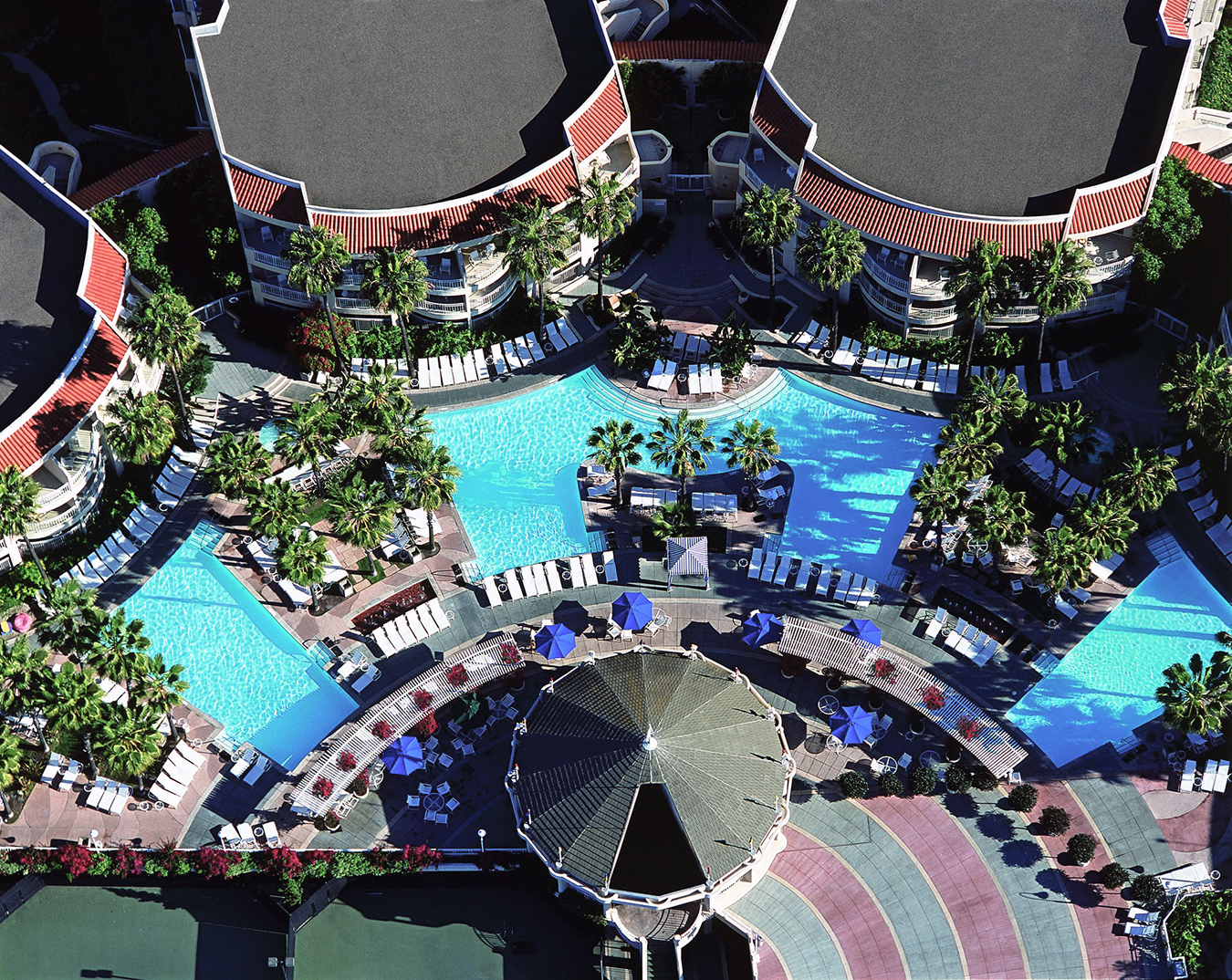 Lessons and the expertise of experienced skippers like De Lis are available to those wanting to improve their skills or talk shop out on the bay. The option to approach sailing as a spectator sport is also available, and those with this preference can kick back and watch the sun set over the Cays, the "little canals" of the harbour, which are backyard to many an impressive vacation home.
Inside the hotel, a grand staircase commands the attention of the lobby, tucking the Market restaurant and Cays Lounge aside and behind, respectively. The main building also houses retail shops outfitted with plenty of seaside wear, two ballrooms, bay- and harbour-view terraces, and chef Adam Cho's award-winning Mistral restaurant, which is situated on the second floor, lined with floor-to-ceiling windows that add exceptional sunset ambiance. "I love experimenting," says Cho, a fact evident in his inventive dishes, such as the Watermelon Tartare, made with pickled honeydew, Thai basil, and ichimi topped with a cantaloupe yolk. "There is no egg in the cantaloupe yolk. It's all fusion and gastronomy," he explains. The California Striped Bass over squid ink risotto with Meyer lemon butter is one of a few dishes inspired by Cho's love of Mediterranean cuisine, and the Milk Chocolate Bombe, featuring passion fruit truffle and caramelized bananas, is exquisitely rich in flavour but airy in execution.
A short stroll from Mistral, stately guest rooms fan out around the resort's activity area, tastefully decorated in tones of soft white sand, pale blue surf, and washed indigo stone. Poolside, private cabanas offer welcome shade following a visit to Sea Spa, where oceanic-inspired treatments like the Tropical Sea Stone and Ocean Oasis Watsu massages take cues from the nearby waves of the Pacific Ocean.
Across the boulevard, Silver Strand State Beach awaits, cared for and championed by Loews. Here, the sand sparkles with traces of seashells and uninhabited lifeguard stations offer perches from which to dangle sea legs and observe sunsets. Red sky at night, sailor's delight.