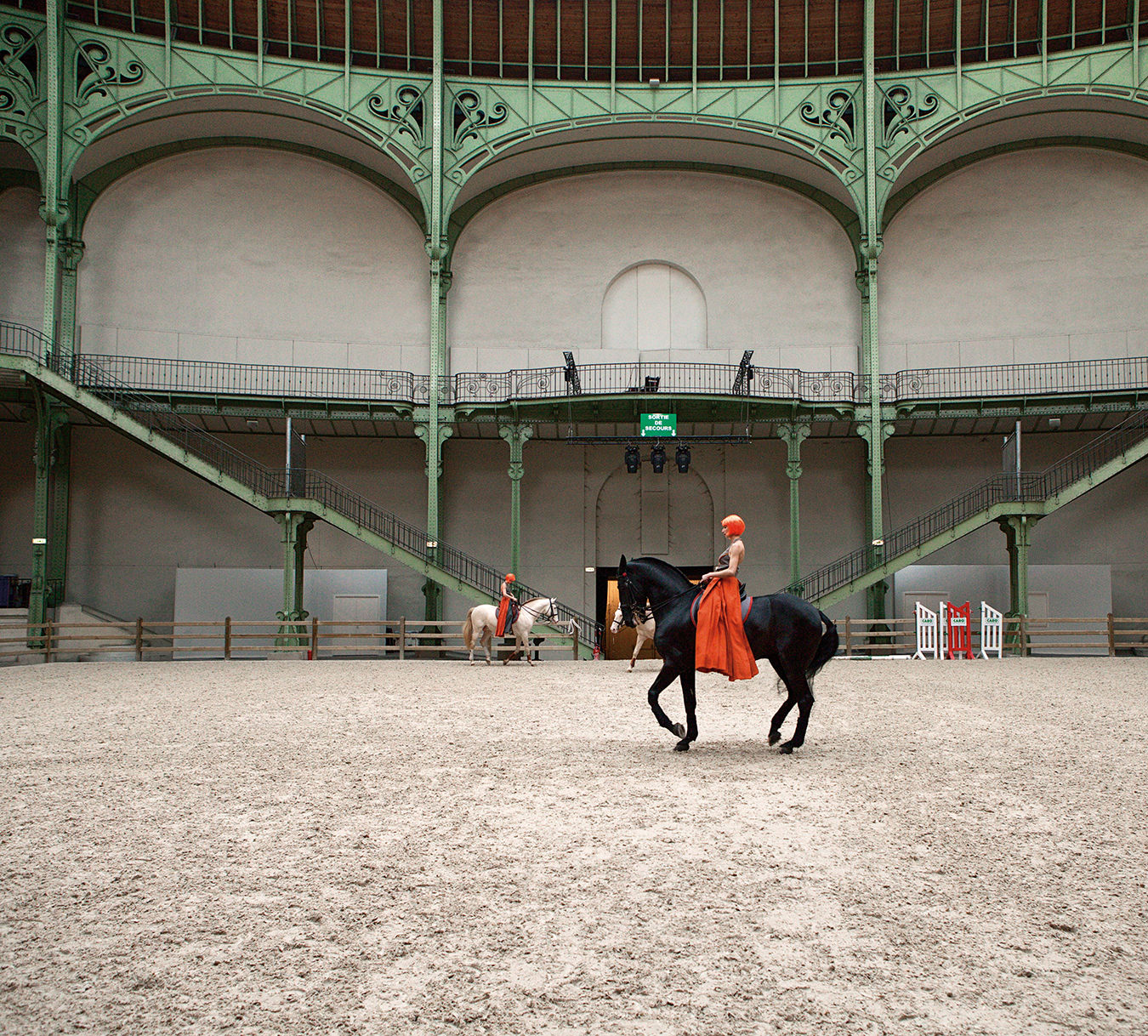 Saut Hermès signs line the Avenue des Champs Élysées like bread crumbs leading to a big glass dome. The Grand Palais, designed for the Universal Exposition in 1900, is where, for the third consecutive year, la maison Hermès has returned to its equine roots to present the show-jumping spectacle Saut Hermès.
Show jumping is crucially different from other sports in one way: each team requires two athletes, neither speaking the other's language, each with unconditional trust in the other's abilities. Thus it is at Saut Hermès. These horses are prized for many reasons, but first and foremost for their highly developed abilities in a show-jumping ring, where they can jump to heights of two and a half metres and lengths of five. It is natural ability, but it is honed from many hours of training, practice, and nurturing. That applies to both athletes: horse and rider.­­
When Thierry Hermès started Hermès in 1837, it was originally a saddle and harness workshop and included Czar Nicholas II among its most impressive clients. It introduced its first bag, the Haut à Courroies, to enable such well-heeled equestrians to carry their Hermès saddles and boots with them wherever they went. Nearly two centuries have passed since their first harnesses for horse-drawn carriages were made, and yet the standards of excellence—which gained the Royal Court of Russia's commission—have remained the same.
Four floors above the flagship boutique at 24 rue du Faubourg Saint-Honoré, the inscription on the leather sign at the entrance to the saddlery reads "Atelier de Sellerie, Hermès". Ten craftsmen reside here—each of whom venerates the horse. "It's the horse that brought me here," says one craftsman, a 17-year Hermès veteran. Whether it's one of the 12 saddle models from the Hermès stable—which are styled for dressage, jumping, hunting, polo, and promenade—or a custom creation in ostrich and metal, each of the Hermès saddles is handcrafted in Paris. "When dealing with a horse, mastery is required. The same is true about handicrafts," says another one of the craftsman. "It's about mastering the materials used—in this case, leather." Despite the arrival of modern machines, hands will always be needed. "Good craftsmen can create wonders a machine sometimes is incapable of," he says.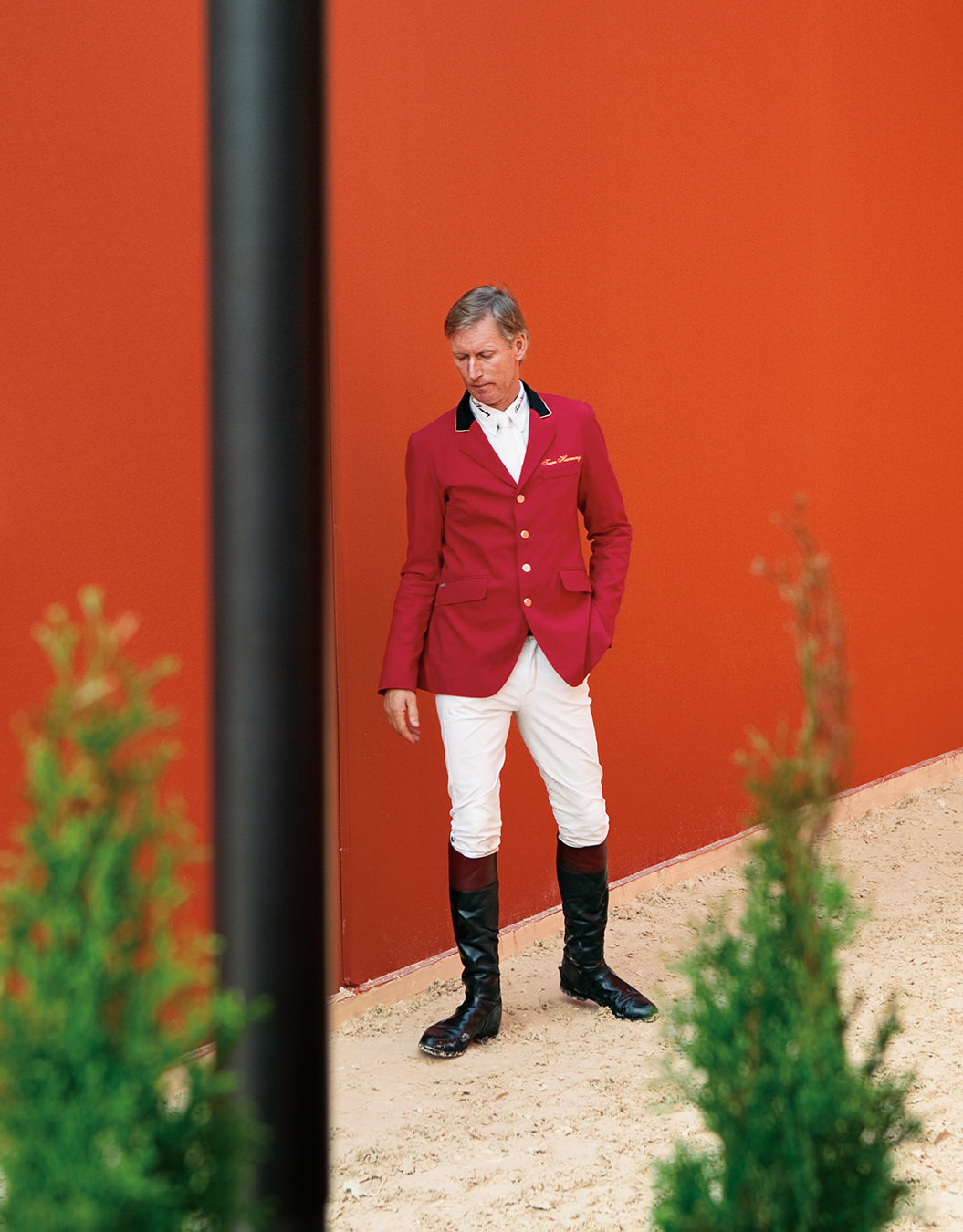 Conceived in 2010, the Talaris saddle, a modular show-jumping saddle, is the newest innovation in the Hermès stable, and it is a first in its field. The team in charge spent three years developing the saddle, which looks similar to the others. But the truth is on the inside. The Talaris is highly structured and improves on the fit. It weighs 1.5 kilograms less than a traditional saddle, replacing the metal and wood with carbon and titanium to make it lighter and more durable. In addition, the Talaris can be adjusted to fit any rider and horse.
In 2010, Saut Hermès restored a tradition last honoured in 1957 that made the Grand Palais the prime Parisian stage for equestrian events.
Each craftsman's bench is reminiscent of a watchmaker's: wooden, with a bevy of tools of the trade. But while the horologist is outfitted in a white lab coat, the uniform here is a leather apron. With robust hands that are dry and weathered, the craftsmen cut, stretch, pull, mount, and remount leather to either a wood or carbon base. This not only involves skill, but muscle as well. Forty separate pieces of leather make up each saddle, and it is in the details that the strength of the product is actualized. In the early days, artisans, who strove to ensure that a horse team would be as elegant as it was reliable, invented the dexterous technique of saddle stitching: piqué sellier. A single thread of mouline linen, which is first coated in beeswax to give the thread strength and a matte finish, bears a needle at each end and is crossed over itself between two pieces of leather. This technique assures a very sturdy result; if one stitch breaks, the rest remain intact. There is no assembly line; each craftsman starts from the beginning and ends by numbering and signing his creation. More than skill or know-how, the artisan applies an art of making. This must come from within. An artisan is nurtured, not invented; this is the essence of Hermès, the joy of the workshop.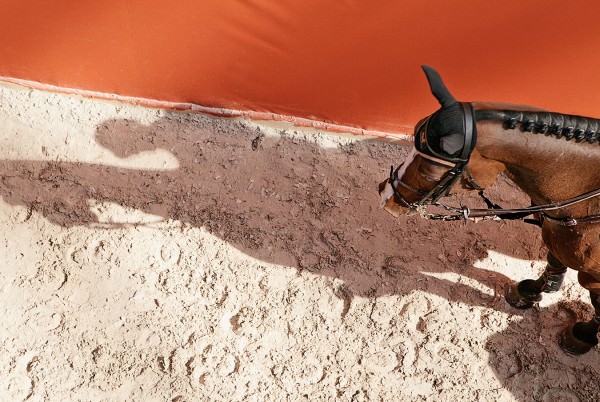 Five hundred saddles are made annually in this atelier, and each is recorded in a volume of handwritten files that include dimensions, leather used, details, and clients. The oldest book is dated 1909 (although another that predated this book perished); the paper is now yellowed and the fountain-pen script evokes a bygone era. Electronic records have become the standard for most, but not here. Pen to paper continues; only now, it's ballpoint. "C'est la tradition," says one of the craftsmen.
Another tradition Hermès has sought to perpetuate is the horse-riding competitions in the very heart of Paris. "You can say it [Saut Hermès] was a 20-year process," says Wilfried Guerrand, general director of Europe for Hermès (now, director of womenswear) and one of the principals responsible for the event. "I have heard that Jean-Louis Dumas used to say to Pierre-Alexis [Dumas], our artistic director, that one day we would love to make an event in the Grand Palais around the horse." (Jean Louis-Dumas, fifth generation Hermès, was the company's chief executive for nearly 30 years, and he died in 2010.)
In 2010, Saut Hermès restored a tradition last honoured in 1957 that made the Grand Palais the prime Parisian stage for equestrian events. The choice of the Grand Palais was by no means a coincidence; from 1901, Paris was the realm of equestrian royalty, with events hosted in the hallowed halls of this architectural wonder. Today, orange, the company's iconic colour, dominates the Palais, and in the centre of the great atrium, the world show-jumping elite participate in an international competition given CSI 5* (a code to designate show-jumping competitions with the highest level, a 5, down to the lowest, a 1) status by the Fédération Équestre Internationale and the Fédération Française d'Équitation. Over a three-day period, there are nine contests (three rounds of jumping each day), punctuated by theatrical set pieces with horses trained by the legendary Bartabas. Twenty-eight of the world's top 30 riders are here—the kind of lineup you see at an Olympic Games: Sweden's Rolf-Göran Bengtsson, Great Britain's Michael Whitaker, Australia's Edwina Tops-Alexander, Greece's Athina Onassis de Miranda, and France's Michel Robert. (Canada's own Eric Lamaze was, notably, missing. "Transportation issues," says Guerrand. "He [Lamaze] had another competition in Florida and then he had no plane to ship his horse. It's too bad … but, hopefully next year.")
The sport traces its roots over many centuries to innumerable fields of war. It germinated and gained recognition at the beginning of the 20th century, particularly in England, where a set of rules was developed. (Show jumping, in its current format, appeared in 1912.) Other countries, their cavalries disused, began to follow. Today, many show regiments still exist, performing precision drills for enthralled crowds, the horses attuned to a specialized and exacting program. (France has their Garde Républicaine [Republican Guard] in performance at Saut Hermès.) Until the 1950s, the Olympics allowed only military officers in competition. Then civilians were allowed to compete. In this sport, males and females of both species compete against each other for the same prize under the same conditions.
"Saut Hermès is a convergence of different roads," says Guerrand. "We are coming from the horse saddlery business. This is where we are at our roots. We wanted to be closer to the horse and to pay tribute to our first customer, which is the horse. Secondly, during 25 years, we had this [race] event in Chantilly, which was very successful, and also part of the French art of living. Third thing is, Hermès, under our brand name, is Paris. We wanted to have something inside Paris. To be more Parisian, in a sense." He continues, "It's because we have this convergence of the three roads that finally we made the decision to stop in Chantilly and to reinforce our involvement in the horse through creating this competition [Saut Hermès] in Paris."
The choice of the Grand Palais was by no means a coincidence; from 1901, Paris was the realm of equestrian royalty, with events hosted in the hallowed halls of this architectural wonder.
It is astounding to watch a horse of 17 hands taking a series of obstacles at high speed on what looks to be a difficultly calibrated course. Power and strength are only part of the equation. The horse must react precisely to directions, for example, alternating its lead leg in mid-flight, if necessary, to execute the next tight turn. On takeoff, a few centimetres too late and the front legs will impact with the obstacles.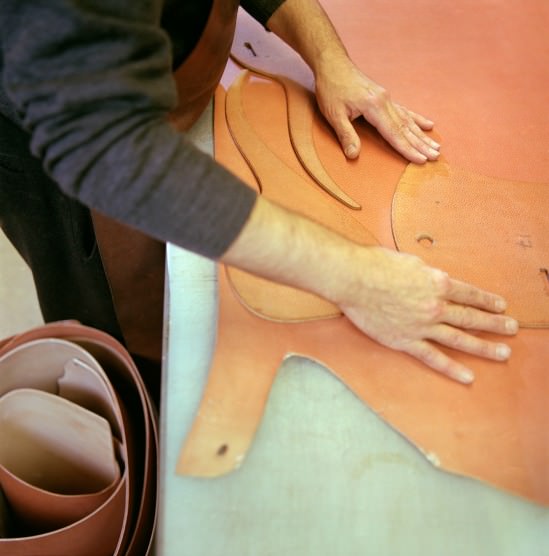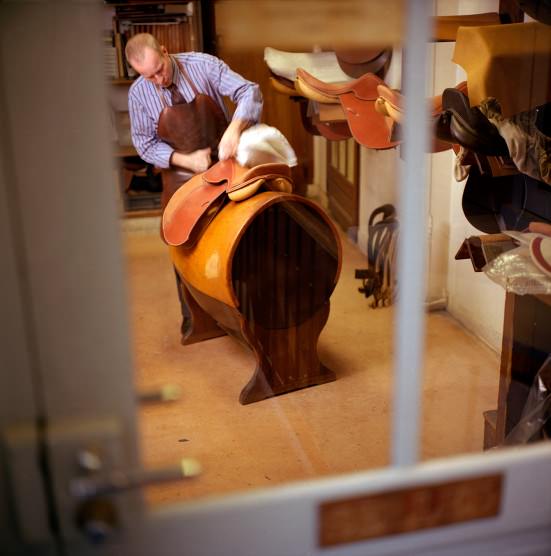 Only performance matters: There are time limits and faults for knocking down obstacles or being too slow. Refusals are most serious of all, and there is no such thing as a sure thing. The rider also has to train, because the rider must never expect a horse to do something it can't. This may seem obvious to some degree, but when you think about it, just how does one know what a horse can or cannot do? Every ride is something of an exercise in uncertainty, though neither horse nor rider can allow this thought to creep in.
"The fact that it's [Saut Hermès] now in Paris—that we try with the guests attending, the right combination between horse lover and people who know nothing—will definitely make this sport more well-known," says Guerrand. Whether an equine expert or novice, no matter. There is an instant captivation the moment the horse's hooves thunder and the rider's coattails flap. You feel the immense power even at a trot, but at a canter, it is profound, a realization that at any time, the horse and rider could take flight. There is something primal about the experience; freedom and possibility are at the root of it.
Guerrand does designate that Saut Hermès is "not an event. It's a sporting event." Riders compete with their own equipment. "Some of the riders ride with an Hermès saddle, for instance, but that's absolutely not compulsory. It's not the objective."
The Hermès tradition and vision is a celebration of hard work, a quest for perfection, and a reverence for what the human hand and imagination can produce. Saut Hermès links the past with the present.