Seamless, no-glue, Montreal-made accessories.
Minimalism is more than an acquiescence to the zeitgeist for Partoem. The aesthetic of the Montreal-based leather goods brand is certainly clean, but more than that: at the very core is a method of creation that lacks the typical materials—in fact, it does not use a single stitch or drop of glue.
A graduate of Rhode Island School of Design, Partoem founder Madeleine Beaulieu was designing for Fullum & Holt, a heritage Montreal leather company dating back over a century, when she first learned about such a creation technique in 2009. She was introduced to a self-assembly stencil for a wallet, created from a flat leather pattern that only required a fold here and there and some interlocking manipulations to morph into an objet proper. "It was like a gold mine of ideas to explore," Beaulieu says. "It triggered my imagination, and a series of ideas of unique leather assembly system started to develop."
Such a streamlined manner for creating a functional object intrigued Beaulieu. She had been investigating and experimenting with different approaches of techniques to package and fold—all to no avail. She had even tried origami, but the delicate folds of origami didn't translate to the thickness of leather.
"I saw this inspiration as a potential fuel for the creation of my very own design language," Beaulieu says. Her ideas began snowballing and in 2017, Partoem was born. The first bag to be released was Tome 2, a structured, easy-wearing crossbody style. In place of the seams, Beaulieu used sleek, custom-made metal fasteners—a subtle detailing that adds a sense of refinement to the function.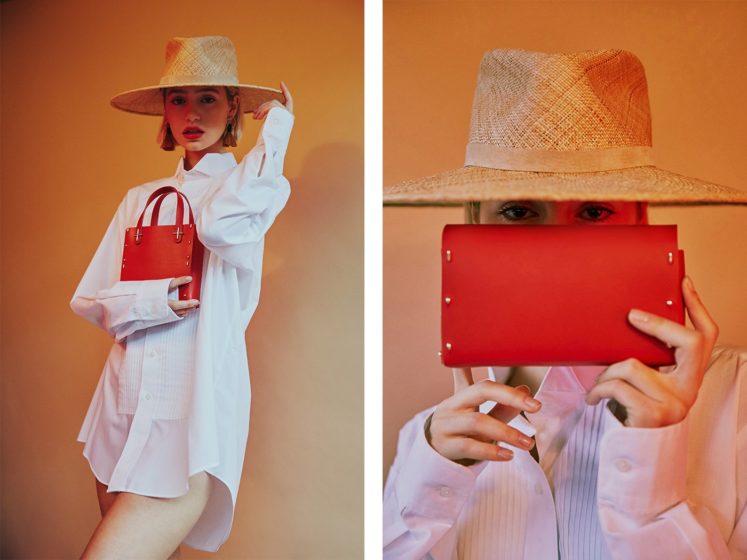 "I was trying to make them [as] delicate and elegant [as] possible, but also create a strong recognizable signature for my brand," the designer says of the fasteners. Beaulieu strikes this balance, and, indeed, the balance is striking. Partoem's aesthetic is simultaneously on-trend and timeless, side-stepping any particular demographic while appealing to all. It's a confident simplicity that extends to the limited colour range of black, burgundy, and cherry red.
Every Partoem item is all handcrafted in Montreal with vegetable tanned Italian leather, as opposed to more chemical-heavy traditional tanning method. "I strongly believe that it is the most responsible and sustainable choice out there at the moment," Beaulieu says. The treatment process uses tree bark to prevent the leather from rotting in humidity, while, quality-wise, she notes leather as "the most natural, durable material". Given that most faux-leather fabrications are made of plastic—be it polyurethane or vinyl—or petroleum-based materials, they were never up for consideration.
What's more, Beaulieu assembles every Partoem item herself, from the slim yet cavernous wallets to the new Domus mini-tote—a street-style favourite at this year's New York Fashion Week. Since Partoem's founding nearly two years ago, Beaulieu has slowly been adding styles—there are currently five available, with another to release soon. "I am constantly trying to perfect my products," she says. "Good things take time—you just need to be patient and persevere."
Photos by Dominic Lachance.
_________
Never miss a story. Sign up for NUVO's weekly newsletter, here.