A Century of Louis Vuitton and the Celebs Who Wore It
The brand's biggest moments.
When it comes to luxury brands, few are as recognizable as Louis Vuitton. The house's signature brown monogram has been a staple among socialites and celebrities since 1854 for a few reasons: the instant status symbol, the quality (I'm convinced Louis Vuitton's coated canvas could survive a house fire), and the timeless appeal.
Consistency has perhaps been a key factor in Louis Vuitton's 167-year success, effortlessly cementing itself into the pop culture conversation for decades. From Audrey Hepburn's essential Speedy bag to Paris Hilton and Kim Kardashian's unforgettable (and arguably tacky) Miroir Alma bags, I'm exploring some of the brand's biggest moments in the celebrity-verse.
Hepburn's Speedy 25 was a design request from the Oscar winner herself. The Breakfast at Tiffany's actress was such a fan of Vuitton's smart travel duffle—originally called the Express—that she dreamt up a smaller version of the accessory in the late '50s. From airports to casual strolls in Italy, the bag was regularly spotted on her arm, birthing the brand's very first pop culture moment.
The easy city bag earned a cult status over the next two decades, counting Jane Fonda and former first lady Jacqueline Kennedy Onassis as fans. The two women demonstrated the versatility of the forever classic: Fonda was photographed wearing hers with a laid-back pair of bell-bottoms and red sweater set in 1971, while Jackie O accessorized a more formal purple polka dot suit with the bag in 1980.
The '80s signified a shift for popular culture in many ways with the introduction of hip-hop in the United States. Fashion, of course, remains a cornerstone of the genre, and no one pioneered custom designer looks quite like Daniel Day. Better known as "Dapper Dan," the Harlem-based couturier was on speed dial for artists like Salt-N-Pepa, LL Cool J, and Run DMC. His speciality? Taking old Louis Vuitton bags and designing made-to-order sweatsuits, bomber jackets, hats, and more.
Blending streetwear culture and high fashion at the height of logo mania, one of his most memorable creations was a custom tan leather tracksuit for Run DMC's Jam Master Jay. The rapper commissioned the ensemble that included repurposed Vuitton monogram canvas as part of the outfit, a trend that continued through the '90s.
Marc Jacobs' takeover as design director for the house in '97 signified a renaissance for Louis Vuitton's covetability by the time the 2000s hit, and Mariah Carey helped seal the deal in 2006. For the "Say Somethin'" video, the diva filmed all around Vuitton's flagship Champs-Élysées store, even singing a few bars while perched atop a stack of monogram trunks. At one point, Vogue's André Leon Talley joins her and Snoop Dogg for a dramatic shopping excursion that includes throwing monogram bags in the air.
Of course, the 2000s are also synonymous with paparazzi culture, and no one embodied that more than BFF duo Hilton and Kardashian. The pair iconically sported matching metallic Alma bags—another classic Vuitton silhouette—from the brand's limited-edition Miroir line in 2006. Photos of them rocking the oversized bags on Australia's Bondi Beach are so legendary, the duo even recreated them for Kardashian's recent (and very nostalgic) velour Skims drop in 2020.
Their, like, so 2000s trip happened to come fresh off the Takashi Murakami x Louis Vuitton frenzy, which must be acknowledged. As I wrote about in my latest instalment of "Cassie's Couture Confessions", the white bags with the multicoloured logo pattern that were without question the defining luxury trend of the noughties with it-girls like Lindsay Lohan, Britney Spears, and Jessica Simpson wearing them on red carpets, camping trips, and beyond. Hilton herself even appeared in a Saturday Night Live sketch inspired by the fad, and Britney went so far as to outfit a Hummer in the cherry blossom print for the "Do Somethin'" video.
Following a hilarious mispronunciation by Zach Galifianakis in 2009's The Hangover (his character Alan mistakenly refers to his bag as a "Lou-iss Vee—ton"), the French house has stayed in the pop culture zeitgeist once again. Its ready-to-wear gained popularity with stars like Taylor Swift—who wore a futuristic disco-ball-inspired dress to the Met Gala in 2016—and ambassador Emma Stone, who regularly chooses Vuitton's gowns for red carpet events.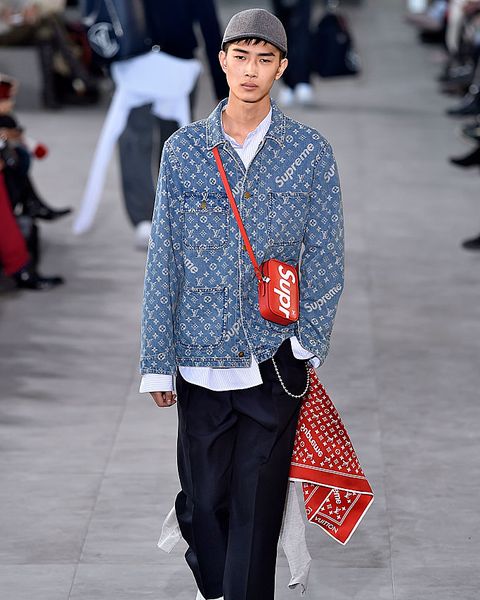 Dapper Dan's influence has undeniably played a role in Louis Vuitton's embracing streetwear and casual fare under the direction of Virgil Abloh. At one point, Abloh's friend Kanye West, the self-described "Louis Vuitton Don," traded in his Yeezys for a shoe collaboration with the brand.Then there was 2017's game-changing collaboration with Supreme. The red-and-white-monogrammed shirts, bags, and sweatshirts were part of the most anticipated streetwear drop ever. A frenzy erupted over the limited-edition line, which was worn by everyone: fashion icon Victoria Beckham, Queen of Pop Madonna, and stars DJ Khaled, Justin Bieber, and Drake.
In the last year, Vuitton has continued to dominate on social media. Vuitton's sneakers have exploded in popularity with the TikTok generation, with such celebrities as Hailey Baldwin and Kylie Jenner rocking the company's Archlight and Time Out kicks.
Cardi B's collaboration with Baba Jagne (a next-generation Dan) went viral last summer for a lockdown look that included Vuitton's biscotti-coloured monogram mini skirt along with a custom-made top and wig to match. She recreated the magic with a second all-monogram look, breaking down how Jagne designed the beret-style hat from a Neverfull tote via her Instagram story.
Entering its 167th year, Louis Vuitton has proven that trends may come and go, but style is forever. The company pioneered a language of luxury that celebrities, socialites, and influencers will speak for decades to come, and that legacy is a feat few brands achieve.