Vela: A Toronto Restaurant With New American Opulence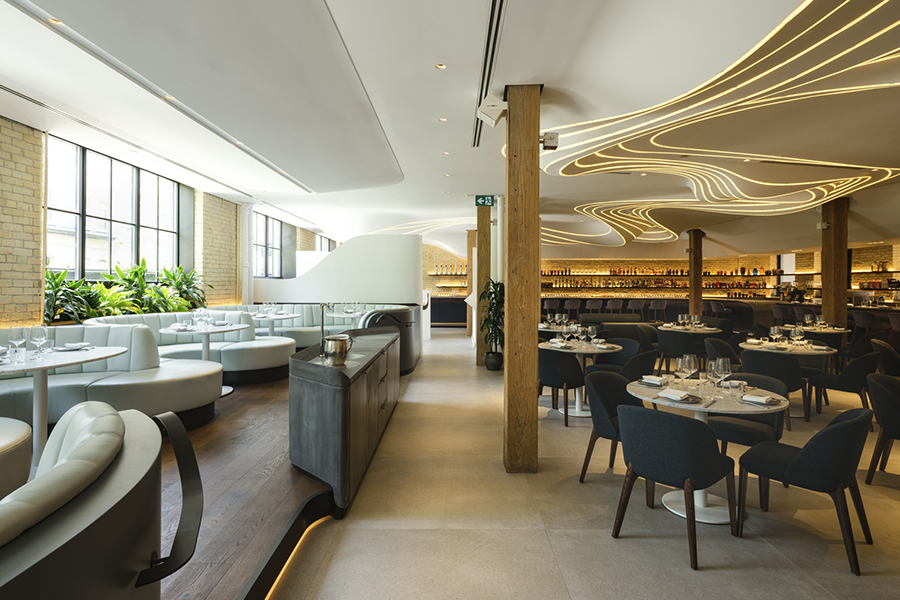 From partners Amanda Bradley and Robin Goodfellow, Vela emulates the grandeur of a posh hotel lobby bar: inviting, impressive, and memorable. The ritzy new restaurant thoughtfully demonstrates how both architecture and cuisine work together to establish a cohesive ambiance. Designed by the Toronto architecture firm Partisans, profiled here, it brings contemporary flare and sophistication to the intersection of King and Portland. The marvelous ceiling with its distinctive moulded curvature creates a celestial atmosphere, like a night sky filled with stars.
The 4,000-square-foot build includes a champagne bar, lounge, exposed kitchen, and 2,000-square-foot wraparound patio for dining al fresco. The space has an airy and open feel. Materials such as concrete were used for the bar top and dining tables for added texture, while Tiffany-blue leather and marble tables add a contemporary pop of colour.
An all-day new American menu and a variety of artisanal cocktails are available in this dream-like space. "The food and cocktails are meant to reflect the overall vibe of Vela," Goodfellow says. The cocktail list has four categories: champagne, vacation, reality check, and placebo. In addition to the cocktails' names, the flavour profiles are meant to pay homage to different parts of the world.
We recommend the Crispy Clean, similar to a French 75 with more of an earthy flavour, compliments of balsam fir. We also recommend the London, a mineral forward beverage with vesper and limestone.
On the menu, whether a AAA ribeye that's been 35-day dry-aged to perfection or crudo hamachi with passionfruit, citrus, cucumber, and anaheim chili, there is no shortage of flavour variety with it's intricate spread of both sweet and savoury dishes. Vela also accommodates dietary restrictions, providing gluten-free, vegan, nut-free, and dairy-free options. Try the B.C. steelhead trout with ajo blanco, charred grapes, and almonds—sweet and savoury, crispy and tender, all in one.
Vela is worth a visit for the design alone, but the food and cocktails will keep you coming back.