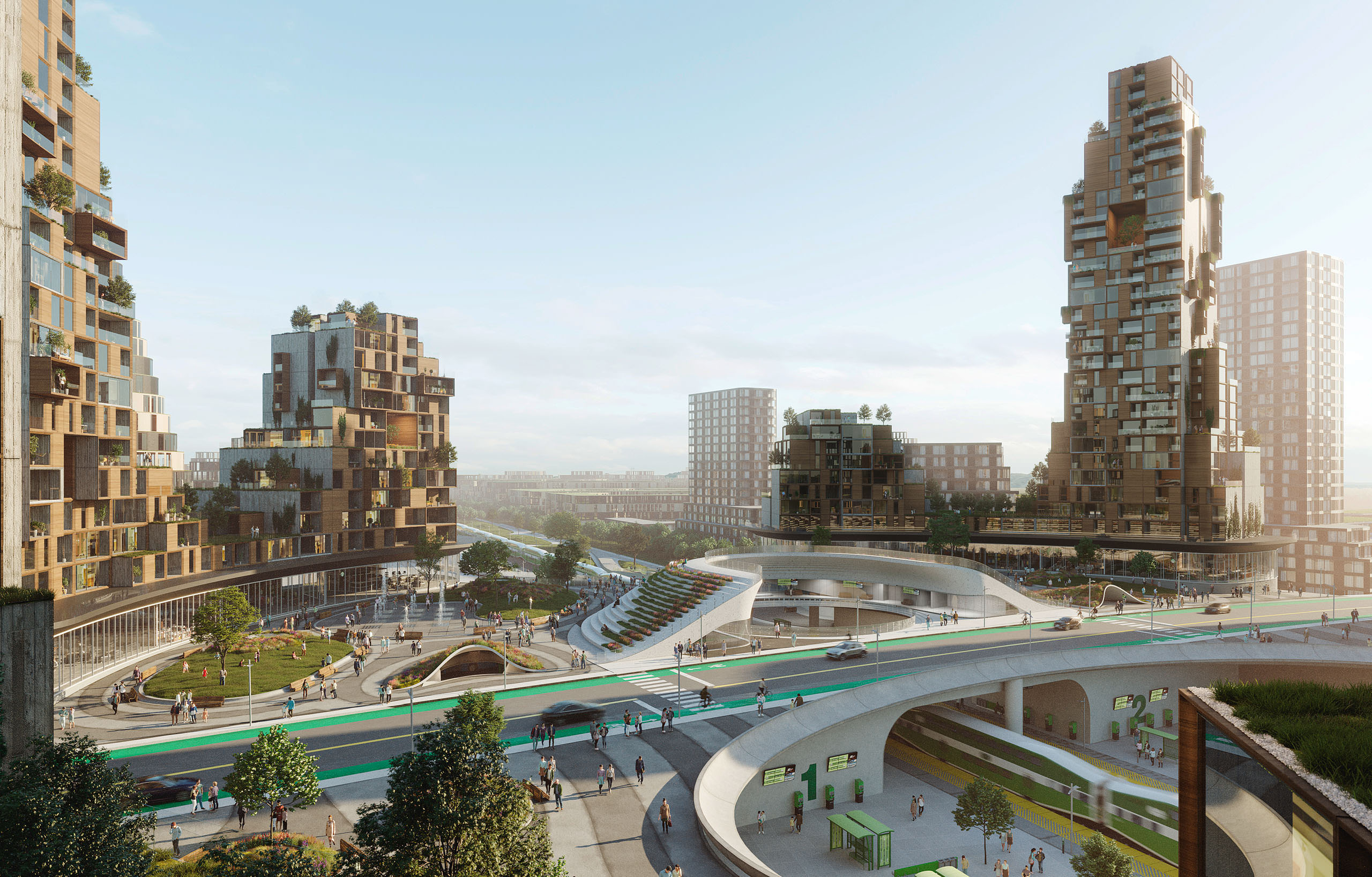 Building the cities of the future.
_________
Grey and white with "hard, sad Britannic edges." That's how New Yorker writer Adam Gopnik once described Toronto—Canada's largest, though admittedly, not its most attractive city. His characterization partly refers to the prosaic, modest architecture that came out of Toronto's Presbyterian past. It would also be a fair description for anyone who has wandered between the dull, monotonous, 21st-century condos that sprout never ending along the city's streets.
But the comment, written a decade ago, predates Gusto 501, a not-yet-one-year-old restaurant, designed by the Toronto architecture firm Partisans, that upends Corktown, one of Toronto's greyest, hardest, most Britannic corners, a once-industrial neighbourhood where disused warehouses and crooked Victorian homes sit in the shadow not only of new condos but also a concrete overpass. In contrast, Gusto, which supplants an old car garage, has sinuous, sensual terra cotta walls that swoop like something designed by Gaudí. Lit with glowing yellow lights inset into the undulations, it has the ambience of a romantic grotto. Yet instead of feeling overly inward or private, a two-storey glass door opens onto the street beyond, sucking in the surrounding city to the maelstrom of revelry within (hampered only slightly these days by COVID-era indoor-seating limits).
Judging by a few of Partisans' projects, ambitions clearly go beyond mere fun. The studio's three principals, Alex Josephson, Pooya Baktash, and Jonathan Friedman, have the singular ability to wade through hardships that accompany most architectural endeavours—the politics, the construction delays, the real-world limitations of client demands and contractors and strict budgets—and still create something inspired. "We don't shy away from the problems," says Baktash. "We head straight for them. We love them, love to figure them out."
At Toronto's Union Station, they had the unenviable task of designing a new food court—a space that tends to have all the glamour of an echo-filled basement—where they often are, like this one. The design was a part of a major renovation to the city's main civic rail hub. Hired by Osmington, Partisans had $40 million to execute their ideas and had to collaborate with dozens of other architects, engineers, developers, and government bureaucrats to get those ideas finished. The results, unveiled in 2018, demonstrate an elegant ingenuity and are the most memorable part of the new Union Station. All the disparate, unsightly infrastructure that typically pokes in and out of the stained panels of a basement-level dropped ceiling—return air ducts, fire sprinklers, lighting—was combined into cloud-like, streamlined pods. The custom swooping fixtures give the food court an ethereal otherworldliness, a special feel that pulls people in (even if the jerk chicken or pad thai kiosks don't). And because the pods are compact and suspended, they allow the rest of the ceiling to soar, elevating the space crunch typical in subterranean spaces.
Partisans is also taking aim at that most blah feature of modern Toronto life: condos. In a 2016 manifesto called Rise and Sprawl: The Condominiumization of Toronto, co-written with Dutch architectural historian Hans Ibelings, the team notes that approximately 80,000 condo units have been built in the city since the year 2000, with a comparable number planned. The boom, they contend, has made zillions for developers but has resulted in a "ubiquity and relative uniformity of towers" with "glass façades and anemic colour schemes, dominated by grays, greens, and beiges." To make a city that boring, they say, is to do nothing less than put "our civic ecosystem at risk."
As a remedy, Partisans recommends a few things city-builders can do to rescue Toronto from the brink of disastrous blandness. "Put an end to energy-leaking condo balconies. It's time to eliminate everything environmentally unsustainable," they write, as well as, "Mutate the buildings. Blur shapes and boundaries to generate innovative hybrid typologies." The last of their points, "Build for 100 years from now," is perhaps the most prophetic.
Three years after releasing Rise and Sprawl, Partisans won a public request for a proposal from the town of Innisfil, a suburb of Toronto, to create a new master plan for the municipality. Innisfil is expected to grow from 36,000 people to over 150,000 in the next three generations. To house the growth, Partisans' vision, called the Orbit, consists of concentric, walkable streets radiating around a central rail hub that, when opened in 2022, will connect via commuter train to Union Station. The Orbit's avenues are lined with a mix of tall, mid-, and low-rise buildings, including condos, offices, retail, and subsidized housing, all of which have swerving shapes and green roofs. No glass balconies. Instead, lots of places to charge an electric car. There's something a touch Britannic about it. "The street plan is partly inspired by English garden cities," says Josephson. "But we've also added a little bit of Burning Man."
Successful architects often have a long wait before they find notoriety. Frank Gehry was in his late 60s before the Guggenheim Bilbao was finished, making him world famous. Architecture school alone can take five to seven years, followed by many more apprenticing under experienced practitioners, building up the requisite hours and knowledge before writing a series of daunting exams called the ExACs and applying for an architecture licence. Finding the first clients adds to the journey, and chances are, those early clients won't be commissioning a whole city such as the Orbit.
By those standards, Partisans origins make Josephson and Baktash remarkable prodigies. They founded their firm in 2012. They were still in their 20s and had recently graduated from the University of Waterloo School of Architecture, where they met while completing their master's degrees. During their schooling, their profession was hit hard by the 2008 financial crisis. The ensuing recession was caused in part by a bubble in the housing market and slowed construction across North America. Good design jobs became scarce. "We were faced with a choice," says Josephson. "We could try to get hired in a corporate office, wait things out, or we could take a risk." They chose to take a risk.
Josephson, born and raised in Toronto, had family to fall back on (his father is an ENT surgeon). For Baktash, the stakes were higher. "I had moved to Canada from Iran five years before," he says. "It's still unbelievable to me that someone could arrive in Canada and within five years have their own architecture firm. But that's the kind of opportunity Canada can provide."
Baktash used his 800-square-foot loft for Partisans' first office, tucking his mattress under the communal board table to make the space more professional (Josephson's own post-graduate apartment was less apt for working: a quirky place above a bookshop with an open-concept, wall-free bathroom with a toilet visible from the kitchen). Neither Josephson nor Baktash was officially an architect, as both had yet to pass their licensing exams: Josephson passed his in 2018, and Baktash is still working toward the designation. This limited the size of the projects they could design to under 6,000 square feet but didn't stop them from producing stunning architecture. One of their first projects to gain international attention, with publication in countless design blogs and magazines, was Grotto Sauna, a small sauna, all curving lines inside, perched on a rocky shore overlooking Ontario's Georgian Bay. Completed in 2014, it won a 2015 design excellence award from the Ontario Association of Architects.
By then, Partisans had been joined by Jonathan Friedman, who had his licence "and who brought a certain level of maturity to the firm," says Josephson. Friedman, five years older than Josephson and Baktash, was born in apartheid-era South Africa and immigrated to Canada when he was 12. "South Africa is an interesting place to think about design," says Friedman. "It shows you how design can be used to separate people. On the flip side of that, it made me wonder how design can be used to bring people together."
The fusion of three partners from diverse backgrounds working on the same projects embeds a strong spirit of collaboration within the firm. Their commitment to cooperation extends to all the engineers and contractors they work with, which helps the studio achieve its visions despite the inherent complexities of working with geometries no one else in Toronto is daring to build. "I don't think they get enough credit for how collaborative they are," says Deborah Wang, a former classmate of Josephson's at the University of Waterloo and the artistic director of DesignTO, Canada's largest independent design festival. "When they were building Bar Raval [a Barcelona-inspired pinxto bar on College Street], their millworkers, MCM, didn't have the right software to cut the curved walls and bar. Partisans helped build the necessary modelling software, then helped load it onto MCM's machines."
Friedman describes their approach to success a little differently. "I call it artful pragmatism," he says. "We like to have a strong, clear vision. We also recognize there are a lot of small things, lots of details, that need to be taken care of in order to achieve the projects to their fullest. And that takes a lot of people coming together."
Currently, the Great Recession of 2008, from which Partisans emerged, looks quaint next to the economic hardships being caused by COVID-19. Canada's economy contracted faster and deeper than ever before when the pandemic shuttered businesses in March. Over a million Canadians lost their jobs. The national GPD shrank by nearly 40 per cent, 10 times the contraction in 2008. With global borders closed, immigration is on hold, stifling the influx of newcomers who might otherwise boost the population of suburbs such as Innisfil. "In this climate, the Orbit could easily end up in the bin of wonderful ideas," says Trevor Boddy, a Vancouver-based architecture critic and curator, and a fellow of the Royal Architectural Institute of Canada which awarded Partisans the prestigious Emerging Architectural Practice Award in 2020. "That would be a shame. Maybe Partisans' plan is a bit heavy on roadways, but otherwise it's pretty impressive; how they have put the urban critique and analysis from Rise and Sprawl into practice."
Boddy's dire outlook is justifiable. The Orbit is conceived to be an innovative, connected smart city that incorporates the newest sustainability features available: electric buses, low-carbon heat sources, structures made from renewable wood. In other words, not cheap. A similar initiative, the Alphabet-led Sidewalk Labs in Toronto, was cancelled shortly after the onset of COVID-19. At the time, Alphabet, which owns Google, blamed the widespread economic uncertainty.
Ostensibly, COVID-19 also makes it harder for Partisans to engage in its trademark collaboration. The firm long ago upgraded from Baktash's pad and, before the pandemic, was working out of a 10,000-square-foot factory conversion. Maybe because Partisans was conceived in a time of turmoil, and has problem-solving at its core, the partners seem undaunted. "Pooya [Baktash] is amazing with technology," says Josephson. "He figured out how we could all work remotely early on. We sent everyone home three days before offices were ordered closed by the province." Adds Baktash, "There's something kind of nice about working remotely. Less time wasted commuting between meetings."
As for Innisfil, the team doesn't see too worried. One of the firms Partisans most admires is Norwegian-American Snøhetta. Like Partisans, it too is a collective, started right out of school, that consistently imagines novel, poetic structures while embracing pragmatism to get those structures built. Snøhetta's first major commission was the Bibliotheca Alexandrina in Egypt. After winning the initial design competition in 1989, it took over 12 years of protracted contract negotiations, funding shortfalls, and complex Egyptian politics to see the library realized. Many architects would have walked away in frustration. Snøhetta stayed patient, which is what Partisans plans to do with the Orbit.
"COVID-19 is right now," says Josephson. "The Orbit will take 75 years to build. I'm thinking of 100 years from now."