Fresh From an Extensive Refit, Sailing Yacht Borkumriff II Can't Help But Charm
There's something about a classic sailing yacht that epitomizes freedom.
That's especially true of an elegant sailing yacht in pristine, showroom condition, with the promise of adventures ahead. One like the 31-metre Borkumriff II—a 1982 two-mast schooner that emerged following a lengthy and extensive refit.
Hand crafted by legendary yacht builder Lubbe Voss, Borkumriff II has never looked better, following a complete makeover that adds a few contemporary twists to the original design. Seamlessly integrating today's technology with the look and feel of a timeless classic, Borkumriff II retains the elegance of the original yacht with even greater guest comfort and convenience.
The main deck shines with its custom teak decking, neat rigging, and elegant fittings in beautifully polished stainless steel. Louvred vents provide plenty of fresh air for belowdecks areas, with fresh black and white paint and neatly varnished woodwork. Large and inviting lounging chairs on deck provide the perfect perch from which to soak up the surroundings while the yacht's friendly crew attend to every need.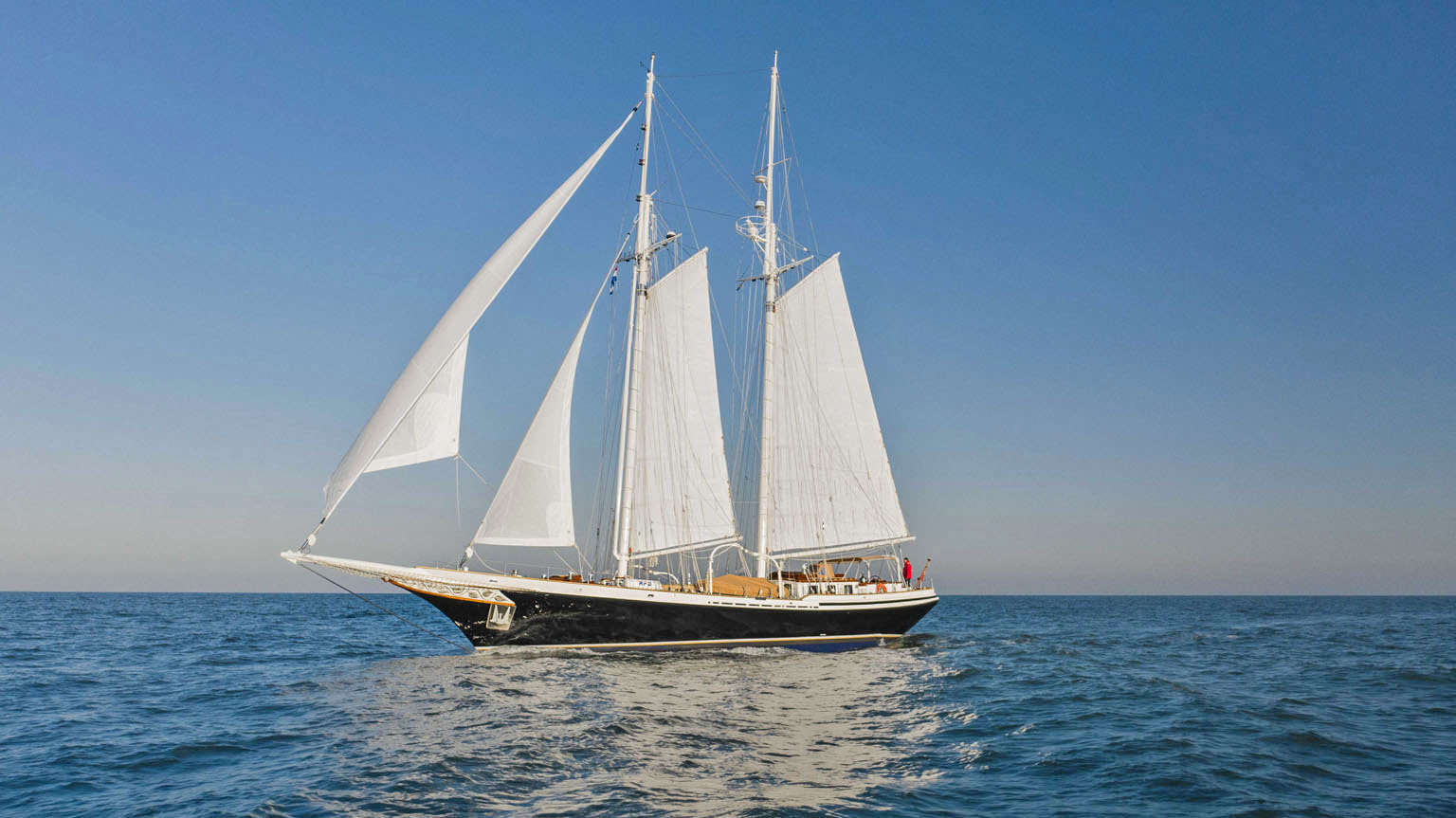 The main deck highlight, by far, is the gorgeous custom mahogany steering wheel complete with its stainless name ring, the 1982. A large, stainless-steel-plated navigation compass beckons one to take the helm and head for the open sea.
The main deck also features a spacious, shaded cockpit just ahead of the helm, with plenty of comfortable seating for guests. It's a wonderful spot to enjoy the views or dine al fresco.
Borkumriff II's interior spaces have also been given a top-to-bottom overhaul to restore them to their original splendour. This includes extensive paint and varnish work, as well as a new mahogany floor. Furthermore, some tasteful modernizations bring the belowdecks accommodations up to today's expectations, including new upholstery, audiovisual, and air conditioning system.
Nowhere is the juxtaposition between then and now more evident than in the wheelhouse, with its classic varnished wood-on-white interior sporting all-new insulated windows with chromed frames and a full complement of modern electronics, including full satellite navigation systems on multiple touch-screen displays, energy-efficient LED lighting, and a suite of communications equipment for uninterrupted connectivity at sea.
A table with bench seating to the port side of the wheelhouse makes this space, with its wraparound windows, a popular spot for waking up with morning coffee and pastries before heading outside.
Ahead and below the wheelhouse are the comfortable salon and dining area, complete with a large table for gourmet meals, a standalone desk area, and a delightful bar.
The owner's suite aboard the Borkumriff II is spacious yet snug, providing a sense of comfort and security without feeling claustrophobic. Three more cabins, each with its own ensuite, accommodate six additional guests.
With its focus on indulgence, most guests will find it hard to leave the Borkumriff II. But when it's time to stretch one's legs and see something different, the yacht's two tenders and a selection of water-sports toys offer the opportunity to make the most of the aquatic surroundings, whether poking about in a nearby bay or heading ashore to shop and explore.
Fit for royalty? You bet. Borkumriff II captures the true spirit of the classic sailing yacht with its elegant design, impeccable presentation, and thoroughly modern conveniences. Available for charter in the Med this year, it offers the perfect way to shake off a long spell of being cooped up by COVID.