Tonka Pecan Viennese Sablé Wreaths from Beaucoup Bakery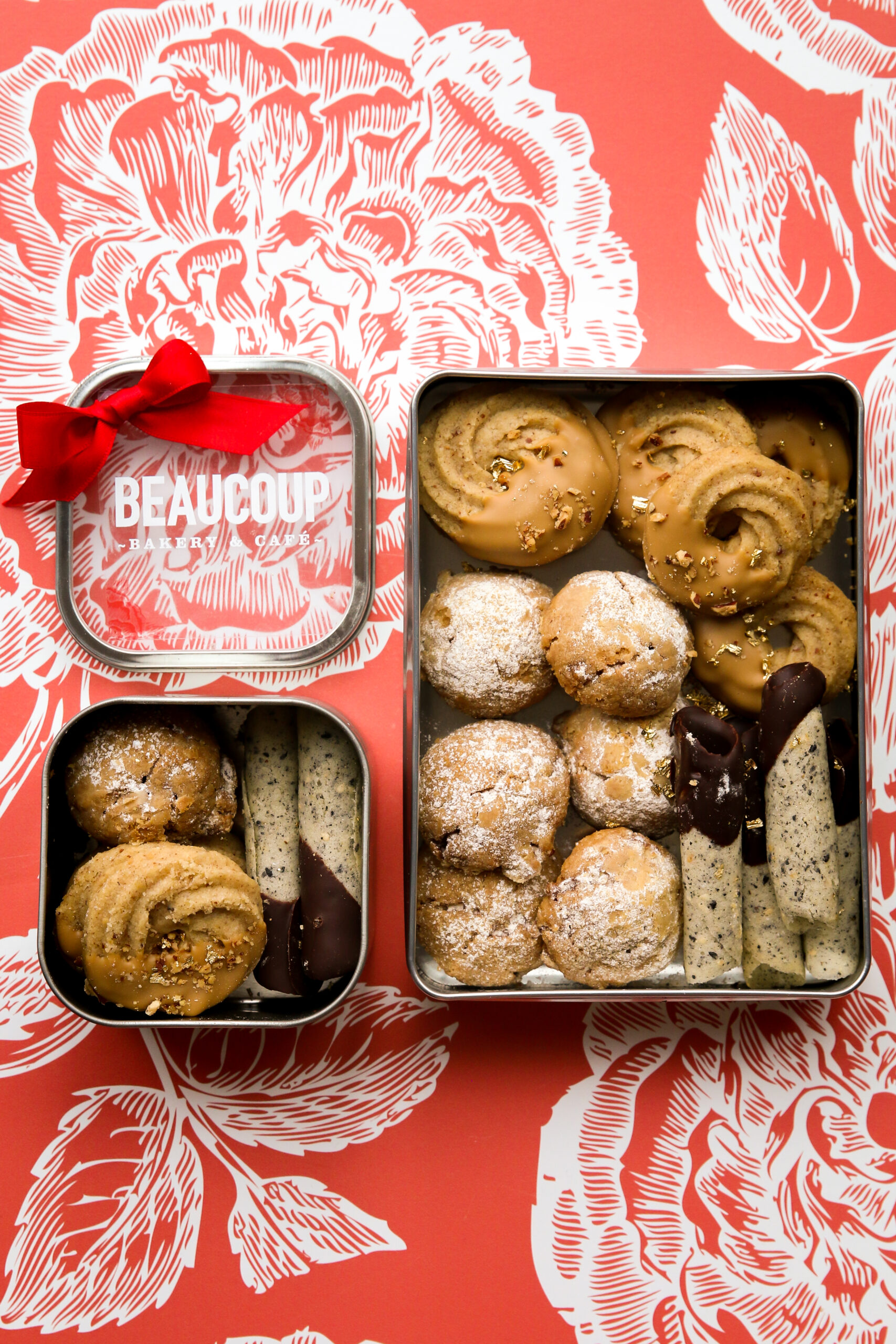 One of our favourite holiday cookie boxes is from Vancouver's Beaucoup Bakery.  Within the variety boxes are the Tonka Pecan Viennese wreaths—a shortbread-esque cookie that encapsulates the essence of Christmassy treats. For those are aren't able to visit the bakery in person of place an order online, pastry chef and co-owner Betty Hung has shared with us her secret recipe for holiday cheer.
The cookies are buttery yet light in texture. You can pipe them into different shapes, if you'd like. Pecans and the nutty floral flavour of the tonka beans pair well together. If you can't find tonka beans, you can substitute a little cinnamon or vanilla extract.
Makes 24 cookies.
Ingredients
½ cup + 1 tablespoon unsalted butter, very soft
½ cup powdered sugar
¼ teaspoon fine salt
1 large egg white, about 2 tablespoons, room temperature
¾ cup + 2 tablespoons all-purpose flour
¼ cup roasted pecans, ground
½ tonka bean, finely grated (preferably with Microplane)
75–100 pink peppercorns
1 cup caramelized white chocolate, preferably Valrhona Dulcey (melted to 32°C/90°F)
2 tablespoons toasted pecans, crushed
Gold flakes, if desired
Method
Preheat the oven to 350°F (180°C). Line two baking sheets with parchment paper.
Place the butter in the stand mixer bowl. With the paddle attachment, mix the butter on medium speed for about 30 seconds.
Add the powdered sugar and salt. Mix on low speed for 2 minutes until the mixture is white and fluffy.
Add the egg white and continue mixing on medium speed for 30 seconds. Scrape down the sides of the mixer bowl and mix for another minute. The mixture will look separated, but it will come together after the flour is added.
Meanwhile, sift together the flour, ground pecans, and tonka bean into a small bowl.
Add the flour mixture to the butter mixture and mix on low speed until the dough just comes together, about 20 seconds. Scrape down the sides of the bowl if necessary and mix for 20 more seconds.
Fit a piping bag with a star piping tip with about 1-centimetre (3/8-inch) opening.
On each parchment paper, mark 12, 1.5-inch (4-centimetre) circles in a 3 x 4 pattern, each about 1–2 inches (2.5–5 centimetres) apart. Flip the paper over and use the marks as guides for piping.
Slowly pipe the cookie dough onto each circle, letting the dough lie down on the baking sheet.
Top each cookie with 3–4 pink peppercorns.
Bake in the preheated oven for 5 minutes. Lower the temperature to 325°F (160°C) and bake for another 10–12 minutes until the edges of the cookies are slightly golden.
Let the cookies cool completely. Dip each half of the cookies into the melted chocolate. Before the chocolate sets, sprinkle each one with a little crushed pecans and gold flakes. Let the chocolate set before serving.