Rent Your Favourite Celebrity's Yacht
One of the little-known secrets in the world of celebrities is that, while tabloids fuss about their luxury lifestyles, many of the big-money toys seen in the background of the paparazzi pictures aren't theirs at all—they're simply borrowed, leased, or rented as required. And luxury yachts are no exception. While a few Hollywood A-listers actually do own their own yachts—Nicole Kidman and Steven Spielberg come to mind—many others simply charter a boat for a few weeks of vacation each year.
The good news is, you can do that too. Want to know what it's like to live like a Kardashian? Assuming you have an extra hundred thousand dollars or so lying around to cover the weekly rental fee, chartering the same yachts that TV and movie stars enjoy is as good a way as any to get a sense of the good life, celebrity style.
Here are a few yachts that celebrities rent, which you can too.
Ghost II
Next time you find yourself in Australia, stop in Sydney and spend a bit of time enjoying the high life on Ghost II, a 37-metre luxury yacht favoured by British singer Adele. Launched in 2016, Ghost II accommodates up to a dozen guests in obnoxious luxury with its contemporary chic interior decor, with a strong black-on-white theme throughout: the wet bar, the Jacuzzi, the retractable balcony—everywhere. Dine under the stars out back with a view of the sea or up front for equally thrilling vistas. There's an enormous swim platform (of course), a tender, Jet Skis, kayaks, paddle boards, jet boards, and even a Seabob, making a week on Ghost II potentially active, if nothing else.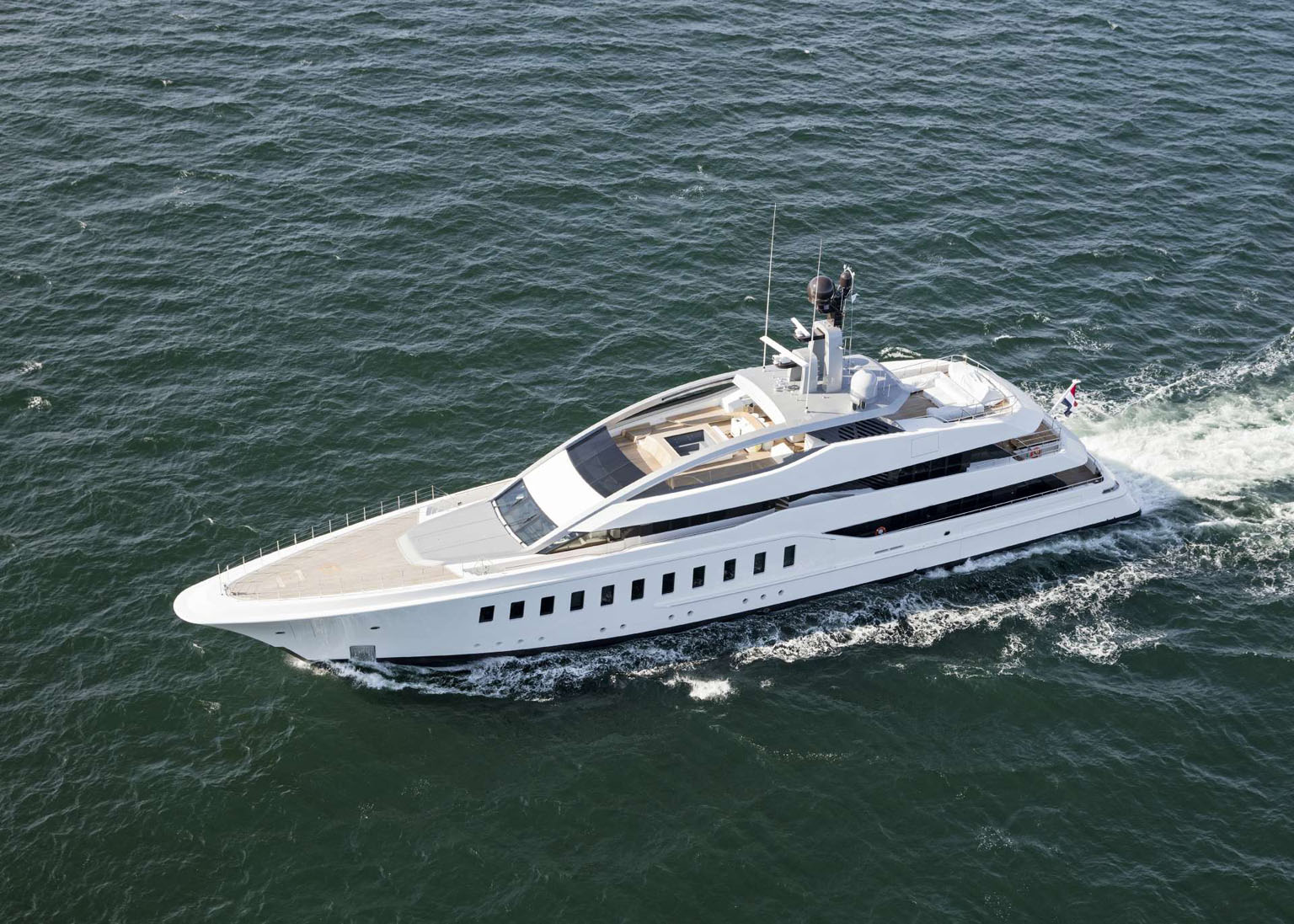 Halo
It's curvy, it's eye-catching, and it makes jaws drop everywhere it goes. Of course we're describing the immaculate 57-metre superyacht Halo, but we could just as easily be describing its most famous guest—Beyoncé, who enjoys time on-board with her partner Jay Z and their three children. Although capable of accommodating up to 12 guests, Halo can also be just right for a private family looking to get away from it all, soaking up the sun in luxury while being utterly pampered by its crew of 14. Halo is a big yacht, and with an 8,000-kilometre range, it's more than capable of going anywhere on the globe with its full complement of Jet Skis, tenders, diving gear, and more. And if you feel like popping into town to shop, of course it also has a landing pad for the helicopter.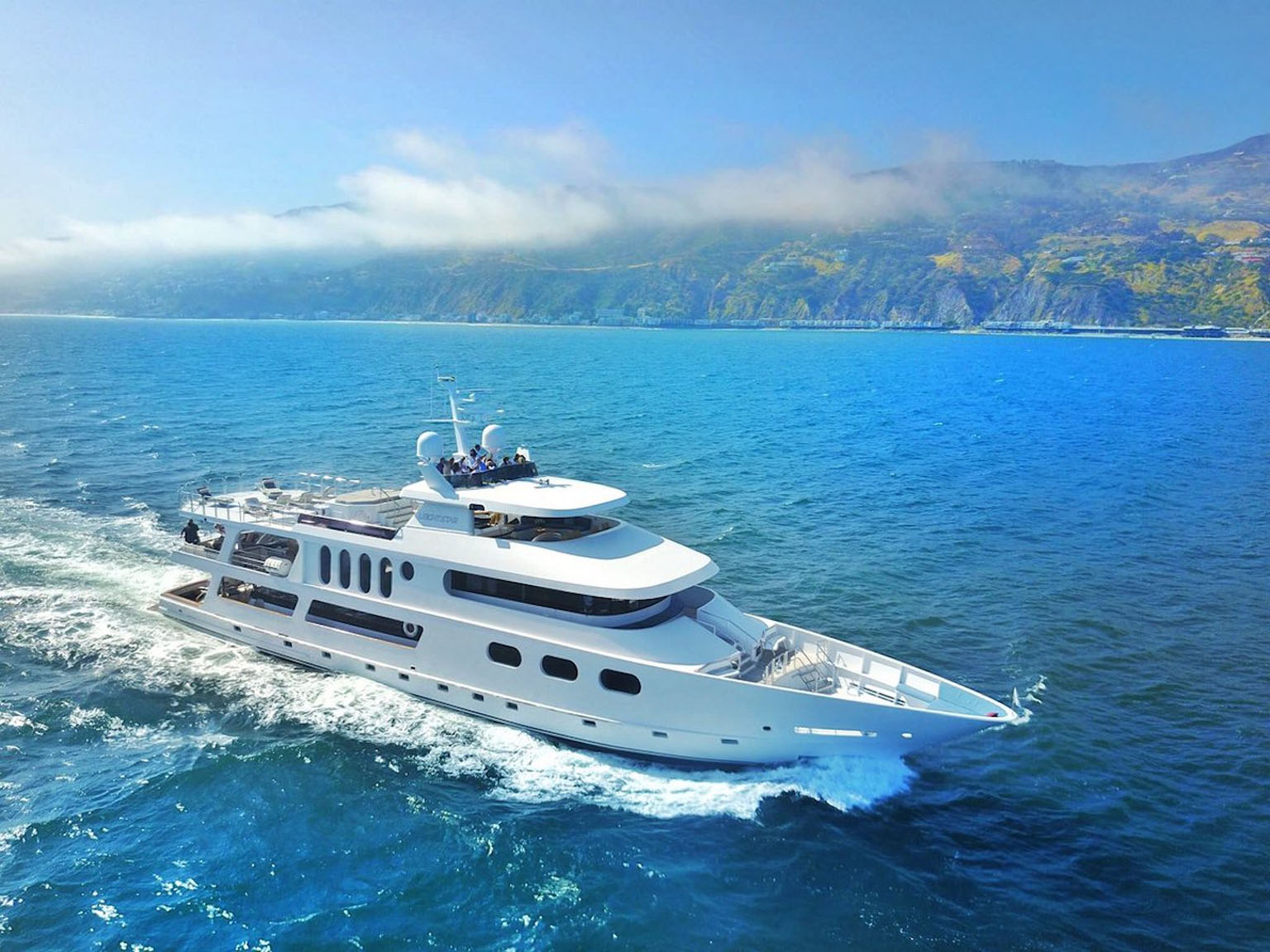 Leight Star
The 43.6-metre Leight Star is a favourite of singer and actress Selena Gomez, and it doesn't take long to understand why. Home-ported in Marina del Rey, Leight Star is convenient for Los Angeles–based Gomez, allowing for impromptu getaways (if Leight Star looks just a bit familiar, it could be because it's also a favourite of Hollywood producers, used most recently in an episode of The Bachelor). With sleeping accommodations for just 12 people, this exclusive, ultra luxury show boat comes with every imaginable amenity, including heated marble floors, an exercise room with a 50-inch HDTV, a steam room, a formal dining room or an outdoor dining space for dinner al fresco, and even a sky-lounge bar.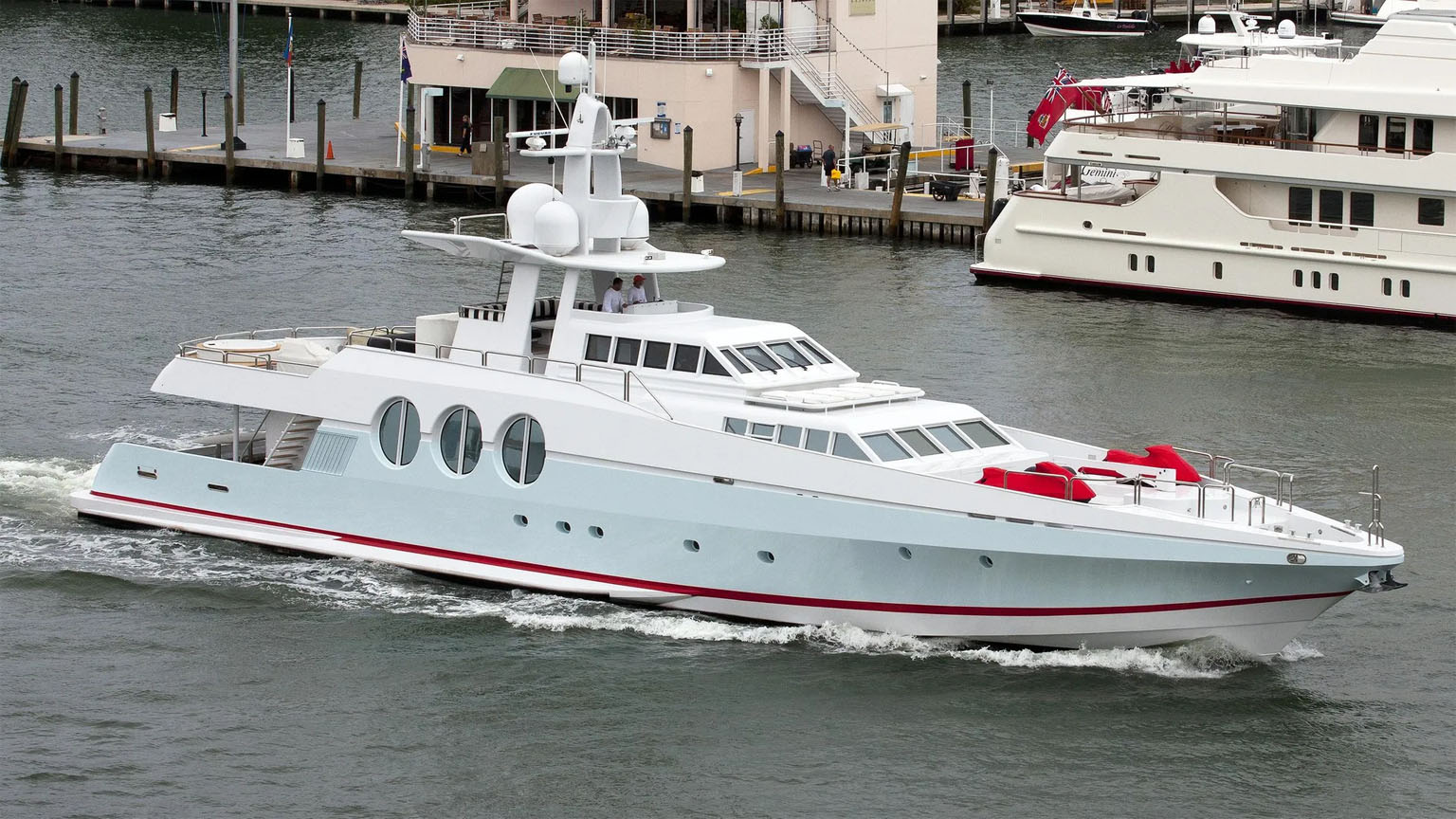 Never Say Never
A brilliant 37-metre Oceanfast oozing art deco–inspired details, Never Say Never made headlines worldwide in 2014 when Justin Bieber fell in love with the yacht. Bieber actually got himself in a bit of a twist over his time on-board, as eager fans were quick to assume he had purchased the vessel—its name matched that of his 2010 hit record—and the young Canadian singer did nothing to quell the speculation. Alas, Bieber didn't buy the vessel but does enjoy spending private time aboard. Launched in 1985, Never Say Never favours traditional quiet relaxation over the Jet Skis and Seabobs found on more contemporary yachts, but for anyone trying to escape the world, its immaculate and distinctive style and comfortable luxury are tough to beat.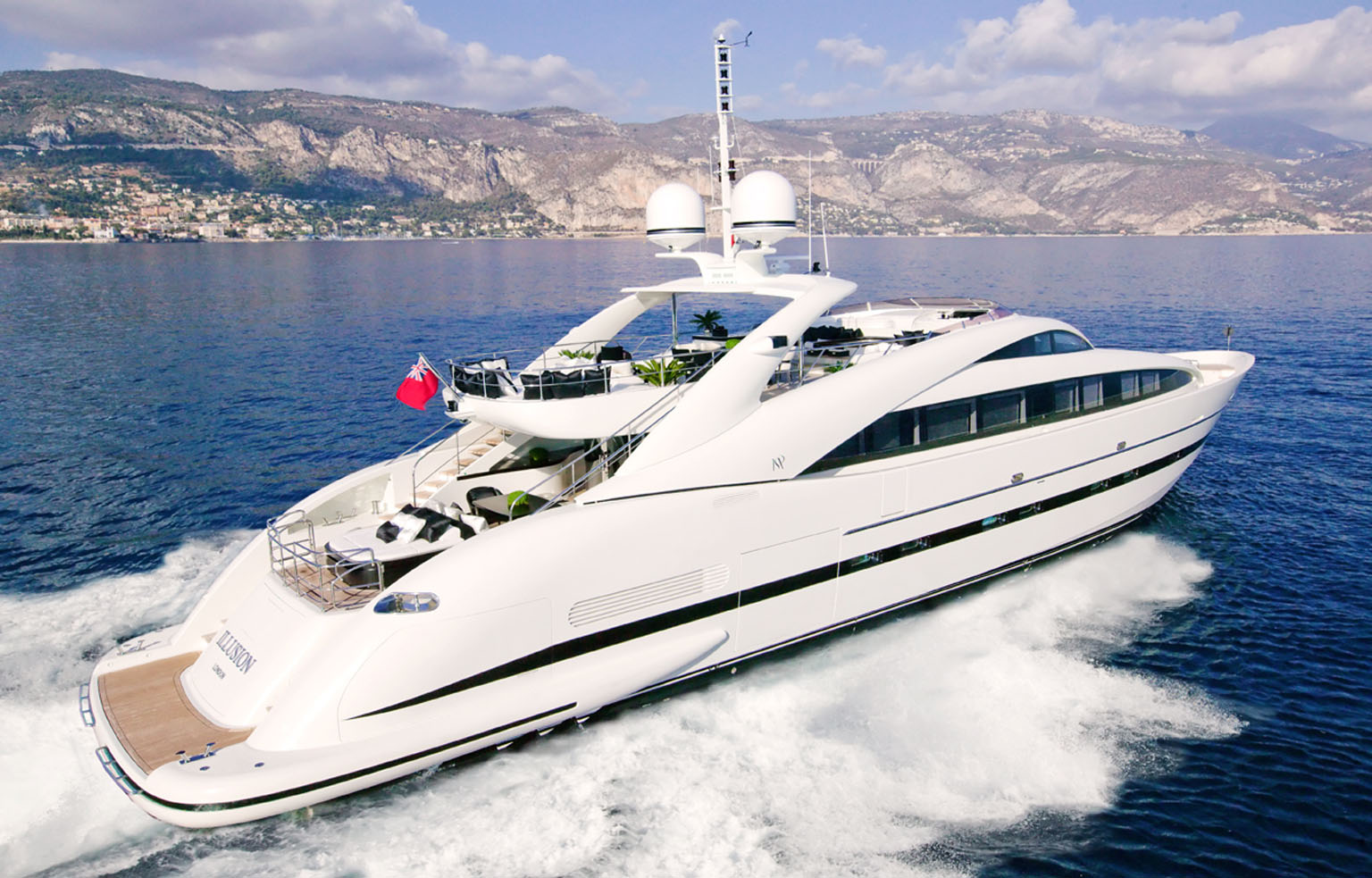 Sealyon
You'll definitely feel like one of the Kardashians if you lounge away an afternoon on Sealyon, a magnificent 61.8-metre sport yacht that's said to be a favourite of the entire family, and Kourtney Kardashian in particular. What truly sets this yacht apart is its exemplary interior woodwork, with dark walnut trim offset with complementing Lalique inlays and stainless steel for a truly striking look that's enjoyed by only 12 very lucky guests. It includes a fleet of Jet Skis, full snorkelling gear, top-of-the-line deep-sea fishing equipment, full high-definition TV and internet anywhere in the world, and even a power rotating sunpad, so you don't have to roll over to get nice even coverage.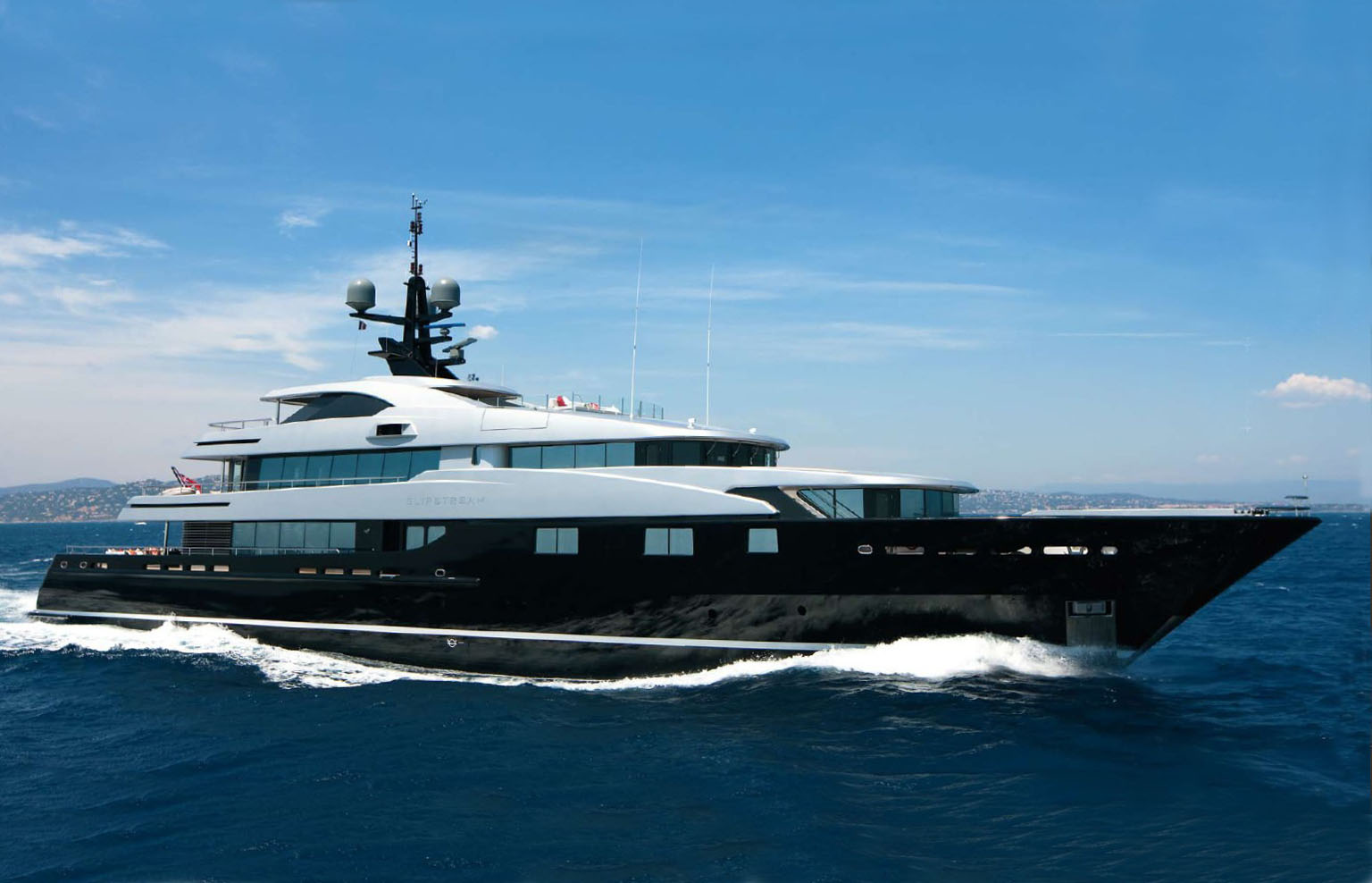 Slipstream
With its classic neo-art deco styling, modern amenities, and sheer size at 60 metres in length, Slipstream tends to stand out in any environment, and that seems to suit the personality of repeat guest Simon Cowell. With three roomy decks, sleeping accommodations for 12 guests, and a crew of 14, Slipstream boasts extensive entertainment options, including a full outdoor cinema for movies under the moonlight, a karaoke machine, a smoke machine, a bubble machine, a fully equipped gym, and an enormous Jacuzzi. There's even a retractable roof over Slipstream's huge 32-square-metre sun deck. Fishing gear? You bet. Diving gear? Of course. It even comes with a sailboat for a change of nautical pace.