MARKED: Toronto's Newest Latin American Food Journey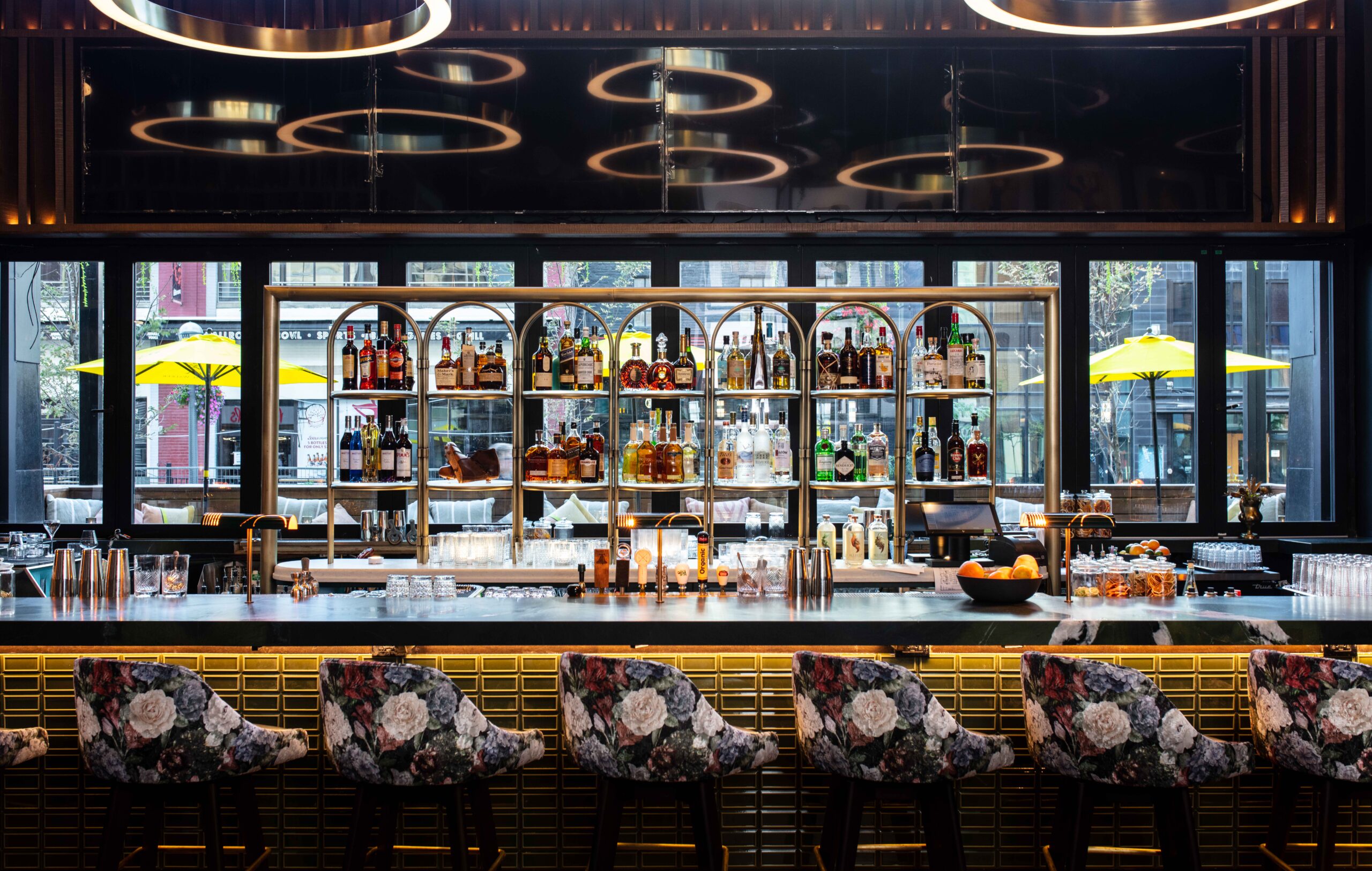 Step into the Pan-Am Lounge at Toronto's new  MARKED  restaurant on John Street and get transported to a modern version of the quintessential 1950s Pan American airport lounge/bar. This is just the first leg of your journey, though, as MARKED is divided into four areas, all providing their own sense of well-executed Latin American cool. The four separate parts of the restaurant each provide a different ambience, and the breadth of South American food means more of a chance that everyone in the group will be satisfied.
Next to the lounge is the beautifully designed Comedor, or dining room, complete with vintage-style South American travel posters, murals, and oversized, laser-cut metal chandeliers that sandwich a chic, private dining room called Tucano. The private room holds all the vibrancy of a tropical rainforest, without the creepy crawlies. At the back of the restaurant, you'll find Corsair: a modern cocktail bar that infuses tradition with high-tech alchemy to produce top-shelf cocktails fit for the smartest of midcentury VIP lounges.
Don't miss the Corsair bar for a bespoke cocktail. We enjoyed "the Spring cocktail"—all of the floral, herbaceous freshness of the season contained in a beautiful round bottle and enough to serve two. It was easily one of the most creative, beautiful, and delicious cocktails we've ever enjoyed.
At the Pan-Am lounge, house mixologist and assistant bar manager Eleni Bock starts us off with a soda punch. The Mula Mula, perfect for Dark 'n' Stormy fans, is made with Johnnie Walker Red Label scotch, Smith and Cross Jamaican rum, Amaro 33, pandan leaf, toasted corn, lemon, coconut water, Lem-Marrakech bitters, and, get this—it's clarified with milk. I go for the Costa Colada, a funky take on a Piña Colada made with Plantation 3 Stars rum, Leblon cachaça, Fino sherry, strawberry-guava syrup, grilled pineapple tepache (a fermented pineapple spirit), Malagasy chocolate bitters and clarified with coconut milk. Both are fun, fizzy adult sodas that, as the names suggest, pack a punch and go down way too easy.
"Our soda punches are all made in-house and took our team about five months to get right," says Bock. She explains that back in the day, rum-based punches had to last months on lengthy maritime journeys. To enable this, the punch was fat-washed with a heavy cream. When the cream reacts with the high-octane nature of the alcohol, the alcohol latches on to the proteins and separates everything. She adds, "Fat-washing punches would smooth out the sharp edges of a cocktail [as well as] make it last for months. We made three different cocktails. The one you didn't have (called Rosalita) resembles a Paloma. In ours we use goat milk as a fat wash."
Post-punch, we move into the Comedor where chef Marc Cheng, formerly of Patria and NAO Steakhouse, leads his team in what the restaurant calls a "love letter to the culture, flavours, and spirit of South America." Emblematic dishes like Peruvian ceviches, a Mexican tostada, and Brazilian coxinha (or croquettes) line the starter portion of the menu.
Sanjay Singhal and Steven Daicos, owners of Fourthspace Hospitality and Coffee Oysters Champagne, are the minds behind MARKED. They agree that South American culinary culture is one that encompasses the best of vegetarian, pescatarian, and carnivore diets.  They say that "Too often there is a divide in dining preferences amongst groups. We wanted to create a venue that provided fantastic and flavourful options for everyone. We felt South American–inspired recipes did this the best, especially when coupled with a natural wood-fire grill."
They deliver with the MARKED signature ceviche, which features amberjack fish, avocado, sweet potato, Peruvian corn, and leche de tigre. It's bright and fresh, the way a good ceviche should be. Don't miss the local-goes-global take on beef carpaccio crowned with Toronto vertical farm's We The Roots arugula, truffle crema, pecorino shavings, and a house-made cassava (or yuca) flour cracker and chimichurri.
You could graze and share a number of starter options or move on to mains, which are also fit for sharing or to enjoy as a one-person entree. For us, the standout was the Roof Tile Fish roasted on a clay roof tile (an homage to the ubiquitous clay cookware found in South America) over the live-fire, wood-fuelled grill the restaurant uses to prepare a number of its dishes. Flaky white fish with a residual kiss from the flames, it's like having a palm-swept, beachside dinner in the heart of the city.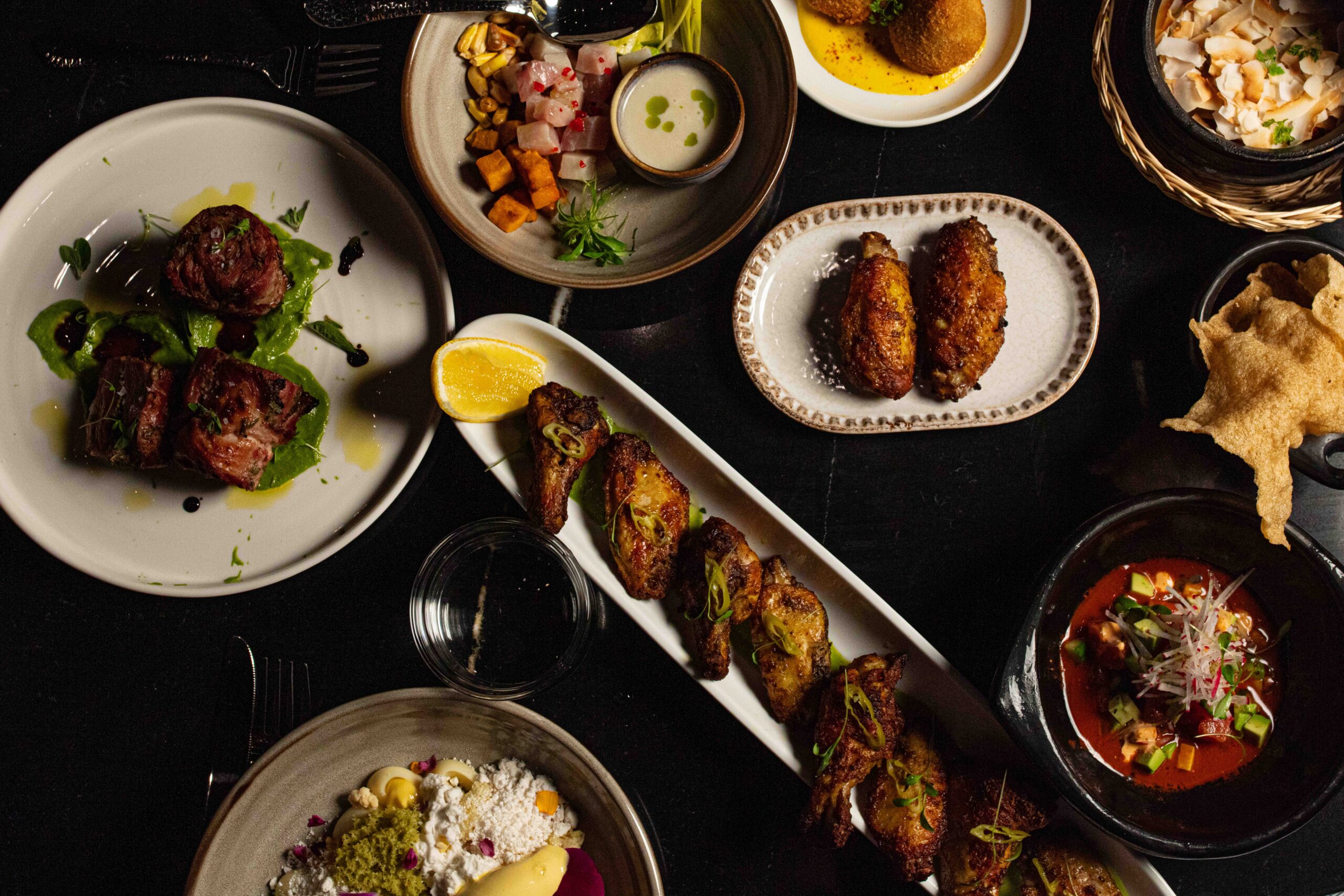 We also try the Brazilian-inspired picanha made using Ontario-raised top sirloin, dusted with the house rub, and served with chimichurri, piri piri, and barbecue sauces for dipping.
An in-house sommelier is on hand to recommend wine pairings, and an impressive non-alcoholic cocktail menu is on offer for those who don't want to imbibe. The Pineapple Palace, for example, is a spice-laden, dessert-like drink with masala chai tea, pineapple juice, cardamon, lime, and chocolate bitters.
We cap off the night with coffees, churro pockets with single-origin South American chocolate, and a scoop of house-made blackberry sorbet that takes me right back to my childhood in Colombia where I'd ask for an Andean blackberry juice almost daily.
Reservations are recommended, especially during these socially distanced times. The owners say they worked closely with Toronto Public Health to develop safety measures and regulations for all of their restaurants.
_______
Never miss a story. Sign up for NUVO's weekly newsletter here.