Byredo Founder Ben Gorham on His New Makeup Collection
Almost 15 years ago, Ben Gorham launched Byredo. In a world full of generic designer fragrances, he offered something different. His perfumes were simple but unique, in minimalist packaging, and never advertised. The Byredo brand simply spoke for itself, and what it said was beautiful.
Over the years, the brand has evolved. "I started to introduce and play in other categories. We introduced leather and jewellery and eyewear," says Gorham. "About five years ago, I started to feel like makeup could be a strong physical manifestation of beauty at Byredo, in contrast to fragrance, which was, in a sense, invisible."
Gorham struggled to bring his vision to reality since he'd never worn makeup. Then he met Isamaya Ffrench, the British makeup artist. Their collaboration has led to Byredo's makeup line, which launched worldwide on October 1 but was two and a half years in the making.
"[Isamaya and I] first met through mutual friends, and then we would see each other at fashion shows and on a few occasions would share a cab," shares Gorham. "All you had to do was spend 10 minutes with her and you understood that she was cut from a different cloth," he says.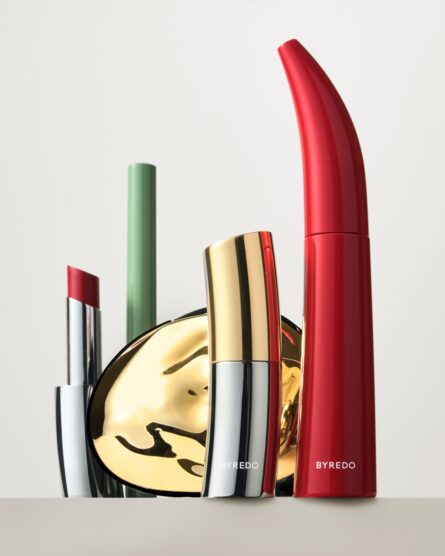 Ffrench recalls, "When I met Ben, I had mixed feelings about doing my own brand because I really felt like I wasn't that interested in the way commercial makeup exists in the world. I found it very repetitive, it's always the same thing, the same products, the same kind of campaign imagery."
Gorham agreed that makeup as a product lacked creativity and innovation—that, as in fragrance, those things had taken a back seat to a very commercial, cookie-cutter approach to development. "I think one of my initial questions for Isamaya was really, 'What would you do if you were completely free and this was yours?' And that became the starting point."
The endpoint is a streamlined collection of just six products which include 16 multi-use colour sticks, 15 lipsticks, lip balm, mascara, black liquid eyeliner, and three eye shadow palettes in futuristic-looking packaging. Byredo makeup has arrived.
_______
Never miss a story. Sign up for NUVO's weekly newsletter here.