A restaurant worthy of the fire gods.
Rising out of downtown Toronto is Kōjin, the newest restaurant from chef David Chang's Momofuku empire. Located on the third floor of the Momofuku Toronto building on University Avenue, Kōjin gives hungry visitors a reason to pass by the brand's popular ground-level noodle bar, ascend the wood and blackened steel staircase, and enter the airy, glass-boxed restaurant for a superb dining experience.
The restaurant takes its name from the Japanese god of fire, hearth, and kitchen—not a stretch given Chang's past use of Asian-inflected nomenclature. What may come as a surprise, however, is the absence of noodles or traditional Korean dishes on the menu. Instead, dishes speak to the Columbian roots of executive chef Paula Navarrete (a chef with Momofuku Toronto for six years), without committing to one single style. The theme of fire, however, is woven throughout—think flame-roasted tomatoes and feta cheese, sizzling prawns with guajillo chiles, and dry-aged steaks seared on a wood-fire grill—and creates an olfactory atmosphere reminiscent of a late summer campfire.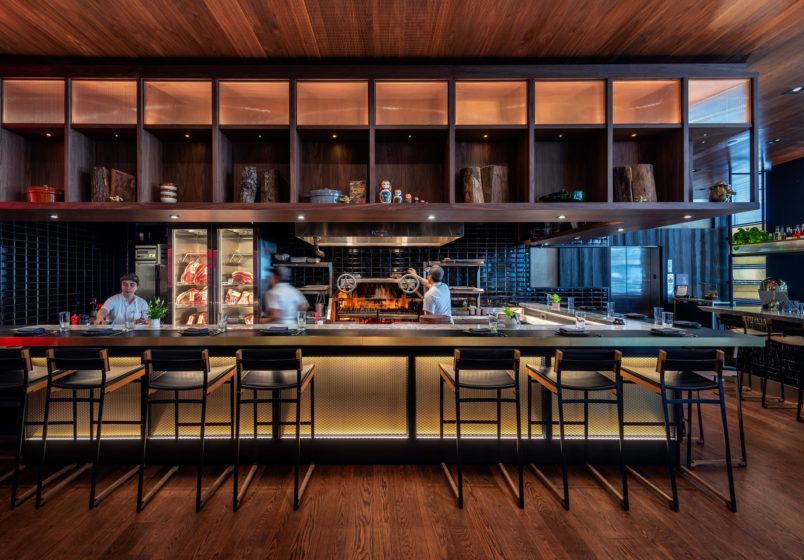 Kōjin is housed in the space that once belonged to upscale eateries Daishō and Shōtō, which Chang shuttered in February of this year. Reopened just four months later in June, the space created by DesignAgency debuted with an earthy wood interior, white marble counters, and U-shaped oxblood banquettes. Adorning the shelves is an eclectic collection of trinkets—traditional Japanese teapots, a Maneki-neko cat, cast iron Staub cooking pots, and adding a personal touch, chef Navarette's own gold Potato Head figurines.
Amplifying the toasty, nostalgic atmosphere is an izakaya-inspired layout, which sees an open kitchen and central bar for observation and conversation between chefs and patrons. "Sightlines were calibrated for high visibility, making it easy for staff to navigate the restaurant, while also establishing an intimate relationship between guests, the kitchen, and the bar," says DesignAgency founding partner Anwar Mekhayech.
Apart from providing a pleasing environment for those inside the restaurant, DesignAgency also wanted to grab the attention of passersby. The key way to do this? Lighting. Backlit textured glass walls emit a warm, inviting glow, while massive custom totem chandeliers from craft furnishing company California Workshop are eye-catching from street-level.
"When I saw Michael Towey [of California Workshop]'s mid-century modern new creations on Instagram, we thought, 'Why not stack them and create these cool fixtures that no one has done before?'" says Mekhayech, referring to the room's centrepieces. "They're the highlight of the space, adding an amazing glow over the dining room through the linen and making a huge statement announcing Kōjin from the street."
Indeed, even if the buzz around this new eatery has somehow managed to elude you, it's only a matter of time before the intoxicating, smoky aromas and radiant glass-walled space have you succumbing to the god of fire.
Photography by Bob Gundu.
Kōjin, 190 University Ave, Toronto, ON M5H 0A.
_________
Never miss a story. Sign up for NUVO's weekly newsletter, here.