Contactless, Automated Restaurant Openings in Toronto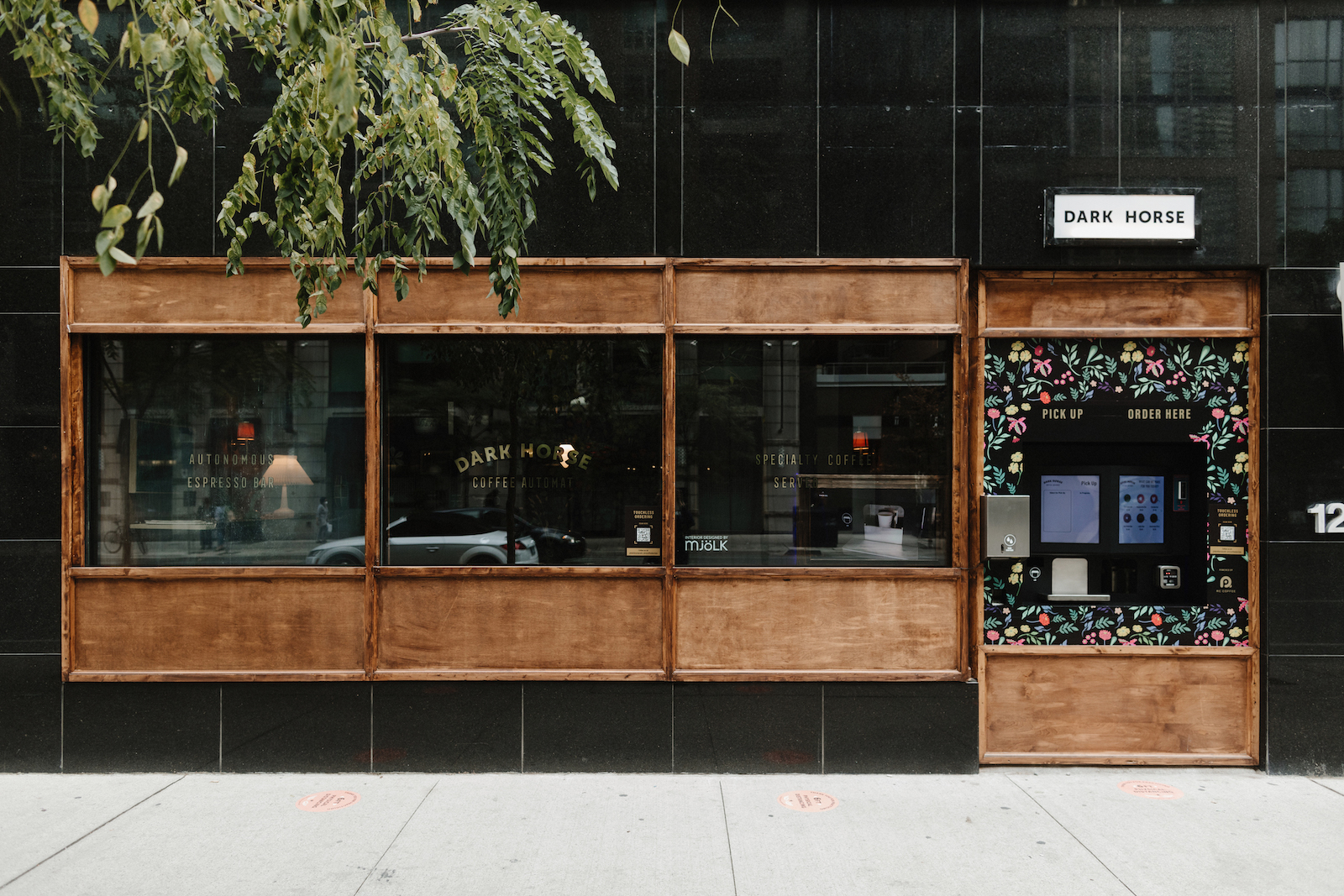 We may not all have flying cars and robotic housekeepers just yet, but slick, contactless, automated hot spots are popping up around Toronto making life in the city a little more Jetsons-esque.
In Yorkville, just a couple of blocks north of Mink Mile at 1235 Bay Street, is Canada's first premium robotic café. Set amongst the shops, restaurants, and office buildings, the charming Dark Horse Coffee Automat is a joint venture between RC Coffee and Dark Horse Espresso Bar.
Its stylish "café diorama" is courtesy of the local design duo behind Mjolk. The designers created a playful story of a beloved 1950s–'60s café forgotten by the city. "Our goal was for people to walk by the café at night with the lights in the window glowing and stop for a moment to look inside, then realize that this isn't a real coffee shop but a coffee automat," says John Baker, co-founder of Mjolk. "We love the Nordic spirit for innovation, and even though this is a cheeky retro aesthetic, it lends itself to the optimism of the technology found at the automated coffee kiosk."
A few quick taps to place and pay for an order on the kiosk's screen, and before you know it (in one minute and 15 seconds, 1:35 for an Americano), the coffee is ready. This isn't weak, tepid coffee; the high-tech Automat is designed to do everything a barista does, from grinding the exact amount of espresso to running water at the precise temperature through it.
The team at RC Coffee, which was launched a few weeks ago, is constantly refining the experience of this pilot project. "We've been focusing on three things: consistency of the drink quality; making the interface more user friendly; speeding up the delivery of the drinks and the reliability of the mechanical parts," says Brad Ford, RC Coffee's general manager of coffee.
The Dark Horse Coffee Automat joins two new contactless restaurants. Box'd, the brainchild of Mohamad Fakih, owner of Paramount Fine Foods, claims to be Canada's first fully automated restaurant, with one location in the Financial District and three pop-ups. The ultramodern Box'd concept revolves around placing an order via app or a kiosk. With a full team of cooks in the kitchen, hidden behind a streamlined wall of digital cubbies, one person prepares the order—the menu is made up of flavours from in the Middle East—sanitizes the cubby, and places the fresh order into the cubby. To access your dedicated cubby, simply tap a button on your phone. "We're eliminating another touchpoint," Fakih explains of this recent tweak. He came up with the idea long before COVID-19 took over our lives, seeing this efficient technology as a way to give people "more time to actually enjoy yourself and enjoy your life," he says.
Also joining the contactless food business in downtown Toronto on King Street East is Cubby, which dubs itself a smart kitchen. Cubby combines five restaurants into one; think burgers and souvlaki from the Charcoal Pit to smoothie bowls and poke from Kai Poke, which eases ordering pains when everyone in the group has a craving for something different. Like Box'd, Cubby involves placing an order by app, on the website, or in person on kiosks, and a screen sends a notification when the food is ready and which cubby to grab it from.
Cubby is minimalistic, mostly black and white with some pops of orange, and as at Box'd, guests are welcomed into the space by a host, who's there to help with any questions or issues placing an order at the kiosk—so the experience doesn't entirely lack human engagement.
This trend toward automated, contactless businesses, while well timed given the pandemic, raises concerns about eliminating jobs and further isolating individuals. Jay Yordi, the CEO at Cubby, Fakih, and the team at Dark Horse all stress that this is not the case. While the Dark Horse Coffee Automat plans to expand to nearly 100 locations across Canada by the end of 2021, it is not a replacement for the Dark Horse coffee shops but an innovation that can coexist with cafés. At Box'd, "we place the name of the chef on each meal so that there is a human element to it," Fakih says, adding that, with regard to jobs, besides the friendly host, Box'd actually requires more staff in the kitchen than in a conventional restaurant in order to turn out the food efficiently. And ultimately, he adds, "eating the food is a way to experience and learn about another culture." Welcome to the here and now of how we break bread.
_______
Never miss a story. Sign up for NUVO's weekly newsletter here.