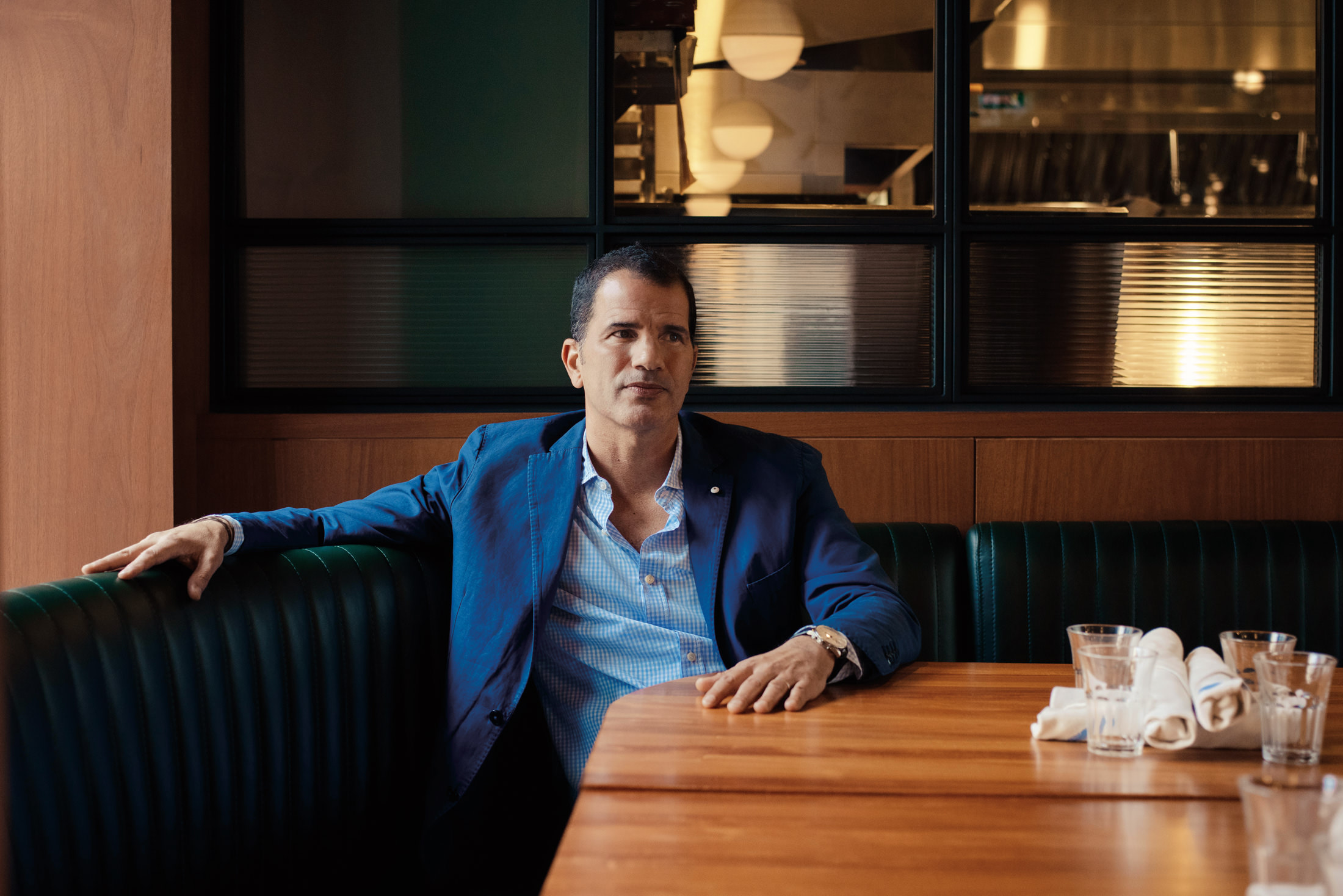 Cosimo Mammoliti isn't the kind of guy who is eager to talk about himself. We've planned to meet one afternoon at his newest venture, an eight-week-old tavola calda (café) called Sud Forno in a smartly updated heritage building in Toronto's downtown core. But the man who can be credited with changing the way Torontonians want to eat—and with a brio that perfectly captures the city's emerging self-confidence—would prefer to be welcoming familiar patrons with a handshake and fetching forks and mineral water than sitting down for an interview.
But this is a big year for Mammoliti, so sit down he does. Sleek and trim at 50 thanks to a strict regimen of running by the ravine near his home four to five times a week and casually elegant in his customary jeans, a blue-checked shirt, with a black pearl on a leather cord from his favourite beach destination of St. Barths wrapped around one wrist, "Cos" (as he's known to his many friends) is the picture of a man at the top of his game.
Twenty-four years married to his Italian-born wife, Elena, and a father of four, Mammoliti is the proprietor of seven bustling Toronto eateries that have become the city's de facto clubhouse/canteens: three Terroni locations (Queen, Adelaide, and Yonge at Price), sister restaurants La Bettola di Terroni and Bar Centrale, Sud Forno on Queen, and the recently opened Sud Forno on Temperance which houses an intimate dining space upstairs. These, along with two Terroni iterations in Los Angeles, as well as Cavinona, Terroni's own wine-importing agency, and La Bottega di Terroni, an online shop selling Italian food staples, bring Mammoliti's total employees close to 800 on the payroll, many of whom sing his praises.
"There aren't many restaurant owners who are there at the pass, hustling plates, and clearing tables, but Cos leads by example," says Patti Shaw, a patron who Mammoliti brought into the fold to handle his PR.
Indeed, Mammoliti gets calls regularly from developers eager to bring his particular brand of magic to their project. Most get turned down because Mammoliti is that rare bird who would rather keep things small and special than simply sell out. One call he didn't dismiss was from the Eataly group, asking him to get involved in a Toronto location, an ambitious 50,000-square-foot locale—Canada's first—of the global Italian food emporium set to open on Bloor Street in 2019, in which Mammoliti is now a joint venture partner, along with the Weston family.
"It blew me away at first when they called," says Mammoliti with characteristic humility. "Now, I'm in a boardroom at Selfridges with Galen Weston and all these New York guys for a meeting." For the fourth son of Rita and Vincenzo Mammoliti, a cabinetmaker who emigrated from San Giorgio Morgeto in Calabria, ending up at the table with Weston still comes as a bit of a surprise. As a kid, Mammoliti preferred playing piano over studying—he briefly considered applying to Juilliard or the Berklee College of Music—but ended up dropping out of high school. ("I just couldn't do school," he says. "I probably had some kind of ADD.")
Cosimo Mammoliti is that rare bird who would rather keep things small and special than simply sell out.
It's been 25 years since Mammoliti, after toiling in the trenches as a bar runner for Dante Rota at Noodles, took a flier on his very own joint—a small Italian grocery/café he opened with pal Paolo Scoppio on the wild west fringes of Queen Street, with four stools and a coin-operated foosball table. There was no real plan, other than that Scoppio, whose family was in the import business, would stock the shelves, and Mammoliti's new girlfriend, Elena, who had just arrived from Italy to learn English, would run the cash register and Mammoliti would make the coffee and panini. "We all did everything," Mammoliti explains. "Everyone we knew came to hang out and play foosball. The gettone [tokens] from the foosball basically covered our rent."
In a brash, nose-thumbing gesture that captures the pair's élan, they named their little storefront Terroni—derogative Italian slang signifying, broadly, "peasant" that nobody would consider putting on a sign in Italy. "Do you know what the word terroni actually means?" the filmmaker Francesco Carrozzini asked me when the topic of the restaurants came up at a party (Carrozzini was in town to show his film about his late mother, Italian Vogue editor Franca Sozzani, at Toronto Fashion Week). "In Italy, it's pretty much like using the N-word."
Even though few in Toronto may have picked up on the slur behind the name of the little hole in the wall, just months later, with the help of a pizza oven, its hip, casual take on the classic Italian corner bar would prove a poke in the eye at the prevailing idea of what exactly a restaurant should be. Says Mammoliti, "Restaurants back then used to be so proper. Working in the kitchen was all, 'Yes, chef!' and white linen tablecloths. When I opened up my own place, I definitely knew what I didn't want."
What Mammoliti did want, aside from something more casual, was to somehow capture the essence of what he had discovered on his trips to Italy. A child of immigrants who was raised on tales and traditions from Calabria, Mammoliti grew up among homesick Italian émigrés who had fled from poverty in post-war Italy. He hadn't actually set foot in the country until he managed to get himself there in his teens.
"At the same time that I dropped out of high school, I fell in love with Italy," says Mammoliti. "When I was working for the Rotas, I would work from September to June, just so that I could spend the summer there [in Italy]. I couldn't get enough of the food, the wine, the beaches. All my friends were Italian, all my relationships were with Italian women."
In a brash, nose-thumbing gesture that captures the pair's élan, they named their little storefront Terroni—derogative Italian slang signifying, broadly, "peasant" that nobody would consider putting on a sign in Italy.
It didn't hurt that at the same time he became obsessed with everything Italian, the rest of us were falling hard for it too. Remember the sun-dried tomatoes and tiramisu of the '80s? On our side of the Atlantic, Tuscan became a descriptor for everything from paint finishes to breads, which positioned the nostalgic first-generation Canadian as the perfect cross-cultural interpreter. As with our romanticized version of Italy, which is infused with a yearning for the rustic and the authentic, what Mammoliti wanted to create with his own joint was something more radically simple. "The fact is it's a cuisine based on three very simple ingredients: olive oil, tomatoes, and basil," says Mammoliti, who regularly peppers his conversation with the words traditional and real.
Much fuss has been made about Mammoliti's stubborn refusal—foodie habits be damned—to supply patrons with balsamic vinegar for their caprese salads, or Parmigiano Reggiano for their seafood pasta. It's spelled out right on the Terroni menu: "All olives have their pits" and "[Pizza] is served uncut." Mammoliti says without apology, "Some things are just wrong. I'm not going to make a pizza with smoked salmon and prosciutto. I'm very hard-headed. It's the Italian in me." But part of what makes Terroni, well, Terroni is its owner's purist insistence that things be done the way they should.
"I bring in San Marzano tomatoes from Italy and eggs from Manitoba for our pasta because the yolks are so yellow, you don't need to add saffron for colour," says Mammoliti, who also selectively imports his extra-virgin olive oil pressed in a traditional manner from Coratina olives from Puglia, and bottled Cerelia water from a spring near Bologna for his diners. He adds, with some pride, "I have a master baker who I bring in three times a year from Italy. In Le Marche [eastern Italian region], I have a dedicated field of the best semolina just for me."
Regular patrons return from trips to Italy to report the food is better at Terroni than it was anywhere on their vacation. If anything, the Italy that so inspired Mammoliti as a teenager may no longer exist. "In Italy now, it's just sad. Cafés will serve cocoa on their cappuccino because their customers ask for it. Ninety per cent of the cornetti in the little bars are brought in frozen. We bake ours at 4:30 every morning."
Every year, Mammoliti goes to the Vinitaly wine fair in Verona with his L.A. partner, Max Stefanelli, to educate his palate and find small producers of unusual varietals from less-known regions. "I'll buy 10 cases from a little guy if it's interesting," says Mammoliti. "I want to introduce everybody to the very best things that are available."
"Some things are just wrong. I'm not going to make a pizza with smoked salmon and prosciutto. I'm very hard-headed. It's the Italian in me."
With the help of his long-time collaborator and childhood friend, architect and designer Ralph Giannone (of whom Mammoliti says admiringly, "I'm sure he gets asked all the time to do other restaurants just like a Terroni, but he would never do that"), the tables of his stylishly appointed restaurants are solid wood meant to last, not veneer; the hand-tiled mosaic floors of his Sud Forno bakeries are inlaid with the words Amore and Passione.
The path from humble beginnings to meetings with the Westons has not been without its challenges. Early on, Mammoliti lost his best friend and partner, Scoppio, to a heroin overdose. Yet he has been able to maintain that precarious balance between dedication to work and a gratifying family life. When asked what makes him most proud, Mammoliti is that rare successful restaurateur who can answer that he managed to make all of his kids' soccer games and concerts, and that he is home for dinner most nights by 6 o'clock.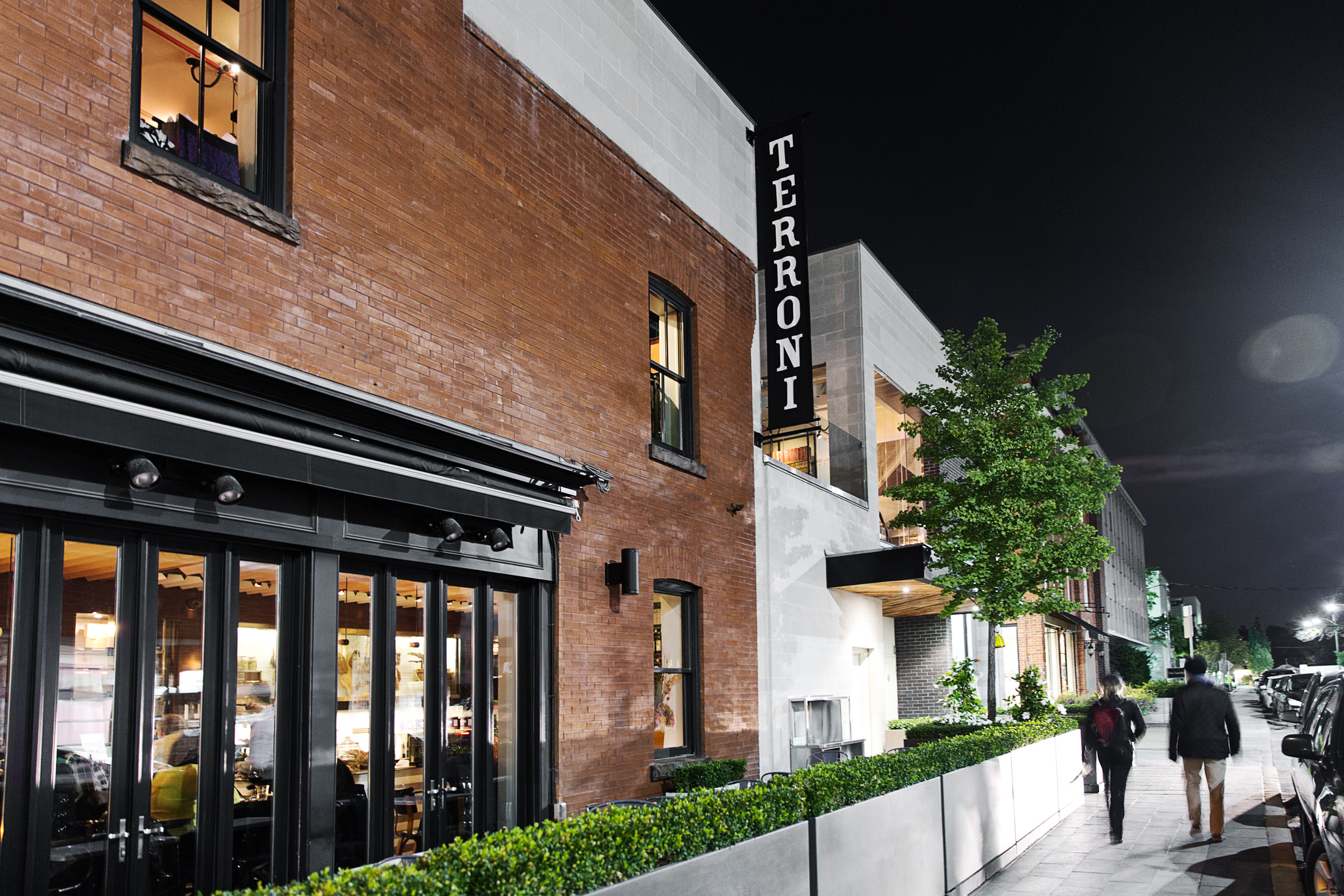 Doing things right, the Italian way, starts at home. Weekdays begin with Mammoliti dropping the kids at school before making the rounds to each of his restaurants. Wife Elena is the publisher of Terroni's eponymous magazine; brother Vince is a key player in operations for the downtown restaurants; sister Anna runs Cavinona and Terroni's uptown location. After the death of Mammoliti's father, his mother, Rita, picked up her late husband's tradition of making sausages for all the Terroni locations, taking the subway down every morning from the little house where she raised her family at Yonge and Eglinton. Quips Mammoliti, "She tells me that if she had known working was so great, she would have started earlier."
Without fail, on Sundays Mammoliti's home is filled with the aroma of his sugo della Domenica, a pasta sauce slow cooked for six hours just like his mother's. The kids, who are now between the ages of 14 and 21, know to be there and that there are no phones allowed at the table. "The thing about tradition is that I can see it in my kids. Now they all want their sugo della Domenica on Sundays too," says Mammoliti with a grin.
It is the ideal, organic outcome for someone who cannot resist playing host, even at his friends' parties. Says Mammoliti, "If it were up to me, I could have a huge table every single night at my house, eating and drinking together." Lucky for us, he does.
_________
Never miss a story. Sign up for NUVO's weekly newsletter.