String quartet as world view.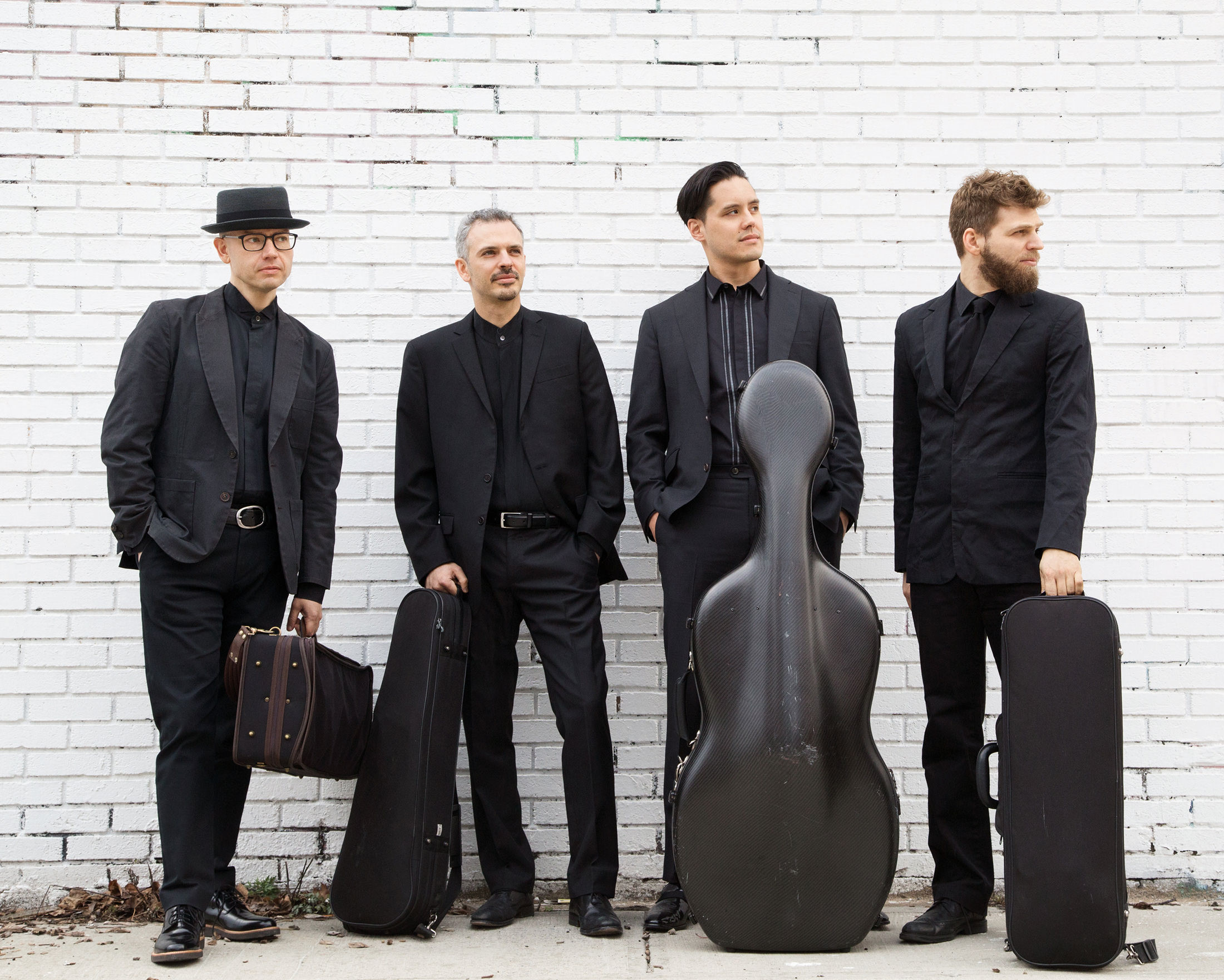 What's in a name? Everything when it comes to Brooklyn Rider.
Who and what the group is can be traced back to a moment some 12 years ago when the members came up with the name of their newly formed string quartet. They had settled in Brooklyn because, as violist Nicholas Cords describes it, "Brooklyn is this great artistic community. It's a dance world, a literary world, filled with different types of music. And we love the idea of those art forms talking to each other and collaborating, which is a lot of what we do." Cords continues, "We were also inspired by the Blue Rider group in Munich, active around the time of World War I, also a collective of artists, musicians, and writers. What we like about and identified with that group is that they cast a very large umbrella in terms of the future of art, not just art as defined by the Academy, but art as world view, championing other artists, art of other cultures, children's art. So we became Brooklyn Rider." The quartet is known for its genre-defying musical choices, playing the string quartet canon while also expanding it through new compositions.
On a midsummer afternoon, Brooklyn Rider—composed of violist Cords, cellist Michael Nicolas, and violinists Johnny Gandelsman and Colin Jacobsen—are in Perugia, Italy, performing with Swedish mezzo-soprano Anne Sofie von Otter (with whom they toured earlier in 2017). Instead of a concert of opera arias arranged for string quartet, Brooklyn Rider and von Otter are performing arrangements of songs by Rufus Wainwright, Elvis Costello, Björk, and Kate Bush, as well as a quirky setting of a Lydia Davis short story, "For Sixty Cents". In the middle of the concert, von Otter takes a break and the quartet dives into Czech composer Leoš Janáček's "String Quartet No. 1", seamlessly embracing string quartet tradition and a more contemporary practice of turning pop songs into art songs.
"You want to do a lot of good things that tradition has set forth," says Cords, "but it was important for us to do something new."
Why do they so love to collaborate? "I think it's just been part of our DNA since the very early days," says Cords. The quartet's collaboration gene was stimulated when three of the members were also playing in Yo-Yo Ma's Silk Road Ensemble, which they continue to be part of. There, they met Persian spike fiddle player Kayhan Kalhor, with whom they made a CD 11 years ago and continue to tour around the world. Since then, they have gone on to play with Irish fiddler Martin Hayes, jazz saxophone player Joshua Redman, and banjo wizard Béla Fleck, to name just a few. And the collaborations include visual artists as well as dancers. This year, they will be touring with choreographer/dancer Brian Brooks and Wendy Whelan, former principal dancer with the New York City Ballet.
"We like being put into other places that might be slightly out of our comfort zone," Cords says, "but when you work in collaboration, it's an instant trust-building place and the generosity of those guys in bringing us into their world—it's just an incredible learning opportunity. Hopefully it's a two-way street, so what you actually end up creating in the middle space is something that is totally unique…and not derivative of one or the other." As a New York Times reviewer once wrote of a Brooklyn Rider concert: "To borrow a term from the world of sports, this isn't crossover. It's cross training."
From the beginning, the group wanted to go its own way. "You want to do a lot of good things that tradition has set forth," says Cords, "but it was important for us to do something new. But not just because we said that that's what we want to be. I think it really came from a place where all of our interests lie, and then trying to leverage that and figure out how that aligned with the world of the 300-plus-years-old tradition of the string quartet. That's been the adventure of the past 12 years—figuring that out."
They collaborate, they compose, they seek out music from other genres and make it their own, and they play Beethoven with freshness and virtuosity. The world is their stage, and they command it with joy, curiosity, flexibility, and openness. "You imagine it, you can go and do it," says violinist Gandelsman. Whatever it is they will imagine and do will continue to shape the future of classical music for as long as these Brooklynites ride.
_________
Never miss a story. Sign up for NUVO's weekly newsletter.