Penfolds' Aevum Imperial Service Ritual
A museum-quality decanter.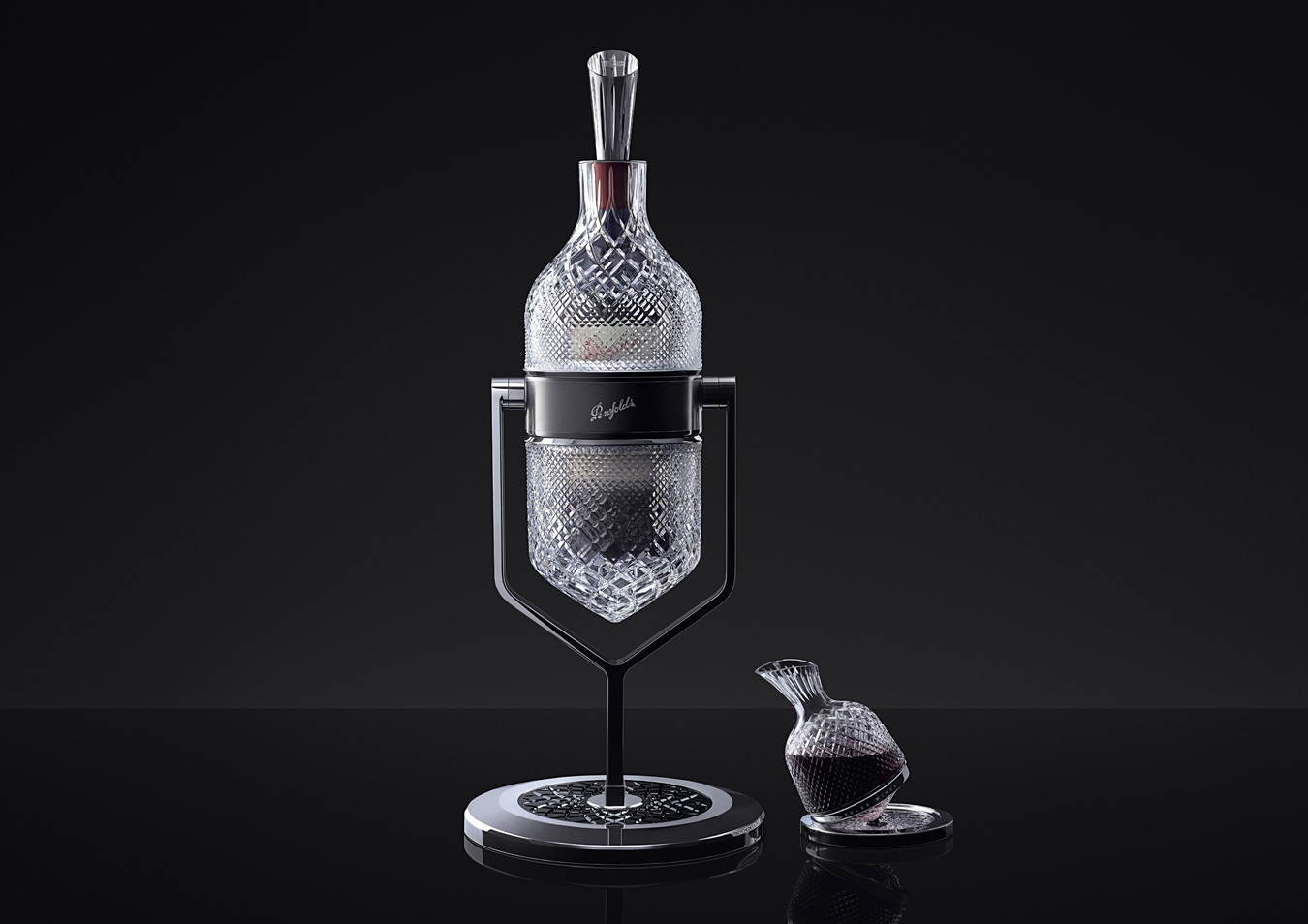 Under the watchful eye of one of Saint-Louis' master glass cutters, Peter Gago is dipping the side of a tumbler onto a cutting wheel, trying to make an incision within a geometric grid that has been drawn on the surface. "It's tougher than it looks," says Gago. Standing here facing a rotating blade, I gain a full appreciation of the meaning of "cut crystal".
The quiet village of Saint-Louis-lès-Bitche, in northeastern France, is where some of the world's most beautiful crystal is produced. Surrounded by sand, forest, and water—essential ingredients for the production of crystal—Saint-Louis-lès-Bitche is home to the factory of La Cristallerie de Saint-Louis, one of its foremost creators. It is here that Gago, chief winemaker for Penfolds, is being given a tutorial in cutting crystal.
Australian winemaker Penfolds is collaborating with Saint-Louis on a project that celebrates the winery's latest release: its 2012 Grange in the very limited edition Imperial size (a six-litre bottle). To appropriately honour this special format release, Penfolds worked with Saint-Louis to conceive a decanter that would elegantly display the Imperial. The Penfolds Aevum Imperial Service Ritual is an impressive feat of craftsmanship, designed in such a way that a gentle tilt of the vessel allows for the perfect pour. Gago explains the thinking behind such a grand expression. "When we decant a wine, we aren't just pouring it, we are liberating it. This is the ultimate celebration of our Imperial format, and the ultimate expression of the theatre of wine and tradition of decanting."
The Aevum Imperial Service Ritual stands at over one metre and weighs roughly 50 kilograms. Only five of these decanters have been created, and the vessel is Penfolds' most elaborate and expensive offering ($185,000 Australian each, which is about the same in Canadian dollars) to date. "The majestic service ritual and sense of occasion are part of the enjoyment of wine and the fabric of Penfolds," stated Gago at the reveal of the objet d'art at Hôtel Salomon de Rothschild in Paris. There was a collective ooh when the dazzling diamond-cut crystal, a hallmark of Saint-Louis, was revealed. Upright and under lights, it was as if a glamorous light show had engulfed the concealed Imperial of Grange. Penfolds spent more than two years with Saint-Louis, getting the decanter just right. The Aevum is extraordinary, but equally enchanting is a smaller hand-held decanter, for a 750-millilitre bottle of 2012 Grange, also produced by Saint-Louis, that's designed to swirl on its magnetic base. Perched at an angle, the shimmering decanter releases a galaxy of colour when twirled.
"When we decant a wine, we aren't just pouring it, we are liberating it," says Peter Gago. The Aevum Imperial Service Ritual "is the ultimate expression of the theatre of wine and the tradition of decanting."
Saint-Louis crystal vibrates with all the talent it has inherited over 400-plus years. The village of Saint-Louis-lès-Bitche was built and developed around the crystal works factory, and the parochial village has carried on its cultural heritage for centuries, from generation to generation. The fire burns continuously at Saint-Louis, with the kilns in constant operation. Working in small groups, the glassblowers are like fire dancers who are wordlessly in sync with each other, blowing, cutting, trimming, and moulding as the product takes shape before it is left to cool. Afterward, the works are sent to the factory's cold area, where cutting, engraving, gilding, and polishing take place. Saint-Louis is known for its intricate crystal-cutting techniques, and it is here in the cold area where master cutters expertly chisel and where Gago, having tried his hand at the craft, is in awe of the precise gestures of the master cutters.
The Penfolds Aevum Imperial Service Ritual has a dizzying number of cuts—more than 1,800—that contribute to the brilliance of the object. The winery has a penchant for luxury packaging that gains plenty of attention. In 2012, it released the Ampoule, a hand-blown glass vessel sculpture (in an edition of 12) holding a rare Block 42 Kalimna Cabernet Sauvignon 2004. All were sold ($168,000 Australian each). Of these collaborations, Gago says, "This is a way in which we can tell a different narrative—an unforgettable visual experience and sense of occasion—and to craft a journey of ritual, a union of heritage and tradition."
Founded back in 1844, Penfolds is the oldest wine brand in Australia and is now the crown jewel in the vast portfolio of giant wine corporation Treasury Wine Estates. It's based in South Australia, where the kangaroos are regarded as grape-nibbling pests. Its flagship, Grange, is the most collectible wine on the continent, with a long track record at auction. Unlike most of the world's iconic reds, it's a multivineyard, multidistrict blend, yet it has a distinctive personality and a great story.
The first vintage, 1951, was an experiment: then-winemaker Max Schubert's attempt to create a great Australian wine to challenge Bordeaux's first growths. It was mostly shiraz, with a splash of cabernet sauvignon. Penfolds tried to sell it in 1952. It wasn't an immediate success; rumour has it a doctor suggested it would make a great anaesthetic. Yet time proved Schubert's experiment right.
Sixty-plus years later, Grange is in huge demand and is officially listed as a Heritage Icon of South Australia, demonstrating the synergy between shiraz and the region's soil and climate. Penfolds Grange displays fully ripe, intensely flavoured and textured shiraz grapes along with a nominal percentage of cabernet sauvignon (in some years), in combination with new American oak. With the 2012 Grange, the result is a powerful wine of 98 per cent shiraz and 2 per cent cabernet sauvignon from the Barossa Valley and McLaren Vale.
Purchasing the Aevum Imperial Service Ritual at the Magill Estate Cellar Door in Adelaide gets you a behind-the-scenes experience: a first-hand look at the Aevum and taste of the wine with the winemakers. Why not experience the underground drives and see the original hiding spot of Schubert's hidden Grange. When it comes to shipping, a Penfolds ambassador will accompany the delivery anywhere in the world.
The 2012 vintage is the latest to enjoy perfect scores from wine critics, and Gago asserts that it can be drunk right away or cellared for at least a half century. For today or tomorrow, this is one grand Grange.