The Tradition of Viennese Balls
It's almost 5 a.m. on a cool December morning, and a small group is huddled on Vienna's historic Ringstrasse, dressed extravagantly in satin and lace. The women sport elegantly coiffed updos, the men wear black suits, and the scene could appear in a centuries-old fairy tale save for the grilled Viennese sausages and cans of Coca-Cola clutched in their hands. This is the traditional final stop for many during ball season—a würstl stand for a late-night snack.
From coffeehouse culture to opulent operas to the Viennese waltz, Austria holds on tightly to its traditions. The concept of "the ball" started gaining mass popularity around 1814, during the Congress of Vienna when dancing and music flourished. These days, thousands of Austrians and international guests dust off their finery and dancing shoes to attend one of the 450 balls that are held annually in Vienna. The season is in full swing from November to January, and the ticketed events are no less than extravaganzas: big in budget, varied in theme, and immaculately organized. There are committees, printed pamphlet invitations, and box seats for the big spenders—even seamstresses on-site for sartorial emergencies. And though each ball begins with the utmost formality, most dissolve into a rollicking party, with the last attendees retreating in the early morning hours. (To dine on goulash or sausages while the morning-after sun rises is the ultimate mark of a successful night.)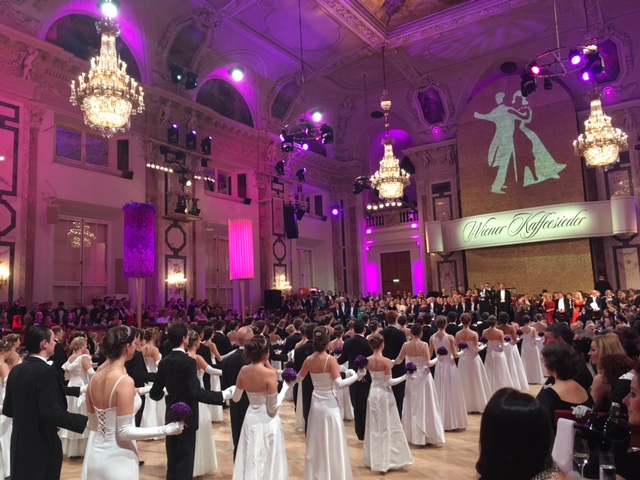 "Everyone likes to dress up, so [most women] own one ball gown," says Alexa Brauner, a Viennese guide and frequent ball goer. "It is a chance to be a princess—if only for a night." Ball themes vary greatly and are often tied to who is organizing: there is a Lawyers' Ball, a Flower Ball, and a Vienna Philharmonic Ball. The Hunters' Ball (a.k.a. the Jägerball) requires guests to wear fancy dirndls; the modern Wiener HipHop Ball permits white tuxedos and sneakers.
The most famous is the Vienna State Opera Ball, which draws over 5,000 attendees, including members of the Austrian government along with a handful of celebrities. (Each year, wealthy Austrian businessman Richard Lugner pays a large sum for a beautiful celebrity to be his date; past belles have included the likes of Carmen Electra, Sophia Loren, and, last season, Brooke Shields.)
Thousands of Austrians and international guests dust off their finery and dancing shoes to attend one of the 450 balls that are held annually in Vienna.
At this past February's Coffeehouse Owners' Ball—the only one to use all of the historic ballrooms in the dramatic Imperial Palace—the scene begins, as it does at every traditional ball, with the debutante dance. Ballgoers gather in ringside box seats sipping champagne, with more clustered behind them, to watch a large group of 16- to 20-year-olds waltz with nervous grace. Dressed in a long white gown and gloves, each woman enters the dance floor on the arm of a tuxedoed escort to the sounds of the "Fächer-Polonaise" by Carl Michael Ziehrer, the chief conductor of the imperial court, which is played at practically all opening ceremonies. The dancers' palms and brows might be sweaty but their performances are precise and well rehearsed. (In Vienna, it is tradition—not just for elites—to learn formal dance at the age of 15 or 16.)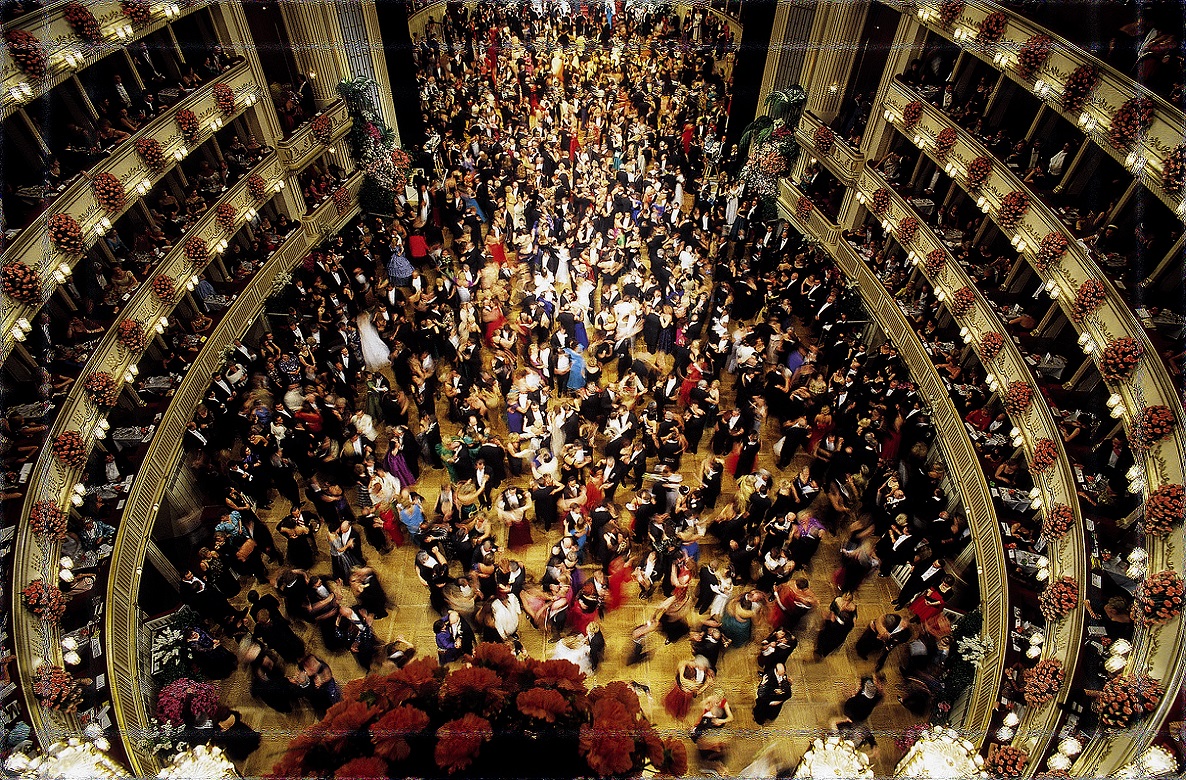 Sweeping counter-clockwise across the floor, the dancing duos create a kaleidoscope of black suits and white dresses. Excitement levels are high; one woman in the crowd faints within 10 minutes, and a male dancer does a few minutes later. The two are whisked away discreetly—doctors are on hand—making way for the Vienna State Opera Ballet to perform. Attendees, too, step in to dance the night away while taking breaks to eat, drink, and "promenade" (also a tradition). With posture straight and makeup perfectly applied, guests stroll through the venue, cocktails in hand, to take in the elegant crowds.
There is one man who the Viennese look up to as the king of proper behaviour: Thomas Schäfer-Elmayer. The 70-year-old heads the most famous of Vienna's 30-plus dance and etiquette schools, Elmayer Dance School—his grandfather founded it in 1919. "Viennese waltz has one main advantage," he says sagely during a lesson. "It is very easy to learn: it is just six steps that you repeat all the time." The gracious Schäfer-Elmayer traditionally opens the Coffeehouse Owners' Ball with a formal speech and at last year's ball he did just that, with his usual aplomb.
At the end of the opening ceremony, Schäfer-Elmayer calls out into a microphone from the stage, with a flourish: "Alles Walzer!" ("Everybody waltz!"). The speakers blare music and the crowd is off, as if a race has begun, streaming from their seats to join in the sea of dancing steps.
For a full schedule of this season's balls click, here.