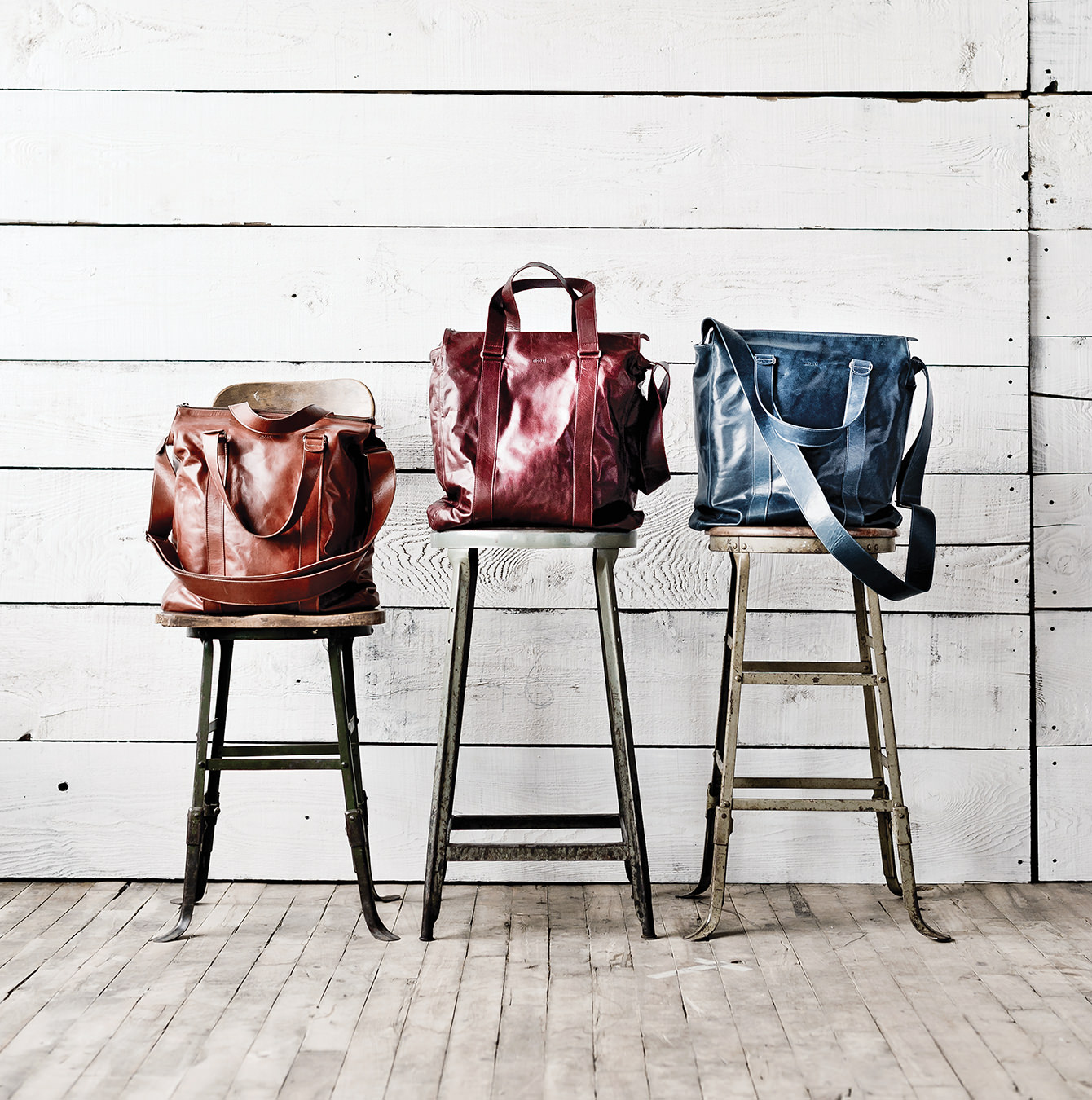 Frédéric Mamarbachi is days away from becoming a grandfather. Of his daughter Faye, who is pregnant with twin boys, he predicts, "She could give birth any time now."
The 61-year-old is the founder, creative director, and all-around mastermind of international lifestyle brand m0851. Characterized by half a head of hair à la Einstein, Mamarbachi's facial features are soft, friendly, and weathered like his voice.
Enveloped in the affluent scent of leather, the self-taught businessman weaves through the design studio to the offices at the company headquarters in Montreal's Mile End. In lieu of cubicles, long communal tables connect employees' desks. Mamarbachi's computer is somewhere in the non-hierarchical middle.
With the corner of his eyes crinkling just so, Mamarbachi (or Frédéric, as everybody calls him) says of their strategic branding, "We don't push our name to become overexposed. Instead of having un coup de foudre [love at first sight], I prefer if people like us a bit in the beginning and more and more every year."
The company's pared-down Scandinavian designs made of choice leathers married with made-in-Montreal craftsmanship result in merchandise that lasts seemingly forever—and, like the hackneyed fine-wine catchphrase, only gets better with age. Faye, 34, who is potentially her father's right arm but on paper heads communications and PR, explains how this slow-build romance is key to the company's success. "People get attached to the product over time," she says, "because it's an extension of who they are and their own experience."
Celebrating its 25th anniversary this year, the m0851 empire shows no sign of slowing down. Not a fashion brand buoyed by trends but a lifestyle brand built on word of mouth, the Mamarbachi touch has most recently spread to Japan and is expanding in Europe and the United States. m0851 has a global reach in more than 200 stores, including 20 eponymous boutiques in Montreal, Vancouver, Toronto, Calgary, New York, Hong Kong, Paris, Antwerp, Tokyo, and Osaka. The most ambitious plan to date is the China launch, for which 12 boutiques are on the horizon, the first set for Beijing in March 2013.
The third child of five siblings, Mamarbachi was born in Beirut and enjoyed a privileged upbringing in Syria until political powers "confiscated" his father's properties in the late 1960s. Eventually, the family arrived in Montreal, and within three weeks, Mamarbachi had opened a shop in Place Bonaventure selling imported leather goods. One store soon blossomed into four, and the young entrepreneur began to manufacture his own bags under the label Le Sellier. Then came wholesale, and within a few years, "If I went to a mall, there were at least 15 stores that had my label," he recalls. In time, Mamarbachi ventured to New York and added Barneys and Bloomingdale's to his client list.
Rugby North America (a precursor to m0851) was born in 1987. Mamarbachi was ready to take his own designs to the next level and chose a name that he admits was a nod to Ralph Lauren's Polo. Its current moniker, m0851, is more esoteric: m for his initial and the numbers for his birth month and year.
Faye, whom Mamarbachi has crowned "the new spirit of the business," offers a very logical explanation on the global acceptance of the brand: "It is more mathematical than artistic. It's not just about beautifying a product but making it utilitarian. Our bags are as functional and charming on the inside as they are on the outside."
After China, what's next? Mamarbachi is tinkering with the idea of manufacturing furniture and designing interiors, and expanding his wood shop. Sweeping the air with a gentle arm, he points out, "Everything you see here is made by us. We've been selling this fauteuil [armchair] for the last 20 years in our stores." And on Faye's to-do list: "Possibly m0851 resorts, guest rooms, and hotels." There are already m0851 guest rooms—three of them—above the store in Antwerp.
Mamarbachi's design philosophy is dictated by his personal manifesto: simple life, simple living. For a man who seeks and is inspired by simplicity, from where comes this relentless drive to grow in distant corners of the world? "This is a good question," he responds, and explains that his competitive nature is inherent. "I want it [m0851] to be big enough to be enjoyable, but not too big in order for it to become a heavyweight." He pauses, then finally decides, "You cannot let something you've built not grow just because you'd like it to stay a baby."