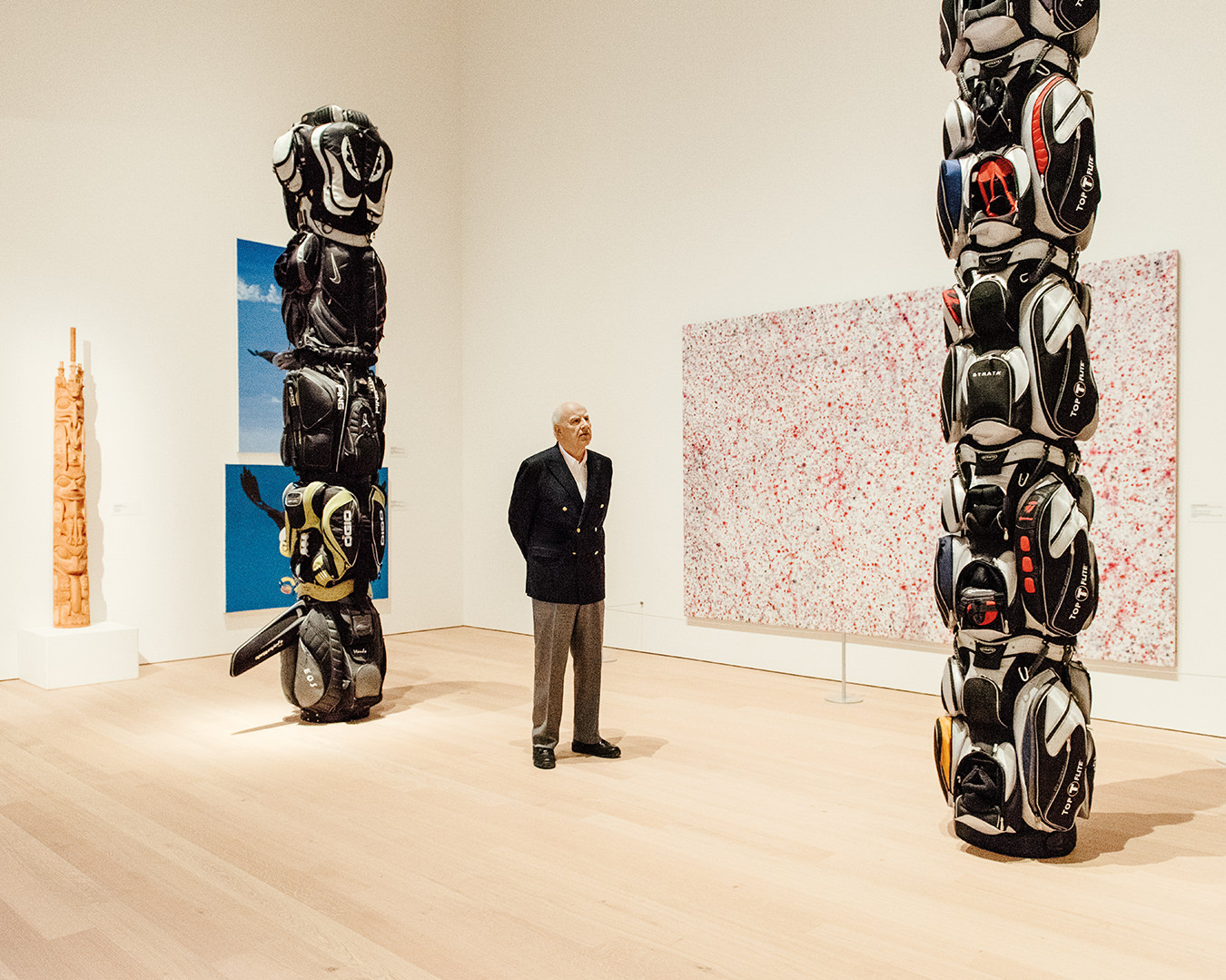 For much of his childhood, the philanthropist and developer Michael Audain had no proper home of his own. The Second World War had scattered his family, leaving the young Audain bouncing from one U.K. school to another. Life had a groundless, ever-shifting quality. And so it was just one more move when, in 1946, his parents packed him up, together with two cocker spaniels and 26 pieces of luggage, and left for Canada. The lot embarked from Southampton and sailed across the Atlantic. After the crossing, they rode the rails west until there was no more land. (Audain, then nine years old, was in charge of walking the dogs at each station.) And when the train pulled into its final destination early one morning, the Audains immediately boarded a steamship, the 300-foot-long SS Princess Victoria, and set off for the province's capital. Audain had never seen such a landscape: sublime smoke-blue mountains, the relentless tracts of forest. Finally, as the steamer angled into Victoria's painting-perfect harbour, his father pointed and said, "We're home now. This is heaven."
It certainly was for the Audain clan. Before the war, members of the family had lived there for generations, and their patriarch, Robert Dunsmuir (Audain's great-great-grandfather), was a 19th-century coal baron who—in a show of mighty extravagance—built a Romanesque castle called Craigdarroch Castle upon 28 acres of gardens barely a kilometre from where the SS Princess Victoria docked. (The grounds have since been subdivided into smaller lots and developed, while the castle itself is a tourist stop, with 150,000 visitors each year; Dunsmuir himself never got a chance to visit—he died a year before its completion.) Years ago, I mentioned the castle to Audain at a lunch and he told me, "I was not, though, born with a silver spoon in my mouth. Despite what people seem to think."
There were certainly some advantages: studies at the London School of Economics and the University of Lyon, for starters. But there was also a committed sense of duty. Audain was arrested while battling racial segregation in Mississippi, founded the Nuclear Disarmament Club at the University of British Columbia, organized peace rallies in the 1960s, and—at 25—helped found the British Columbia Civil Liberties Association. (The group's first meeting, in fact, took place in his living room.) Here was no simple scion.
Today, in his capacious office at the Fairview headquarters of Polygon Homes in Vancouver, Audain—78 years old—is courteous and witty. One might call him "grandfatherly" if one forgot that he is chairman here; Polygon, which he founded in 1980, is one of the largest home builders in the province, and Audain's fortune can be credited to his ability to capitalize on the local real-estate boom over the last several decades.
"That's the boat," says Audain, pointing to a canvas hanging behind his desk. It's an E.J. Hughes painting—a charming water scene. We walk over and I see that it's the SS Princess Victoria—the boat that brought him as a child to his new home. It is one of the few Hughes works that includes people; there are dozens of them, crammed happily along the boat's decks. This is one work among hundreds that make up Audain's highly celebrated (and profoundly valuable) art collection. Outside his private office, in the lobby, the conference rooms, the hallways, there are more, works any gallery would beg for. I'm struck by enormous paintings by Jack Shadbolt and Gordon Smith just two steps out of the elevator.
The collection speaks to Audain's abiding commitment to the "heaven" his parents brought him to. Since 1963—when he purchased a couple of Michael Morris and bill bissett works on paper for about $40 each—he and wife Yoshiko Karasawa have amassed a 200-year history of the art made here—though the purchases have since grown rather more ambitious. (Not long ago, Audain messaged me: "Ummm… this evening one of the thrills of my life was making the winning bid at Christie's on Jeff Wall's 1991 light box The Crooked Path, which we will repatriate.") The bidding war had raced well above the estimate by Christie's of £300,000 ($498,000 at the time of purchase); Audain's winning bid was £482,500 ($804,167).
The 200-piece permanent collection at the Audain Art Museum is made entirely of B.C.-made art so that, in Audain's words, "It will tell you something about who we are."
Audain and Karasawa's collection does include foreign artists like Mona Hatoum and Adel Abdessemed. But its real strength lies in its ability to corral centuries of art-making that speak to the landscape of British Columbia. It boasts a very fine group of historical and contemporary First Nations masks along with Emily Carr and Group of Seven canvases, but it also traces that history all the way up to contemporary titans like Wall, Rodney Graham, Geoffrey Farmer, and Brian Jungen. What holds the collection together is the commitment to place—this single originating soil of B.C., which has been freakishly fertile in terms of producing artists over the years. When Audain visits New York, they ask him, "Don't you have any Warhols?" And he does. But his real interest has been in building a profound collective portrait of his home, in presenting its multi-layered histories and even the conflicting views of its inhabitants, the beauty, the import, and the depth of this particular corner of the world.
This spring, that vision became powerfully public when the Audain Art Museum opened—its 200-piece permanent collection is composed entirely of B.C.-made work so that, in Audain's words, "It will tell you something about who we are."
Audain had his pick of seven sites for the museum but settled at last on a plot of land a few steps from Whistler Village. He had decided in advance that the site should be forested, the better to reflect the collection's ties to the natural environment of B.C. And so, celebrated architects John and Patricia Patkau were handed a mixed evergreen forest near Fitzsimmons Creek. In fact, the site encroaches on the creek's flood plain, so the museum they designed sits on piers, hovering above the land in a grand gesture of accommodation.
One approaches from Blackcomb Way, crosses a bridge, and walks through the preserved forest toward a porch-like front door. This raised and sheltered entrance encourages a dramatic transition from the quotidian world of Whistler to the esoteric world of fine art. An enormous bank of windows dominates the structure and looks out onto a wild meadow of grasses, with fir and pine beyond. But, as natural light is death to paintings, the permanent-collection galleries are completely cut off from the outside (the temporary exhibition galleries are given controlled natural light). And so one moves between controlled, curated spaces and a single enormous glazed walkway that ferries visitors between the various galleries. "You move," says John Patkau, "between art and nature, nature and art. You'll see a magnificent Emily Carr painting and then step into the kind of forest that inspired her work, and back again. The building encourages this interplay."
Looking back from the meadow, all this is encapsulated in a sort of lantern—a 56,000-square-foot lantern. Interior spaces, clad with hemlock, glow through restrained apertures, so that the stretched-out, linear building appears to match the shadowy colouring of the forest around it while hinting at interior treasures. The Patkaus are phenomenal architects (winners of 15 Governor General's Medals in Architecture alone) and this is a truly extraordinary building—one worthy of its holdings.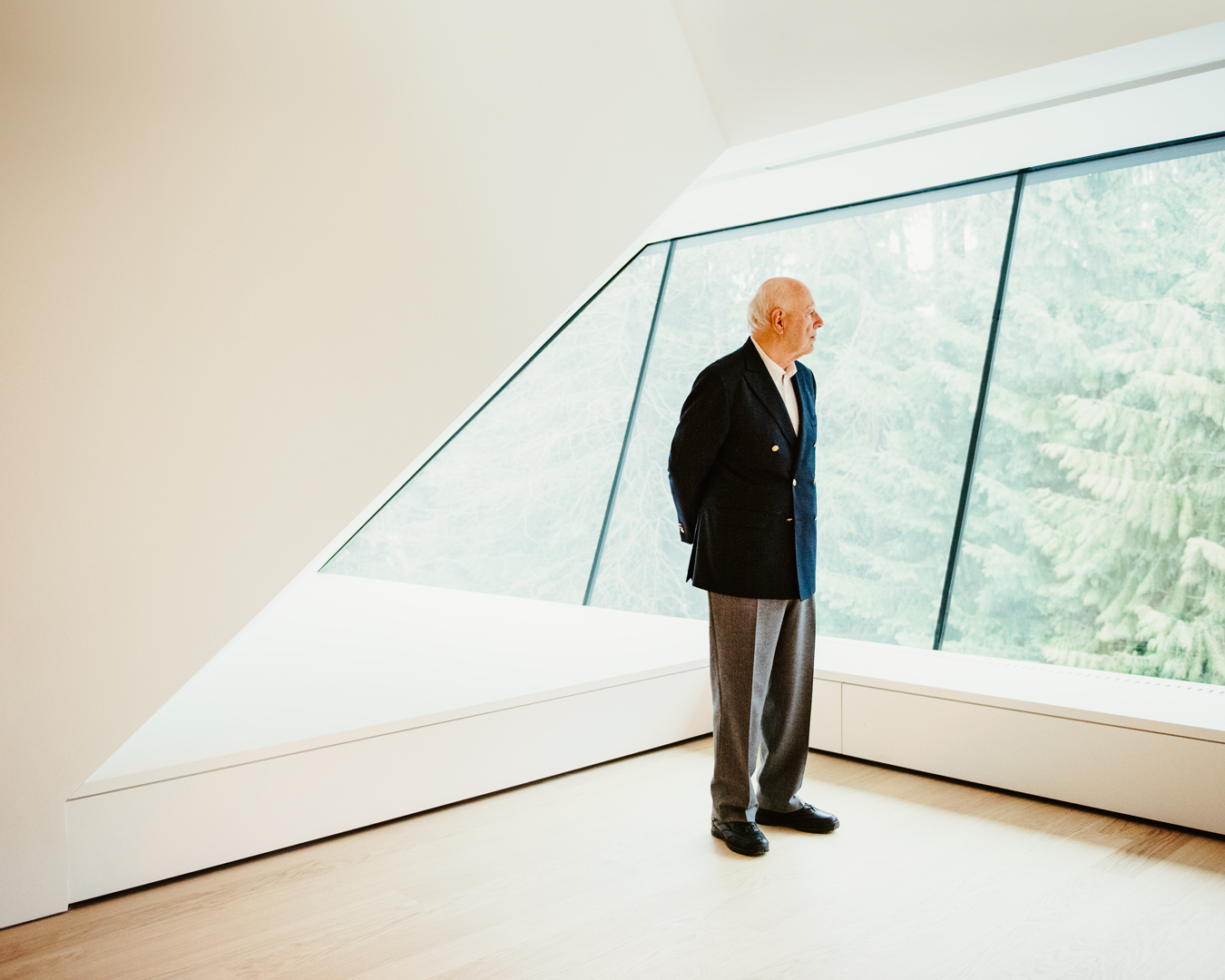 Chief curator Darrin Martens and executive director Suzanne E. Greening are managing more than a permanent collection; half of the space is devoted to temporary exhibitions. The first, Mexican Modernists: Orozco, Rivera, Siqueiros, and Tamayo, comes from Audain's modernist Mexican collection and future temporary exhibits will be loaned from other institutions. (Up next is Faces and Places: Masterworks from the Beaverbrook Art Gallery, which will open on June 18.)
Even before its contents are considered, the physical building itself represents a $42-million gift from the Audain Foundation, which has given away more than $100-million of Audain's fortune in visual arts grants (including $5-million each to Emily Carr University and UBC). Marc Mayer, director of the National Gallery of Canada, calls the museum's creation an "extraordinary" thing in the course of Canadian culture. "This goes beyond generosity," he says. "It's a brilliant thing to have done, building a museum as a private citizen. It's just huge. I have to say congratulations to you guys in B.C. But it's really big news for the entire Canadian art world." There are barely any comparable cases in Canada, where wealthy collectors have made such an effort to allow the public to enjoy their art. Ydessa Hendeles had a smallish but revered museum in Toronto that closed in 2012; Bob Rennie's collection in Vancouver produces fantastic contemporary shows, but these are only open on select dates and by prior booking. To Whistler, to B.C., and to Canada, the Audain Art Museum represents an almost singular act of charity. It's an act entirely in keeping with Audain's attitude toward his fortune—he is that rare example of an extremely wealthy person who believes the wealth belongs to the community as much as to himself.
The collection's real strength lies in its ability to corral centuries of art-making that speak to the landscape of British Columbia.
"I am just a temporary custodian of these works," Audain once told me. "Ideally, they will all be gone by the time I die." At the time, he figured the collection would end up in museums. He never dreamed they would end up in his own. Indeed, a couple of years ago it looked far more likely that the money spent on the Audain Art Museum would go toward funding the new, yet-to-be-built Vancouver Art Gallery. But that building's construction (it will be designed by Herzog & de Meuron) has been mired in an organizational and bureaucratic morass and, in the end, he says, "We decided to go ahead and do our own thing. I wanted to do it while I was still alive and kicking. I wanted to see it happen." Audain has supported the VAG in the past with the donation of many artworks, including three pricey Jeff Wall pieces. He remains a strong supporter of a new VAG and still plans to make a significant donation toward the new building. He has great sympathy for the growing pains the institution is going through: "It's harder to find a site in Vancouver than it is in Manhattan," he tells me. "And I know Manhattan quite well." As for the switch from a public gallery gift to the establishment of a private museum, Audain also realized, "the work would otherwise end up in the basement, since most museums around here are so full. We wanted the work seen. It would have been great if we could just invite everyone to our house in West Vancouver. But our neighbours wouldn't have appreciated the parking problem, I guess."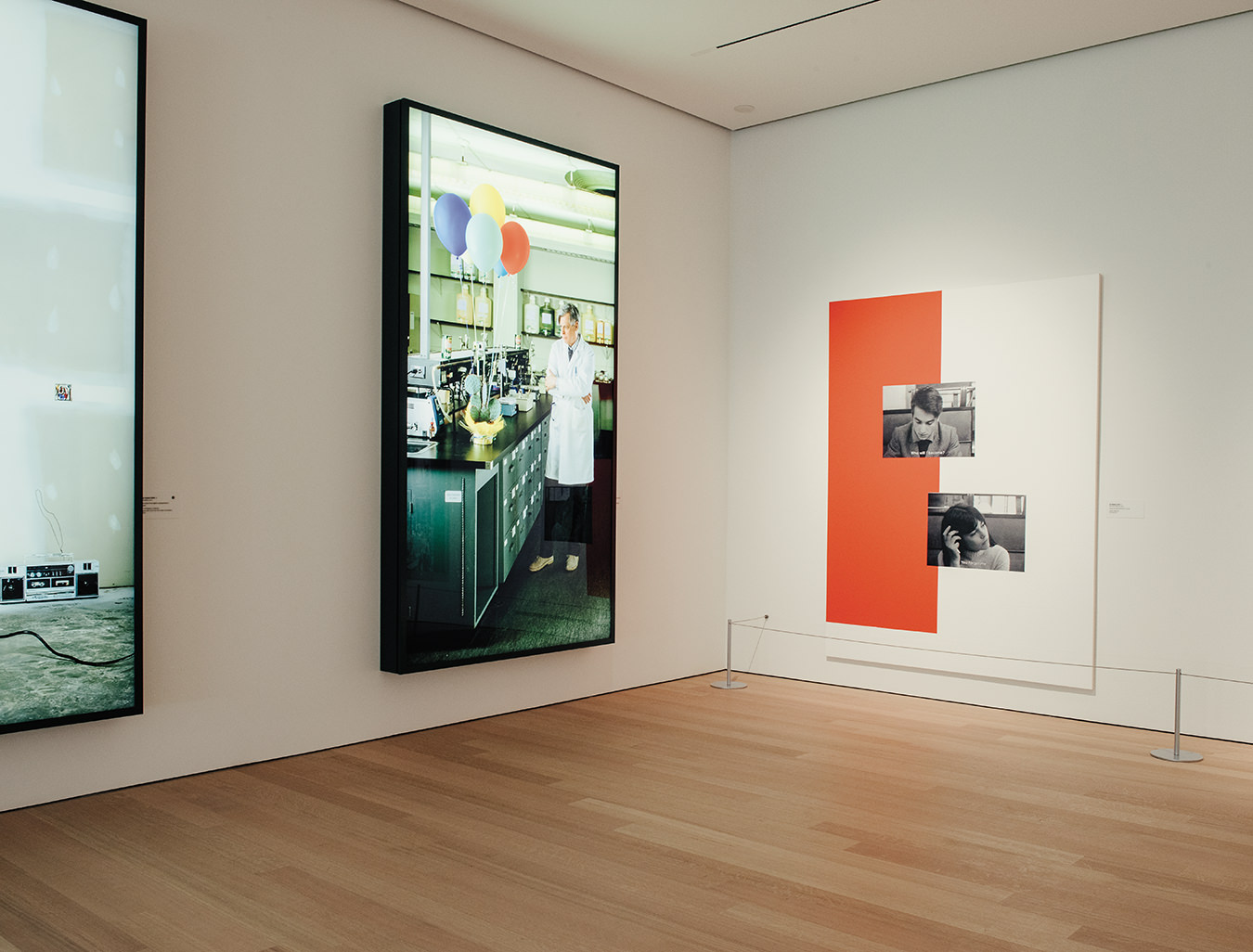 Audain's grandson recently asked him, "Granddaddy, aren't you going to miss the pictures?" And he replied, "I can see them all, in my mind." This was no hyperbole. Audain has a bizarrely accurate memory for art. He has no memory for names or poetry, for example, but he can remember in photo-realistic detail works he's seen at institutions around the world. I ask him how far back the memories go. When he was 15, there was an exhibit he walked into while strolling down Piccadilly—a Russian art exhibition. "I'm looking at those paintings right now…" says Audain. And he shuts his eyes.
Marc Mayer of the National Gallery of Canada says that British Columbia's art community is one of the most successful in the world. "You have these aggregating cities like London and New York, but then you have places with local scenes that are hot. The hottest in Canada is Vancouver. There's just a smarts about the art world there. From the time I started in this line of work, in the 1980s, you would hear French curators gossiping about which artists are sleeping with which in Vancouver. For years, people have been making extraordinary work there, from Aboriginal carvings right up to today. But the larger society is not aware how highly regarded Vancouver is around the globe. Today it's Geoffrey Farmer, Brian Jungen. It's a phenomenon, and I don't think most Canadians know about it."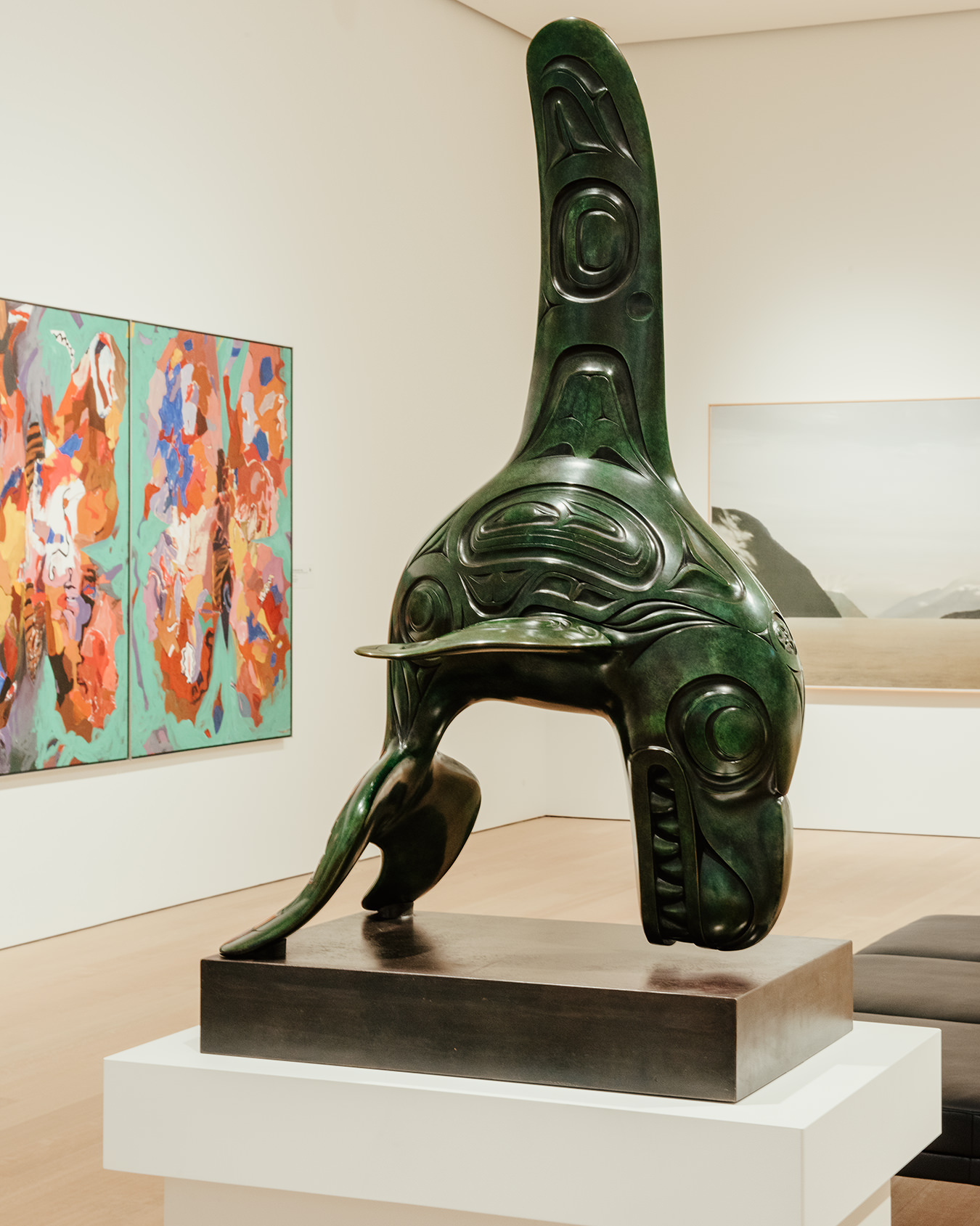 Perhaps they will now. But then, Audain would have built his museum even if the rest of the world wasn't clamouring for it. His love for the place is personal. He tells me about the time, as a boy in Victoria, he was walking home from the Crystal Garden swimming pool, and he overcame his shyness and asked a sculptor what he was working on. The man was Mungo Martin, a Kwakwaka'wakw chief from Fort Rupert; he'd been hired to replicate some totem poles in Thunderbird Park.
"What are you carving there?" asked the young Audain.
"What's it look like?" said Martin.
"Is it a bear?"
"If you say it's a bear, it could be. But it could be a man turning into a bear, or a bear turning into a man. There is a relationship between us and the natural environment, you know. We're Homo sapiens, just one more species, and we have a role to play. But the Great Spirit created other people, some with fins, and some with four legs."
"I'll always treasure what he told me," Audain says. "I've come to believe it."
Place may be what the museum, and all the work, comes down to—a love of place. The Audain Foundation has recently broadened its mandate to include local wildlife conservation. "We're interested in ending the trophy hunting of grizzly bears," Audain tells me, "but also improving bear-human relations." He had been chatting with Premier Christy Clark that morning about the grizzlies. The conversation seemed to move between the paintings in his collection and living wildlife. It was all one heaven worth holding on to.