The Artistic World of Brian Jungen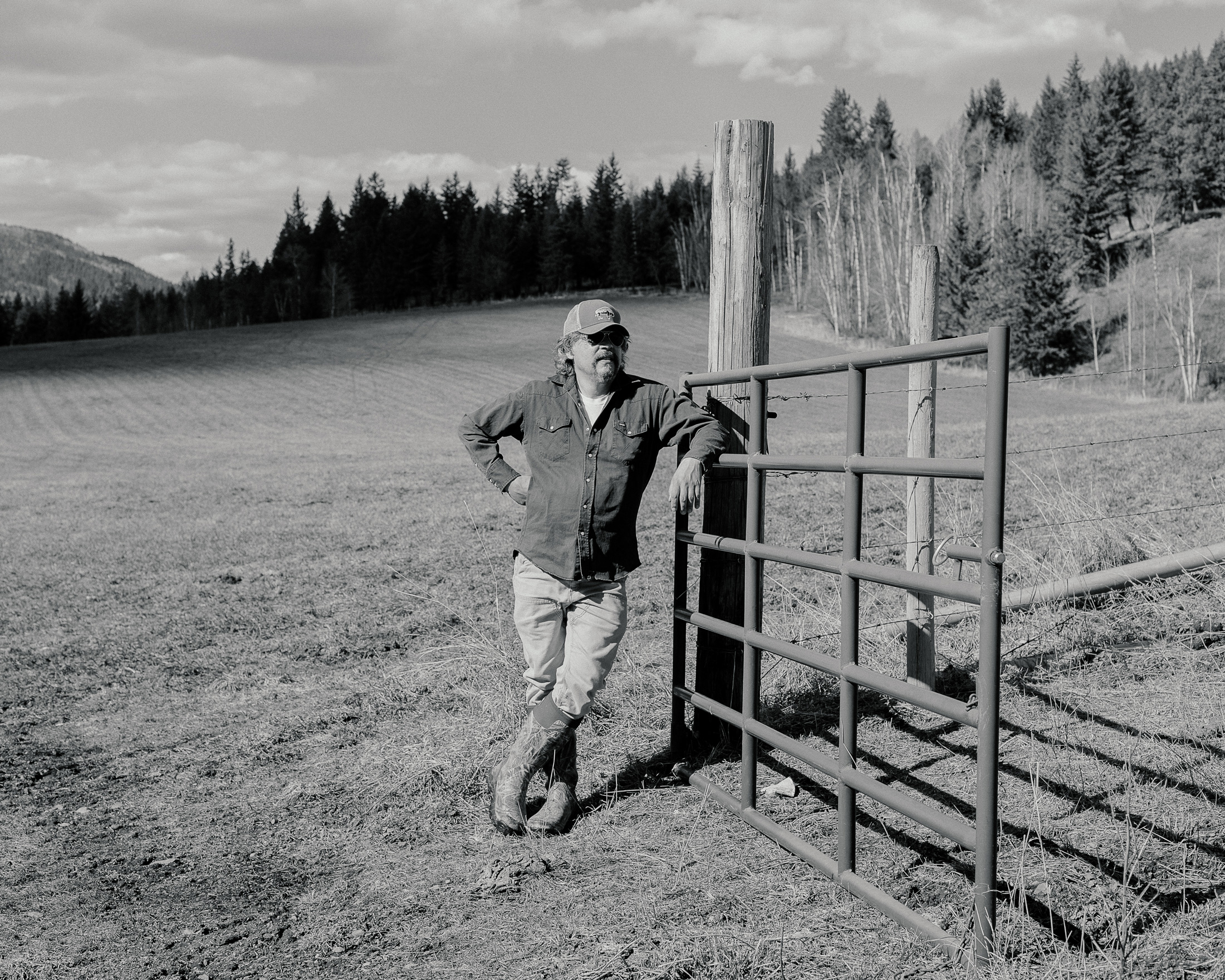 They rise, hundreds of black shoeboxes, stacked to the ceiling along the wall of the entryway to Brian Jungen's studio. Is this art or some sort of mausoleum for the innumerable Nike Air Jordans that have perished at Jungen's hand in the name of art? One of Canada's pre-eminent contemporary artists, Jungen repurposes prosaic objects such as Air Jordan running shoes, golf bags, and car fenders wrapped in hides to create sculptures and installations that reflect his mixed heritage; his mother was Dane-Zaa from Doig River First Nation near Fort St. John, B.C., and his father was Swiss born. His signature pieces are made from Air Jordans and resemble Northwest Coast Indigenous masks and more recently Plains Indigenous Peoples war bonnets, a term he prefers over headdresses, which are ceremonial.
As he prepares for Brian Jungen: Friendship Centre, a solo exhibition at the Art Gallery of Ontario this summer (June 20–August 25), he also plans to incorporate the shoeboxes into his show. The AGO exhibit will span more than two decades of Jungen's work and feature many of his Air Jordan masks. It will also include Cetology—a 48.9-foot-long sculpture of a whale skeleton made from ubiquitous white plastic patio chairs—on loan from the Vancouver Art Gallery, blankets made from professional sports jerseys, and a series of carved gasoline jugs. It is Jungen's largest solo AGO show to date, and his first since 2011. "It's in their blockbuster space," says Jungen of the Sam & Ayala Zacks Pavilion, the same space that earlier this year hosted Impressionism in the Age of Industry: Monet, Pissaro and More and Anthropocene.
Jungen loves Air Jordans, although he doesn't wear them himself. They wouldn't fare well on the ranch near Vernon, B.C., where he has his studio, 10 head of Scottish Highland cattle, a few noisy chickens, and two horses, Cher and Mike. His fashion tastes are more utilitarian—on this day, pants and knee-high rubber boots for slogging through muddy fields. But he came of age in the 1980s, when American basketball star Michael Jordan was among the world's most beloved athletes, even in Fort St. John, which is 1,200 kilometres north of Vancouver. "They became the iconic sneaker that everyone wanted," Jungen says. "And they're still like that." To this day, when Jungen walks into a Nike store and buys 10 pairs, the salespeople don't blink because they're accustomed to collectors snapping them up to sell later at inflated prices. "I was interested in paralleling that with Native art and how Native art is bought and fetishized."
The idea of using Air Jordans to make art came to Jungen in 1998 while on a trip to New York. He had spent the afternoon at the American Museum of Natural History and was disappointed to see Indigenous art on display alongside the fossils and butterflies, "as though it was nature, not culture." Later, he stumbled into NikeTown, formerly Nike's flagship store, and it looked like a museum of sorts, Jungen says. "I saw the Air Jordans in display cases, and that's when it really all kind of made sense."
The Air Jordan sculptures launched his career, and over the past 20 years, Jungen's work has shown at major galleries across Canada and internationally in Shanghai, New York, London, Munich, and Chicago, among others. His work compels viewers to reflect on some of society's most pressing challenges: issues of dispossession, appropriation, and the dichotomy of consumerism and environmentalism. Yet in keeping with the artist's character, his work manages not to preach. "Politically, I think persuasion is better than force," he says.
Jungen's art is appealing on a number of levels, says Tania Willard, an artist and assistant professor at UBC's Okanagan campus who has curated some of Jungen's work. For one, people recognize and relate to the materials he uses, she says. "He's using them in a way that is both coded and unexpected." By transforming familiar objects into new forms that we also recognize as symbols of Indigenous culture, Jungen compels viewers to examine the relationships between the two, she says. "We can continue to go into it on deeper levels and ask other kinds of questions."
Catriona Jeffries, whose eponymous gallery has represented the artist for almost 20 years, first spotted Jungen's work on display in 1998. Prototype for New Understanding was a series of nine hand-stitched mask sculptures made from Air Jordans. They were, she says, "an incredibly seminal moment for critical thinking around indigeneity."
Jungen's ability to transform objects into art is the focus of the upcoming AGO exhibit, says Kitty Scott, the AGO's Carol and Morton Rapp curator of modern and contemporary art. She says the timing was right for a large solo show; Jungen's work, while always wonderful, has now fully matured, she says. After dropping Air Jordans in favour of other materials, Jungen recently returned to the shoes with his Warrior series of sculptures, which resemble war bonnets. Sneaker soles are transformed into feathers, shoelaces into plumage. The pieces are strikingly beautiful, yet they carry a more loaded meaning than his earlier Nike works, Scott says. "It comes from an aggressive place. You feel the strength and power when you look at these headdresses."
The exhibit name Brian Jungen: Friendship Centre came to the artist while touring the AGO exhibition space in advance of the show. Scott mentioned the rooms always reminded her of gymnasiums. For Jungen, this brought to mind the gym at the Vancouver Aboriginal Friendship Centre Society, where he frequently ate lunch when his studio was in East Vancouver, Scott explains. And just as art galleries are important cultural meeting places in urban centres, gyms are important gathering spots in Indigenous communities. The AGO owns and has displayed some of Jungen's work in the past, but this is the first comprehensive show to come to Toronto, Scott notes. "Brian is an internationally acclaimed artist, and while he's had big exhibitions in Vancouver and Montreal, Toronto hasn't really had the chance to experience the full range of what Brian does."
With fame have come certain obligations, such as media interviews, which Jungen graciously tolerates, although it's obvious he would rather do almost anything than answer questions about himself. "I thought I could just make art and hide behind it," he says. Jungen was a shy kid and at 49 remains guardedly private, perhaps because his past is marked by tragedy. Both his parents died in a house fire when Brian was eight, and he was raised by his father's sister on a large cattle ranch near Fort St. John. "It was never easy with them. I've always gotten along better with my mom's family." Jungen's mother had encouraged his aptitude for drawing, and by the time he was 17, he was determined to go to art school.
Jungen is most at ease talking while walking, and as he strolls around parts of his 220-acre property, he frequently switches to conversation about the ranch. He strokes the horses, which are friendly and amble over to greet visitors. He talks about challenges that will get worse with climate change—the sudden surge of the creek during rapid snow melts and ever-present danger of fire. Irrigation water guns can be trained on the buildings, but still he worries. There have already been close calls.
Jungen left home at 18 to attend Vancouver's Emily Carr College of Art + Design, now a university. "That was pretty rough. I was a small-town kid, and I didn't know anybody my age. I'd never lived in the city. I did meet other 18-year-olds, but they were city kids and way cooler than me." After graduation, Jungen gained some notice showing his drawings in artist-run centres. "Then I did a residency at the Banff Centre in 1998 and made these Air Jordan pieces. And that kind of really made things happen."
Jungen's work has a place in the collections of the Vancouver Art Gallery, the Audain Art Museum in Whistler, the National Gallery of Canada, the Art Gallery of Ontario, and the Art Gallery of Alberta. He is happiest selling to galleries where his art will be on public display. "I look at art as a form of communication, and you're not really communicating with people if your art gets locked up."
Jungen dislikes the commercial trade in art, in part because he feels it too often skews the work of artists, many of whom are struggling to make a living. "I don't like that artists are put in the position that they start making art for the market and not for their own interest." Perhaps surprisingly, Jeffries says that she and Jungen see eye to eye on this subject. "My gallery has been built on those tenets. Literally almost half of our work or more is with museums."
In that sense, Jungen is one of the few very talented—and perhaps lucky—artists who has succeeded without pandering to a mass market. His earnings enable him to run his ranch, travel to exhibitions, and make yearly trips to visit family in northern B.C., where he recharges with hunting and camping excursions, and reconnects with his Indigenous roots by participating in ceremonies. These trips are private and off-limits for discussion.
He does some public speaking and accepts the occasional short-term teaching gig, but he isn't attached to one particular art school or academy. When art schools call, and they often do, he makes it clear he's not interested in being a teacher. "Art school used to attract people who fell through the cracks." But, Jungen says, as more schools have evolved to become universities, they've become overly sanitized. "It's like when New York got cleaned up. It lost a lot of its soul in that transition. I think the same kind of cleansing is happening to art schools."
Still, Jungen is heartened by the changes he's seeing reflected in exhibitions hosted by large Canadian galleries. "I think the AGO is changing a lot. There was a time when it aspired to be more like a metropolitan museum—it wasn't very experimental." He applauds the gallery's choice for a Canada 150 anniversary exhibit, Every. Now. Then: Reframing Nationhood, in 2017, which was far from a flag-waving celebration. The exhibition chose pieces, many done by Indigenous and immigrant artists, with a view to addressing mistakes of the past and reframing Canada's history. Jungen notes that many Canadians, looking at Canada 150 through their own lens, saw the celebration as a good thing. Most people didn't think about what it meant to Indigenous people, he says. That's not to say Indigenous people aren't proud to be Canadian, he adds. "But it's been a rough journey."
The afternoon is wearing on, and there are tasks on the ranch demanding Jungen's attention. He has posed dutifully for photos, brushing one unruly lock of black hair, streaked with silver, from his face. He had long hair in his 20s and is growing it again. "Now I'm approaching 50, and I think it will turn totally white." Jungen obviously loves his life on the ranch, which he chose for the creek and its distance from any pipeline or highway. But he's happiest in the summer, when he returns to his family in northern B.C. "I like the short winters in the Okanagan. But I think my heart is up there."  
_________
Never miss a story. Sign up for NUVO's weekly newsletter, here.